What: Taste of Iceland at Rioja
Where: Rioja 1431 Larimer Steet, Denver
The Details: The Taste of Iceland is designed to give diners an Icelandic experience right here in Denver. The four-course Prix Fixe menu highlighting Icelandic ingredients is $65, with wine pairings available for an additional $25. The signature Taste of Iceland cocktails will also be available for purchase. Book your spot now, as space is limited. For reservations, call 303-820-2282.
While Scandinavian food has gained popularity in the last few years, Iceland still remains a mystery of the culinary world for most, myself included. Iceland Naturally, a cooperative marketing organization, hopes to change that.
With their event Taste of Iceland, Iceland Naturally hopes to promote Icelandic food and drink, as well as the unique music and culture of the Nordic country.
Taste of Iceland returns to Denver this year at Rioja (last year it was hosted at Coohills). The event officially began yesterday and only runs through Saturday, so if you'd like to experience the cuisine of Icelandic chef, Viktor Örn Andrésson, you'd better act quickly. Chef Andrésson is currently the head chef at the Blue Lagoon's LAVA restaurant in Iceland (the Blue Lagoon is one of Iceland's most popular tourist attractions), and was named Nordic chef of the year last April.
Chef Andrésson has been working with Rioja's head chef and owner, James Beard award winning chef Jennifer Jasinski, as well as Rioja's Chef de Cuisine, Tim Kuklinski, to put together the unforgettable menu for Taste of Iceland.
The menu the chefs have created includes four prix fixe courses, designed to give diners an experience of Icelandic ingredients and preparations. I sampled the first of those courses yesterday, a dish featuring arctic char. The poplar Icelandic fish was lemon-cured and lightly seared, served with cream cheese, horseradish, chervil, and crumbles of Icelandic rye bread. This refreshing bite showcased the amazing texture of the almost-raw fish, and the Scandinavian flavors were light and refreshing.
I also sampled the third course on the menu, which showcases Icelandic free-range lamb, one of the country's most popular proteins. Chef Andrésson mentions that lambs are often seen wandering the mountainsides of Iceland. The flavorful meat is served to diners in Denver with crispy sun chokes, watercress, mustard, mushrooms, and Madeira sauce.
The Taste of Iceland dinner is sure sure to be an unforgettable one. The other two courses include dishes like Icelandic cod and langoustine, and a dessert featuring Skyr (an Icelandic dairy product similar to strained yogurt), redcurrant mousse, and marzipan cake. For adventurous diners, this is a must-attend event.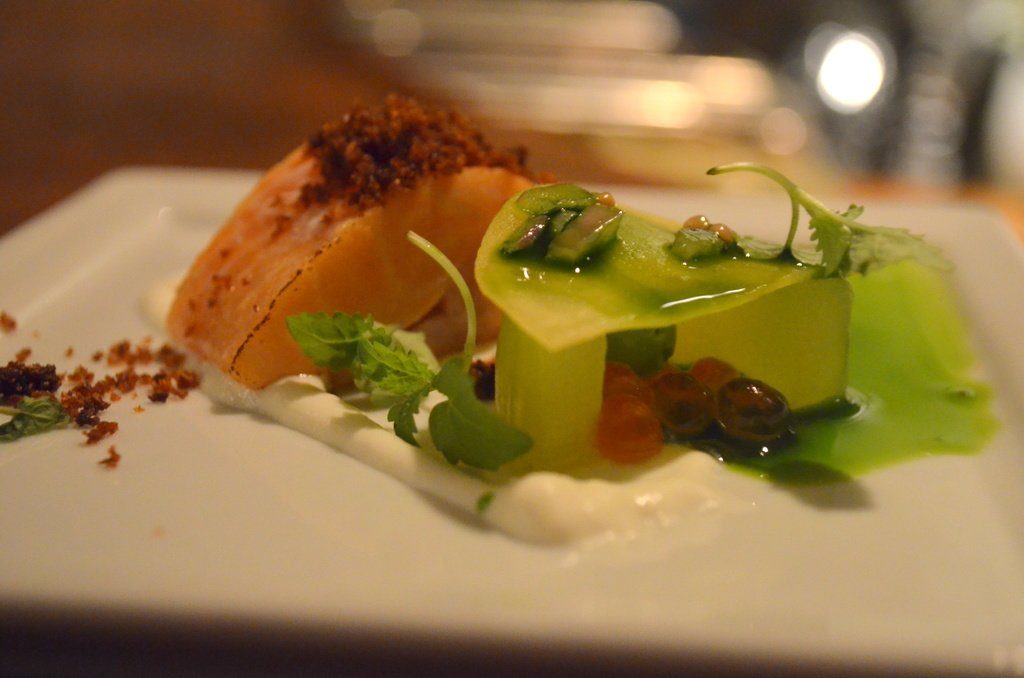 The Taste of Iceland is also holding cocktail classes at Bistro Vendôme, where mixologist Chris Sage will teach attendees to make two signature cocktails featuring Icelandic ingredients. Unfortunately, the classes are already completely booked. Luckily you'll still be able to try the cocktails at Rioja. The night tea cocktail we tasted is one of the most unique I've ever had, featuring Icelandic Reyka vodka, porcini mushroom tea, ginger simple syrup, and lemon. The earthiness of the porcini is completely unexpected in a cocktail and added a deep flavor and roundness to the drink.
If you'd like to experience all this fabulous Icelandic food and drink, you'd better act quickly. There are still a few spots left to enjoy the Prix Fixe menu at Rioja, which runs through Saturday.
All photography by Lindsey Bartlett.