Off Platte street, in the Riverfront Neighborhood of Denver, there is an unassuming glass door.  It sits alone on a stretch of brick wall and at first, appears to be nothing special. It's a door that feels unwelcoming….maybe an exit and probably locked. Everything about it says, "do not enter". But all of that fades away the day someone shares the secret…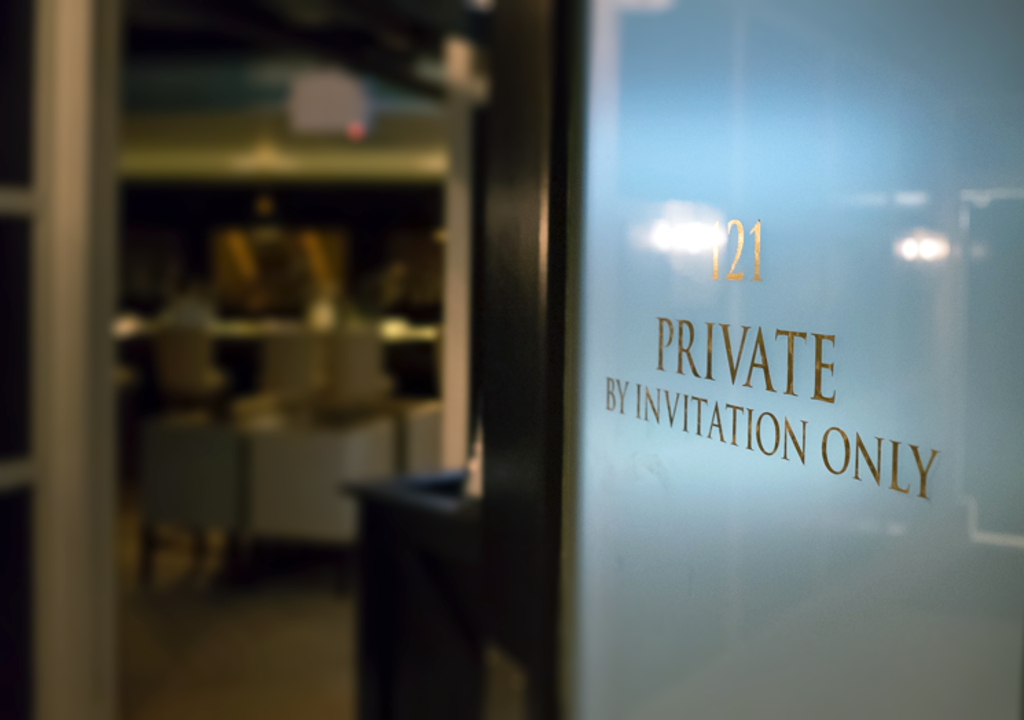 Ste. Ellie, although not a well-kept secret, is still one of Denver's swankiest spots. The subterrestrial, "neo-speakeasy" sister to Colt & Gray,  has an exclusive feel but not an exclusive attitude. The friendly bar staff headed by the energetic Kevin Burke, are all smiles and warmth, as they pour you some of the best drinks in Denver.
"We want it in the style of imbibing" Burke explained. "It's not a typical speakeasy. No false entrance, no password and all of our staff is dressed down. It's not a costume party".
"We want it in the style of imbibing" Burke explained. "It's not a typical speakeasy. No false entrance, no password and all of our staff is dressed down. It's not a costume party". The relaxed nature is exactly what makes this place special. It's not a gimmick, or for show, it's really just an awesome bar. No one here is going to try to trick you into believing you're in the 1920s, although if you spend a couple hours in its seclusion, you might forget about the world outside.
But if you're looking for an escape, or just a place to impress, Ste. Ellie is much more than a cool attitude. The drink menu is extensive and impeccably well crafted. The bartenders will make any classic for you, and do it right. If you want to know what a great old fashioned tastes like, then come here first.  Or try out their Mad Jensen, a summer spin on said drink, that'll knock you off your barstool if you have one too many. If that much booze isn't your thing, then check out Burke's tiki drinks. A take on classic rum drinks, these cocktails have been elevated with fresh ingredients and expert care. Burke told me they have over 25 bottles of rum in stock and he is always prepared to use them.
But if you are looking not just to drink, the food at Ste. Ellie is also superb. From the well established and highly regarded kitchen of Colt & Gray comes all the plates and dishes Ste. Ellie serves. But not everything is the same. Chef Nelson Perkins told me that they construct the menu for their basement bar in a cohesive nature with the upstairs. Nothing is put to waste here. Entire cows and pigs are used for both menus, and how resources are split are always considered.
But when you ask the team of Ste. Ellie, what is the one thing on the menu that is distinctly theirs? The answer is always the burger. Which to many might be surprising for such a sleek spot. However, the second you sink your teeth into this baby, you know why it's their favorite. The perfectly butter brioche bun met with the crisp and tangy pickles (they are serious about these pickles), and the tender patty, you know you're tasting luxury. Yet somehow, in the alternate universe that is Ste. Ellie, this thing will only set you back $8. Yeah, you can't even get a burger that cheap at some national chains. But once again, this attitude is a testament to the relaxed, but oddly every man attitude of Ste. Ellie. Because despite its ultra-cool, it almost hurts, appearance, this is a place you can really come, hang out and grab a drink. So the next time you see the door off Platte street grab the handle and take the plunge. You won't be met by a security guard, or a grumpy doorman, just a friendly smile and a killer drink.
All photography by Roman Tafoya Ste. Ellie is located at 1553 Platte St, Denver, CO 80202
(303) 477-1447- Its entrance is located on Platte, between Paris Cafe and Colt & Gray.