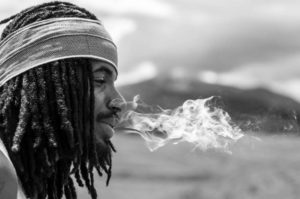 Rap Power Hour, the place where we bring you the hottest tracks to get you through the day. The hip-hop community is always on the move in Denver and this week is no different. We've got tracks from Strategy, Spoke In Wordz, Mr. Deuces, H*Wood and more. We have a number of newcomers to the Rap Power Hour world and we think you'll like what you see and hear. Summertime is officially right around the corner and the Mile High City is heating things up. Take a listen to the submissions below.
H*Wood sent in the video for "Cruise," which features several familiar Denver hang out spots like Megafauna. The song is for the skater in you and is a shining example of what H*Wood is doing with the "Doubt Kills" movement. I dig this track because it's not the typical production we hear from H*Wood. He's rapping with more rhythm and the message is more, shall we say, beastly. Watch below.
"A Good Summer" comes to us by way of Joseph A.M., a new face to the Rap Power Hour lineup. Rightly described as "that feel-good song," Joseph A.M. is taking about summer crushes and herb smoking; mostly the good life. His rap flow takes some getting used to but the production is a solid accompaniment and the singing is a nice change-up. Listen below.
Spoke In Wordz is arguably one of the most revolutionary hip-hop stars in the scene. On "Northside," he pays homage to the side of town where he grew up that's undergoing tons of change and gentrification. Here, he tackles racism over a gorgeous Spanish sample, addressing the people who built the neighborhood he loves so much. Listen below.
Strategy, the "tri-racial" MC, dropped the video for "Cruise" featuring Celsius, and it's thick in its plotline. Opening with Strategy encouraging his friend to leave the life of the streets, we see Strategy and Celsius discussing life in the streets with eloquence. The lyrics are rugged and raw, but hey, that's why we like it. Watch below.
Mr. Deuces is taking a page from Seinfeld's book with the song "Two-Thousand." A song he describes as being "about nothing," the MC flexes his rap skills over the crazy dope production. It seems perfect for smoking some herb and engaging in a little rap calisthenics. By the way, for a song about nothing, his voice is surely pleasing to hear at any rate. Listen below.
U.T.I.C.A.'s track "Where I Need 2 Be" was produced by Cheff Premier and boasts of good pussy and the good life. U.T.I.C.A.'s voice is always perfect for getting his point across in a manner you wouldn't expect.  Perfect for the weather, this one is best turned up and played through at least twice. Listen below.
AGE is going for more mainstream appeal with his freestyle over Lil Wayne's "Believe Me." It's interesting hearing an MC rap over a popular industry beat. On the one hand, he can certainly rap and has a creative flow and rhyme pattern. On the other hand, we're gonna expect AGE to knock out his original tunes with the same tenacity. Listen below.