Where:  11455 County Road 17, Firestone, CO 80504, Liquor stores throughout Colorado and beyond.

When: Monday-Friday 8am-8pm

Pros:  Delicious, gluten-free option to traditional brews

Cons:  Sweeter than your average brew, some beer drinkers may not want to transition to cider

It might be strange to talk about a place called Wild Cider in a column titled Beer Banter, but when gabbing about my favorite beverage with non-beer fanatics, I often get two criticisms of beer in general:  1. "I don't like the way it tastes," and  2. "I'm gluten intolerant and GF beer tastes terrible."  A solution to both of these problems may lie in the clever fermentation and flavoring of apple juice.  It has a much lower abv than your average mixed drink, can be enjoyed from a frosty mug like you see on TV, and tastes like beer and wine got together and made a delicious, boozy baby.
I first bumped into the folks at Wild Cider at the South Denver Beer Fest, and what I tried there inspired me to learn more about the other golden elixir of the gods.  The obvious step was to interview Wild Cider and learn as much as I could about their delicious product, and it reminded me that malt and hops aren't the only way to enjoy the weekend.
Wild Cider's Gluten-Free Alternative to Beer
The Wild Cider cidery is located in Firestone in what used to be a goat dairy and at the future site of the Wild Cider orchards.  A few weeks before our interview, Adam hosted a "tree-planting party," where a number of his friends helped plant 110o trees on their 14 acres.  We sat on their porch for the interview, idly watching as their eleven-year-old Akita, Kula, stalked a wild turkey that had wandered onto the property.  "I kinda started this company by accident," said owner Adam Gorove.  "We're gluten free for a variety of health reasons, but we couldn't find a cider that fit my palate."  He and I share the opinion that a lot of commercially made ciders are cloyingly sweet, making it hard to have more than one without that telltale gloopy feeling in the back of your throat.  "I wanted something not overloaded with sugar.  I wanted a cider I could drink more than one of."
"We are learning, for sure."  –Michelle Heath, Jack-of-all-Trades at Wild Cider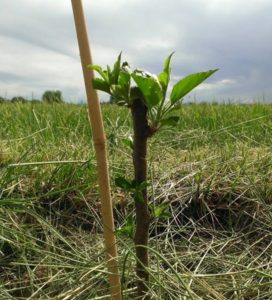 He elaborated that Wild Cider is striving to make a clean, drinkable, semi-dry cider, but they're also branching out in an effort to be different.  In addition to their Apple Cider, they offer a Berry Cider, a Pineapple, and a Seasonal, which is currently Spiced Apple Pie.  The goal was to avoid the pitfall of having multiple ciders that all taste the same.
With an attitude straddling that of the raucous beer maker and the more sedate vinyard-manager, Adam embodies cider's place neatly between the two styles of drink.  But they plan to continue growing.  "We're learning for sure," said Michelle Heath, the Jack-of-all-Trades at Wild Cider.  "But we improve every day."
But what about the cider?  Does Wild Cider accomplish its goal of variety and drinkability? Well…
Apple
Adam focus-tested this cider before settling on a final recipe, finding himself including just a little bit more sugar than he personally would have liked.  It's still pretty dry, and doesn't coat the inside of your mouth with syrup the way a lot of ciders tend to do.
"We're farmers now.  We don't run out of things to do, we just run out of daylight."  –Adam Gorove, owner of Wild Cider
There's a tartness in this cider, but no mouth-pucker many would find off-putting.  The best way to describe it is "startlingly refreshing," with all of the great apple flavor you'd expect but none of the downsides.  This would be great paired with something rich, like cheese, chocolate, or traditional french food, but is also awesome on its own.
Berry
With a brilliantly clear, purple color and a light head that dissipates quickly, this cider is more like wine than any of the others on tap at Wild Cider.  Don't let that scare off my beer-drinking brethren, however, as it brings a nicely tart flavor that could easily be a Beligian Sour's half-brother.  With a mixture of raspberry, blackberry, and elderberries in addition to their apple base, it has an aroma that reminded me of cranberries, but without the tell-tale pucker of cranberry juice.  It has an incredibly short finish that leaves your mouth feeling clean, and an effervescence that leaves you wanting more.  And at 5% abv, that is a definite possibility.
Pineapple
Su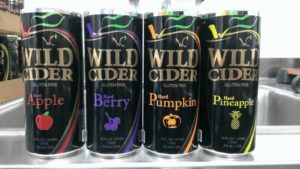 rprisingly nice head for a cider and a pale yellow color similar to the apple, this cider was my personal favorite of the four.  It brings a light pineapple flavor, but isn't one of those "If you didn't tell me, I wouldn't have known" fruit flavorings that aggravates most non-pretentious drinkers.  The apple and the pineapple stand side-by-side, neither overwhelming, and both delicious.  It has a somewhat longer finish than the rest of the ciders, but it still avoids that syrupy feeling associated with sweeter fare.  It honestly reminds me of something you'd drink on a beach in Hawaii (Adam has a pretty killer cider Margarita recipe he'll share if you visit the cidery) which makes it perfect for the coming Colorado heat.  Bring this to a Fourth of July Barbecue to show off your booze acumen.
Spiced Apple Pie
The darkest yellow of the fare available at Wild Cider, the Spiced Apple Pie brings great spice flavor without smelling or tasting like a big gimmicky mess like most apple pie booze out there.  Made by flavoring their apple base with a "tea" of a dozen or more apple pie spices, it brings great body, amazing aroma, and surprisingly refreshing apple pie flavor.  Of everything I drank there, I expected this to coat my mouth with sugar, but it is light and drinkable.  The spices hang around in your mouth for a while after, but the sugar and the booze does not, making it weirdly better even than apple pie itself.  Absolutely delicious, if you like the pie, you'll love the cider.
With a grapevine-enclosed cider garden opening this Summer and a pumpkin cider coming out in the fall, I plan to revisit the Wild Cider cidery in Firestone as soon as I can.  The operators are some of the nicest people I've met since moving to  Colorado, and their product is second-to-none.  Anyone looking for a gluten-free alternative to beer, an easier-drinking alternative to wine, or simply looking to spice up their brew rotation, should check these guys out.  You won't be disappointed.