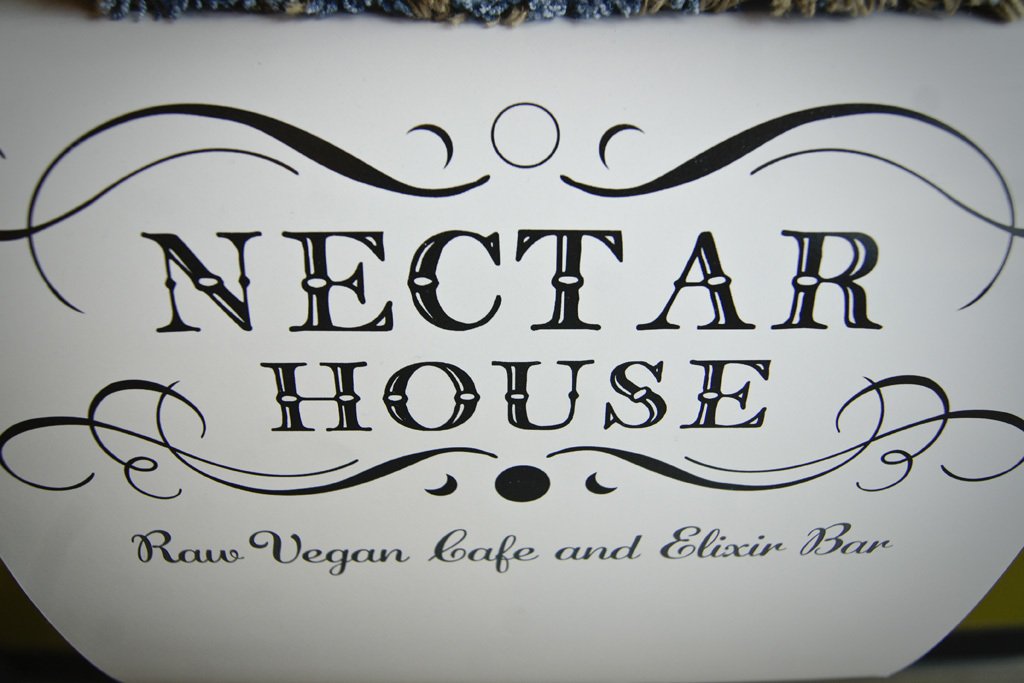 What: Nectar House Raw Vegan Cafe & Elixir Bar
Where: 1947 S. Broadway (inside Kindness Yoga)
Pros: There is no other place in Denver that caters so exclusively to raw foodies, vegans and natural, non-alcoholic intoxicant seekers.
Cons: Nectar House is not carnivore-friendly, the only animal product they utilize is honey.
Nectar House is celebrating its birthday. "We almost slept here last night," tells a somewhat delirious Piper Rose. Rose is co-owner of Nectar House Raw Vegan Cafe and Elixir Bar, which just opened inside the South Broadway location of Kindness Yoga. "I fell asleep in the middle of finalizing the menu. We were at The Arc at 8:45 a.m. buying our last random objects: tiny shot glasses, bandanas and tiny stools. We opened at 9. Nectar House has emerged from the wombs of two human women."
The other human woman Rose is referring to is her business partner Jennetta Alden. Alden is the raw food specialist of the duo. "I met Piper at a vegan event," tells Alden. "We started talking about making this cafe. She already had her elixir bar. I just wanted to be a raw food cafe. We merged our two ideas." Friends, worker bees and raw food enthusiasts are currently savoring banana crepes, "Rawbens (raw Reubens)," goji berry chocolate swirl cheesecake and more. I'm imbibing a potion called 3 Laughing Monks. A Boulder man named Andy is behind it. He's one of a handful of elixir mixers Rose works with to populate Nectar House's enlightening, non-alcoholic beverage menu.
"Andy at Shine [Restaurant] in Boulder is so incredible and fills everything with so much story and intention," enthuses Rose. "Three Laughing Monks is the story of three monks that spend their entire lives laughing. Finally, one dies. Everyone thinks that something's gonna change. At the funeral, the two remaining living monks are still laughing. 'How can you laugh? Your friend died.' Suddenly, the pyre erupts. People turn around to see the dead monk's body exploding into fireworks and lighting up the sky. He'd had his corpse filled with fireworks." Rose beams as she relays the tale behind the spirited blend of ginger root, reishi mushroom, he shou wu, holy basil, vanilla, Indian gooseberry, cinnamon, nutmeg, black-cherry juice and honey.
"Andy's just a potion genius. I also work with Ling in Boulder. I work with some really incredible, obscure purveyors in Oregon. I work with Happy Leaf Kombucha. Nico 360, who decorated the Nook, is a master herbalist. She makes our chakra tonics." The Nook Rose refers to is a cozy corner of Nectar House that's filled with pillows and adorned in branches, parasols and more.
Rose is obsessed with natural highs. "I've been sober for six years. I started to figure out that there were things that you could do from the inside out that were more incredible, orgasmic, blissful and powerful than anything I could take from the outside in. Shocking for someone who'd been an alcoholic forever. It starts with yoga. It starts with breath. When my body had cleaned out all the toxicity, I became super sensitive. A cup of coffee would throw me to the moon. Or a Red Bull would shake me up. I would use those things when I would go out dancing or partying. I would take them and imbibe. That would be my new habit. That didn't last long because, ultimately, it didn't feel good. Learning to love your body and be in it means you become you become slightly more attached to feeling really good, than to feeling like shit. When you have those little windows of perception and you can see what the difference is, you want what makes you feel really good."
Rose is health bent on discovering substitutes to booze and commercial energy drinks. "I started searching for alternatives. Now I'm that hippie girl that goes to Whole Foods and asks for a bunch of uppers that don't have any caffeine. I'm looking for the perfect high. Everything that I started to create was ninety percent person and intention and ten percent a magnifying glass, through the herbs or the kombucha or the fermentation process, or whatever. I got really into body-hacking and biohacking, how to shift the terrain of the body to meet a certain goal or need through things like adaptogens, stimulants and depressants. The science of these things started to rock me. Chocolate, in its raw form, creates the same chemicals that you get when you're falling in love. Understanding what's really happening, and how to steer this vehicle. How to take where you want to be and magnify it. Or soften somewhere that's difficult to be."
"I chose to do this in Denver because I think Denver's really ready for it. And it's creating space for the things that I really love and that I would love to see flourish. If no one else is doing it, then I'm gonna do it. I wanna see Denver develop along the lines of other conscious and creative and artistic driven cities, San Francisco, Portland, Austin. I think that people are hungry for things like this, literally."
"This is just the beginning. I had to hold back. I'm having herbal Espressos coming. Mother's Milks, which are warm herbs and milks and cacao. Spagyrics, which are one of the most ancient forms of alchemical preparation of herbs. It's very esoteric. It runs through all five elements in order to create the tonics. Also, this really amazing coffee, that totally lacks the chemical that makes you jittery. So it just feels good."
Nectar House is open daily (hours vary). Don't miss the grand opening this Saturday, Februrary 1. For further information, Facebook.com/NectarHouseCafe
George Peele enjoys dancing on stilts and delivering Custom Singing Telegrams. He is a staff writer for 303 Magazine and a freelancer for Vegas Seven. Follow Peele on Twitter: @Orangepeelmoses. Avatar image courtesy Jonathan Shoup.