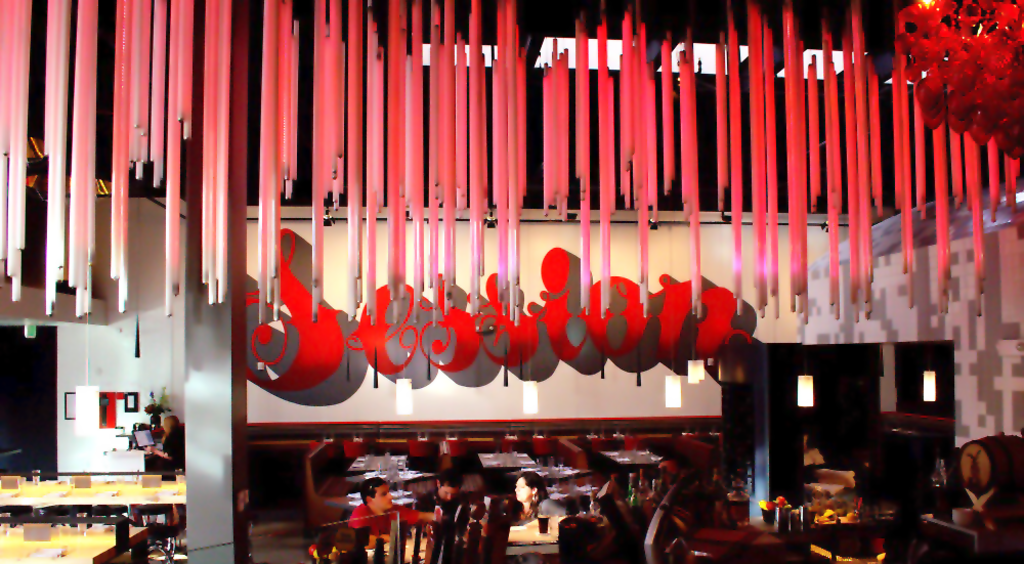 What: Session Kitchen, our 2013 pick for Denver's best new restaurant
Where: 1518 S. Pearl Street Denver, CO
720-763-3387
From every angle, Session Kitchen is a work of art. Adorned with graphic murals and intricate installations, this new Denver restaurant will dazzle you the second you walk in the door. It is nothing like the tranquil and minimalist Izakaya Den that once occupied the building. According to Lisa Ruskaup, Concept Director for Breckenridge-Wynkoop, that was their intention. Their goal was to literally reshape the space, taking all the hard, straight lines and masculine modernity and replacing it with "the curves of a woman". However it is not to say Session Kitchen is soft and romantically feminine. Rather, the two-story complex exudes sexual prowess that aims to allure you like the proverbial moth to a flame. And allure you it does.
Overall there are twelve works of art woven into the space, many of which feature local street artists. Ruskaup explained that besides creating a powerfully feminine restaurant, she wanted one that was "explicitly Colorado" by displaying local talent and western attitude that cannot be found anywhere else. This is probably what I love most about the aesthetic of Session Kitchen. They aim to create a distinctly Denver voice by looking local and not flocking to the coasts in search of inspiration. I applaud this because there is such a lack of identity in Denver and as a result so much soul and heart goes unnoticed. But Session Kitchen is noticing and so are we.
Session's food and beverage echo the provocative nature of its interior – Lisa Ruskaup, Concept Director
However despite the gorgeous setting, Session Kitchen is not a museum (although it almost could be). So the question isn't about the space because its beauty and grandeur is undeniable. The question is, can the food stand up to the spectacle? Luckily it does. From their intensely imaginative cocktail list to their deliciously hand crafted 'shareable' plates, this place is bound to amaze. Chef  Scott Parker, formerly of Table 6, has created a menu filled with dishes you might not recognize on paper but you'll understand on your palate. It's not elevated comfort food, it's redesigned comfort food. One of my favorite dishes was the Rosemary Lamb Collar with Kabocha squash and Chèvre served with Plancha bread. It was so savory, it dripped with deep, rich mediterranean flavors that lingered. I still crave this dish to this day. Another one of my favorites was Chef Parker's rendition of chicken noodle soup made with Chicken Confit and a Vietnamese pho-inspired broth. It was everything I love about pho combined with the comfort and memories of America's favorite soup. Make sure to ask your waiter about 'sessioning', a concept that allows you to change your portions and pricing. The idea is still a little undeveloped and can make ordering confusing so you'll need the extra help.  Fortunately their staff is well trained and will help you through the process. Also if you are unsure of what to order everyone at Session Kitchen is excellent at recommendations. Spend a moment chatting to the waiters or bartenders about your preferences and they will find the perfect dish and or drink for you. The 'Session Bar' is actually designed for this specific scenario.
Here they are encouraged to get to know you so they can make a personalized cocktail. Their Bar Manager Michael Cerretani completely wowed me with his mind reading skills and made everyone at the table a tailored made drink to fit a flavor profile they desired. If you're a not in the mood for all the chit-chat, their menu cocktails are amazing. Each one is made with extreme attention to detail (even their ice cubes are impressive). My favorite cocktail was The Smokey and The European made with Erlenmeyer bourbon, green chartreuse, amaro and smoked applewood . They actually smoke the applewood chips in order to infuse it with the Bourbon. The result is a full bodied and rich drink that is completely unique. It's pretty boozy though so don't expect a fruity cocktail packed with sugar. This drink is supposed to put some hair on your chest…
But that seems to be Session Kitchen's overall theme; a restaurant designed to challenge your senses and remove you from the ordinary. And it isn't just a concept but a manifesto. They want to create a "new enlightenment" for the Colorado dining scene by pushing innovation, either it be artistically or with their culinary techniques. The creative clout is definitely there but there are a few remaining issues when it comes to 'sessioning'. Plus they are still tweaking their menu. My initial impression on opening night was a little underwhelmed but after trying their new menu I was sold. I was really impressed by their ability to focus and hone their craft (an important trait for any successful restaurant). I hope that people catch on to their manifesto because it is a place that says something and that something is distinctly Denver. Make sure you're listening because you'll like what you hear.