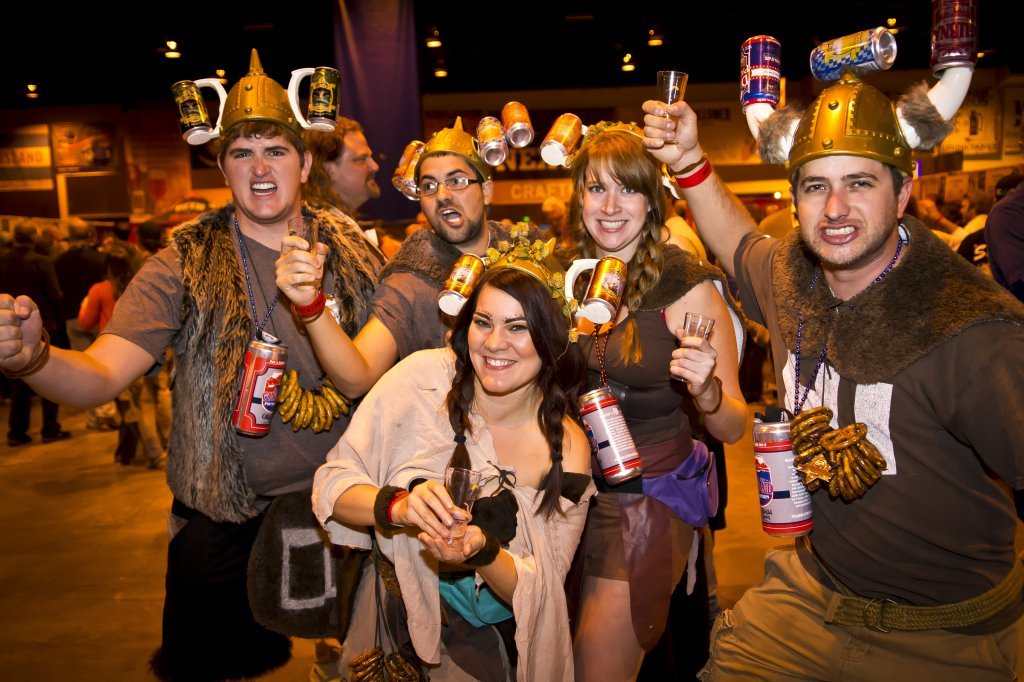 We did it, Denver. We made it through another year of the ever-growing Great American Beer Festival put on by the Brewers Association. Sure, the memories might be a bit blurry. But after countless refills, those lucky enough to have scored a ticket to this year's event came away with a new appreciation for the craft beer industry and the people that work so hard to push themselves and each other as they create more new brews than ever before.
With a total of 4,809 entries from 745 breweries, this year's competition was the biggest yet and these beers are not your granddad's ales. There were 138 different styles represented this year, a number that explains why most of the categories that were announced at Saturday's awards ceremony required explanation. Thankfully, in a room full of brewers, it wasn't hard to find people who were excited to share their knowledge about what a Dortmunder is (a hardy German-style classic lager) or why the silver medal winner for Munich-style Helles was called Saint Arnold Summer Pils (a more complicated answer, but basically both styles are lagers and Pils is significantly more marketable as one of the most popular beer styles in the world).
The friendly and accepting nature of "beer-people" was apparent throughout the festival, but especially during the awards as cheers welcomed every winner regardless of where they were from or how well known they are. Rock Bottom Brewery, which began with one location in downtown Denver, took home Brewpub Group and Brewpub Group Brewer of the Year. Other notable local winners were Aurora's Dry Dock Brewing Company which took an impressive five medals total and Longmont's Left Hand Brewing Company with three gold medals. Yak & Yeti's Chai Milk Stout was a favorite of mine and took silver and I'm hoping Pagosa Brewing's gold medal winner Peachy Peach will be around for sipping next summer. A full list of winners can be found on the GABF website. Many first time-entrants also took home medals, a sign that this industry is not slowing down anytime soon.
Even if you were one of the many who was disappointed about not scoring a GABF ticket, there were plenty of beer-filled events outside the walls of the Convention Center all week long. I attended a beer paring diner at 1515 Restaurant (located at 1515 Market Street) with representatives from Utah's Uinta Brewing and Washington state's NoLi Brewhouse. Uinta is a 100% wind-powered brewery that also installed solar-electric paneling in 2011. Their Oak Jacked Pumpkin paired so well with the liquid nitrogen ice cream from the dessert course that I was tempted to add the ice cream right to my glass for a perfectly boozy autumn milkshake.
NoLi brought several brews for diners to try, but I especially enjoyed the Silent Treatment Pale Ale. In a nod to brewers' go with the flow sense of humor, this beer was named in honor of an east coast brewery, Northern Lights, that was particularly unresponsive when the now named NoLi attempted to contact them regarding their formerly shared name. Paired with seared scallops, yellow curry, black beads of forbidden coos coos and pineapple infused with lavender, the dinner's second course was my favorite of the night.
Denver brewers stood out for more than just beer at this year's event. Two breweries in particular, Lyons' Oskar Blues and Denver's Black Shirt Brewing Company also took the time to raise money for charity. Oskar Blues' recently establish non-profit the CAN'd Aid Foundation promoted its "Save Small Town America" Campaign which is currently raising funds to help victims of Colorado's recent floods. Check out Oskar Blues' website for more info on how to donate and apply for funds. Also, through the rest of October, all Oskar Blues locations will be donating $1 from every Oskar Blues brew sold and their bike-shop, REEB Cycles, is giving $200 from every frame purchased. 
Pints for Prostates had a booth set up inside the festival and if you stopped by, you probably heard about the documentary 1400 Miles which will follow bikers who completed a 1,400 mile bike ride from Austin, TX to Denver in 14 days. Riders who were participating to raise awareness for prostate cancer arrived in Denver right in time for GABF and marked their achievement with a celebration hosted by Black Shirt Brewing Company.
As my first GABF experience came to a close, I found myself draped in a fruit loop necklace, wearing a Deschutes hat, a GABF volunteers t-shirt, and an Oskar Blues can around my neck wondering where I had gotten all of this new garb and searching for an outlet to charge my phone and call my DD. From the crew of Boulder's Mountain Sun and my Florida hometown's Swamphead to some guy in a yellow plaid shirt that made sure I actually did find that outlet, everyone I met at GABF had beer in their glasses, smiles on their faces, and kind words for anyone who found the time to stop and chat. The weekend was non-stop messy, silly, hop-fueled fun. And I can't wait to do it again next year.
All photography by Adam Ripplinger
For more photos of all the costumes, facial hair and beer at this year's event, check out our Gallery Page.