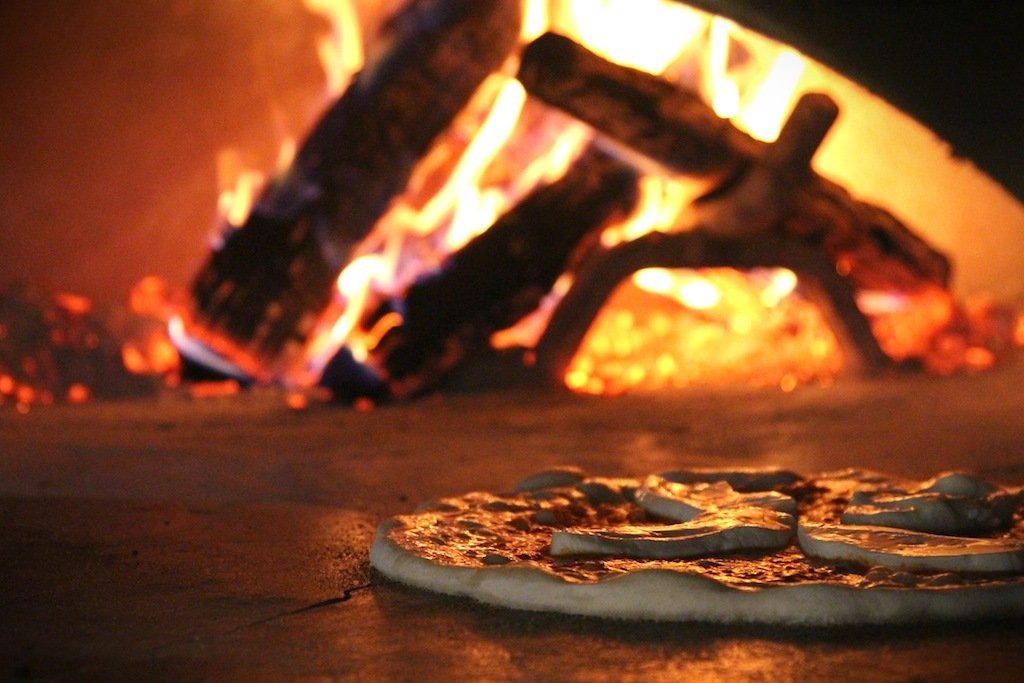 What: Udi's Pizza Bar and Cafe at CitySet
Where: 686 S. Colorado Blvd., Glendale, CO, 80246 
What not to miss: The Oyster and Crimini Mushroom Pizza 
Okay I am going to admit it outright, I am not a vegetarian. It's really not a secret though as I have spent the majority of my time at 303 professing my love for my carnivorous ways. However when I was asked to review Udi's vegetarian menu I jumped at the opportunity because 1.) I was intrigued and 2.) 99% of the time when I am not reviewing I try to eat very clean. So my thought was, why should a vegetarian menu be judge that differently from anything else?  It might be a dietary restriction but it does not mean that vegetarian ingredients are any less delicious than those with meat. I mean carbs exist for godsake! You can make almost anything taste pretty great with a loaf of warm, crispy bread. Fortunately this is what Udi's does best and there were several options that satisfied my epicurean palette.
First I'd like to say, there were plenty of dishes that a vegetarian might enjoy and appreciate much more than I, especially those made for vegans. For example I loved the The Oyster and Crimini Mushroom Pizza and I even recommended it but it would have been a lot better if it included cheese. However I understand that this as a vegan option, one had to forgo the cheese and I know there is value in that. But the pizza is still delicious because the dough was expertly crafted to be one of the most perfect pizza crust ever and instead of the warm, gooey cheese they made a wonderful hazelnut sauce with thyme and truffle oil. I love mushroom pizzas and this was up there. As for other pizza options I tried the kale pizza, which I was really excited for as I am pretty in love with this leafy vegetable (I eat the kale and brussel sprout salad from Whole Food almost every week). I was a little let down though as the marinara sauce was incredibly mediocre and it made the whole dish suffer. It would have been much better with a touch of parmesan and truffle oil sans marinara. Also the hummus was made well and was very creamy and rich but lacked a bit of acid so it came off a tad bitter. As for their salads though, I have no complaint. All of their dressings are very well made and expertly balanced, especially the soy ginger. Try it with Garden Avocado salad or the Roasted Beet Salad. Both are satisfying and well made salads that are totally enough when it comes to lunch. If you're looking for something a little bit more substantial though, I'd go  the Falafel Burger. I initially had it on a different pretense and really liked it but I've learned that not every one is made the same. So if you order this make sure to add a side of chipotle sauce because  sometimes the falafel can overpower all the other flavors and a nice spicy and tangy note can help cut through that.
Overall I enjoyed my experience at Udi's. I think it is a great place to get lunch whether your a vegetarian, vegan, gluten free or regularly omnivorous like me. But I can understand the added value in a place like Udi's for those that do have a moral/dietary restriction . Especially because Udi's doesn't do it for a trend but rather it is a part of their philosophy.  Udi himself is vegan, which means he truly does care about a vegetarian menu. The fact that they make it a priority and not an after thought already puts them ahead of almost everyone else.  Because when it comes to food, love and passion are always necessary ingredients whether your vegetarian or not.