No matter how orange the leaves become, Denver artists are continuously beautifying the streets. There are fresh sanctioned business pieces popping up all over town. Before the snow sticks, go to these amazing new spots and see the badass work of Denver's best local artists.
Jolt/Guerilla Garden PBR Satelite and Great American Beer Festival Murals
Jolt, the artist and owner of Guerilla Garden, has worked with Pabst Blue Ribbon before. He is always finding new and creative ways to incorporate the PBR can. This brand new mural is located on 22nd and Champa, adjacent to the well known Bunny M & Square mural, on the West-facing wall of Norad Dance Club.
Jolt's PBR satellite at Norad was a great move for the business. It gives the business press, publicity, and the passerby a reason to look a little closer. Jolt has been painting Denver establishments left and right. Just a few weeks ago he painted this amazing mural at the Little Man Ice Cream center. No wonder corporate sponsors for street-art are becoming more and more prevalent. I love this piece and find Jolt's imagination in every mural he paints.
As if he wasn't working enough, Jolt also participated in the Great American Beer Festival last weekend! He created this brilliant "cheers" mural at the event for Wynkoop Brewery. His work is truly intertwined with Denver, and you can follow all of Jolt's artistic ventures on Instagram @GuerillaGarden.
The Gunn Automotive Mural by Saten
Saten is no stranger to this area on Federal and Alameda. His street-art crews Kings Destroy and True Kings Only have their signatures lining the streets and on business walls, adding a pop of color to the scene. Gunn Automotive recently commissioned a beautiful portrait by Saten, finished just last week.
She is the Aztec goddess of beauty Xochiquetzal. The bright colors, feathered headdress, and emotion all are evident. This photo is courtesy of Saten on Facebook. Another one of my favorite murals by Saten is found right down the street from this spot.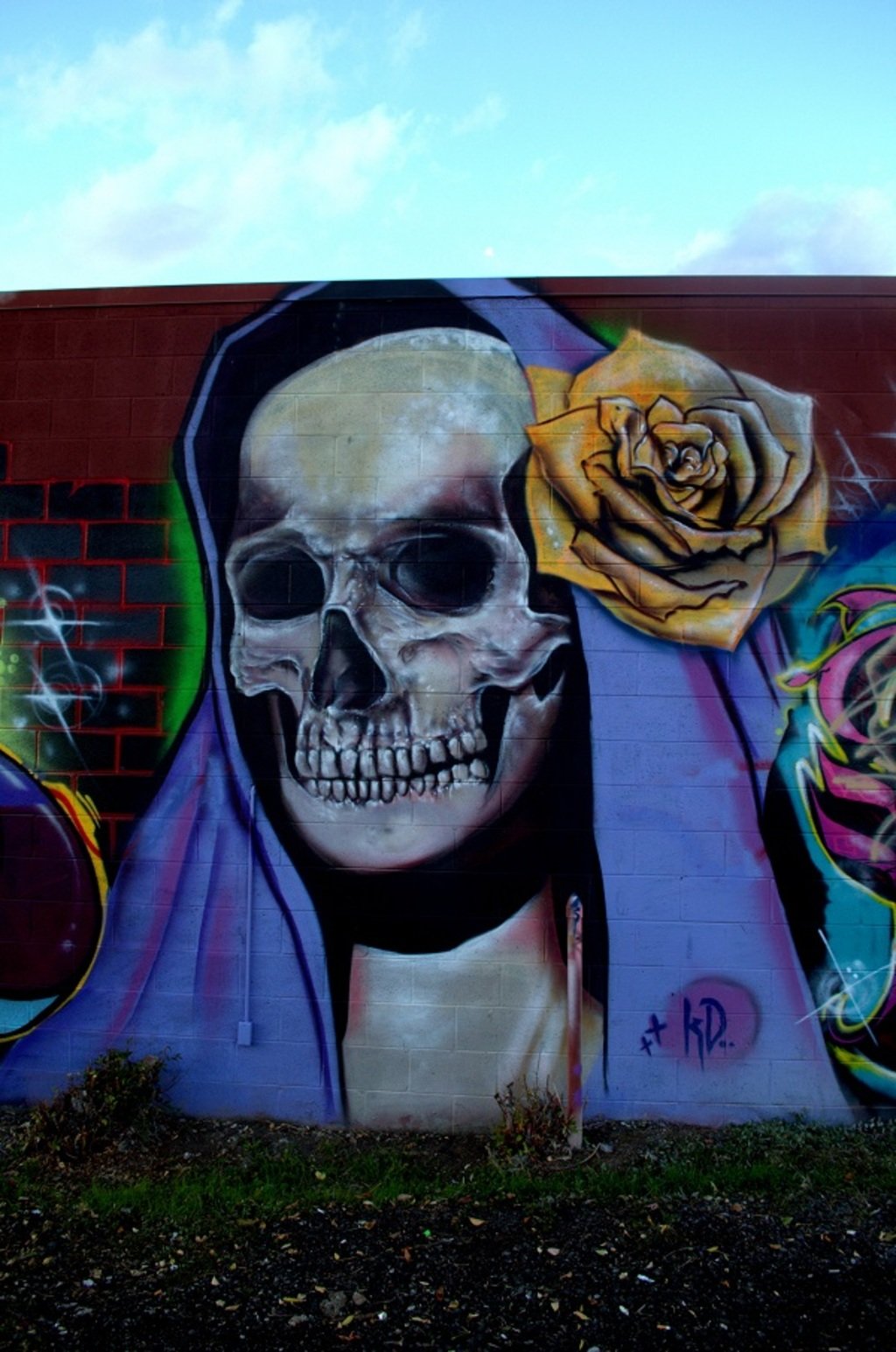 Saten specializes in super realistic portrait murals. This beautiful skull is part of a larger KD and TKO mural. Saten explained the meaning of the skull:
"I was actually really happy that I got away with that one. Most people don't like to be confronted by death when they're driving to work everyday. I painted the skull as a reminder to live life while you can."
MUTINY NOW's hand painted sign by Patrick McGirr and Joshua Finley
The brilliant artists who hand-painted the South Broadway bookstore's new sign at Mutiny Now list street art as only one of their many creative outlets. Patrick McGirr and Joshua Finley are artists in every mode. From custom bikes, to graphic design, airbrush, billboards, comic books, posters, and high-art galleries, the work of McGirr and Finley can be found all over Denver. You just have to know where to look.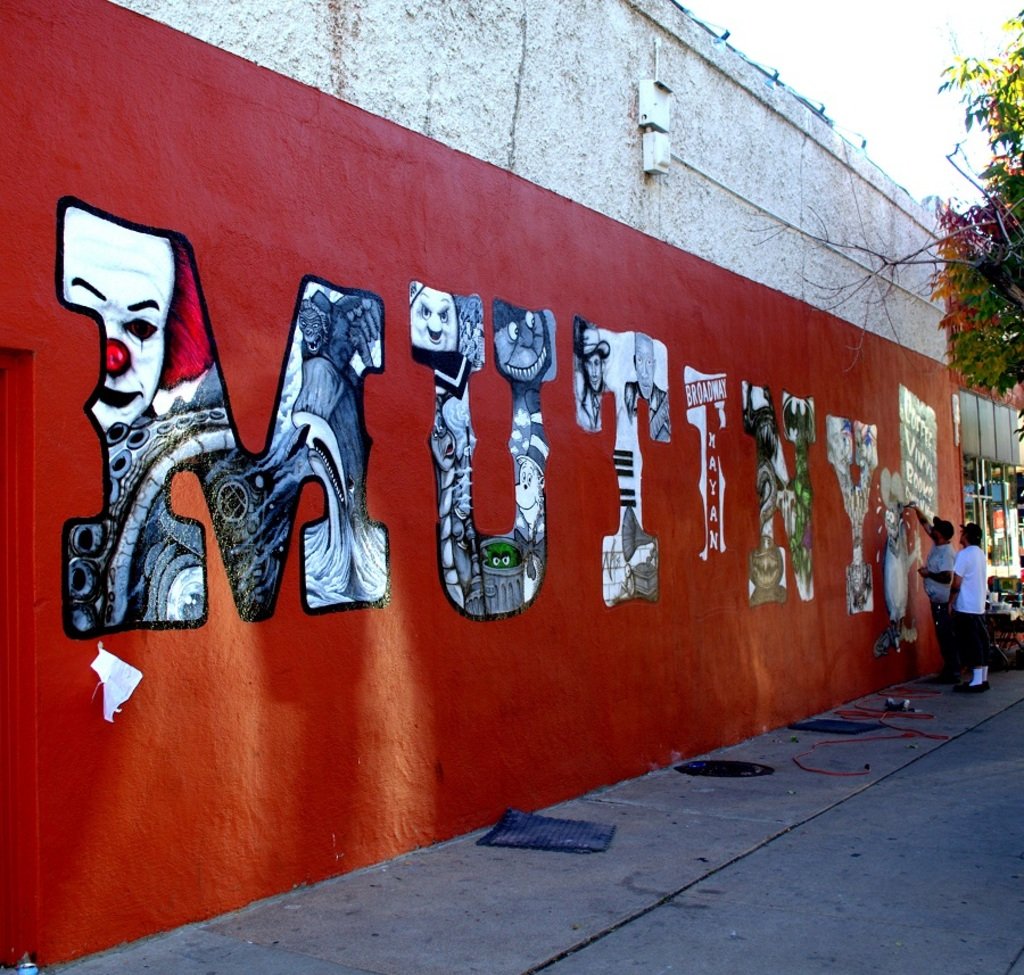 McGirr works for Sailor Jerry's, painting Denver billboards and advertisements in the classic tattoo design, but is best known for his work on custom bikes. He does everything from paint, to leather work, to the actual construction. Fellow artist Joshua Finley is the concert poster king of Denver. Finley was commissioned to design posters for the live tour of the FX television show Sons of Anarchy. He got paid to watch the entire series and study the characters in order to create brilliant characateurs for ads and posters on the nation-wide tour of the show.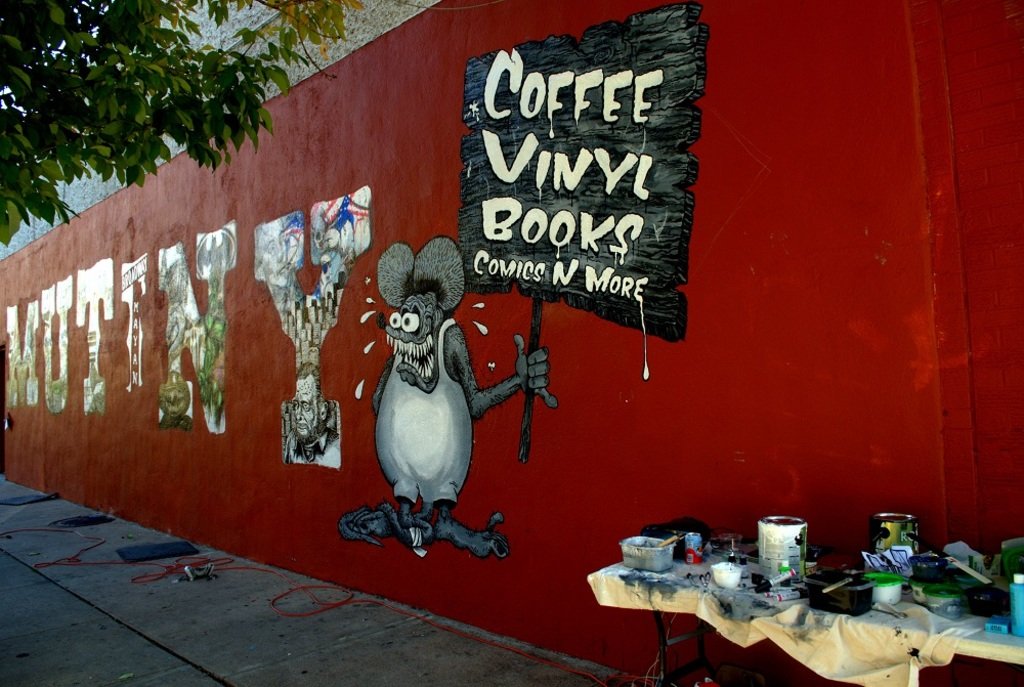 McGirr and Finley always work with kids in the community. They painted the elementary school wall inside Strive Academy. It is a mural that the children designed themselves, got approved by the school, and that McGirr and Finley brought to life. They both see the importance in teaching kids a positive form of self expression. One that doesn't involve illegal painting.
The Mutiny Now sign has received such a great response. In the past, this wall always had issues with illegal tagging. The new owner and South Broadway business alum who also owns Three Kings, recently took over the bookstore. He decided the wall needed a fresh start. The neighborhood totally embraced it.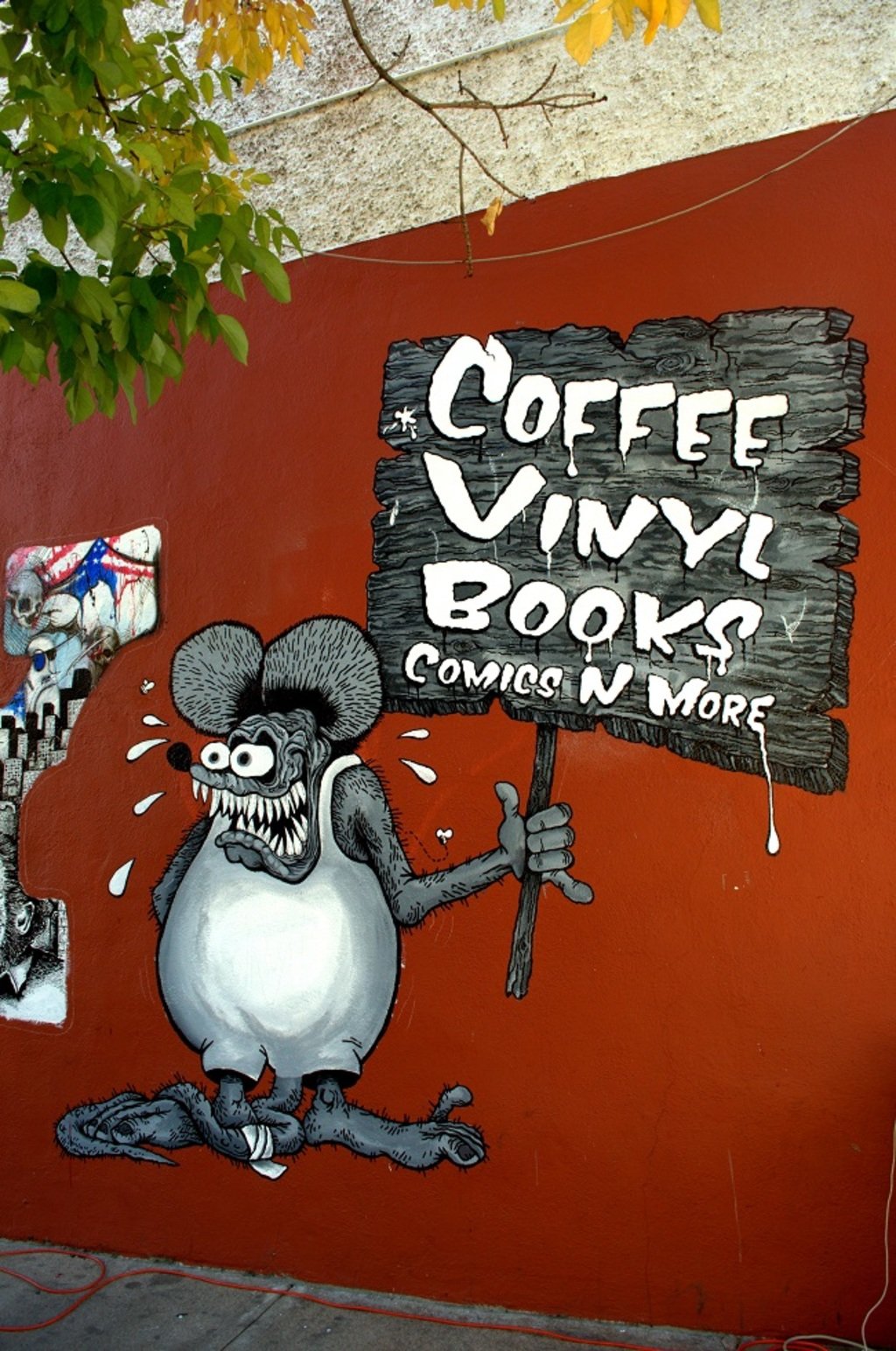 Each letter represents a different theme. The "I" in the middle is a tribute to South Broadway. I spent time on the meticulous details of each letter, identifying literary characters, comic book characters, and more. See the emulated artwork of Ralph Steadman as a Hunter S. Thompson tribute, as well as the artwork of R. Crumb as a Charles Bukowski tribute. The amount of thought and detail put into the mural is amazing. Legendary Rat Fink holds the Mutiny sign at the end.
Denver's art scene is blowing up across modes, across genres, layering hand-painted art next to spray-paint art and celebrating both. Follow 303 Magazine on Instagram and check the hashtag #303Graffiti for more beautiful Denver street-art.