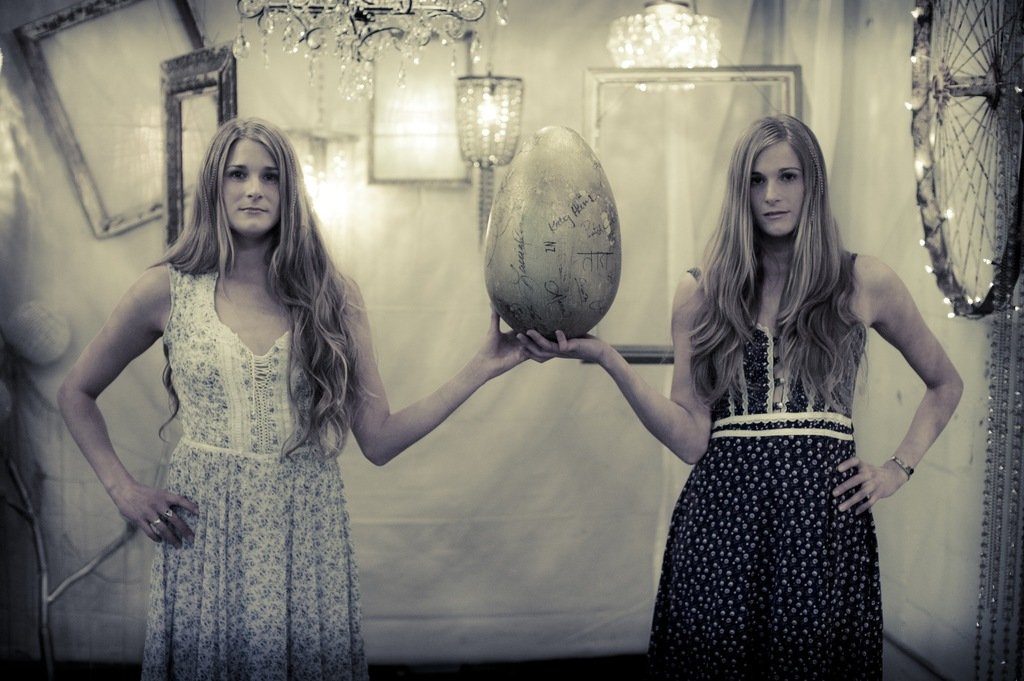 Shook Twins return to Denver this Friday Oct. 25 at The Walnut Room's Walnut Street location at 8p.m. They'll also be at Shine in Boulder on  Saturday Oct. 26.
Identical twins Laurie Shook (vocals, banjo, percussion and beatboxing) and Katelyn Shook (vocals, guitar and mandolin) are at the center of the quirky folk band Shook Twins.
Their breathtaking harmonies combined with a unique blend of instruments flawlessly blends folk, roots, and pop.
We caught up with Shook Twins' Laurie Shook to find out what we can expect from their show on Friday and what's the real deal with that giant golden egg:
303: The quirky folk sound you've crafted is so unique. Who are some of your musical influences?
Shook: Thank you! We are inspired by many different bands and drawing from each different well is probably what makes our sound  kind of unique. We are influenced by the Beatles, Joni Mitchell, Ani Difranco, Bjork, Feist, Andrew Bird, Mason Jennings, Bon Iver, Beck.
303: Growing up, did you know you wanted to be professional musicians?
Shook: I never remembered that being a dream of ours, but just recently I found and read my 5th grade through high school diaries and I wrote about wanting to be a famous singer several times! So I guess I did!
303: What are you most excited about for your return to Denver?
Shook: We love playing Denver. I'm most excited for the crowd- they are always the perfect combo: energetic and responsive, but still attentive and thoughtful.
303: What can fans expect from your show on the 25th?
Shook: You can expect a lot of road stories! That'll be the end of a 6 week tour out to the Midwest and South, so we'll be happy to see familiar faces again!
303: Could you share with us your inspiration for your forthcoming album and your single "Holler It Down"?
Shook: "Holler It Sown" is actually written by our fiddle player, Anna Tivel, and that song just seemed like the best one to play for that acoustic video shoot since its about "street youths," but the whole album aims for a well crafted, thoughtful, indie folk piece with lots of soul and groove and all different subject matter.
303: When you're not touring and recording, what are some things you like to do for fun?
Shook: We love to go out and see other shows when we have nights off. We all ski and snowboard as well. And we also put on house concerts in our basement in Portland. It's a blast to invite your favorite bands and create the exact show environment you want to be in!
303: You recently recorded with producer Ryan Hadlock, who has worked with The Lumineers and Milo Green. What was that experience like for you?
Shook: It was wonderful. That man has some amazing ears and he had some really great insight and made the recording process very easy and fun. We loved having someone we trust steer the ship!
303: What's the story behind that giant egg?
Shook: The wonderful magic golden egg has recently unfolded its story to us. It was created by the amazing performance artist Lucia Neare (lucianeare.org) in Seattle in 2005. Thirty chefs handed out 30 golden eggs to the audience and told them to make a wish on them. One of those eggs passed through several hands including a "hipster Mad Hatter" and a Kip Gallegar and his 3 besties who started the sign it, make a wish and pass it on tradition! It was passed to me (Laurie) in 2008 outside a bar in Seattle. Kip saw our show at the Tractor Tavern and got ahold of us. Then he found Lucia! This EGG is a manifestation of magic and it has granted many wishes and healed those who have asked!
303: What's the most exciting thing that's happened on your fall tour?
Shook: Well in Cincinnati, we were about to go on stage when one of our favorite artists walks in and sits down with his band- Gregory Alan Isakov! We've been fans of his for years now and we have mutual friends so he knew about us and his band had the night off in Cincinnati so they spent it watching our show! And we had the next night off to go and see their show. It was rad. Then in Atlanta we got to be extras in the movie "Dumb and Dumber To" and got to meet Jeff Daniels and Jim Carrey and they were incredibly nice to us on set and we ended up hugging Jim Carrey and giving him and the Farrelly Brothers our album!
Check out the live session video below of their single "Holler it Down":
–Shook Twins play at The Walnut Room's Walnut Street location this Friday Oct. 25 at 8p.m. with Maxwell Hughes and Paul DeHaven. Tickets are $12 advance, $15 day of show. This show is 21+.