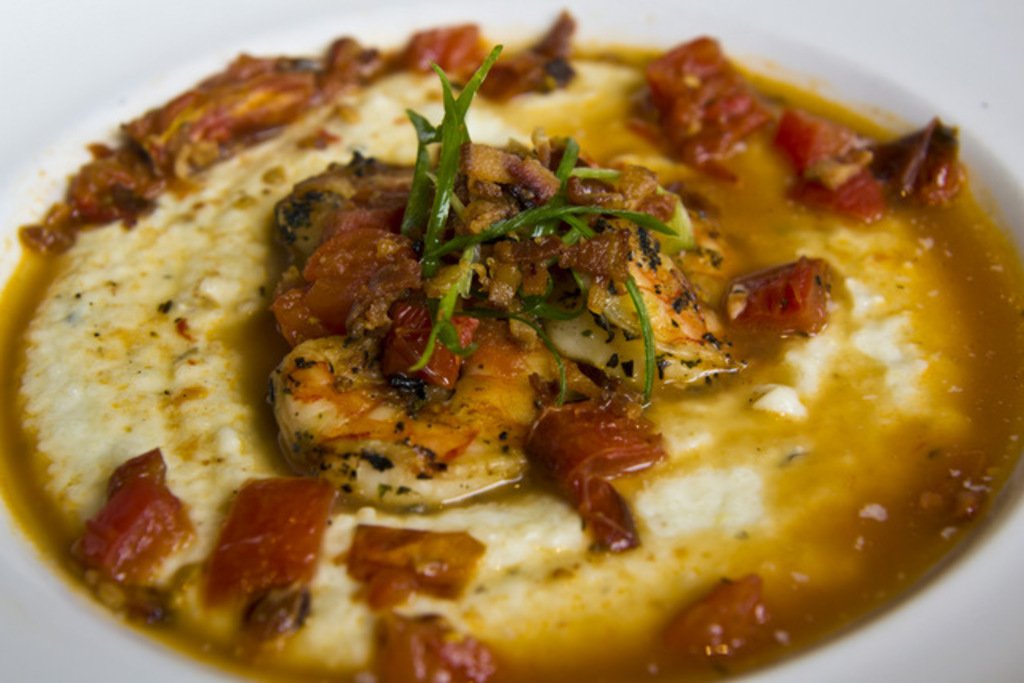 What:  A pork-filled Sunday brunch affair with a young Cherry Creek restaurant
Where: Harman's Eat & Drink, 2900 E Second Ave
When: Sunday 10am-5pm
You've got to try: Familiar yet inventive dishes like the Shrimp and Grits with a Bacon Dashi Broth.
One thing I love about dining out for brunch in Denver is the seemingly never-ending chances to taste something new. Whether it's a seasonal menu-makeover or a brand new restaurant, I never have to wait long to develop a new brunch-crush. Over the summer, Mark Fisher closed the Cherry Creek installment of his Asian-inspired eatery Phat Thai for two weeks, transforming it into the sleek and spacious Harman's Eat & Drink.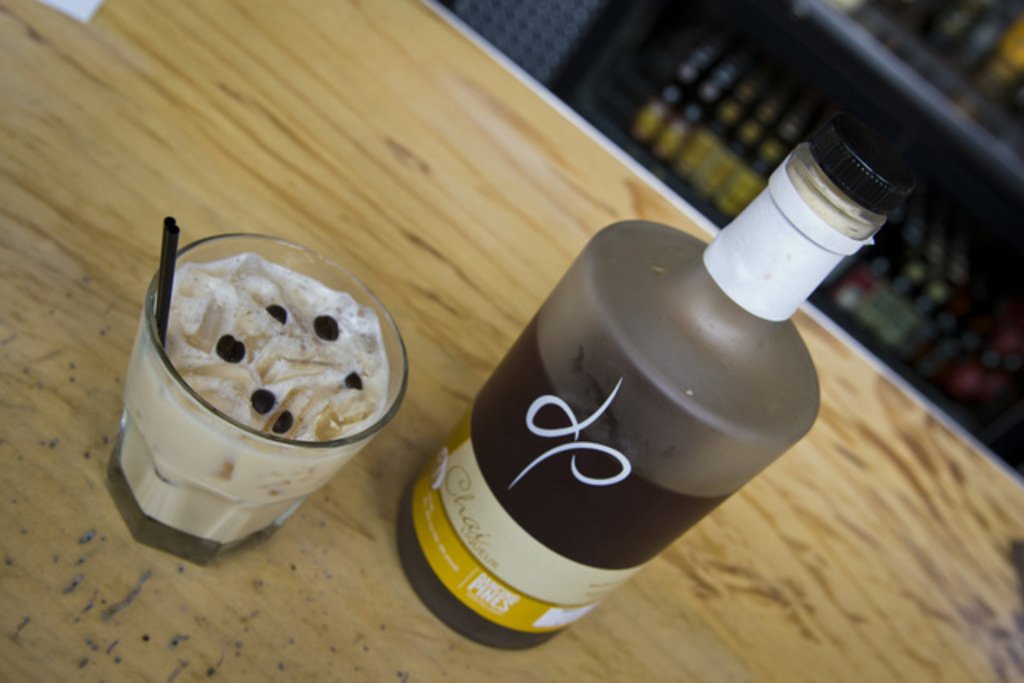 Open for almost four months now, Harman's still has some tinkering to do with its menu, but a stop in for brunch is a great way to get a taste of what this new addition to the Denver restaurant scene has to offer. Chef John Little, who used to cook at Fisher's Glenwood Springs eatery The Pullman, is helming Harmen's and his admitted "pork fetish" has definitely influenced the offerings (in all the right ways).
Before I could dig in to all of Chef Little's creations, though, a little brunch-beverage foreplay was in order. The old standards can be found here: mimosas and a bloody Mary that gets its kick from Siracha along with a unique flavor thanks to the use of smoked paprika and smoked salt.  But it was the more creative cocktails that really warmed me up to this new restaurant. For whiskey lovers, the Hair of the Dog is a smooth but flavorful choice with whiskey, lemon, bitters, and ginger beer, but the real stand out is the Morning Chai. Made with Chai vodka from Loveland's Dancing Pines Distillery along with Bailey's and vanilla, this cocktail goes down almost too easily with a pure Chai flavor and no syrupy sweetness.
Once you're primed and ready for the real action, the Crispy Pork Belly small plate is a perfect starter if you're sharing or a lighter brunch for one. The pork belly is braised until it's fall-apart tender then caramelized with a sauce that contains notes of cinnamon, star anise, and chilies. Those little cubes of pork-heaven are served with arugula, feta, and pickled watermelon rind as well as fresh, cubed watermelon, made with produce from the nearby farmer's market. Though pork belly is having a food-moment and is all over Denver menus, this dish made me fall for it all over again.
A Tennessee native, Chef Little gives diners a taste of his home with his Shrimp & Grits with Bacon Dashi Broth. Made with stone ground grits from a town close to where he grew up, this dish isn't your old-time shrimp and grits, but a racier version kicked up by, yup, pork. The shrimp were tender and the grits tasty, but it's the bacon dashi broth and roasted tomatoes that up this meal's appeal by bringing another layer of smokey, savory richness to the plate.
It's not all about pork here, though. Another dish that got me excited was the Sourdough French Toast. I love when sourdough is used for this brunch classic, it mellows the sweetness a bit allowing other elements to stand out, like the crunchy candied pecans and sweet cream this version is topped with. Making this choice even more intriguing is the fact that their (real, very important) maple syrup is aged in bourbon barrel, giving this sweet stuff a depth of flavor that I had not tasted in my years of expert syrup tasting experience (a claim that can be made by all Vermonters).
Between the little details that bring so much extra flavor to the dishes here and the satisfying variety that is covered by the brunch offerings, Harman's has managed to become one of my dining-out cravings. With brunch being served until 5pm on Sundays, this is also a great option for all my fellow procrastinators who sometimes can't get out the door and on the way to a bloody Mary before 2pm. So sleep in, get hungry, and come try out the still-evolving options at Harman's before the rest of the city catches on.
All photography by Adam Ripplinger