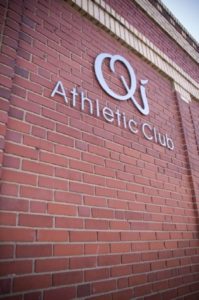 My alarm sounds.  I quickly shut it off to start my day.  This day though was a bit abnormal for me since it started at 4:30am.  The usual noises outside my downtown loft were not present and it was eerily calm.  I got my workout gear on, sipped my preworkout drink to wake me up, and I was out the door to walk a few blocks to Qi's downtown location.  Today, I had a hot date with Chris Lindley's 60 minute HIIT (High Intensity Interval Training) class.  Chris is one of the owners at Qi and it was recommended by management that I take one of his classes.  Unfortunately for a non-morning person, the only class that worked for my schedule was before the birds wake up.
The Qi Downtown interior and exterior are exactly what you would expect from a space in LODO.  The industrial look works great for getting in the zone for a good workout.  I instantly felt at home probably because it looks very similar to my home but better because it has tons of unique workout equipment.
Before class starts, I decide to get some light stretching in because I was not sure what this class would entail.  I overhear Chris speaking about Ironman triathlons and I knew this workout was going to be fun.  After setting up the gym with 20 or so stations, Chris goes over the movements and we get started in a fast paced gut check of a workout over a soundtrack of electronic and house music.  I get pushed to my limits right off the bat with battle ropes and agility cones.  Chris keeps a close eye on me because I made the mistake of telling him to really kick my ass.  His best words of advice were "don't let 20+ girls show you up Josh!"  It worked because I left with a sore body, a drenched shirt, and respect for Qi.
A few days later, I decided to take another one of management's suggestions and do Adult Gymnastics.  This is probably the first gym I have ever seen such an offering.  I always had the utmost respect for gymnasts growing up watching the Olympics so I was excited but scared for this experience.  As usual, I got to Qi Downtown a bit early to make sure and talk to the instructor to share my greenness with gymnastics and my fear of handstands.  Without hesitation, Michael, the instructor, says "this class today is based around handstands and strength and conditioning."  I think great at least everyone will get a few laughs out of me.  To my surprise, I actually got the hang of the movements quite quickly after some of the more experienced participants took me under their wings.  At the end of the class, Michael informed us all that we were not allowed to leave until we did one vertical rope climb without using our feet.  I had flashbacks of middle school PE class and my inability to get up that stupid rope.  I haven't tried it since so I figured it would result in the same fate.  Again to my surprise, I completed the rope climb with ease and a sense of accomplishment came over me.  This was an overall great experience and a vastly differently vibe than I have ever experienced in a workout environment.
Qi Downtown is located off Walnut Street and 26th Street in the Ballpark District of LODO.