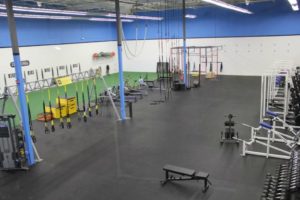 When searching out a training facility that was familiar to my baseball playing days, I stumbled upon FAST, Fitness and Sports Training.  This facility is the brainchild of former Colorado Rockies and Colorado Springs Sky Sox Strength and Conditioning Coach Kent McCurdy.  After talking to Kent for 15 minutes, I got the sense that these guys really knew what they were doing and their clients were getting a high class product.  Not only do they have one of the only public Bod Pods in Colorado (a Bod Pod is a very accurate way to measure body composition) but they also require you to visit their onsite physical therapist to screen for pre-injuries or imbalances.
From their website, "the minute you step into our facility you will realize that we are not a typical gym. Here you'll find an environment that focuses on the athlete in you, with programs delivered by results-oriented coaches and trainers who will inspire, encourage, and drive you to be your best."  I can't agree more with this statement.  I felt these exact things when I was in the facility and you could really feel like the staff lived by these words.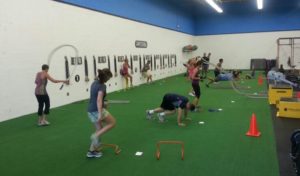 As for the workout, I took their Adult Performance class with trainer Jesse Harris.  The Adult Performance class "is a full body training program designed to improve your muscular strength, structural balance, movement quality and overall conditioning. Emphasis is placed on developing quality movement patterns, improving your strength and correcting postural imbalances to turn you into a strong, efficient and injury free human being."  This particular class was "legs dominate" which was great since I just had a tough leg work out the prior day.  I am never one to complain so I threw on my big boy pants and did some stretching to get ready.
The workout started with some light jogging and into a circuit of high intensity movements.  I finished the first section with ease and thought the workout was over.  I waited for the rest of the class to finish and then Jesse informed us that he had a second circuit for us.  Most people would be unhappy about this but I was pumped to experience some more innovative moves and place some sweat on their floor.  This circuit was much tougher adding core movements on the TRX.  If you aren't familiar with the TRX suspension trainer, Google it, I promise you it is worth adding to your workout routine.
As we finish this circuit, Jesse informs us that it was ready for the challenge.  I didn't know what this was but basically each month, the trainers pick several exercises that you do for speed or failure.  They keep the records on a large whiteboard for the whole gym clientele to see.  Our particular challenge was ring pushups.  I have never done one of these so I wasn't expecting much for my effort.  I got on the rings and repped out 27 which was good enough for fifth place on the famous board.  I left the facility with a sense of accomplishment, respect for the trainers, and a sense of brotherhood with the small group that endured the workout with me.
FAST, Fitness and Sports Training is located off Wadsworth Bypass in Arvada.