It is always funny to me that when we move forward to the next season, we always have to look back to old shows. The fashion world is eagerly awaiting spring 2014 right now, so it is easy to forget that the fall 2013 runways of seemingly  forever ago are now more relevant than when they were endlessly dissected and analyzed some months back. In any case, here is a list of my personal favorites in some kind of ascending order.
DOLCE & GABBANA
Dolce & Gabbana once again continue the same pattern they have been repeating for the past few seasons. Looking back through the archive, you can see the exact same cuts and silhouettes created with different fabrics and patterns. This year's designs however, are my favorites of recent memory. Sure, the dresses are nothing new, but the adornments of mosaics based off those in Sicily's Cathedral de Monreale look wonderful. It was a lovely ode to the Catholic Church, Italy, and Domenico Dolce's hometown.
There were, however, some dull looks involved. The show had an interlude of menswear-inspired looks, as well as the apparently now requisite lace and brocade selection. I admit that I found the menswear looks pretty boring, but some of the brocade dresses were truly spectacular. Overall, it wasn't the best show of the season, but it still had some breathtaking moments.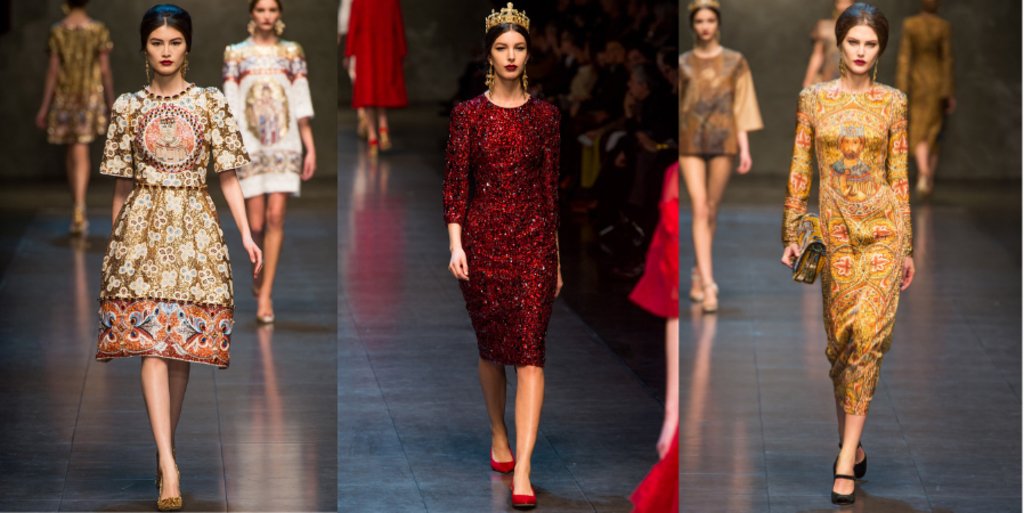 CHALAYAN
Some people criticize Hussein Chalayan for being too cold or impersonal. Personally, I think those attributes set him apart from most other designers. Chalayan's tendency to create thoughtful and conceptual work is refreshing, especially in a day and age where many designers choose to rely on the weight of their brand name or logo. It is nice to see that someone can still deliver on concept even now. This time, Chalayan appeared to explore transcendence. He presented a mix of somber neutrals, and strange, beautiful prints. Oh, and some transforming dresses. I can't really show them to you properly here, but the videos can easily be found on the Internet if you would care to see. This collection, like Chalayan's others, can be hard to understand or decipher, but as the looks progress from covered up and monochromatic to slowly reveal different layers of color and texture, one can begin to understand what he was aiming for. The dresses that literally transform are a help too.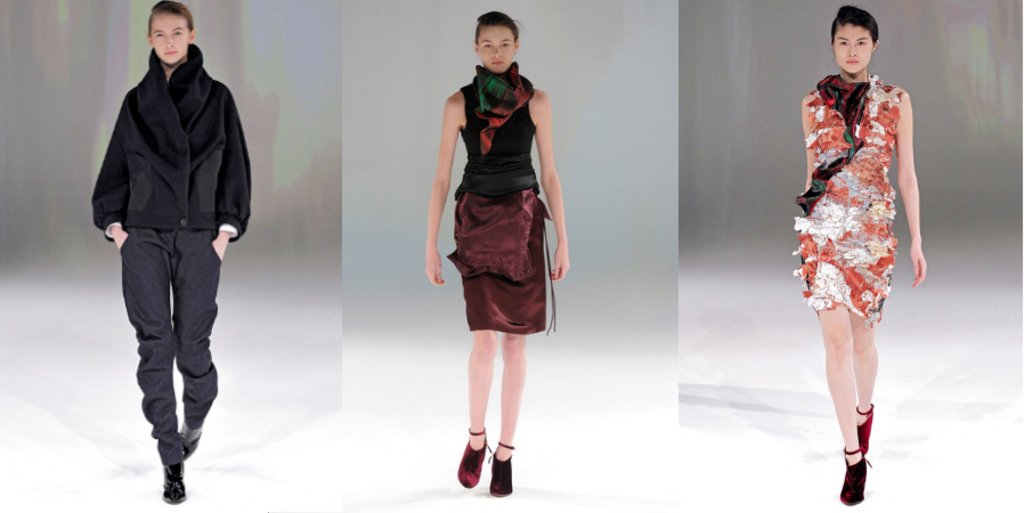 MIU MIU
This season of Miu Miu was essentially an Italian doing French fashion, and dare I say that she did it better than any Frenchman who presented at Paris Fashion Week. Miuccia Prada mixed together different eras of french clothing, and to name and identify them all would be both exhausting and ridiculously long. The end result was a look that appeared distinctly out of time. It was at once contemporary and nostalgic, a combination created solely though Prada's handpicked favorite elements of French-ness. And in her usual manner, Prada presented shoes that I will obsessively keep tabs on for the next few months.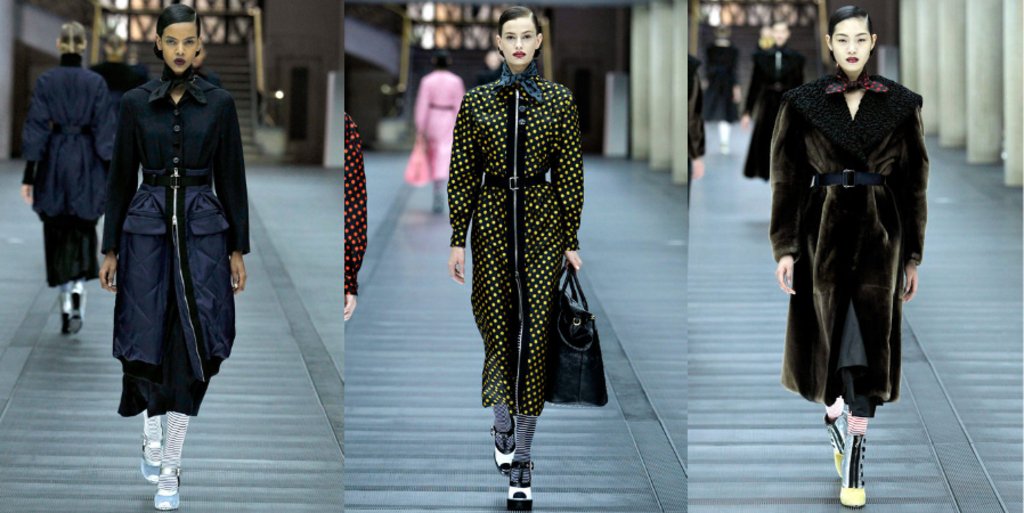 GARETH PUGH
Gareth Pugh's design sensibilities have changed since last season, and to be honest, I like his new creations much better than his old ones. He has moved away from his extravagant goth-y tendencies and started to create something which might be more subtle. I am still unable to tell. But now it seems to be less shock, and more narrative. This collection was inspired by the Arsgarda tribe: a group of women who live independently from men in the Carpathian Mountains. Pugh appears to have taken cues from both their femininity and will to fight. The combination of long shirts and floor length skirts is directly lifted from the tribe's actual attire, but everything else comes from his own design. The subsequent looks evolve directly from the long shirt and skirt combination, and the show culminates in some dresses somehow made from trash bags. I was lucky enough to see them at the Punk: Chaos to Couture exhibit at the Met, and have to say that they are even more impressive in person. I have no idea how anyone can make a dress like this out of such cheap materials, but there you go.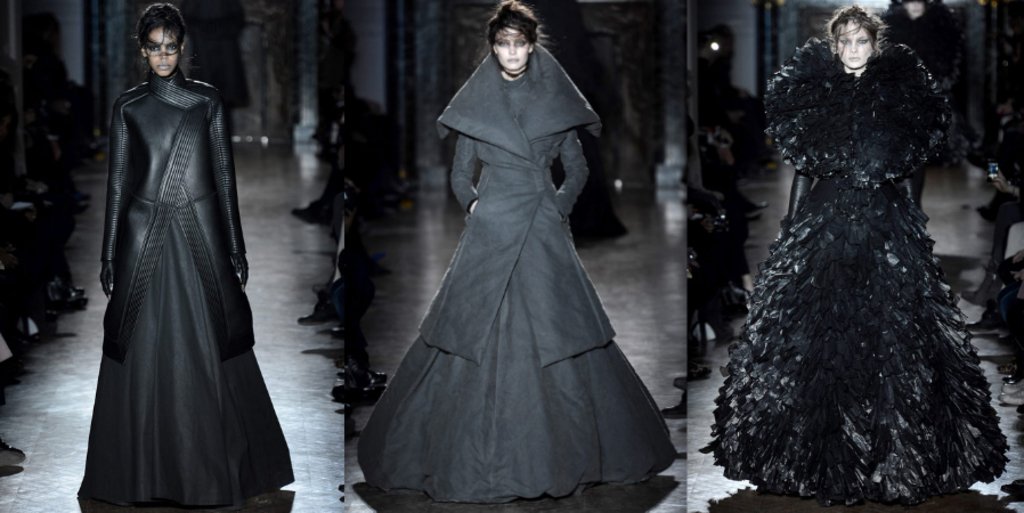 PRADA
Fall's collection was all classic Prada pieces, mixed with a film noir flair. The clothes were touched with an air of indifference – zippers were left open, unbuttoned dresses were layered on top of sweaters, and coats were only half fastened. The combination created with the almost haphazard manner of dressing and the hyper femininity of the fabrics and silhouettes created a sense of unease. Prada's look was reminiscent of that of film noir heroines and dangerous women – ladies who embraced and showcased femininity on their own terms.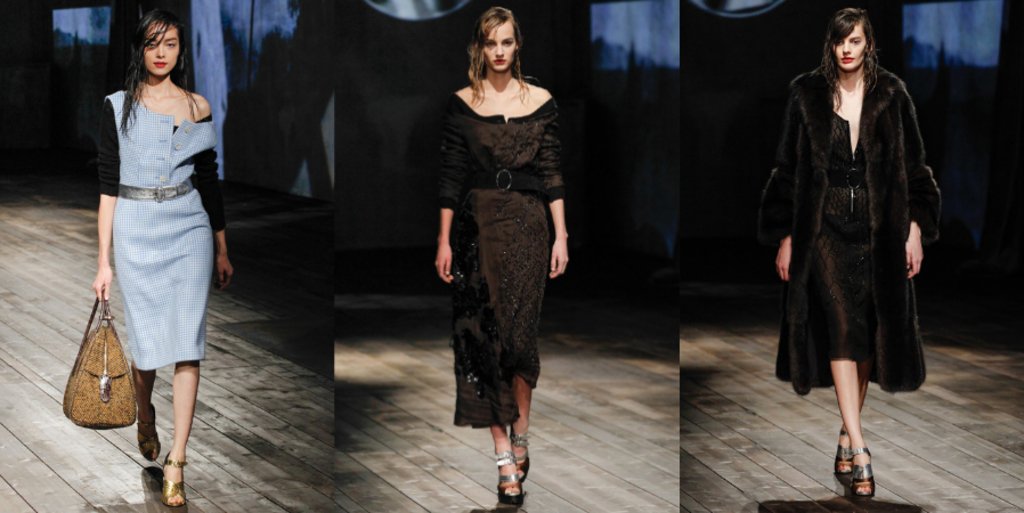 YOHJI YAMAMOTO
Yamamoto's show was not a presentation of a coherent aesthetic or design theme, but a display of master craftsmanship. Two of Yamamoto's greatest strengths have always been his tailoring and fabric making, and both were on display here. The collection didn't have anything new, but neither did it have anything too similar to what has been seen before. It was a mix of old Yamamoto looks and new ideas, stripped down to clean and crisp tailoring and construction. The models were, save for a few, dressed in the usual black, and some were armed with Schiaparelli-like clawed gloves. While the clothes might not have been awe-inspiring on the runway, one can sense that they would be incredibly impressive in person.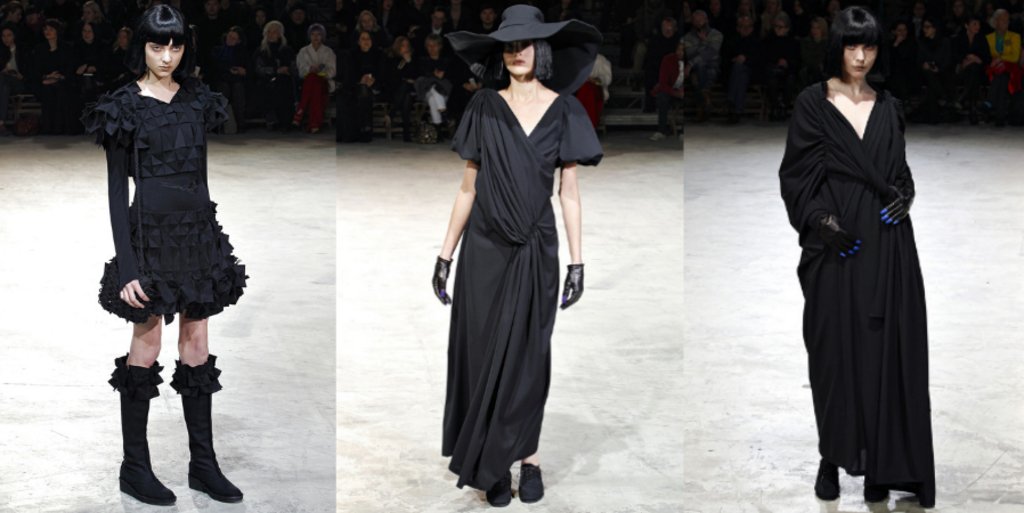 MAISON MARTIN MARGIELA
Instead of the oddly complicated set of amorphous garments that were presented for spring (which I loved), the Maison chose to go with a more paired down version of their usual deconstruction. The clothes were altered in clearly discernible, yet not overtly strange ways. Cuffs were enlarged to a near-cartoonish level, seams were highlighted, and oversize clothes were warped and twisted around the feminine form. Overall, it was not as technically impressive or daunting as some of their past collections, but it was (dare I say it?) completely wearable, and distinctly Margiela. Here is to hoping that the buyers leave it relatively untouched.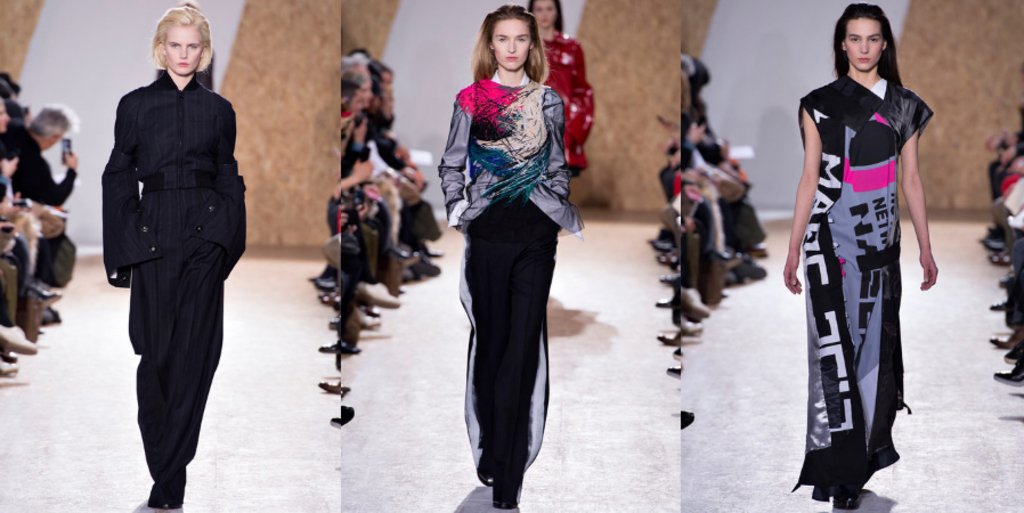 J.W. ANDERSON
J.W. Anderson claimed to "disturb  the conventional lines of his clothes." I am not sure whether or not he succeeded, but that is not for me to decide. I do personally see a few wisps of his past collections present, as well as what could possibly be the outside influences of designers like Kawakubo (but honestly, I will see her influence everywhere). However, the fact that Anderson tried is admirable, and he created a very interesting collection in the process. I was not a fan of all the pieces (baggy pants, really?) but some pieces were undeniably striking, and even if they were not truly innovative they were still quite original.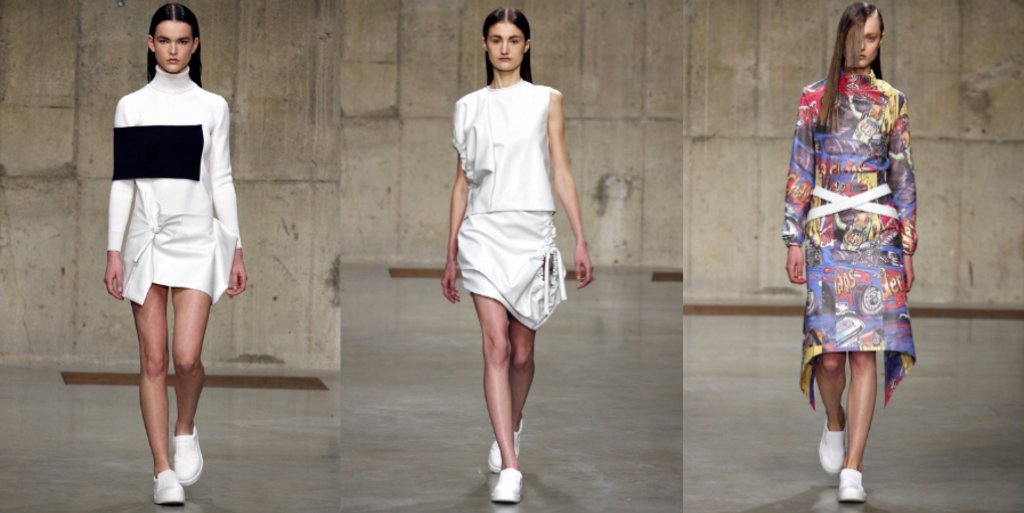 UNDERCOVER
Jun Takahashi is finally back after a much too long absence from the Western fashion world, and his return was nothing short of triumphal. This collection focused specifically on femininity, especially the ultra-super-sexy-stereotypically-feminine kind. With a twist. Takahashi has taken bunny ears, thigh-high stockings, corsets, lace and weaponized them. Not in the now tacky and overused studs and chains manner, but in one that is distinctly more self-aware and subversive. As the models retuned back to the runway with increasing layers of clothing peeled off they revealed a femininity that grew more distorted with each walk. Corsets were emblazoned with guts and bones, lingerie was sown into utility jackets, vests were given shoulder pads encrusted with guts or flowers or both, and coats were embellished with eyes, almost as if they were unflinchingly staring back at The Male Gaze. Maybe it is my inner Seven Sisters scholar talking, but this collection seemed to raise a giant middle finger at the condescendingly feminizing fashion at large today. Maybe punk still does live after all.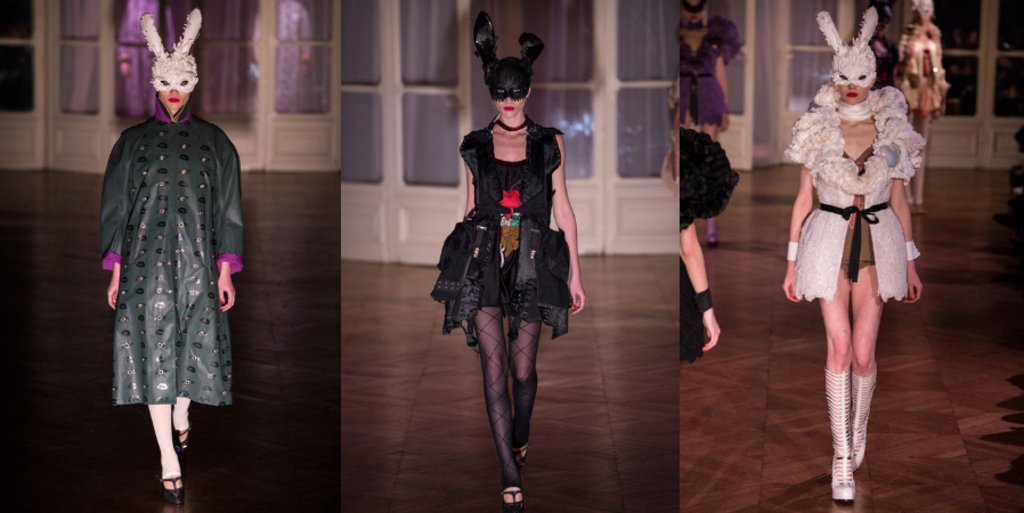 COMME DES GARÇONS
Do I ever dislike a Rei Kawakubo presentation? The answer is no. Some of them might not appear to be my cup of tea at first glance, but I always end up loving them on repeated viewings. This one was at first in that category, not because it was not to my liking, but because I took me a bit to understand what I was looking at. The tailoring in this collection is, there is no other word for it, incredible. Every added flourish, every rosette, every layer, and every appendage that appears tacked onto the garments is actually tailored from within. It is as much a part of the clothing as the sleeves and lapels. Rei Kawakubo and her team of elite tailors have created something astonishing.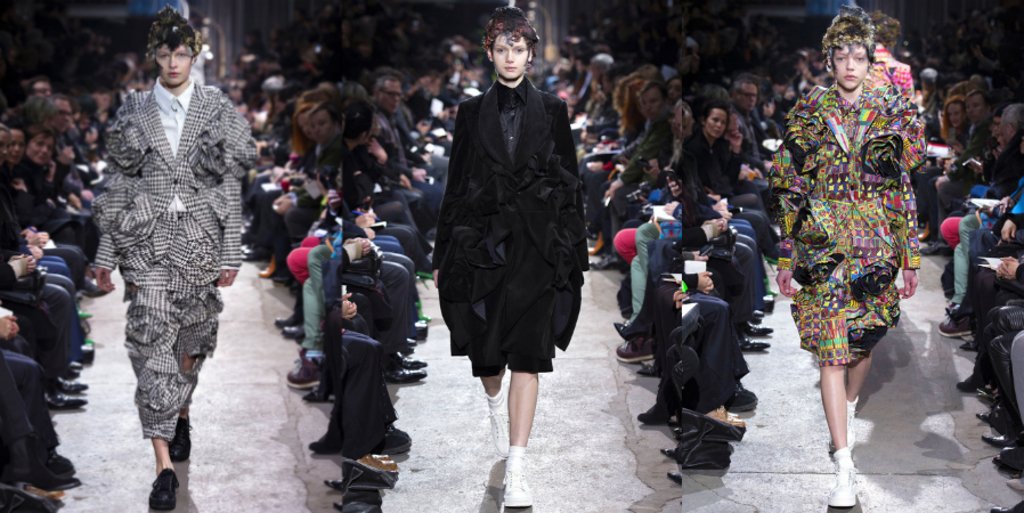 RICK OWENS
Rick Owens' fall collection had a triumphant feel to it, emphasized by the soaring Wagner soundtrack and wall of mist and wind the models walked through. Owens' theme was "Battle scarred heroism," which might have not been blatantly exhibited in the clothing, but it was built through both garment and show ambience. The clothes themselves were not too different from any other Rick Owens offerings, but he is not a designer known for drastically different collections. This showing did, however, have a sense of lightness uncommon of Owens. The clothes were much simpler and voluminous than usual, and some impressive drapery made an appearance. The most complicated garments that made their way down the runway were this season's jackets – they deviated from Owens' usual biker or peplum cuts and were instead oversized and kimono-sleeved, adorned with decorations inspired by Japanese knots and basket weaving. Besides the beautifully transformed clothes, Owens showed the greatest boots I have seen in years. Sure, this collection wasn't the most groundbreaking (you want groundbreaking, you look at Comme des Garçons) but it was the most stunningly beautiful of the season.

Of course these were not the only collections I liked, I am just not about to write an essay detailing every single presentation. I just wanted to discuss those I both enjoyed and found most inspiring for fall. Did I miss some? Do you think these are ugly? Wanna do something about it, punk? Let me know, let's talk.
(All photo collages were created with images from www.style.com)