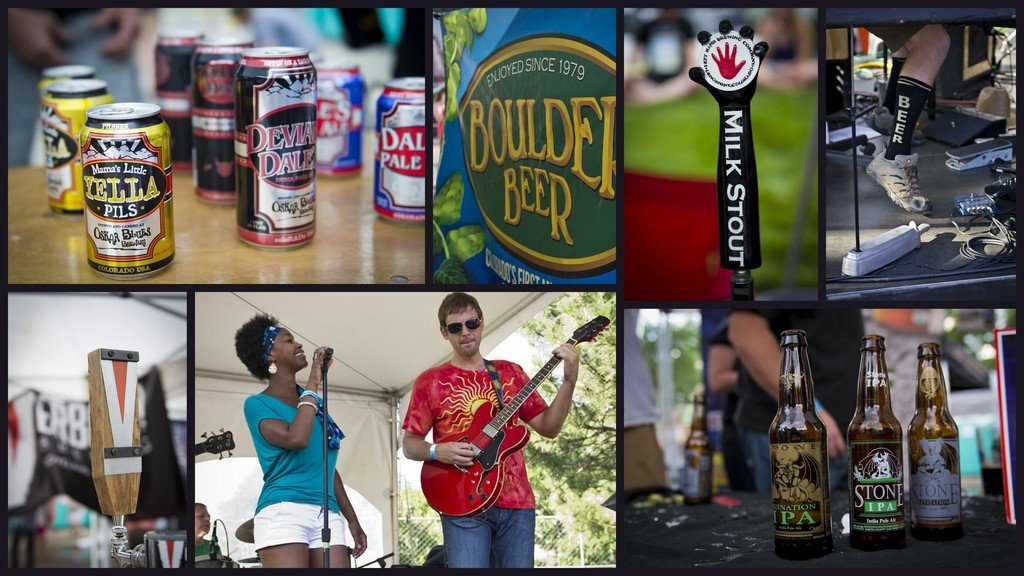 Craft brewing is an art form, and at Kyle Hollingsworth's Brew Fest benefittingConscious Alliance this past weekend in Boulder, its imagination and ingenuity were celebrated with filled pint glasses, energetic music, and an impressive selection of beers from Colorado and beyond. Outside the Boulder Beer Company, a mix of craft beer lovers and String Cheese Incident fans amping up for this weekend's Red Rock's show lined up at booth after booth to get pours of some of the most creative brews available.
Hollingsworth, a home-brewer in his off time from being the keyboardist/accordion player for String Cheese Incident as well as his own Kyle Hollingsworth Band, offered one of his own home-brews at the Fest. A rye IPA with a blast of juniper flavor added throughout the brewing process was kicked up by an improvised late addition by Hollingsworth of extra dried juniper berries added to the keg itself. The result is a full-flavored, hoppy IPA with a bit of a spiced-tartness.
A Gluten-Free Wheat created by Hollingsworth and New Planet was available, as well as Hollingsworth's collaboration with Fate Brewing, Apollo Tsai,  a honey wheat infused with Earl Grey tea resulting in a refreshing, smooth brew with a one-of-a-kind flavor. There's still some left, so head to Fate's tap house for a taste.
Boulder's own Twisted Pine Brewing Company was on hand with their Ghost Face Killah, a brew packed with six peppers including ghost peppers, known as the spiciest in the world. On first sip, this beer tastes deceptively like a wheat, but that is quickly replaced by a sudden punch of solid heat. I needed a stop under the mister tent after a few sips of this one, but with only 100 cases being released, it's a must-try for anyone who craves the fiery. For something with less kick but plenty of flavor, I enjoyed Cannonball Creek Brewing's Rosemary Sourdough Saison. The sour profiles of saisons are perfect for summer, and this one out of Golden has an herby quality that would pair oh so well with some grilled meats and veggies.
The Kyle Hollingsworth Band performed for much of the afternoon treating the crowd to a set filled with classic covers by artists like The Beatles and The Talking Heads, Hollingsworth originals and a lot of singing along, dancing and shouts of "String Cheese, yeaaaaa!" echoing through the crowd. As Galen O'Moore, 21, a recent transplant to Colorado via Maui told me, "To come here and get unlimited beer, not to mention the best of String Cheese Incident, that's really all that matters to me."
Beyond the beer and music, though, this Fest also raised money for Conscious Alliance, a Boulder non-profit that helps feed low-income and impoverished people, including many Native American reservations, across the country. Bids were flying at the Silent Auction where a variety of signed posters and memorabilia from String Cheese Incident as well as donations from local businesses like a Celestial Seasonings gift basket were up for grabs.
The Kyle Hollingsworth Brew Fest is an annual event, so if you missed out this year, you can follow Kyle on Facebook to keep up with his brewing adventures and upcoming events. Or pick up some of Hollingsworth and Boulder Beer Company's collaboration Hoopla Pale Ale, put on some tunes and enjoy summer.
Check out our gallery from the event HERE. All photography by Adam Ripplinger