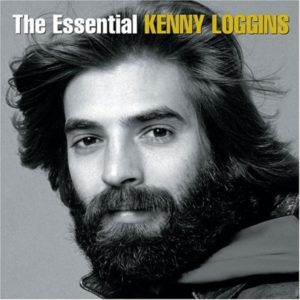 In the apocalyptic, zombie infested environs of World War Z, "Movement is life," asserts Brad Pitt's Gerry Lane. Standing still? It translates to the end of the road.
Strange as it may seem, it's a fitting analogy for the career of Kenny Loggins, a multi-gold, multi-platinum, Grammy winning singer/songwriter who has shifted from 60s psychedelic punk (Electric Prunes) to 70s pop (Loggins and Messina), a brilliant solo career ("Whenever I Call You Friend," "What a Fool Believes," "This Is It") to soundtrack sensation in the 80s and 90s ("I'm Alright," "Danger Zone," "Footloose") to yet another reincarnation – country music trio, Blue Sky Riders.
A career spanning across six decades, Kenny Loggins continues to move, adapt, and re-invent. His artistic life depends on it.
As he told Good Morning, New York recently: "That's what it's all about. It keeps the juices going. It keeps you feeling vital and alive. For me, I have to be creative to feel good. And I wanted to get back into the heat of building a new act and writing new music…to reinvent myself. It's been lots of fun."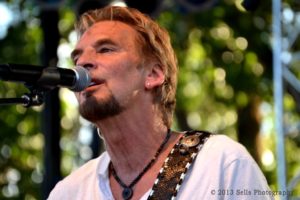 On stage at Hudson Gardens Sunday night, Loggins slowly and methodically rolled out early acoustic and children's hits – "Danny's Song," "Pooh Corner," "This Is It," and a howling rendition of "Moose N'Me."
Then, with effortless ease, he incorporated the vocals of Blue Sky Riders' Georgia Middleman on a beautiful rendition of "Whenever I Call You Friend" (originally with Barbara Streisand) before bringing in third band mate and accompanying guitarist, Gary Burr, for several tracks off BSR's debut album, Finally Home.
With songs like "Rider" and "Just Say Yes," the country vibe appeared to be in full effect – the newest twist in the legendary singer/songwriter's career. And it didn't hurt that Burr jokingly referred to Loggins as Kenny Rogers.
Mid-set, the three part harmonies intertwined most effectively and naturally during the soft rock production of "Dream," as each member shared lead vocals in a cozy, summer charmer.
"Dream" – Blue Sky Riders, from the album Finally Home (2013)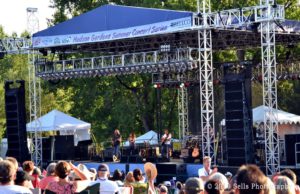 With the sun fading and the crowd sitting comfortably on blankets and lawn chairs, the light, airiness of "Celebrate" appeared to have lulled the crowd into mellow mush.
Moments later, however, that quaint, relaxed sound was replaced by a power anthem that had everyone on their feet dancing and singing along. Like an unexpected jolt of electricity, "Conviction of the Heart (1991)" provided the night's most invigorating and uplifting moment.
It was the turning point the crowd had been eagerly waiting for, jumpstarting a series of soundtrack favorites: "I'm Alright," "Danger Zone," "Playing with the Boys," and "Footloose."
"Footloose" – Kenny Loggins, from the soundtrack Footloose (1984)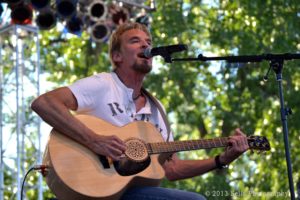 Fittingly, after a rowdy rendition of "Your Momma Don't Dance," the night ended with Loggins waxing nostalgia once more on "Forever (1985)." A song with lyrics like: "How many roads have gone by…forever we will be."
It was a poetic end to a warm summer night filled with the old and the new. From the solos to the duets and bands, the punk, the pop, and the country, Kenny Loggins demonstrated he's more than alright.
He's moving forward, refusing to stand still.
Mark Sells is a nationally recognized film/entertainment journalist and Critic-at-Large for 100.3 FM The Sound (Los Angeles). In addition to his blog on 303, you can follow The Reel Deal on YouTube, Twitter, and Facebook for the latest entertainment news, reviews, and interviews.
*All photos courtesy of Sells Photography, 2013.
"Danger Zone" – Kenny Loggins, from the soundtrack, Top Gun (1986)
"Playing with the Boys" – Kenny Loggins, from the soundtrack, Top Gun (1986)
"I'm Alright" – Kenny Loggins, from the soundtrack, Caddyshack (1980)