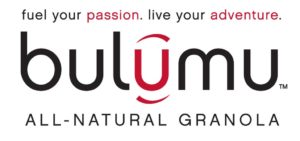 Bulumu all-natural granola has a loving message. The name is an acronym of sorts and  stands for Buckle Up, Love You and Miss You.  It is the way Jasmine Oeinck and her mother sign every email to each other. The company behind the message is a new, healthy and inspirational granola brand added to the Whole Foods repertoire just months ago. Jasmine got the idea to create this company because she needed a granola to fit her lifestyle  She is a born athlete and has always been extremely health and nutrition conscious. She struggled to find a granola that was completely healthy. She took matters into her own hands, literally, and began concocting various mixtures of granola, which didn't use oil, wheat or soy.
Once she made the final mixture, she began to let other athletes taste her creation. Soon the athletes were swooning over the granola and they began to pay Jasmine for a Ziploc bag full of her Bulumu granola. In the meantime, she met Brandon and got him hooked on the granola as well. However, Brandon wasn't just in it for the taste. He saw the business potential behind the granola.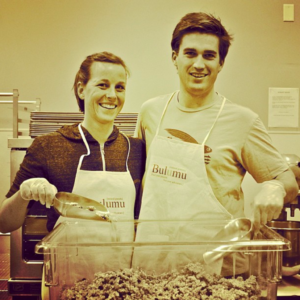 After about nine months of renting out a commercial kitchen, making and  packaging the granola themselves and learning the local business process, the dynamic duo landed what they call a "whole new level of legitimacy". Whole Foods agreed to carry bulumu granola in their rocky mountain region stores.
Their success and determination is quite impressive, but it all began with the granola. I am a self-proclaimed granola fanatic so I was excited at the opportunity to meet Jasmine and Brandon and try out their product.
I started with the original flavor Red, white and Blueberry. The second I picked up the bag I could tell the granola was lighter. To my surprise, the oats flowed freely in the bag and there was no heavy clumping. I enjoyed this flavor. Even though it is common, it was delightful.
The second flavor I tasted, and has since become my favorite, is the Orange Ginger and Cranberry. Who thinks to put tiny chunks of ginger in granola? Jasmine and Brandon did. This unique granola mixture screams healthy since ginger helps with digestion and nausea.
From the get-go I expected the third flavor, the chai and walnut, was going to be my favorite since I am a huge coffee and tea drinker. Luckily, the cinnamon chai and walnut granola beats all expectation! The subtle chai taste, the baby flakes of ginger along with the crunch of the walnuts make this granola fun to eat!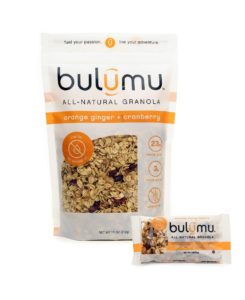 Jasmine and Brandon gave me sample packs of all three flavors. Everyday since, I have eaten yogurt and granola for breakfast. Each day a different flavor. The newest bulumu product to hit stores will be the serving size, 1 oz individual packs of each of the three current flavors of granola.
With this granola having 50% to 70% less fat than other leading brands of granola, it is a healthy choice but it definitely doesn't affect the taste. You can pick up your bulumu bag at Whole Foods, select Natural Grocers and individually owned boutique food stores. The granola is also available on amazon.com.
While the excited new business owners continue to grow their brand awareness I will sit back and eat my bulumu, as it has become my daily routine. I bulumu! Jasmine and Brandon are currently developing new flavors to add to the granola squad, which will be released in the spring. Bring on the new bulumu!