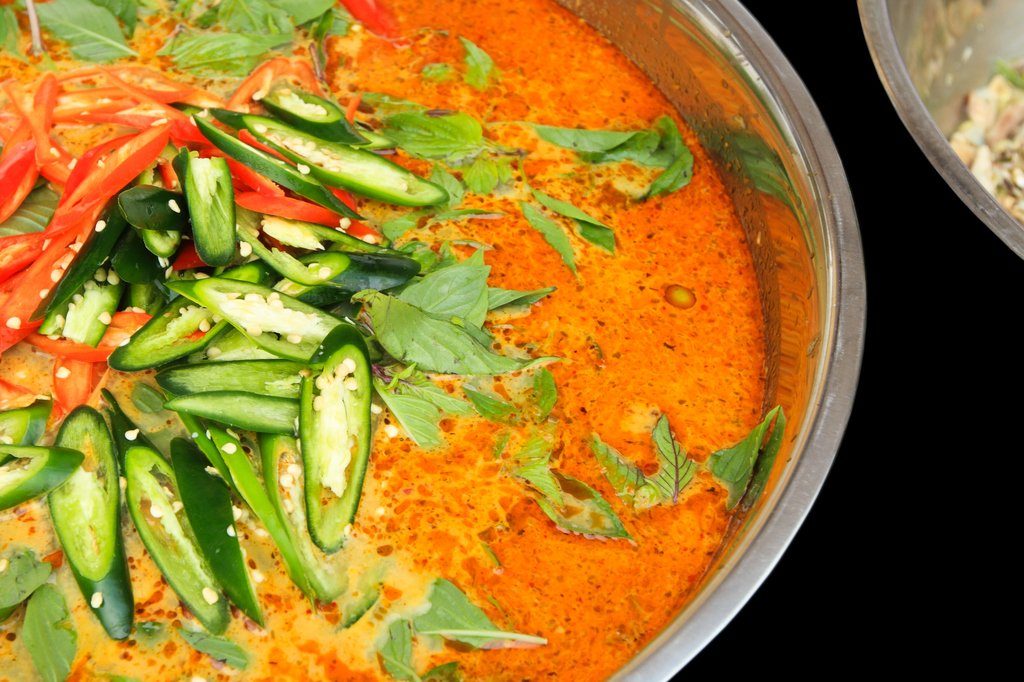 Thai food is magical when done right. The lingering fragrance of sweet coconut milk, the bright emerald of mint leaves and cilantro and the spicy notes of chili and curry completely enchant me. But good, authentic Thai food is often hard to find. Usually a restaurant will be more "Asian fusion," serving the typical fried foods covered in gloopy, syrupy sauces and a terribly sweet Pad Thai that gives you a stomachache the minute you smell it. It's so far off from the fresh and rich flavors of Thailand that it's depressing. No magic to be found, just grease and corn syrup. Nonetheless there are a few saving graces in town to reignite my love for this food.
Thai Monkey Club right off Broadway and Bayaud, is one of these places. Its funky vibe fits its name and interior. With brightly colored paper umbrellas hanging from the ceiling and a mural of a crudely painted monkey, this place is definitely a little odd but it's clean and not too cramped. Wait staff seems friendly if a little slow but overall it's a nice place to catch dinner.      What to eat: Drunken Noodles were excellent as well as the Green Curry (as for extra eggplant though).  Also they will ask you how hot you want your food on a scale from 1 to 6 and trust me even the 1 is pretty spicy so take it easy or you'll end up not finishing your meal. If you want something sweet Thai Tea is tasty and takes the edge off the spice but you might do better with a beer because the prices are so low it's like happy hour at all times (maybe that explains the interior…)
 J's Noodles Star Thai off Federal and Kentucky is my second choice for great Thai food. Its location makes it harder to find because the entire block is crammed packed with different Asian restaurants.  However it is the one of the only Thai restaurants in the area, and it definitely holds its own.  The food is absolutely delicious here making it difficult to choose what to try but nonetheless there are a few stand out stars.
What to Eat: This place arguably has the best Pad Thai in town and is worth the drive to federal for this reason alone. It strikes a great balance of flavors than many other Pad Thai dishes are unable to accomplish. However I am more of a curry girl and their Jungle Curry is ridiculously good. This is not to be missed.
Overall both places are excellent and should both be tried. Thai Monkey Club is a good place to go before a night out because of its location and drink pricing. I think J Noodle has slightly better food and the menu excites me more, I will probably frequent this place more often. However both restaurants made me pretty happy and in the end my magical love for Thai food was reignited once again.