Once or twice a season an event comes along that really stands out from the rest.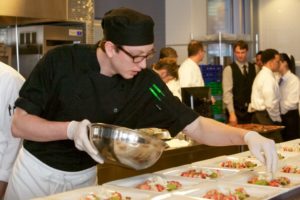 Last Thursday, at the beautiful new Metropolitan State University Hospitality Learning Center, that event of this season took place. MSU hosted an intimate, invitation only, VIP dinner perfectly pairing the Food For Thought charity with legendary local chef, Kevin Taylor, to create a spectacular evening of delectable cuisine, libations and reverie. Chef Kevin Taylor constructed a truly inspired menu for the evening. As guests arrived for the cocktail hour in the edgy, modernly designed, glass encased MSU Alumni Student Lounge, they were offered a tasting of the ultra-exclusive Casa Dragones Sipping Tequila. Casa Dragones is 100% blue agave joven tequila hailing from Tequila, Mexico.  At $250 for a single bottle and worth every ducat, this one of a kind sipping tequila is handmade in small batches by the world's first female Maestro Tequilero. The gorgeous, hand-etched bottle can be custom inscribed for the most discriminating tequila connoisseur.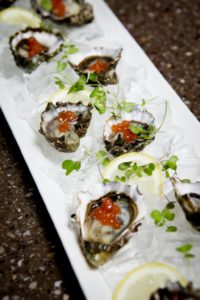 Guests enjoyed a glittering view of lower downtown as they were treated to mixed cocktails to accompany a quartet of passed hors d'oeuvres and canapés including Kumomoto oysters with Bloody Mary jelly; skewers of bocconcini, fresh basil and tiny heirloom tomatoes drizzled with a 20 year old balsamico; a lush black truffle custard resting in a crisp puffed pastry sprinkled with pecorino; and a creamy foie gras mousse with caramelized pineapple and a pineapple gastrique. MSU President Stephan Jordan introduced the star of the evening: Food For Thought, and its co-founders, Bob Bell, John Thielen, and volunteer coordinator Jeane Larkins, who unfolded the story of Food For Thought. Food For Thought, (http://www.foodforthoughtdenver.org/contact/ ), was formed in 2012 because of the desperate need to provide healthy and appetizing food for young, under nourished students and their families in the Denver Metropolitan Area.  Food For Thought reached a hallmark of registering its 500th volunteer the very morning of this fundraiser event:
"Two members of the Arvada Sunrise Rotary Club, Bob Bell and John Thielen, founded Food For Thought after becoming aware of a tremendous need in the Denver Public Schools for such an effort.  A partnership with Metro State University was formed when Metro donated on-campus space and provided access to their student body that make up the majority of volunteers. With support and initial funding from the Arvada Sunrise Rotary Club Foundation, the first Powersacks were delivered to two Denver Elementary schools in March 2012.  Since that time, in less than a year, Food for Thought has delivered over 43 tons of food consisting of 23 deliveries to the two schools for a total of over 14,000 Powersacks!  Each Powersacks bag contains enough food to feed a family of four for a weekend. Food For Thought is a 100% volunteer organization.  100% of all funds raised are used to buy food and supplies for the program. This is a local, grass roots effort directly impacting a huge childhood hunger problem in our community. The two elementary schools served by Food For Thought are Columbian Elementary and Fairview Elementary.  Each school has approximately 300 students, ages 3-12.  Over 90% of the students at each school qualify for Title 1 benefits allowing them to receive free or reduced breakfast and lunch at school.  Powersacks are designed to provide weekend meals so the students don't come to school hungry on Monday morning and are ready to learn and grow. Hungry students are unfocused, disinterested, and unable to experience learning at an optimal capacity." http://www.foodforthoughtdenver.org/about-us-food-for-thought-denver/
After the presentation about Food For Thought, guests congregated in the elegant MSU Hospitality Learning Center restaurant to dine on the artistic endeavor of Denver's truly iconic restaurateur. Chef Kevin Taylor presented his first course of vanilla poached Maine lobster, jumbo lump blue crab, pistachio guacamole and lime crème fraiche paired with 2010 Landmark Overlook Chardonnay from Sonoma, California.  The graceful and expressive chardonnay brought out the natural sweetness of the lobster while playing on the vanilla notes leaving the mouth to water, longing for a second taste. Known for out doing himself with each course, Chef Taylor delivered an outstanding entrée of tender roast bison and a root beer braised bison short rib that melted in the mouth. The bison was accompanied by succulent parsnips, Chioggia beats, toasted oats and a whiskey jus.  The perfect wine pairing for this dish was a 2004 Baron de Ley Gran Reserva Rioja from Spain. Rioja is always a crowd pleaser and this 100% tempranillo was a smoky, lush, rustic but glorious wine that brought out the tremendous depth of the cuisine. For dessert, Chef Taylor thought of something playful. His special interpretation of a classic Snickers candy bar consisted of rich salted caramel, crunchy peanut brittle, and pillow-y nougat paired expertly with Chambers Rosewood NV Muscadelle dessert wine from Victoria, Australia. This little gem of a wine has notes of orange blossom, honey, candied rose petals, and ripe peaches which toned the sweet and salty "Snickers" creating an amazing and satisfying dessert. French press coffee and specialty teas were also served to culminate a luscious gastronomic experience.
 ***
 MSU Department of Hospitality, Events, & Tourism, Director, Dr. Chad Gruhl, donated the beautiful space for the evening. Chef Kevin Taylor and his server captain Daniel McGaughey graciously volunteered their time and skill. Tracey Johnson of Southern Wine & Spirits kindly donated all of the wine, spirits, and beer for the dinner. Meredith Main Cheairs of Casa Dragones donated her wonderful sipping tequila for the cocktail hour. Laurence Rau, VP of Centerplate, and Judith Thomas, Creative Director of Square Two Financial contributed their time and resources to the organization and event. All servers, kitchen staff, and bar staff were student volunteers from the restaurant, culinary, and wine classes of Dr. Michael Wray; Professor & Chef, Travis Smith; and Professor & Sommelier, Simone FM Spinner, CWS, CWE, who were also on hand to lend their time and expertise. James Webb, Events Operation Manager for MSU was available to ensure a seamless evening. The event and the Food For Thought organization owes its success to these volunteers and volunteers like this within the community who selflessly give of their time in service to others. MSU owes a special gratitude to the student volunteers: Sam Watson, Brian Tohill, Rachelle Bunker, Tahmina Hoshmand, Chris Squires, Maritza Cortez, Patrick Gruber, Brennan Sheets, Mike Baltus, Ralitsa Pavlova, Justin Ohlmacher, Ray Barrow, Heidi Torres, Donna Hayes, Tom Deutsh, Andrea Denault, Amir Harrison, and Rachel Smith.

 ***
This article was written by Simone FM Spinner, CWS, CWE. Simone FM Spinner, CWS, CWE is a wine educator, sommelier, and passionate wine & food connoisseur. She is Professor of Wine Studies at Metropolitan State University. Ms. Spinner is also a graduate student at UC Denver studying the aesthetics of wine and pursuing her WSET Diploma in wine studies. She is always Chasing Grapes and enjoys sharing her experiences with you-Salut!