Do you know what "leveling up" means? (If so, you may be a nerd, and if you're a nerd, you may already have heard of today's guest. You may skip ahead.) Like other RPG video games, Madden NFL's franchise mode allows you to level your players, in this case by taking them through reps of position-appropriate drills in "practice." Minnesota Vikings punter Chris Kluwe (either the NFL's resident RPG gaming expert, or RPG gaming's resident NFL expert) points out parallels between being a professional athlete and playing an RPG video game. Kicking to Bears punt returner Devin Hester is like a boss-fight for Kluwe, who notes  "the interesting difference between football and [an] RPG [is that in football] you don't know that you've leveled up until you made it, then you know, okay, I'm at that level" now.
Imagine a Minnesota cornerback covering Calvin Johnson–he can't think about the fact that Madden says he's an 77-rated CB going up against a 99-rated WR, he can't think "this dude  has 97 speed and 99 catching, I can't keep up with him." His job as a player is to look for ways to win, regardless of what the numbers might say. Every numbering system is a little arbitrary, and very incomplete. If the CB  gets in-the-zone before a game, it's not hard to believe that a 77-rated CB can play like a 99 on the field, for a play, for a half, for a night. And if you can do it for a night, you can do it for two, and so on. Kluwe suggests that a lot of RPGs would be better games if they withheld the explicit number that designated the level a player has reached. It would be more exciting to go looking for ways to win using only what you have, regardless of your opponent's perceived relative strength. It's a test of your character, not your playable character.
Today's guest is a science-fiction writer who works in the world found somewhere between reality and RPG-like make-believe. When I spoke with him in January, he said,
"When I write, I don't have any music playing. I like to write at night, when it's dark out, in a room with dim lighting so I can imagine the outside world falling away. It helps me get lost in the world I'm creating."
This week I spoke with New York Times Top-Ten Best Selling author Drew Karpyshyn. He is widely known through his novels in the Star Wars and Mass Effect universes. I first encountered his writing when I fell in love with Darth Bane – Path of Destruction–along with sequels Rule of Two and Dynasty of Evil–in the Darth Bane trilogy. He has also worked on video games, notably on the critically acclaimed Mass Effect series and MSNBC's 2011 Game of the Year Star Wars: The Old Republic. His most recent Star Wars book is called The Old Republic – Revan.
When he isn't writing, Drew is the line between Star Wars and NFL fans, and like me, he didn't choose just one or the other. We talked about the Chargers, the different fans, who in NFL is most likely to become a Sith or a Jedi, and whether Alge Crumpler or Ebenezer Ekuban has a funnier sounding name.
Thanks again, Drew, for agreeing to speak with me. Your website's bio says you're a San Diego Chargers fan. How did you become a Chargers fan? What do you expect to see from them moving forward?
Growing up in Canada, I didn't really get into the NFL until I started going to university. This was in the early 90′s, right around the time Junior Seau was starting to make a name for himself. For some reason I latched onto the Chargers and they became "my team". There were some lean years for a while (and I even "switched" to Tampa Bay during the Warren Sapp glory years), but when Drew Brees, Tomlinson and Gates were worked into the mix things started looking up. But the front office made some questionable decisions, and now I think they need to take a step back before they can move forward again.
They still strike me as one of the more talented teams in the league, but I think they lack discipline and focus. That comes from the coaching staff, and I'm not a big fan of Norv Turner. I think letting Schottenheimer go after his 14-2 season was a travesty – it was like resetting the franchise. Everything he had built in the previous five years was tossed away, and instead of being patient and paying their dues, the front office panicked. Losing to the Pats in the playoffs could have been an important learning experience for the franchise if they'd kept Marty and his system, and I can't help but wonder how things would have played out if they'd stayed the course.
The Norv Turner era has been – in my opinion – a disaster. Year after year of unfulfilled promise and failure to meet expectations. It's hard to cheer for a team that always under performs; they're like the opposite of my other favorite sports franchise, the San Antonio Spurs (who always seem to get the most out of what they've got). Hopefully they can get back on track with a new coach next season.
So, Philip Rivers, or Drew Brees?
I was a huge Brees fan (and not just because we were both named Drew) and I thought the way he was shipped out was classless and low rent. So I started out hating Rivers… but he grew on me. Yes, he's an asshole to his own teammates, but he plays hurt, he makes plays and he wins games. I don't put the Charger failures of the past few seasons on him, and I think he has the ability to lead them to the Super Bowl. He had some trouble last year, but that was partly due to injuries to the O-line, and I think he'll bounce back strong.
Having said that, I'm still a huge Drew Brees fan. New Orleans has become my favorite NFC team, and I fully jumped on the bandwagon for their Super Bowl win. When they signed [Darren] Sproles last year it made it even easier to cheer for them. Go, Saints!
Most people wouldn't assume that a guy who writes science fiction and fantasy for a living would be a sports fan. What is it that you see in the NFL, and in sports in general, that makes them interesting to you? 
I've always been into sports. I grew up playing hockey and soccer, and I even tried out for the high school football team. (They wanted me on the O-line, and I wanted to be a fullback or linebacker, so it didn't work out.) I'm drawn to the competition and unpredictability of sports. As a writer, I can usually see how most movies and TV shows will end long before it happens, so the randomness of sports is exciting to me.
I'm also a degenerate gambler, and if you want to bet on sports the NFL is the way to go. The point spread was developed for football, and the number of games that come down to a final play to see who covers the spread is amazing – it makes even blowouts and terrible match ups exciting when you have a small wager on the line.
Both Star Wars fans and football fans are known for dressing up in crazy costumes to attend conventions and games. Which fan group is more hardcore? Which has better costumes?
Wow – tough call. I think the hardcore Star Wars fans are tough to beat. You might see NFL fans in crazy outfits at a game, but if you go to a Star Wars convention you see costumes that took months and and thousands of dollars to make. Also, I'm probably biased because the Star Wars fans help me earn a living, and the NFL fans don't. (Especially this year, when my NFL picks have been terrible.)
Do you know any other people in the writing and video game development fields that are also football fans?
Well, I don't know him personally but I've heard George R. R. Martin, the writer behind Game of Thrones, is a huge NFL fan. (ed.- this is true) The video game industry is, as you'd expect, dominated by geeks and nerds (of which I am one, so I can say that). Most of them aren't that into sports. But there's a small subsection of us that take our football seriously. Brad Prince, the lead world designer on the Star Wars: The Old Republic MMO is a crazy Steelers fan, for example. We've got some Pats fans and Eagles fans kicking around, and a few NY transplants that cheer for the Jets or Giants. But we're definitely in the minority.
Which NFL player, coach, or owner would be the most likely to follow the ways of the Sith, if they were transplanted to the Star Wars universe and had the Force? Who would be the most likely to become a Jedi master?
The Sith is an easy call – Bill Belichick. Stealing signals in the Super Bowl? Total Sith move. The guy is always looking for every advantage; he's cunning and crafty and amoral. That may sound like an insult, but I'd love to have him coaching the Chargers.
Jedi Master is tougher. Maybe Peyton Manning. The guy always seems calm, cool and collected. He follows the Jedi mantra of "there is no emotion, only peace". But he's still an incredible player – when he's on the field the Broncos are a contender. When he's not… well, we saw what happened last year. Obviously he must be using the Force to get it done, right?
Is Tim Tebow the real-life Sith'ari? 
Ah, Tebow. I like unconventional players, so I enjoy the success he's had on the field. I don't like him off the field, however. Anyone who wants to press their religious beliefs on others scares me. He says all the right things, and I think he's sincere in his beliefs, but I don't subscribe to his way of thinking, and I don't want others to be lured in, either.
But does this make him the Chosen One who will bring balance to the Force? I'm going to say no. I think Tebow is a player with unusual talents benefiting from a great defense and the conservative mentality of opposing NFL coaches. They don't like things that fall outside their traditional view, so they don't know how to deal with Tebow. Give them a chance to study game film and develop a plan in the off season and you might see Tebow's effectiveness drop next year. (ed.–we have)
Was it weirder to be an American football fan living in Edmonton, Alberta, or to be a Star Wars/science fiction fan living in Austin, Texas?
Neither one was weird, actually. We get all the American TV feeds up in Canada, so you can't help but be inundated with US culture, and the NFL is a huge part of US culture. There were plenty of NFL fans up there.
And Austin, despite being in Texas, is a very nerd-friendly city. Because of the University, it's a very young city. There's a huge tech industry here. Austin takes pride in being alternative – the official city motto is "Keep Austin Weird". So between the hippies and geeks and nerds, I never feel like I'm out of place.
On your website, you write that you love to tell stories, whether they're novels, video games, or screenplays. Can you think of any stories centered around the NFL that particularly intrigue you?
As I mentioned before, the great thing about sport is how unpredictable it is. When you try to take that element and make it into a story, the author imposes order and purpose on the chaos and randomness. Most sports movies aren't very entertaining for me: they're always by-the-numbers and very cliche. They also don't capture the subtle nuances of sports that I would find interesting, they go for broad strokes to appeal to a mass audience. Because of that, I don't really see a lot of potential in the NFL story lines for the type of stories I want to tell.
Oddly, though, baseball has some interesting films. I loved Bull Durham and Money Ball far more than any football film I've ever seen. (Though the original "The Longest Yard" wasn't half bad.)
I love the story about the creation of the character HK-47, who was named after a competitive billiards team you were once part of. The NFL is packed full of interesting and strange names. What players have the most potential to be turned into a character in one of your works in the future?
Well, I can't take credit for this, but my friend Brad Prince – a coworker at BioWare – used to call some of his video game characters "Ebenezer Ekuban". He said it was the perfect name for an evil wizard. I was also a fan of Alge Crumpler's name – it sounds like some kind of monster crawling up from the depths of a mystical swamp. (Ah – look out! It's the Alge Crumpler!)
Drew Karpyshyn's website is http://drewkarpyshyn.com/, where you can find news about what's going on in his life, as well as the latest info about his games and novels. His last name is pronounced Kar-pish-in and "rhymes with suspicion, condition and musician."
Drew's interview was originally published on January 14 , 2012. on The Warren Peace NFL Report at  http://fuckitimgoingdeep.wordpress.com/2012/01/14/drewkarpyshyn/. I'd like to thank Drew and his publisher Random House for allowing their copyright to be reprinted.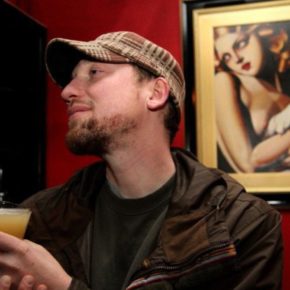 Pete is a Redskins fan living in Bronco country. He's co-founder of the Team Tomorrow ski and snowboard team, and a guy at the bar last Sunday told him, "you know a lot about football for a weirdo." He is also HEAD writer for the Warren Peace NFL Report. Follow Pete on twitter @TakingaKnee303