Looking for some tempting, smooth, unusual Sweet Action? Not sure where to go to cure your craving for that seductive sweetness? Well, take your wallet down to Broadway where you can buy some chill Sweet Action right there on the street. Sweet Action ice cream (Yes, ice cream. What were you thinking?) is located on South Broadway and can help satisfy your decadent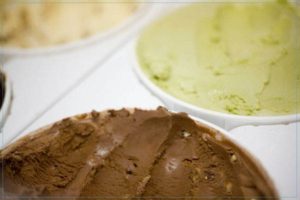 addictions. Sweet Action is not your average chain ice cream shop, and loves being the tasty rebel of the frozen treat circuit. With flavors that bring a wide range of reactions such as, "Oh, heck yeah!" to "They put 
what
 in 
what 
and 
why
 haven't I tried this before?" Sweet Action ice cream is simply the most delicious place in Denver to get a scoop.
Sour cream and chive ice cream. These are not items that are usually thought of as complimentary to one another, but if any ice cream shop can pull off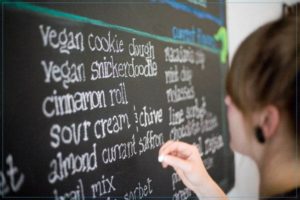 such a strange combination, it is Sweet Action. Flavors vary from normal, like the vanilla bean and the Oreo, to the not-so-ordinary, like the Saigon cinnamon and the almond cardamom. Sweet Action changes their menu weekly. In fact, most of their flavors only make it 2 to 3 days until they are discontinued to make way for even more imaginative flavors. The ice cream techs at Sweet Action use seasonal ingredients to inspire their creative selections, bringing out the refreshing sorbets in the Summer and the warm, soothing elements in the Winter. Certain ice cream favorites can remain on the menu longer, such as the chocolate Whoopie Pie and the salted butterscotch which seem to melt even the toughest food critic's tongue. Vegan? Dairy allergy? No problem. Sweet Action makes sure to have a few Vegan and dairy-free options on their menu so people with varied types of backgrounds can enjoy the unbelievably divine Sweet Action.
Whenever I stop by Sweet Action I can never get just one scoop, no matter how much I prep myself outside of the shop before I walk in. It is just that good, and I have to say, my favorite part of it all is trying the flavors. At most corporate, blasé ice cream stores, if someone asks to try a flavor, they are answered with eye rolls and heavy sighs by the person behind the counter.
 So not welcoming.
 At Sweet Action, you are encouraged to try the selection they have, and can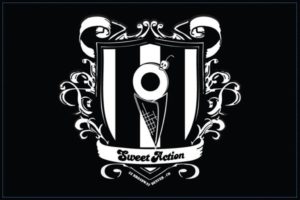 sample as many flavors as you want without having to worry about mean remarks being made under the Scoopers breath. Sweet Action's employee are accommodating, friendly and all have very outgoing personalities. They make the line that can sometimes be out the door tolerable with their amusing conversations. The last time I was in the shop, I decided on the chocolate Whoopie Pie and the baklava. The chocolate Whoopie Pie was incredibly authentic, and the baklava was cinnamon perfection.
So, yeah, you can say I really enjoy some Sweet Action. Next time you get a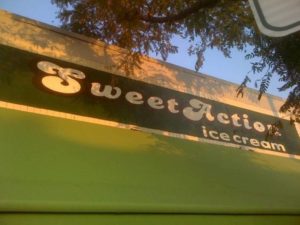 hankering for dessert, skip the usual and go with something a little different. Spice up or cool down no matter what season. Try blackberry whisky in the Winter to help warm your bones, brown butter Sage in the Fall as the finale to your Thanksgiving meal, Mint Chocolate chip in the Spring after a day of gardening or Basil lime sorbet in the Summer to quench your craving. Sweet Action ice cream is Denver's dessert treasure, and a true ice cream original where Denverites can put on a brave face and jump into a whole new ice cream experience.