16th Street Mall's usual city backdrop is now lined with bright orange Aperol Spritz umbrellas — a tempting invite and a mere preview into the experience of Sofia's. This new site is slinging up Roman-style pizza, a plethora of refreshing cocktails and even soft serve. But the Wes Anderson-esque décor and compelling tunes are what really make the place stand out amongst the many new concepts popping up in Denver.
Sofia's is seated alongside the newer sites on 16th Street Mall, including Dragonfly Noodle and Mary Nguyen's Little Finch, and offers fast-casual dining with locally sourced ingredients. It took over the lot formerly housed by Illegal Pete's and reshaped it into a space filled with pale pastel colors, art and greenery. Upon entering, the inspiring tunes evoke immediate relief from the workday slump and urge many to open Shazam and see what's playing.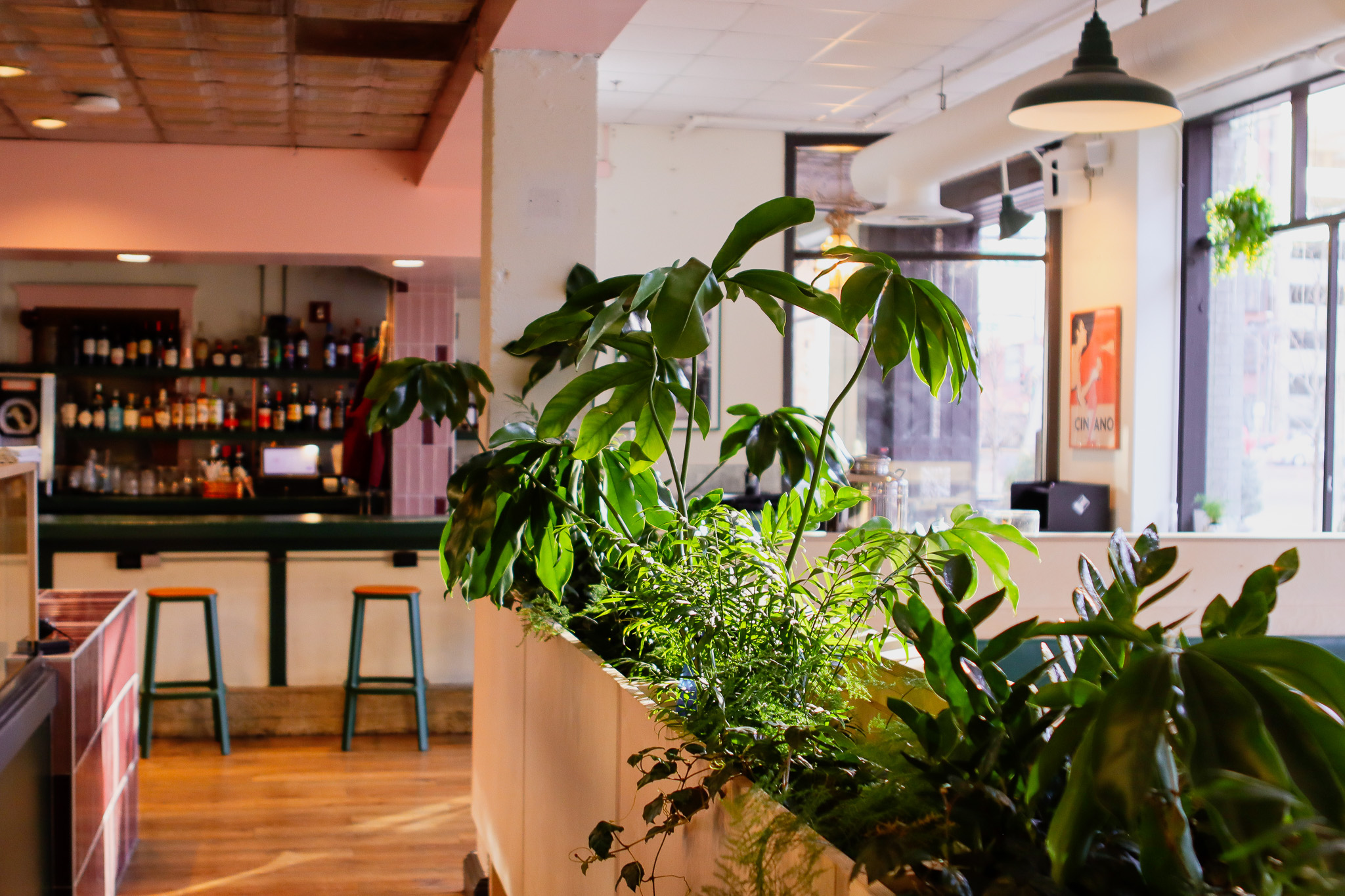 A concept from Work+Shop, the team running the show is just as dedicated to giving their employees a positive experience as their customers. "Work+Shop wants to disrupt the hospitality industry because it can be a really unhealthy place where it doesn't feel like a real career for people. We offer full benefits and try to really promote wellness and health," described Claire Nafziger, program manager at Work+Shop. "So, we wanted to do fast-casual plus. You can get full service at the bar and have all of those hospitality moments, but fast-casual everywhere else".
This slideshow requires JavaScript.
The positive treatment is deeply reflected in the quality of food. Its focus is Roman-style pizza, or pizza al taglio, a method not found elsewhere in Denver. The square slices are signature, with a light and airy crust that makes your tastebuds and stomach feel good. The team worked with pastry chef and co-owner of Poulette Bakeshop, Alen Ramos, to craft the menu and perfect the 36-hour ferment process.
"We get to be really creative," smiled Nafziger when asked about the topping combinations. Currently hiding behind the display case are eight different options, served by the slice ($4.50/5.50), half pan ($20/$26) or whole pan ($40/$52). Our favorites include its pepperoni and hot honey, finished with rich gorgonzola cheese; Italian sausage and potato; and its asparagus, soppressata and burrata square that evokes fresh spring flare. The Full Roman ($15) is absolutely the way to go, with a generous serving of two squares and a side salad.
For dessert, its Fior de Latte Soft Serve ($3) is a reason to visit in itself. With two flavors — sea salt and olive oil or honey & fennel pollen — this sweet and salty treat is the crowning finishing touch to a Roman meal. All the honey on the menu is homegrown, courtesy of hives situated atop the site's roof.
This slideshow requires JavaScript.
It's got drinks, too, and has dubbed itself the "home of the $10 negroni", available on the rocks or in frozen form. Sofia's is constantly serving up Aperol Spritzes, aptly titled the O.G. ($12), along with many other bubbly libations. We recommend the Rooftop Bees Knees ($12), fashioned with Barr Hill Gin, lemon and sweet honey syrup. If you're more in the mood for wine, each choice from the vast list is 100% Italian, further cementing the theme.
"We wanted to mirror Italian culture, finding joy in little moments and joy in dining with friends and family," finished Nafziger. If you are a fan of pizza and cocktails, we can promise you that joy will be found at Sofia's, no matter the company.
Sofia's is located at 1530 16th Street Mall, Denver. It is open Tuesday – Saturday, 11 a.m. to 8 p.m. 
All photography courtesy of Sofia's.