Emyli Dahlia has hit Denver's underground electro-music scene and can't be stopped. Currently touring nationally, her show in Denver at Beta Nightclub on June 8, rocked the house. The bass was hard, the beats were raw and dirty and it had a sound that instinctively made everyone dance. Thus the crowd seemed to enjoy the distinct house-style techno beat and Beta was lucky to have Dahlia, seeming totally in her element, as she played for over two hours.
We all go through phases with music and Dahlia was no different. At college in Boston, she started listening to more techno and less punk and hardcore rock. "I got super into groups like Daft Punk, Kraftwerk and Fischerspooner. Then when I started going to Burning Man nearly 10 years ago, that sort of sealed the deal between techno and me."
Her gradual movement into the scene was almost natural. It's not surprising that music has influenced Dahlia's life since a young age, describing herself as, "a pretty eccentric little kid." She continued, "I loved dressing up and doing arts and crafts. Music was a huge part of my whole life — I started playing the harp when I was seven." After college in 2005, Dahlia had worked in the skiing industry and decided to make the move here to Denver, closer to the mountains. Snowboarding is one of her many hobbies and talents.
Dahlia even modeled in her younger days and is a fashion designer — she also started her own yoga apparel line GoldDust. She's a certified personal trainer with The American Council on Exercise and a registered yoga teacher with Yoga Alliance. The multi-talented musician is dedicating her life to personal fitness and believes in taking the emotional pain and past trauma we store in the body and transforming it through self-love and physical strength. Her core beliefs and ability to dive into whatever she wants to do head on, has prospered her in many aspects of life.
Dahlia has admitted that it's been tough working late nights which is what the techno scene demands. She considers herself a morning person taking quick naps before long, late-night sets have helped her get by. "I just make sure to get enough sleep, make it to the gym and eat healthily. Traveling is honestly such a pleasure to me," said Dahlia.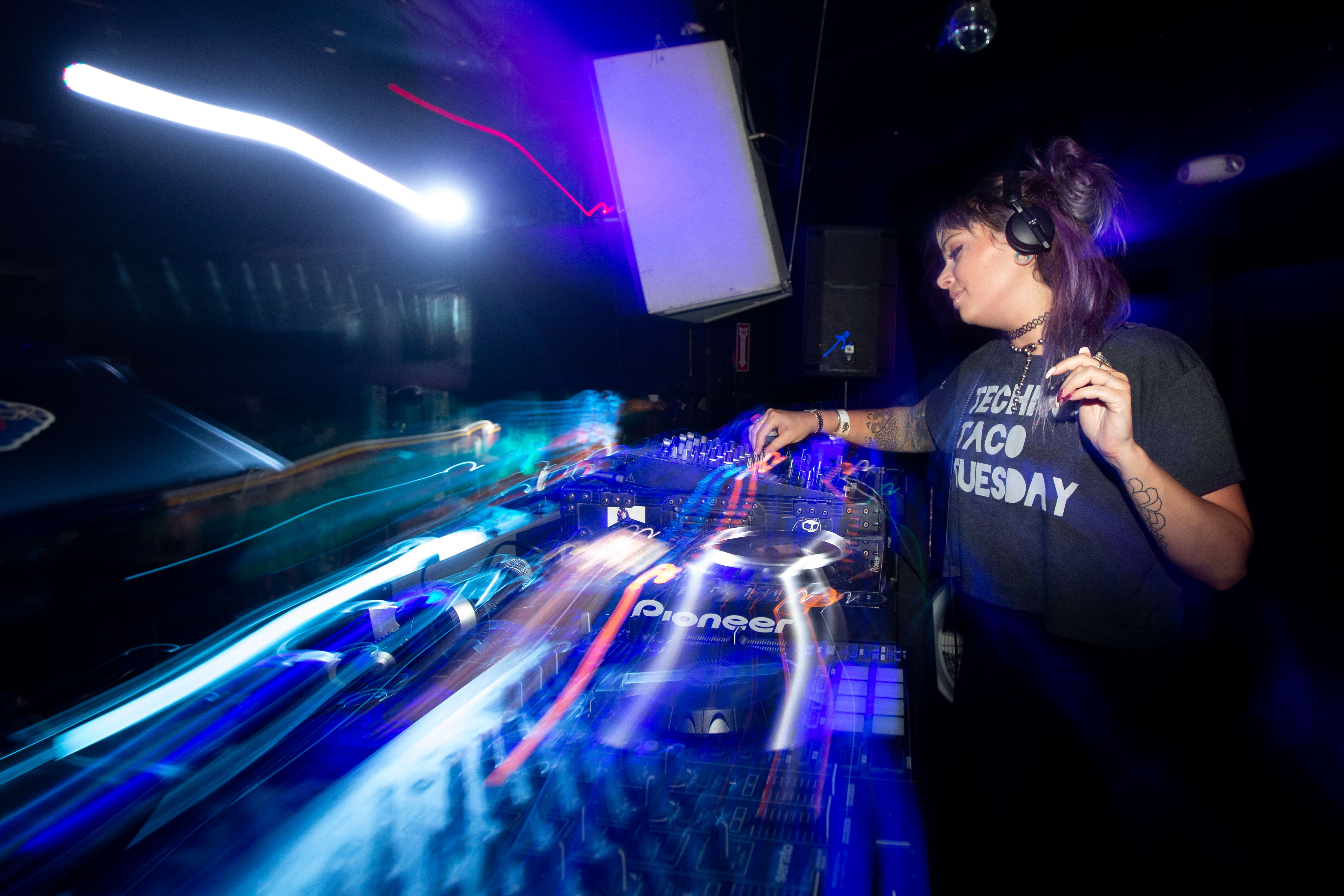 Now 34, Dahlia is new to the techno scene, learning to make her own music and working with Beyønd Collective Denver, a crew of local techno DJs founded by Gabriel Tavarez.  "It's our record label. We throw our own parties and we get booked for other parties as well. It's like a little DJ family," said Dahlia. There are several artists in the group and they often play and work together to create music, some of which you can listen to here.
Dahlia has kept herself busy this month with The Beyønd Collective group, starting off with her show on June 8 at Beta Nightclub. She was then off to Las Vegas on June 26 for The Beyønd Collective takeover at Taco Tuesday. She also played with Strange People after hours at 1010 Workshop on June 22 in Denver and had a guest appearance at Whomp Truck Takeover on June 29 at The Black Box Denver. There's no stopping the devotion of Dahlia.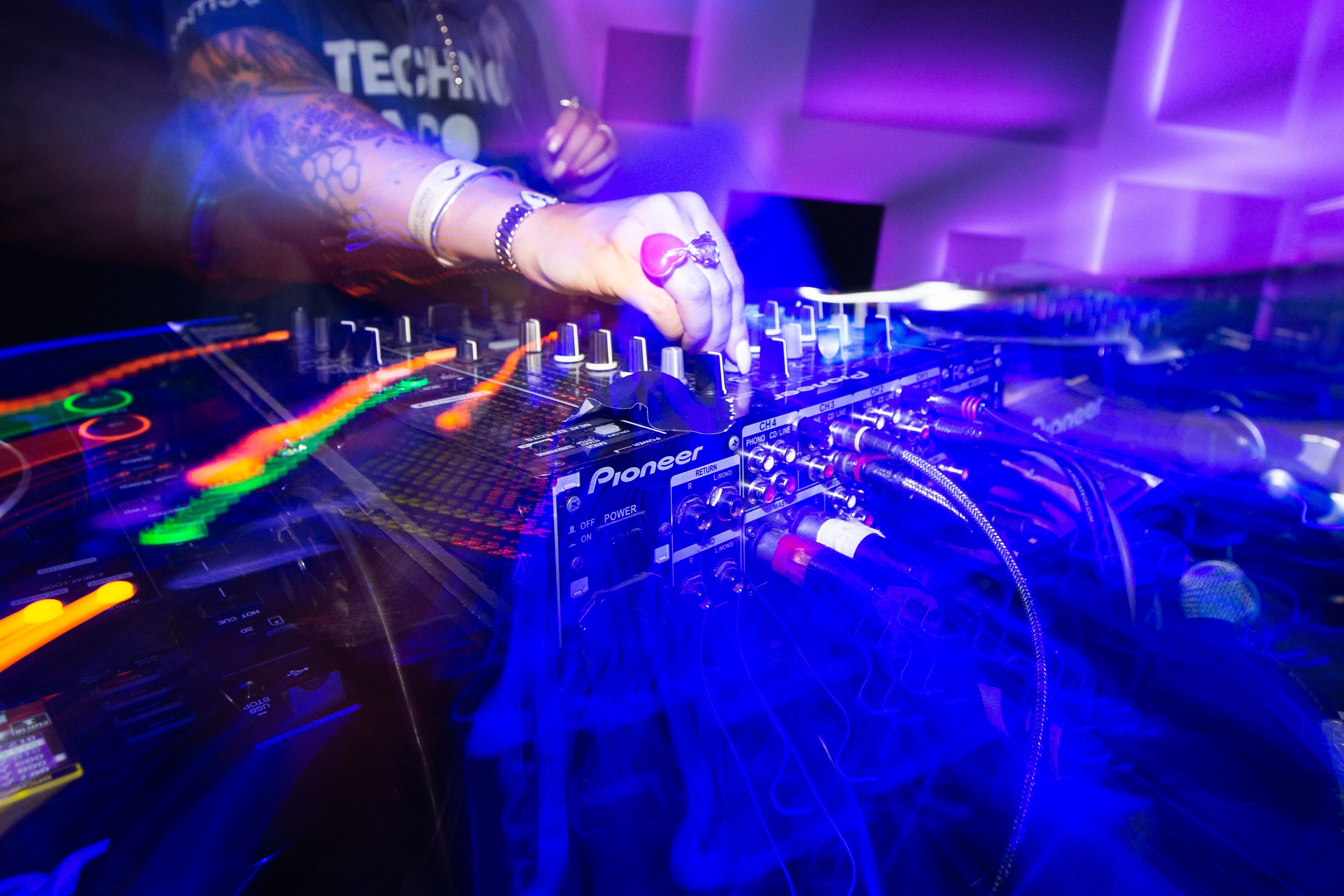 When asking her what she does do in her little amount of free time she said, "besides playing music with friends on Sunday mornings [laughs]? I spend most of my free time hiking with my dog and going to yoga." In addition, Dahlia has another hobby that keeps her busy. "I also really appreciate the contemporary and lowbrow art scene in Denver. It's kind of an addiction."
On a heavier note, growing up with severe Chron's Disease has deeply affected Dahlia's life and her decisions to maintain a healthy mind and spirit. The musician said,
"Crohn's has affected every part of my life, from work to relationships and my daily life. I've gradually learned over the years what it takes to take care of myself, and through different treatments and surgeries, my symptoms are mostly controlled at this point in time. When I'm stressed, a few hours of mixing tracks alone is always a perfect solution."
Where many people could have stood defeated in the face of all the pressure, Dahlia seems to have found several healthy outlets, helping heal all types of emotional pain and physical stress. She also recently got married last summer to Matt McMahon who has also supported her most recent music ventures. "He doesn't listen to the music in his free time but he's very supportive of my pursuit of it. He bought me my first CDJs and is building me a DJ booth in the living room." For everyone wondering what a CDJ is, it's a digital music player that plays compact discs or files stored on a USB, used to DJ.
Dahlia has kept herself extremely dedicated to going further with her musical career, learning more and eventually getting into producing her own music. "I am starting to learn to produce with the help of some very talented locals. I hope to put out an EP in the next year and keep getting more gigs. I want to eventually do a U.S. tour and hopefully some gigs in Europe this fall," said Dahlia.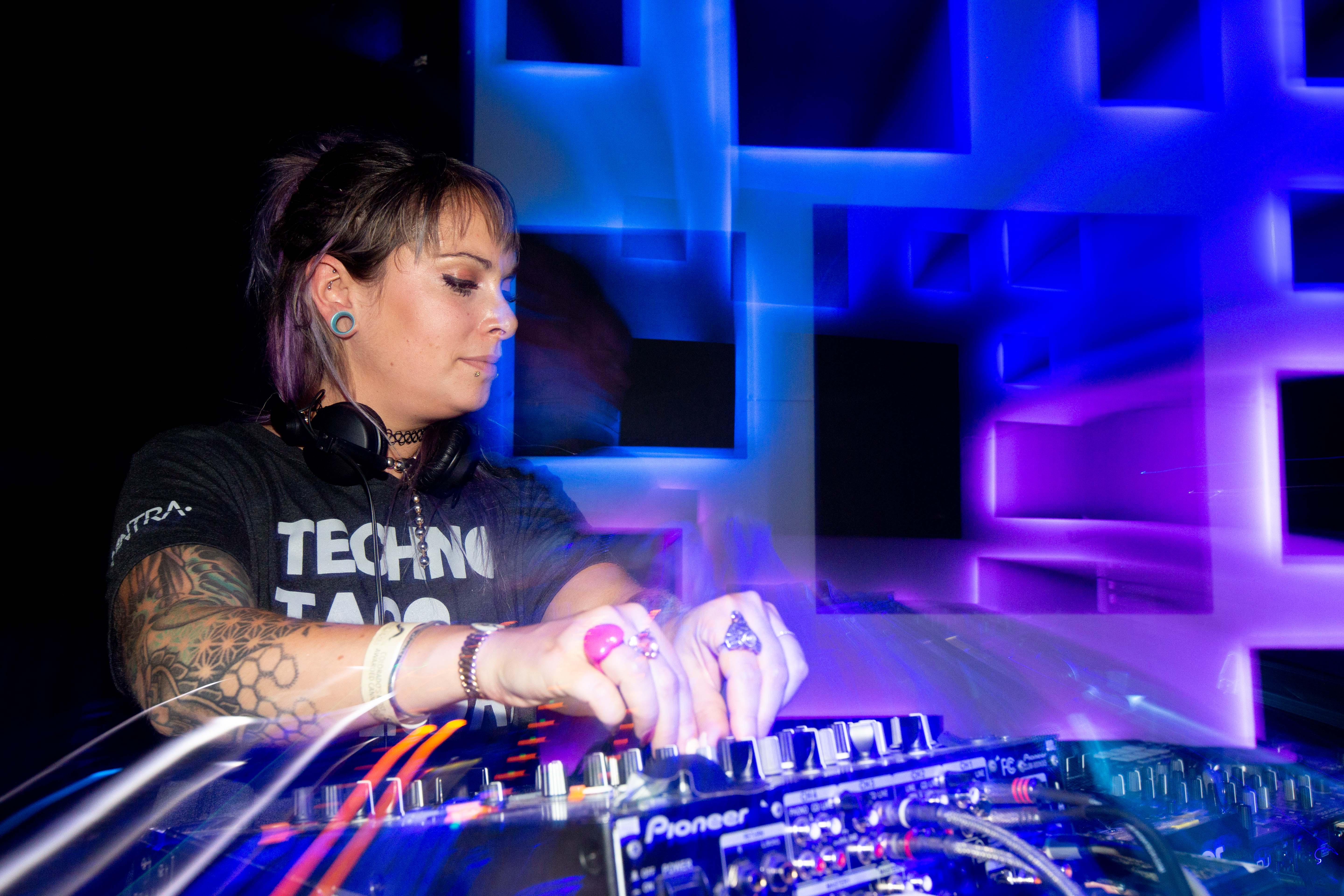 Dahlia gives off a strength, confidence and positivity that's contagious. It's always nice to go to a show and see a female DJ along with the boys in an industry that seems to have been male-dominated in the past. Women are making a big wave in the current techno scene. Dahlia agreed,
"It's definitely changing. I think lately women have made a transition from being taken less seriously than men in electronic music, to being more respected. Women are getting booked all over the place and there are more and more awesome female producers."
Dahlia used her recent trip to Detroit for the Movement Music Festival as a great example, "all my favorite sets were women — Hito, Ellen Allien, Charlotte De Witte, Avalon Emerson, Ida Engberg, Helena Hauf, Aurora Halal [and] Nina Kraviz."
The festival showcases many leaders of the techno industry and offers, what they call, Movement studio. The studio focuses on the technological advances in the industries music production, an essential part of electronic/techno music — hence, the genre's names. The studio is perfect for helping newcomers, like Dahlia, working with musicians of all levels of expertise. They can work hands-on with the newest technology and, with the help of experienced musicians, learn how to use it.
Dahlia is a new, fresh face in the techno scene. There is no doubt with her determination, spunk and drive to learn and make music, you will be seeing more of her in the near future. Be sure to check out her shows this month on July 7 at Club Vinyl, July 20 to 22 at FamFest IV in Fairplay, Colorado and at The Togetherland Festival from July 27 to 29 in Gardner, Colorado. If you'd like to get a sneak peek of her music and what she's been working on so far, check her out on Mixcloud.