"There…" — a restaurant concept originally based out of Telluride — has launched Bici Gelato at its Denver location and is now serving the public out of their former marketplace. Bici is a hybrid dessert bar/gelato stand that comes complete with a display case offering 16 unique flavors, an in-house churner (seen from the window), a waffle iron and a pull-down silver-screen projector.
The Space
This slideshow requires JavaScript.
An additional 30 seats have been added to accompany the creamery and small bar front which are currently operating out of the area of the restaurant previously occupied by the marketplace. The revamped marketplace is now gelato centric and suited for a one-on-one date or a private event for dozens. 303 Magazine popped in to talk frozen treats with Oren Cohen — part owner and gelato master — to get the lowdown on the coolest new dessert bar to arrive in LoHi.
From the front entrance, the restaurant splits two ways. Guests are invited to have dinner in the dining room to the left or to pop in for dessert at Bici on the right. The freshened gelato space emulates the same funky, unconventional vibes established years ago in the dining room. The walls are lined with leather seating, wood grain tables, aspen artwork, prohibition style light fixtures and a glossy secondary bar front. This is pinky out gelato.
The Gelato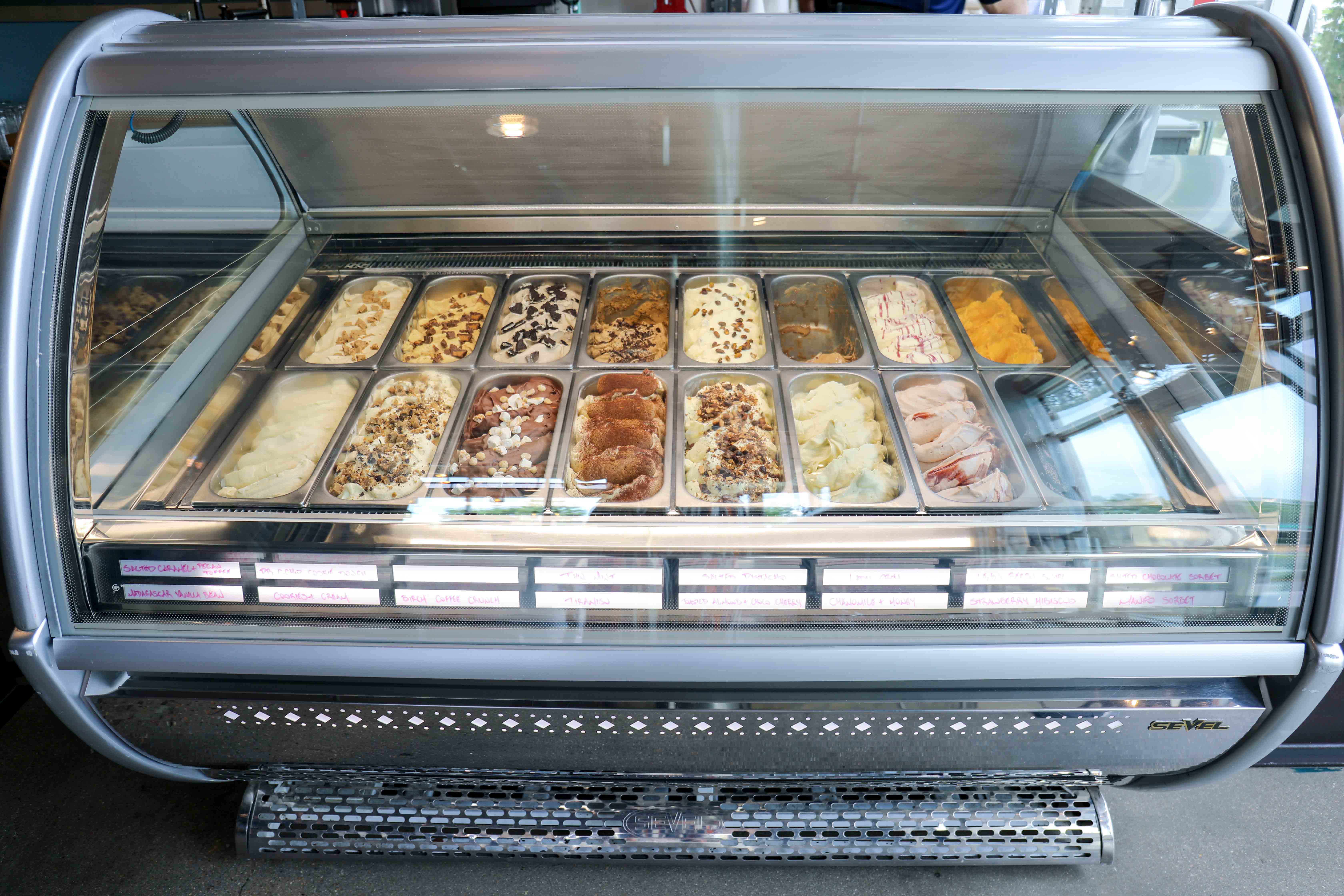 Flavors in the display rotate daily but one can expect a diverse range of custom confections to appeal to the floral, the fruity and the savory palate. Highlights from our visit include several unique flavor combinations like chamomile honey, strawberry hibiscus and mint oreo ($4.25 a scoop). Bici also pours kombucha floats ($6.25) sourced from Rowdy Mermaid kombucha and poured on draft with a scoop of your choice. Cohen served us a strawberry hibiscus float that arrived bobbing atop a refreshing carbonated draw of kombucha from the tap.
The creamery is also offering affogatos ($5.75 for a single, $7.75 for a double) as well as a behemoth of a customizable ice cream sandwich called The Wheelie ($7.50). If you find yourself indecisive, ask for a flight. Gelato flights begin in sets of three and start at ($8.50) — an easy solution for those of us who have trouble committing to one and a great reason to work your way through the flavors on display.
"Our gelato is fat-based with natural, organic cream and really with as low amount of sugar as possible in each recipe — we are flirting with the balance there — knowing that the calories are better vested in the cream," said Cohen.
The gelato at Bici is imagined and created at a high level. For example, the mint-oreo flavor is created by steeping fresh mint into the confection rather than using peppermint concentrate or chips. The slow steeping of the herb transfers the calm, cooling sensations of a garden plucked sprig of mint. Freshness mingles between the nose and tongue to bring both aromatics and robust flavor to the taste buds.
Birch coffee crunch (4.25 a scoop) also uses a steeping method to wield bold flavor. Rather than adding espresso or coffee concentrate to the base of his gelato, Cohen steeps whole coffee beans in milk and sugar to allow maximum flavor and transference of caffeine from the bean. Think of this as a gelato cold brew that all coffee lovers need to get their hands on this.
The two major differences to note when comparing gelato to ice cream have to do with the preparation and service. Gelato is typically served at a higher temperature than a traditional American-style ice cream, which results in a dense, heavy scoop with less air between each ingredient.
"In Italy, style varies depending on the region it [gelato] is prepared. Stateside, gelato is more synonymous with a style of service," explained Cohen.
Gelato is also churned at a considerably slower rate of speed. The idea behind a slow churn is to help increase density which in turn heightens the flavor intensity per-lick. Every recipe at Bici begins with the same four ingredients: organic milk, cream, sugar and eggs. A base flavor ingredient is added during the churning process for smooth integration while additional toppings are hand tossed to accentuate more complex flavors and textures. Cohen created a flavor for our visit, beginning by adding ripe bananas into the churner in order to create a robust cream base. Chocolate covered walnuts are then hand chopped and tossed into the banana base to form banana chocolate walnut gelato ($4.25 a scoop).
Bici Gelato has more than an average scoop to offer the neighborhood. The creamery is pushing flavor combinations while also incorporating commodities like a Belgian waffle iron, artisanal coffee, craft kombucha and gigantic gelato sandwiches. And yes, you heard right — the space does have a pull-down projector for dining room viewing but make sure to keep a lookout as dates for gelato movie night have yet to be announced.
Bici is located at 3254 Navajo St., Denver and will hold the same hours as There…; Monday – Sunday 4:30 p.m. – 1 a.m., and for brunch on Saturday and Sunday, 10:00 a.m. – 2 p.m.
All photography by Danielle Webster.