One of Denver's hottest music events is just two days away.
303 Music Fest presented by Liv-Well Enlightened Health is happening this Thursday, May 17 at Church Nightclub. This massive party will feature three rooms of local performances including a silent disco, a musician meet-and-greet room and a Colorado musician SuperJam featuring strictly local musicians. Our Colorado SuperJam will be hosted by Denver funk group Other Black. Frontman, Wes Watkins — previously of The Night Sweats — has been working with the local Colorado music community to solidify a 70-minute SuperJam that features covers, original compositions and more. In April, we announced the initial SuperJam lineup with beloved local artists like Air Dubai, iZCALLi, Kaitlyn "Kdubbs" Williams, Kayla Marque and Ghost Tapes with more added last week like Brer Rabbit (Flobots) and Sarah Anderson (Paper Bird). Check out the full SuperJam lineup below.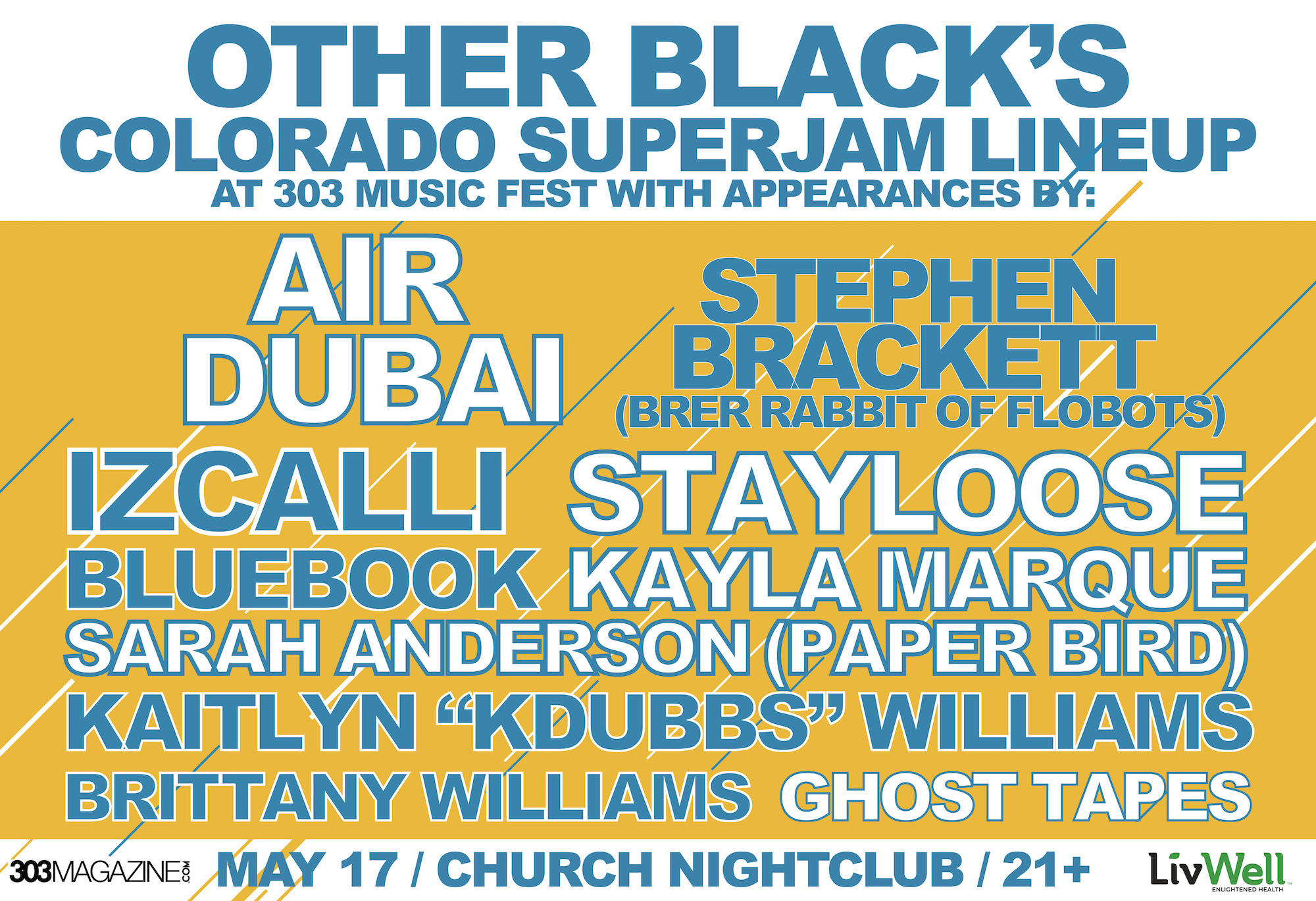 In addition to the SuperJam and silent disco 303 Music Fest is the official release party for 303 Music Vol. 1. The vinyl-only album will feature beloved local artists like GRiZ, Trev Rich and Wildermiss to name a few. It's a Colorado compilation record printed by "the best damn record club out there," Vinyl Me, Please and features strictly Colorado musicians.
The meet and greet lineup will be announced soon. Attendees are welcome to bring their copy of 303 Music Vol. 1 for artist signatures. And if a meet-and-greet, SuperJam, silent disco and record release weren't enough, the entire party is being hosted by local "Queen" calling the shots in Denver hip-hop and director of Roux Black Consulting, Ru Johnson. Essentially, if you have plans May 17, cancel them — this is a can't miss event. Check out the full schedule below which features performances by StayLoose, Trev Rich, Ray Reed and many more.
Go here for record presale.
Go here for tickets to 303 Music Fest presented by LivWell Enlightened Health.
Go here for the Facebook event where we will keep you updated on release details, the Church party and more.