When the bill reads The Darkness and Diarrhea Planet, one could safely assume that they would be in for a night of perverse comedy. In the case of the opening act, the name suggests the possibility of some sophomoric posturing and raunchy antics. The Darkness has often been accused of being a comedy group, despite their not-to-be-taken-lightly reign at the top of the British pop charts. After the release of their debut album Permission to Land and the career-defining single, "I Believe in a Thing Called Love" the group enjoyed enigmatic superstardom. To this day many people are still unsure if their tongue-in-cheek hijinks presuppose their position as legitimate rock legends. On Saturday, April 7 they touched down at the Gothic Theatre for a sold-out show to prove in no uncertain terms that they could do both with incredible grace.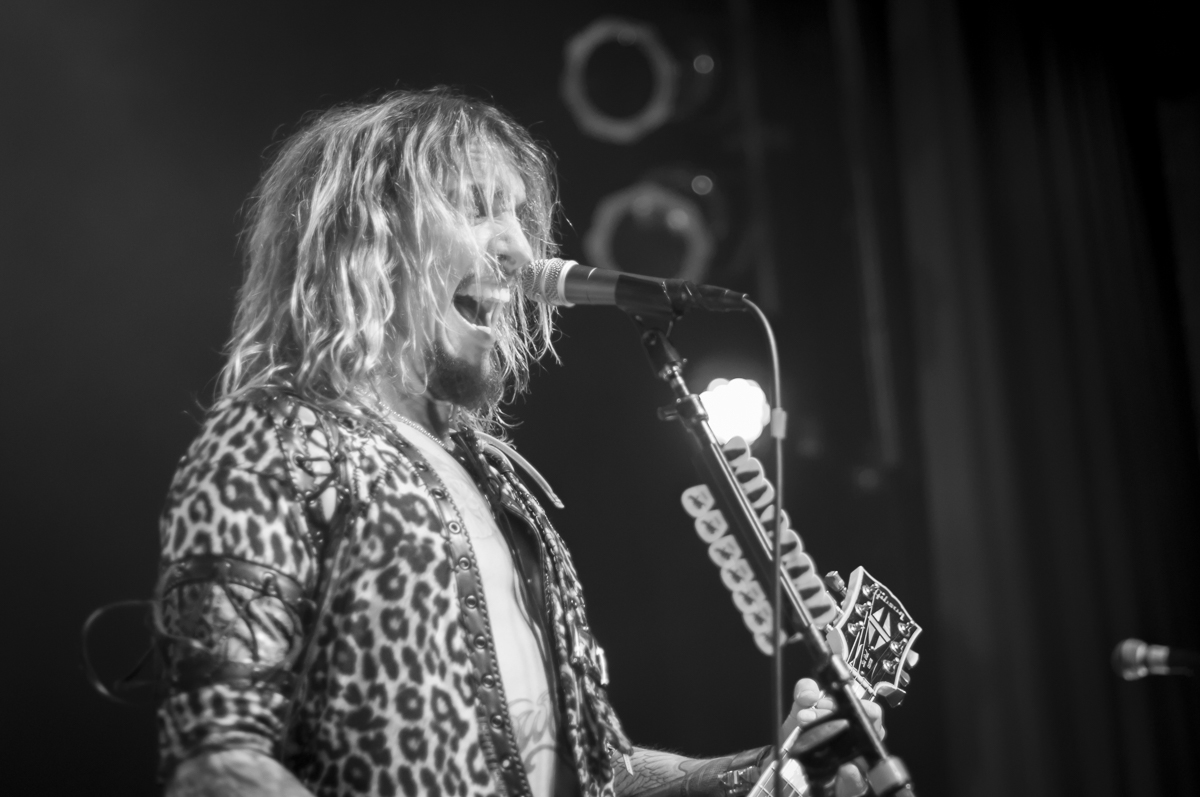 Diarrhea Planet began promptly at 8 p.m. The six-piece outfit featured a venerable wall of four guitarists and a bassist. Each member shimmied, posed and delivered the audience many an iconic rockstar point — one foot perfectly perched on an amp, finger outstretched, a smirk sneaking out from beneath a mustache. The onstage chemistry was delightful and though the music was exuberant, it was far less silly than the name may have suggested. Everyone on stage was clearly having a great time — the energy was contagious. At one point a member of the audience passed her phone up to record a video. One of the members graciously took what appeared to be about a minute of footage, only to later reveal that he had forgotten to press record. At the conclusion of the set two of the guitarists leaped into the audience — only one was safely caught.
This slideshow requires JavaScript.
If there is any real person who is best epitomized by the film character Aldous Snow, it would be The Darkness' frontman Justin Hawkins. The man oozes rockstar charisma to a degree that almost renders him a caricature — and perhaps that is the point. He strutted onto the stage in a leopard print onesie — appropriately unzipped to centimeters above the crotch — with a matching cape and open armpits. Immediately breaking into sophisticated and humorous crowd banter, his engagement with the audience would come to be one of the highlights of the show. "I smell something, a fragrance… a fragrance of victory," he said. While weed observations have become trite, his managed to be charming.
Hawkins' stage presence is enormous, and he certainly has a knack for remaining the center of attention. His bandmates, however, are no small-fries. His brother — guitarist Dan Hawkins — sported a track jacket and leather trousers that surely took a great deal of time to put on. And boy could Dan rip. Justin's high pitched screams elicited cheers from the audience, but Dan's soloing left them in awe. Bassist Frankie Poullain's gold suit and four undone buttons left an incredibly strong impression. When he ceremoniously introduced a cowbell to the stage the audience chanted "Frankie! Frankie! Frankie!" until the man brought down a rhythm that would make Christopher Walken proud.
This slideshow requires JavaScript.
Drummer Rufus Taylor — son of Queen drummer Roger Taylor — was well hidden behind an enormous kit. His stomping rhythms made it all possible though. Justin described him as a natural, clarifying the difference between our current definition and the Shakespearean one. Apparently, a natural was once used to describe the "village idiot, a simpleton, something of a twit." When all was said and done it was left open-ended what kind of natural Taylor was. This good-natured roasting continued to define Justin's style. As he climbed to the balcony for one final stage dive, an audience member accused the seated terrace-dwellers of being lazy. "They're not lazy… they're just rich!" responded Justin, to great applause.
At one point a bra landed on Justin's guitar — a rather expensive-looking lacy piece at that. He wore it as shoulder pads for a bit before placing it gloriously atop the drum kit. Several songs later, Poullain was tossed a rather drab version and he tossed it back. "I believe that was intended as a gift — worst case scenario you could always regift it," joked Justin. The undergarment was returned to the stage — and Poullain rather sheepishly accepted the beige number.
"I'm not gonna pretend this is as good as receiving awards or being on top of the hit parade," said Justin, describing the trajectory of his career and where the Denver show fit in. The band obviously enjoyed toying with the audience — many dramatic pauses and extended breakdowns told as much. Everyone soaked it all up and loved every minute of it. While there was certainly a great deal of absurdity, the show was not a comedy. The Darkness is incredibly thoughtful performers and entertainers in the truest sense. With a genuine devotion to all the rockstar excesses, taken to a near-farcical degree, they proved that it is indeed possible to successfully occupy a space that includes both legitimate fun and great distinction.