Collaboration Fest hosted by Two Parts and the Colorado Brewers Guild celebrated its fifth anniversary with a new location, the People's Beer and the type of boundary-pushing beers that we come to expect from this beer festival. This year's event found a home at Hyatt Regency Downtown Denver and unlike in years past was broken down into five different zones which made finding your favorite brewery that much easier. And while the event was bigger than in years past, no line (looking at you Casey Brewing and Blending and WeldWerks collaboration) took more than five minutes.
Like any major beer festival, it is nearly impossible to try every beer and let's be honest if you did that you wouldn't be able to appreciate the craft and quality ingredients sought out for each brew. Each year we like to make a plan based on styles, trends and names for when we arrive – it's too easy to get overwhelmed otherwise. We noticed that Norwegian yeast found its way into many beers this year and we were also surprised to find only a handful of Milkshake IPAs made an appearance. Sours of all styles along with IPAs, in general, were prevalent but there was one style that popped off the list for being unexpected.
The Return of The Saison
In a craft beer world focused on IPAs and Sours – even we are guilty of it – it was the saisons that stole the spotlight at Collab Fest 2018. With nearly 20 different variations of the styles, there was a saison for everyone. Even The People's beer was a saison. The People's Beer was brewed by Little Machine Beer in conjunction with online voting for ingredient selection, it's thought to be the biggest beer collaboration yet. It was easy to enjoy that beer. It was crisp with hints of citrus, while the rye malt gave it a stronger backbone.
Each saison had its story to tell. Careless Whisper brewed by Downhill Brewing Company and Rockyard Brewing Company was lightly fruited from the blackberry which was supported by a nice yet mild bite of the black pepper. Two Tickets To Paradise on the other hand brewed by Crooked Stave Artisan Beer Project and Maui Brewing Company smelled like a Hawaiian island because of the hibiscus addition. With the use of lime, the beer went just far enough on the tart scale that it wasn't pucker-inducing — but it was close.
To further illustrate just how different this particular style can be let's look at Blended Learning, a mixed fermentation table saison from Cerebral Brewing and Speciation Artisan Ales. While the beer had the crispness and carbonation you would expect from a traditional saison it also had a funky aroma and taste that can best be described as almost grassy – in a good way. There was a hint of something tart but it wasn't overt. Each sip was an exploration of the beer.
Then there are the barrel-aged saisons. Stanger Than Fiction was a rum barrel-aged mixed fermentation saison with plum and blackberry brewed by you guessed it Strange Craft Beer Company and Fiction Beer Company. The plum popped, the blackberry lingered and the rum supported both. The funkiness was understated. The most dangerous saison of the evening was the Chardonnay barrel-aged imperial saison from Intrepid Sojourner Beer Project and 105 West Brewing Company. The Chardonnay barrel could not have been more perfect for this delicate yet powerful saison. It was light, crisp and incredibly dangerous clocking in at 11 percent ABV. We finished ours too quickly and then almost immediately went back for another — a rarity given how many brews we wanted to try.
While it's hard to declare a favorite for the entire festival – we do have one saison that we wanted to give special recognition. Song of the West is an oak aged saison brewed by Cellar West Artisan Ales and Alesong Brewing and Blending. Referred to as a super saison this beer was aged in oak barrels with Brettanomyces along with malted rye from Oregon and wheat from Colorado. The carbonation popped, it was crisp, begging us to take another sip, and had an understated funky, almost earthy vibe to it. When we think of saisons this is the type of experience we want with each beer.
What's in A Beer's Name?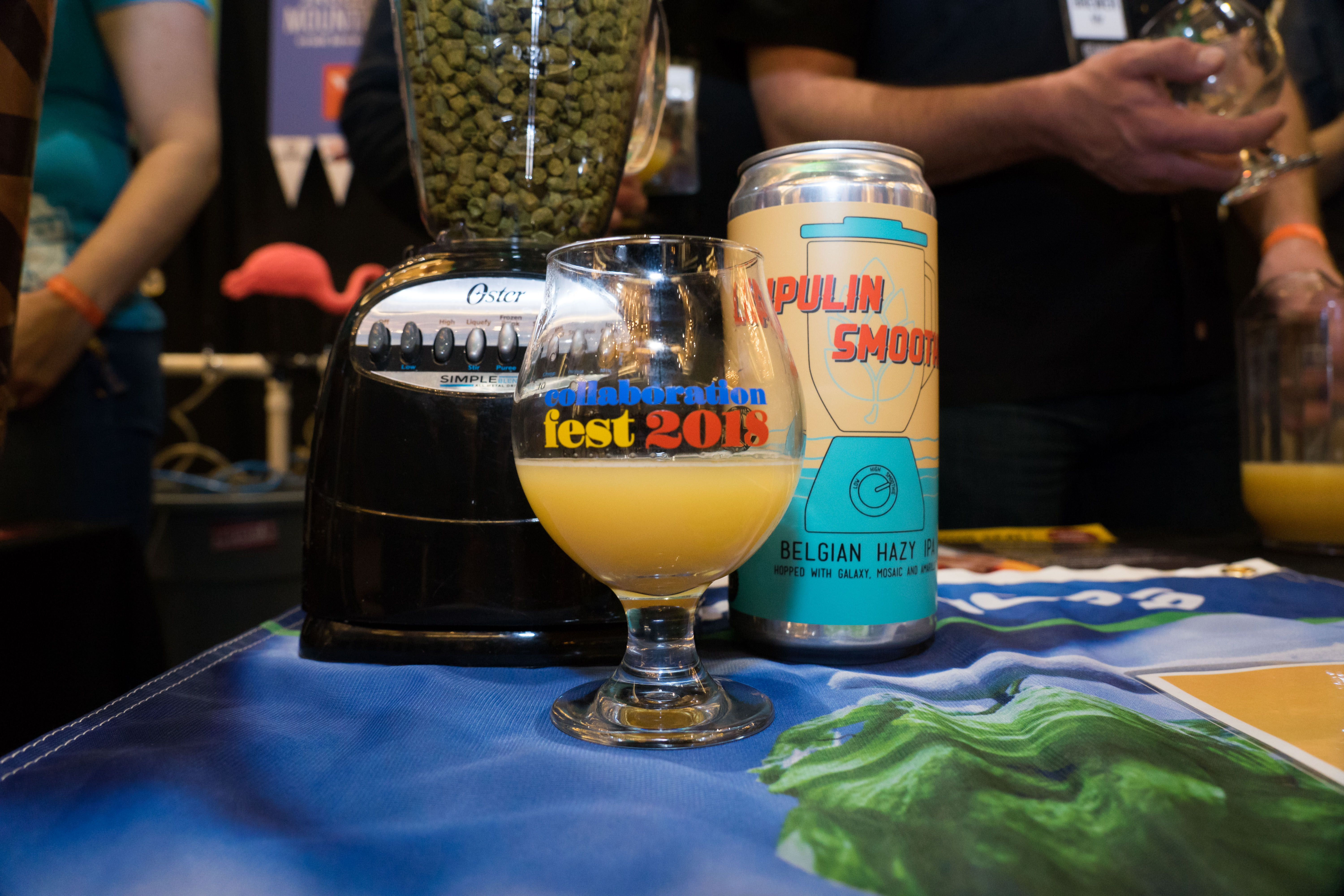 We knew walking in the door we were going to focus on saisons but when it came to what other beers we wanted to explore we took a different approach even for us. Instead of exploring another trend or particular style we selected several beers off the list based on their names alone. It didn't matter the style or the brewery – just the name. With that in mind here's what happens when you pick a beer by name alone.
Smooth Criminal brewed by Crystal Springs Brewing Company and Something Brewery was a New England Style Milkshake IPA with black currant. It was perhaps the prettiest beer of the evening and it was one of the best examples of the milkshake IPA we have tried. It was fruity, creamy and crushable. From there we wandered over to try Arnie. A big fan of lemonade and tea we were skeptical that New Image Brewing and Funkwerks could make this work. It worked, it was a little bit funky and the lemon was just aggressive enough to take away some of the power of the black tea. The blend of the two flavors was damn near perfect.
Pimms Yo! The name alone called more than just us to the table. The beer mocktail style (if it can be called a style) is a hard one to do successfully and at times it can feel forced. Wiley Roots has done it before and partnering with Liquid Mechanics solidified their domination of the style. This lightly soured beer had it all – the citrus, the juniper, the ginger and not sure how it happened but there was even a mint finish.
The theme of making beers into other beverages carried over to the crew at Jagged Mountain and Uberbrew with the Lupulin Smoothie. This beer was a crushable juice bomb that thanks to its saison yeast (we couldn't get away from saisons) had an almost peppery finish. If it wouldn't be frowned upon, this would be the smoothie we could enjoy each morning.
Last but not least on the list of beers picked by names comes the Suburban Bake Sale. This beer was aptly named by Locavore Beer Works and 38th State Brewing Company given that both breweries aren't that far from Highlands Ranch. This big brown beer was brewed with molasses and aged in brandy barrels. It was light, gooey and sure to make any soccer mom smile.
–
For the fifth year in a row, Collab Fest continued to demonstrate what makes it not just a unique festival but highlights the collaborative and creative nature of the craft beer community. Only at Collab Fest will you find beer mocktails intermixed with brandy-soaked big browns and super saisons. The only bad part about Collab Fest? You walk out knowing you won't ever get those beers again.
All photography by Brittany Werges.
This slideshow requires JavaScript.