Brooklyn pop-rock duo Matt and Kim showed Denver what getting hype is all about on Thursday night at the Ogden Theatre. The two are known for putting on ridiculously entertaining shows, drawing in a sold-out Denver crowd last night with support from TWINKIDS and CRUISR. On the heels of a new album due out in May, keyboardist and vocalist Matt Johnson and drummer Kim Schifino transformed the Ogden Theatre into a house party we won't soon forget.
Something we will assuredly soon forget is the opening performance by CRUISR. Their set was filled with catchy guitar strumming and energetic vocals that were easy to dance to, but they only somewhat seemed like they wanted to be there. CRUISR performed with a mild stage presence and the occasional cheesy antic — but none of it ever felt real.  The boy-band-esque pop-rock group has the potential to be something much bigger — like others in their genre, Walk the Moon and New Politics. However, as a young band, they have some growing up to do, and that will begin with more passion in performing — a passion that Matt and Kim well made up for later in the night.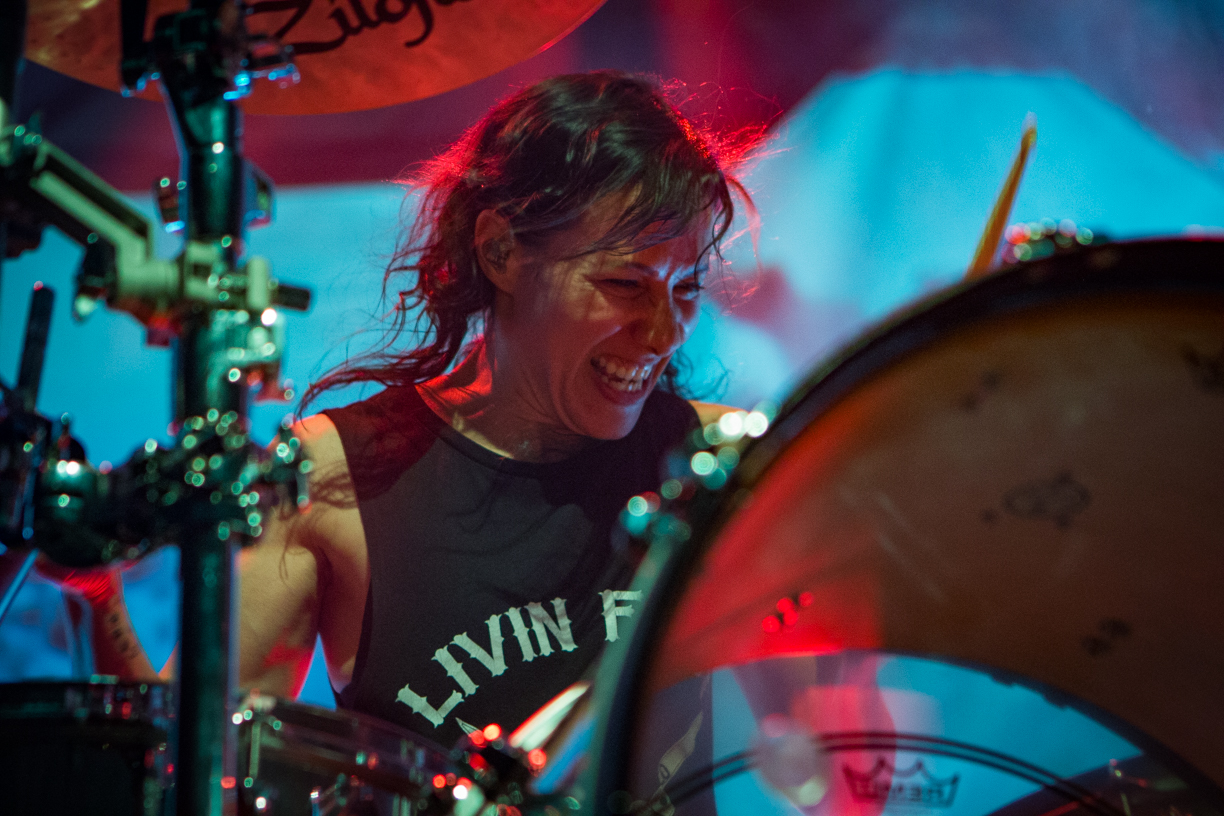 The last time Matt and Kim came through Denver for a headlining show, Johnson broke his first bone ever — on the same stage at the Ogden about three years ago. On the other hand, Schifino tore her ACL on stage last year resulting in the cancellation of Matt and Kim's remaining tour dates. Given such history, it's safe to say Matt and Kim don't mess around on stage, truly giving it their all. The power couple's performance at the Ogden was no exception. Throughout the night the crowd was covered in confetti, balloons and undoubtedly some sweat in the mix. Oh, and there were sex toys. It was also one of those care-free concerts where the instruments coincided as furniture for the performers — Matt and Kim often stood, and even jumped atop their respective drums and keyboard.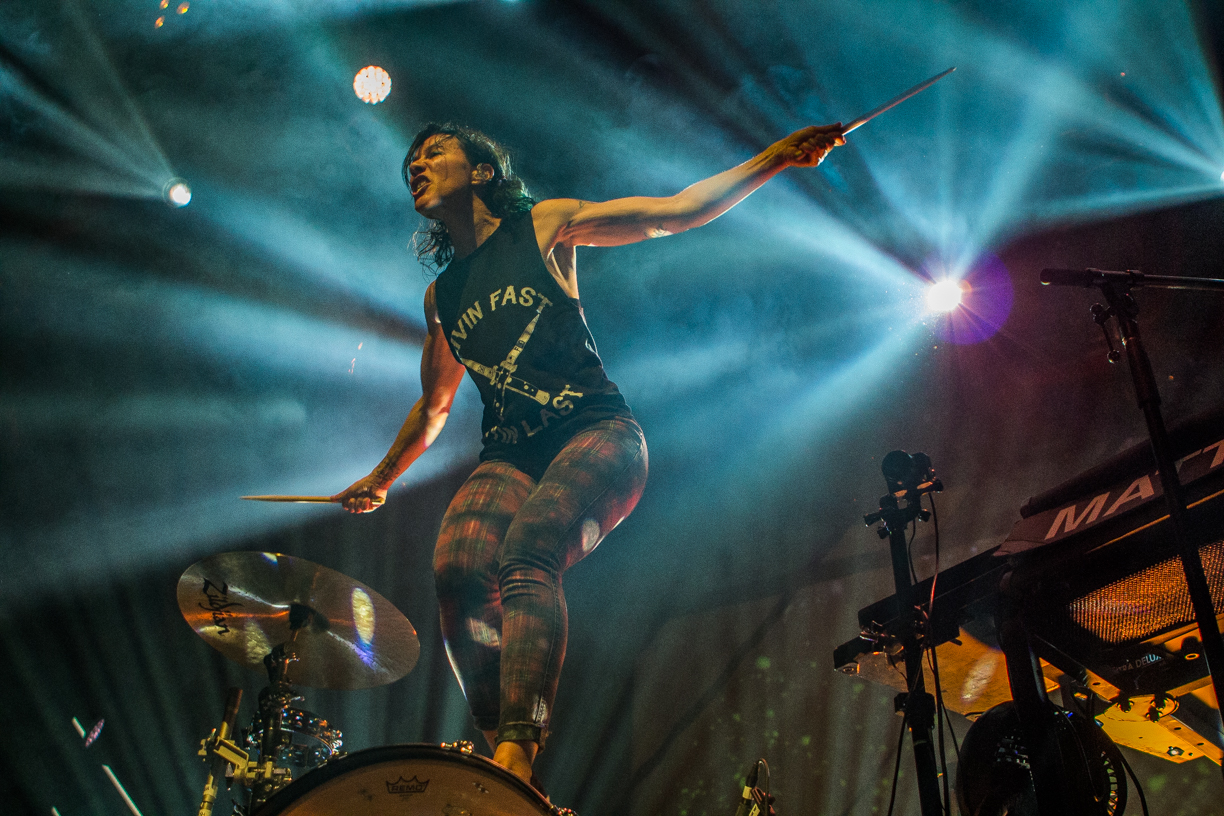 Early in the set, Johnson acknowledged the duo's upcoming album release. Though he promoted the album, it never felt tacky or forced. He gave the fans what they wanted — a taste of the new songs, and all of the old hits. In Matt and Kim unfiltered fashion, Johnson stated, "I want to start this thing off fast and hard because that's how Kim likes it in the bedroom." He continued, saying that he wanted their fans to hear what they came to hear and that they would only perform two songs from their unreleased album, Almost Everyday. And that's exactly what they did — the setlist was overflowing with hits like "Block After Block," "Cameras," "Hey Now," "Forever," "Daylight" and so, so many more. The selection was truly brilliant.
"This girl in the front just flashed me. She knows how a Matt and Kim show goes." – Johnson
The way they intertwined some of their classic hits with the hits of trap and hip-hop artists made the setlist even more delightful. They mixed "Daylight" with 50 Cent's "In Da Club," "Cameras" with Drake's "Started From the Bottom," sampled ACDC's "Thunderstruck," Van Halen's "Jump" and more. It was like the perfect college house party playlist woven into Matt and Kim songs.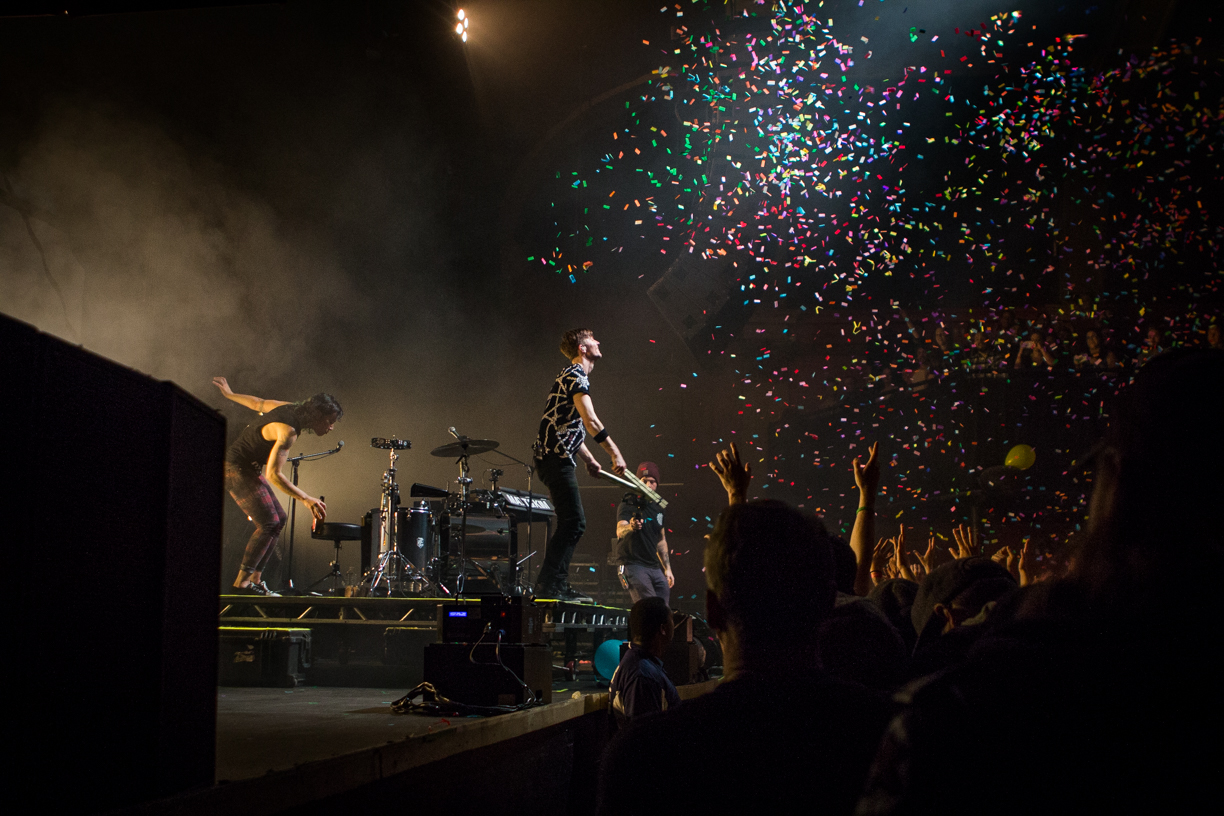 From start to finish the show never really let up. That's probably because Matt and Kim clearly love to perform. If one thing is for sure, it's that on stage Kim is the happiest-looking soul you'll ever see behind a set of drums. Not only is it clear that they have a passion for performing, they also love their fans. "Brooklyn we go hard? Shit, Denver we go hard" Johnson said mid-way through the set. Their conversation and the times they addressed the audience shined with ingenuity. Johnson fumbled on his words and Schifino looked as if she could collapse in pure ecstasy at any moment, though still never once lacking in quality stage presence. Johnson also had a camera attached to his keyboard, which projected videos of the crowd on the duo's backdrop.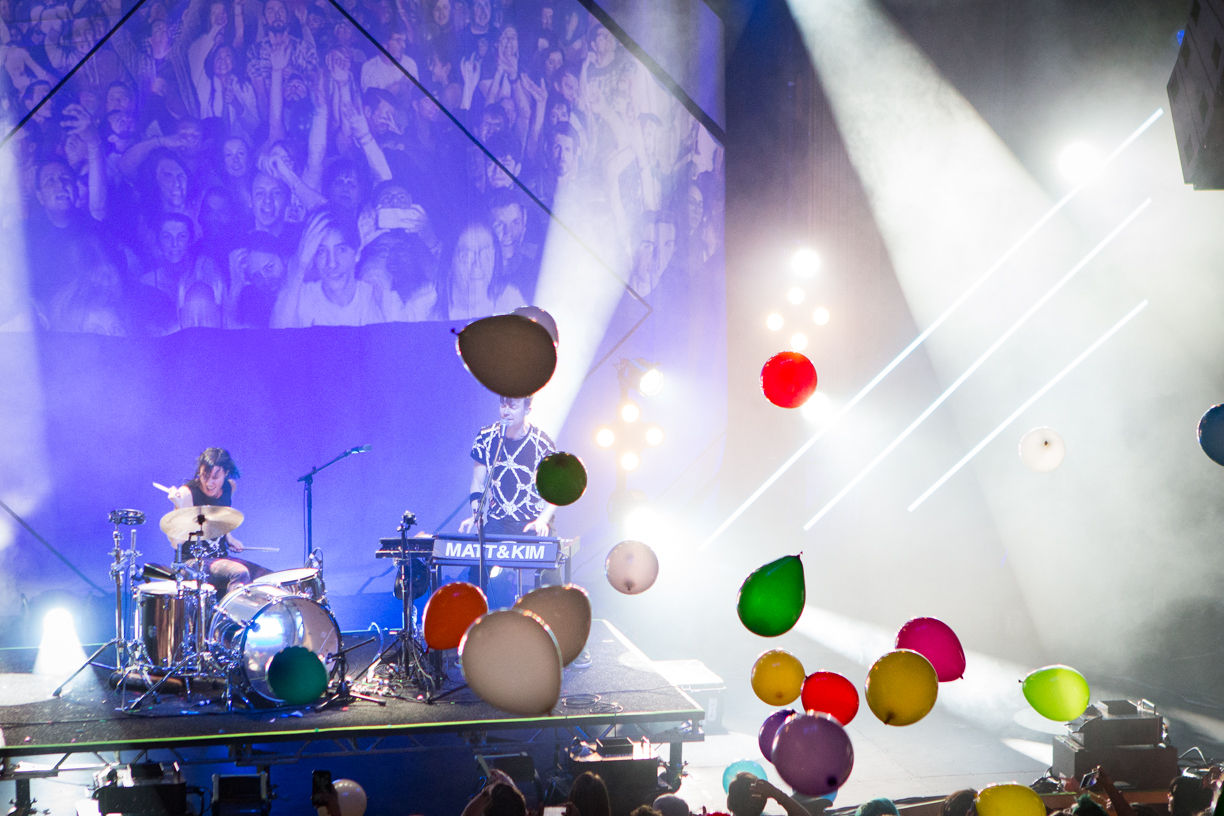 Matt and Kim aren't that complicated of a band. The duo has a sound that works for them — a sound that everyone has some sort of memory they associate to. They create that kind of music that simply makes you happy to be alive, and all of that translated to the stage swimmingly. Though Johnson requested the crowd's hands in the air an unnecessary amount of times, at no point did the crowd hesitate, doing so joyously at each ask. The bond and charisma between the duo, and even the bond they created with their fans were unmatchable.
All photography by Kenneth Coles. Matt and Kim will return to Denver in August for Velorama Festival.