It's official — 303 Music Fest is happening this year on May 17 at The Church Nightclub. Featuring a silent disco, local musician performances, a meet-and-greet room, a record release party and a Colorado Super Jam, the event is gearing up to be an insane celebration of our wonderful music community. But before it all goes down, LivWell Enlightened Health has announced their support for 303 Music Fest as the presenting sponsor. That's not all, either — the local marijuana retailer is also supporting 303 Music Vol. 1, a Colorado compilation album printed only on vinyl and in support of Youth on Record. We sat down with Chris Mapson, senior director of marketing at LivWell, to talk about why they decided to get involved with the event.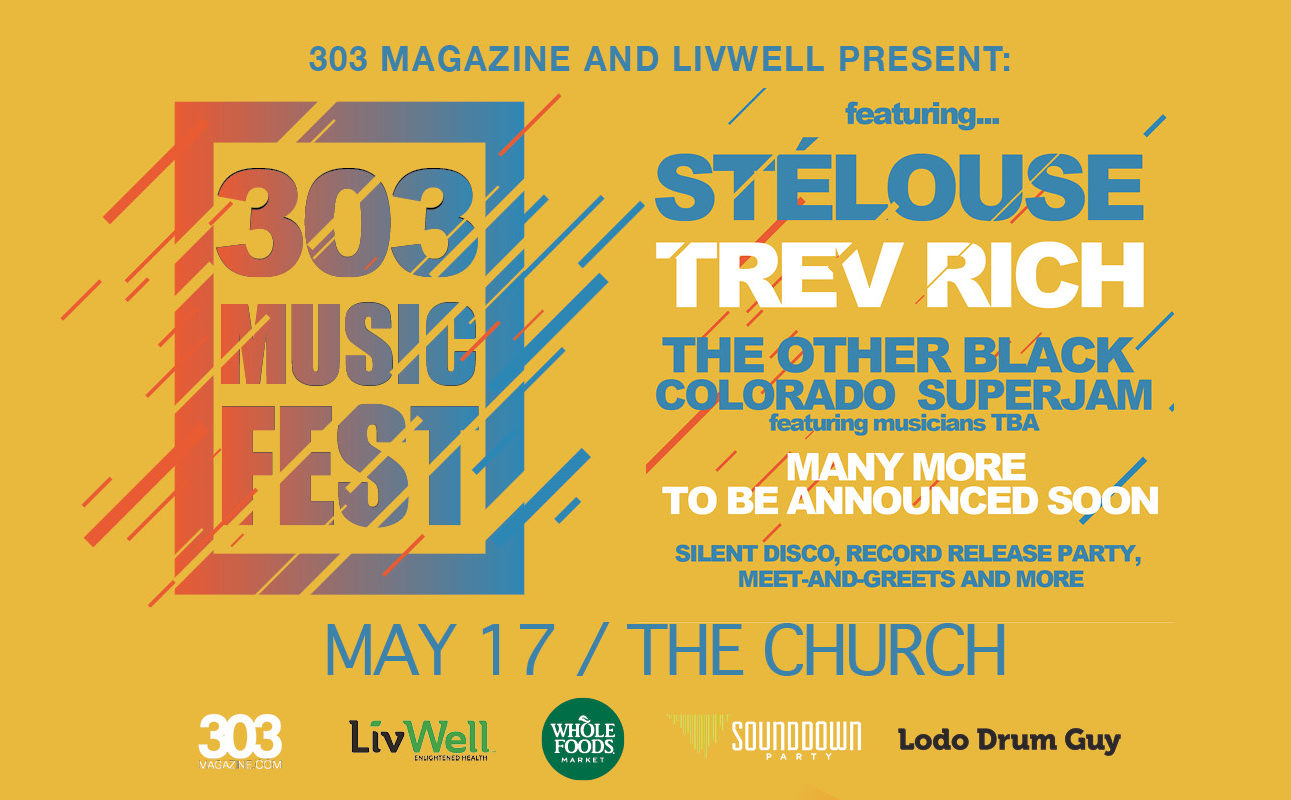 303: Why did you decide to work with us on 303 Music Vol. 1?
Chris Mapson: We like to partner up with worthy causes. 303 Magazine came to us with the idea. We were particularly excited about the proceeds benefiting Youth on Record and the combination of great local music with a worthy cause — it was a no-brainer.
303: What excites you most about being involved with this project?
CM: Being directly involved with a great idea. Great ideas are rare nowadays especially something that's "the first" and 303 Magazine doing [one of] the first local music records on vinyl — I was honored to be included in the project highlighting local artists. And quite frankly the John Vogl cover art is amazing.
303: Definitely. Are you familiar with John Vogl?
CM: See, I had to Google it because I like the art so much and now I'm a huge fan. I love his work.
303: How else do you at LivWell support the Denver music community?
CM: We actually support or sponsor a lot of events around town and in Colorado with the Denver Electronic Funeral Fest and the Psych Fest. Last year we were involved with Punching Mule and we've done the Underground Music Showcase a couple times. We're also in our third year of the Trinidaddio Blues Fest. This year we're also doing 420 Eve on the Rocks at Red Rocks and 420 at Cervantes' with Method Man and Redman. 
303: Now, your business also ties musicians with marijuana strains. Tell us more about those.
CM: Well we carry high-quality flower and concentrates under the Leafs By Snoop brand. Recently we brought on the Willie's Reserve brand of marijuana which is a very high-quality product. Music and marijuana sometimes go hand-in-hand and these two artists are synonymous with that culture. For completely different genres of music, they're both known for marijuana and music.
303: Is there a local musician or two that you're really digging right now?
CM: I've always been a big fan of Flobots. When I learned they were with the project I was excited personally but we also know some smaller bands. I don't know if you've ever heard of Silver and Smoke — they're a homegrown Colorado band and their Western Rock sound is a little unique. Obviously, with 600 employees we have a lot of musically-inclined people that work for us. So there's various DJs and promoters working at a local LivWell right now. We always keep our ears open to what they're doing. It's also part of the fun of the job, to be honest with you.
Tickets are available here for 303 Music Fest. 303 Music Vol. 1 is available for pre-order here with an official release date of May 18. 
LivWell Enlightened Health is a sponsor of 303 Music Vol. 1 and 303 Music Fest