There's nothing like kicking back at a concert with someone special. Between locking eyes with them when the band plays your favorite song to journeying into the center of a crowd and dancing the night away, music has the power to turn a romantic night into cinematic decadence. Denver has no shortage of swoon-worthy stops to catch a show at, and better yet, stops that simply take your breath away. With Valentine's Day on our heels and that special someone on your mind, we've compiled a list of the most romantic places to see a show in Denver. From the age-old Mercury Cafe to new favorites like the Fort Greene Bar, this list encapsulates Denver's romance as it hits you through song.
Mercury Café
With glowing lights draped from the rafters and homely sitting booths, complete with homemade pie, Mercury Café is a lover's low-key escape. With open mic nights, swing dancing and piano players providing the tunes as well as starry-eyed ambiance, one can easily see why Mercury Café could easily take that special person's breath away. However, the unique aspect of Mercury Café isn't solely its decor, its the unpredictability of who you'll see grace the stage. If you're one of those couples whom mystery intrigues, Mercury Café s worth the journey down the rabbit hole.
Denver Botanic Gardens
Imagine, the sun setting as you sit surrounded by beautiful flowers, and in front of you, one of your favorite musicians performs one of you and your significant other's favorite song. Sounds too good to be true, right? Well, while this selection is mostly utilized in the summer, the concert series put on by the Denver Botanic Gardens is a prospect too good to pass up. Last year's lineup boasted the likes of Herbie Hancock, Jose Gonzaléz, Randy Newman and many others situated on the Denver Botanic Garden's grounds performing for adoring fans who brought a blanket and a picnic along for the experience.
Ubisububi room
Thin Man Tavern is a romantic location already, but couple that with the intimate shows held in the Ubisibubi Room below it and you have the makings of a perfect night with you and your significant other. The 35-seat venue allows you to get close to the performers as much as you get closer to each other. The venue is reserved for acts both big and small, adding to the allure of a date night. In fact, its almost as if the musicians themselves are playing in your living room. What's more enchanting than a private show?
Red Rocks Amphitheatre
There will always be a romantic crux to Red Rocks. Maybe it's looking out over the city of Denver or watching the moon rise from the horizon in the middle of the concert, but Red Rocks have the power to take hold of one's emotions like few other venues can. Taking that special someone here regardless of who's performing, can take an already mesmerizing night to new heights.
Nocturne
Nocturne may not be the oldest jazz club in Denver, but it's by and large one of its most luxurious ones. Located in RiNo, Nocturne has been filling the nights with jazz since 2015. Entering the establishment is akin to being transported back in time when jazz ruled the airwaves and people bopped along with gusto. Grab a good seat and let the wine flow as Denver's jazz heritage unfolds before you.
Ophelia's Electric Soapbox
Who knew a former brothel could be an idyllic date spot? I'm sure many would not, but Ophelia's Electric Soapbox is something different. The converted bordello offers the jams alongside plush arrangements whereby one can cuddle up to that special someone and get lost in the music wafting from the stage. Featuring everything from DJ'd brunches to live bands taking over the nighttime, this restaurant/venue puts down the vibes that'll leave you and your partner tongue-tied.
Syntax Physic Opera
Syntax Physic Opera is as much a plush throwback dance party as a low-key foodie hangout. Whether you are coming off their monthly Mile High Soul Club, where they primarily spin tracks from the '60s and Motown or coming for the many bands that come through, Syntax gives you a reason to dance like no one is watching. If there was ever a place in Denver to simply get caught up in the moment at, Syntax would be it and then some.
Fort Greene Bar
This small, underrated gem nestled in Globeville has as much charm as it does boundless energy and charisma. With paper roses dangling from the ceiling, dimmed lights and usually a DJ spinning the best from the underground, Fort Greene Bar is a getaway for the eclectic romantic in you. Journey to Fort Greene on a weekend and join Denver's hippest, moving and grooving the night away. Aesthetics and music are bound to collide and lure you into a space to get carried away
El Chapultepec
El Chapultepec is an institution in Denver at this point. Having featured live jazz and blues for more than 85 years, El Chapultepec is still the bar where couples can nestle into the booth, take in the assortment of bands shuffling through daily and simply enjoy each others company. Uncomplicated and unpretentious, El Chapultepec thrives on its simplicity in connecting its patrons to the music players but more significantly connecting people with people.
Bluebird Theater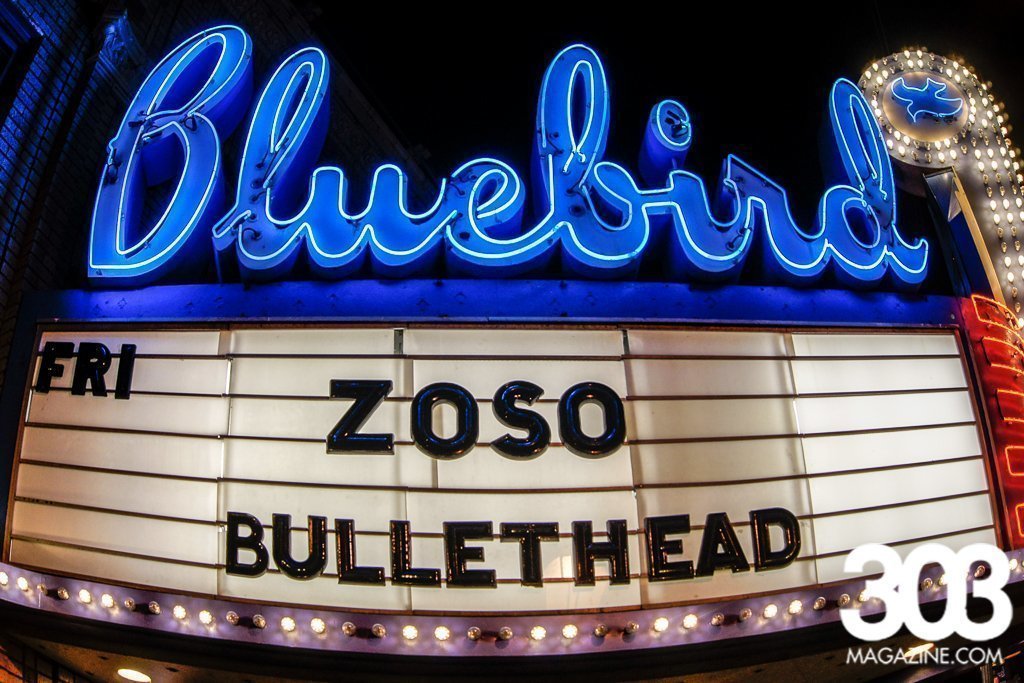 The last location on the list may not be the most luxurious choice, but it is one that perhaps has the most heart and passion. The Bluebird hosts local and national acts alike, but with its mere 550-capacity, the Bluebird is an intimate destination that manages to offer good views from all angles. The romance of it all, however, is in seeing one of those large scale bands (like Portugal. the Man last year), sweep you and your significant other off your feet with the rarity of the performance size and the close-knit quality of the crowd.  Then again, It could just be something in the air, but odds are it is the venue itself sparking a fire in your chest.