Go here for updates on concert announcements and more sent to your inbox.
Mac Miller fans will have to take a rain check this year as Icelantic's Winter on the Rocks recently announced an unexpected change to their 2018 line-up, with Miller dropping out due to unforeseen circumstances. Instead, Miller will be replaced by chart-topping rapper Rick Ross. The Florida native is known for Grammy-nominated album God Forgives, I Don't along with recent single "Purple Lamborghini," and the foundation of esteemed record label Maybach Music.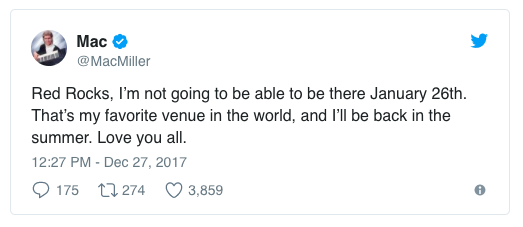 For seven years Winter on the Rocks has been bringing the heat, and regardless of the changes, this year is no exception. This year's line up will also feature American DJ and EDM producer Sam Vogel, better known as Jauz, and rapper Brother Ali. Jauz, known for his chill trap, bass house and dubstep collaborations has been a top name in the EDM game since his hit single Feel the Volume in 2014 and appearances with big names such as Diplo, Skrillex and Borgore.  Jauz's last performance at Red Rocks was at Mad Decent Block Party in 2016 and this return will mark his first time sharing the headlining spotlight.
READ: Review – You Like EDM? You Should've Been At Decadence 
American born rapper Brother Ali has been known as not only an authority in the rap game but also an authority in community activism. His most recent album All the Beauty in This Whole Life made waves in the US indie scene, and his presence in the activism scene has only increased since the 2007 release of politically charged music video "Uncle Sam Goddamn."
Whether you're an EDM head or looking to bang out to dirty beats with the boss, Winter on the Rocks 2018 will not disappoint.
Tickets are on sale now here.