In September, Amazon announced that it was on the lookout for a second headquarter location. From excitement to anger and worry, opinions on Amazon's interest in Colorado were certainly mixed for Denver dwellers.
Since, Amazon has been narrowing down their list of potentials— announcing their top 20 out of 238 proposed locations today, and Denver is among the finalists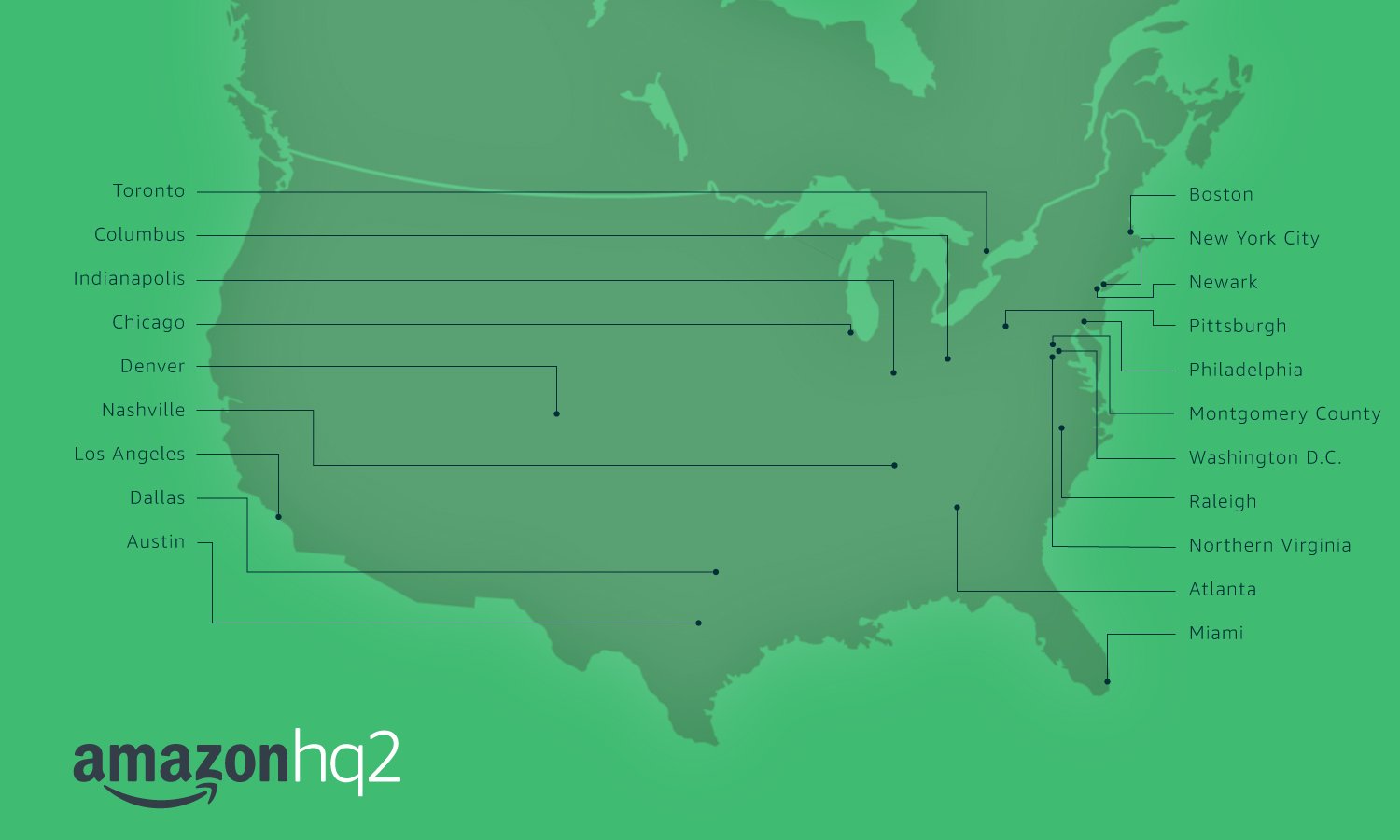 Atlanta, GA
Austin, TX
Boston, MA
Chicago, IL
Columbus, OH
Dallas, TX
Denver, CO
Indianapolis, IN
Los Angeles, CA
Miami, FL
Montgomery County, MD
Nashville, TN
Newark, N
New York City, NY
Northern Virginia, VA
Philadelphia, PA
Pittsburgh, PA
Raleigh, NC
Toronto, ON
Washington D.C.
With the list of finalists, Amazon announced their plans for the coming month in selecting their HQ2.
"Amazon will work with each of the candidate locations to dive deeper into their proposals, request additional information, and evaluate the feasibility of a future partnership that can accommodate the company's hiring plans as well as benefit its employees and the local community," stated Amazon Public Policy representative Holly Sullivan. 
"Thank you to all 238 communities that submitted proposals. Getting from 238 to 20 was very tough — all the proposals showed tremendous enthusiasm and creativity. Through this process, we learned about many new communities across North America that we will consider as locations for future infrastructure investment and job creation."
If chosen, the eight million square foot campus would bring 50,000 potential jobs to Denver and expects to invest $5 billion. Amazon said that the company expects the second location to be a "full equal" to the Seattle location. Below is a graphic to break down what that investment has looked like in Seattle including the creation of additional job and "tens of billions of dollars in additional investment in the surrounding community." According to its website, Amazon estimated that its headquarters generated an additional $38 billion to Seattle's economy from 2010 through 2016. However, questions remain about Denver's ability to sustain such large and quick growth. One study argues that Denver might not be ready due to the lack of transportation or infrastructure. Even Hickenlooper called the move a "longshot" due to these issues (although he has backtracked on this statement saying we don't fall "that" short).
At this time, it's anyone's guess where the chips may fall. However public opinion is important so comment below with your thoughts or contact your local representative and join the conversation.
For more information on the potential Amazon HQ2 in Denver and for updates on the selection process visit their official site here.  Additional reporting by Brittany Werges.