Kid Cudi's "Passion, Pain and Demon Slayin' Tour" touched down in Denver Friday night for a sold-out show at the Fillmore Auditorium. Performing with no openers, the Cleveland native ran through many tracks from his new album (bearing the same name as the tour), a crowd-pleasing selection of classics and a few shout-outs to mentors and protégés. Set against a colorful, vibrant, organic-looking backdrop complete with elaborate foliage and changing seasons, the rapper remained the center of attention, primarily performing alone — a fellow emcee joining him onstage for only a small portion of the set. The set was short, but most certainly sweet — Cudi performed from 9:30 to just shy of 11 p.m., baffling many in attendance by the lack of an encore. Some in attendance may have felt gypped, but it was clear many maintained that Cudi had made the best of his time on stage. Ample dancing was mixed with motionless, dazed enjoyment — the varied sides of his fanbase indicating the wide appeal of the artist's style.
READ — 400+ Denver Concerts to See in November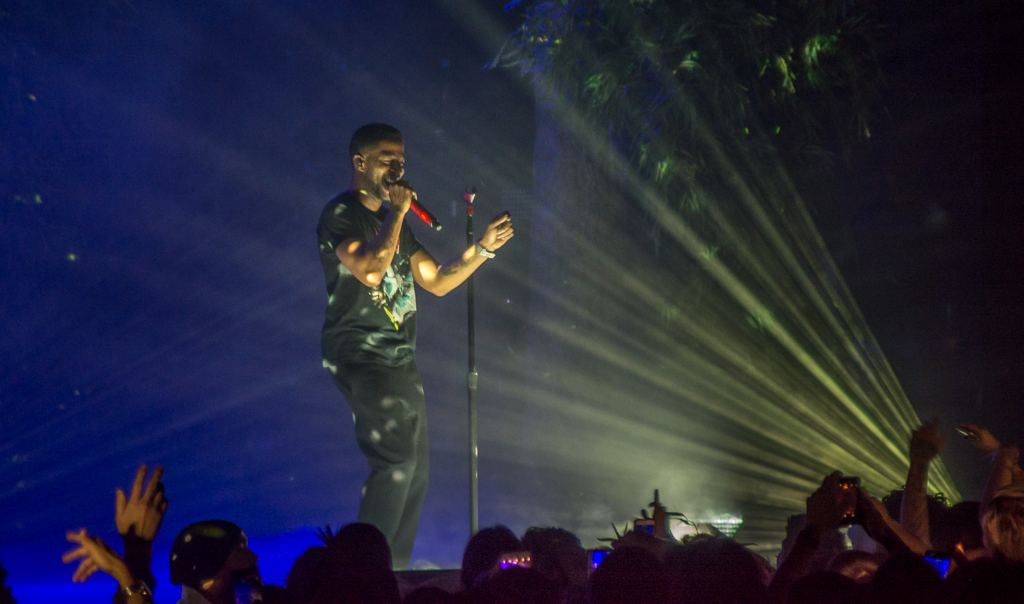 Since releasing his now classic debut album Man on the Moon: The End of Day in 2009, the rap game has gotten substantially weirder — a whole new generation of young artists enjoying a lane the "Day 'n' Nite" rapper certainly helped to forge. Cudi's stage presence reflected his position as something of an elder statesman or a godfather of today's psychedelic, drug-influenced strain of hip-hop. Playing both Kanye West's "Father Stretch My Hands Pt. 1" and Travis Scott's "Through the Late Night," the artist paid tribute to fellow greats who have all carried the same torch — West having been integral to Cudi's mainstream success and Scott frequently citing him as one of the key influences to the Houston native's layered, surreal trap.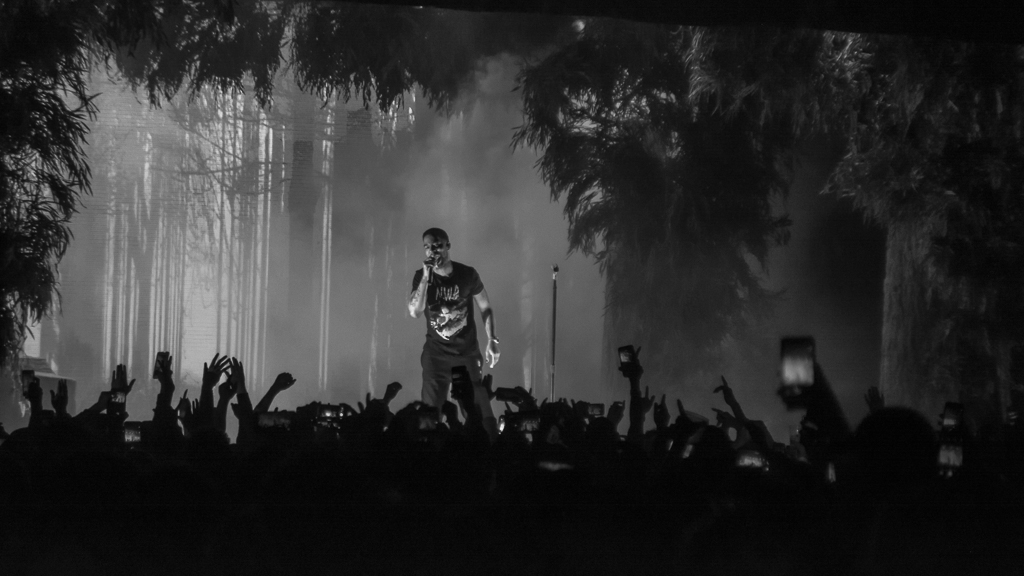 The stage was an impressive combination of organic set-design and stunning digital visuals. The end result evoked a varied scene that existed independent of lyrical content. Fake snow dropped across the entirety of the stage for most of a song, sunsets of various hues came and went. While it was not entirely clear what the stage represented, the decision to create a world independent of his surroundings fits in nicely with his oeuvre.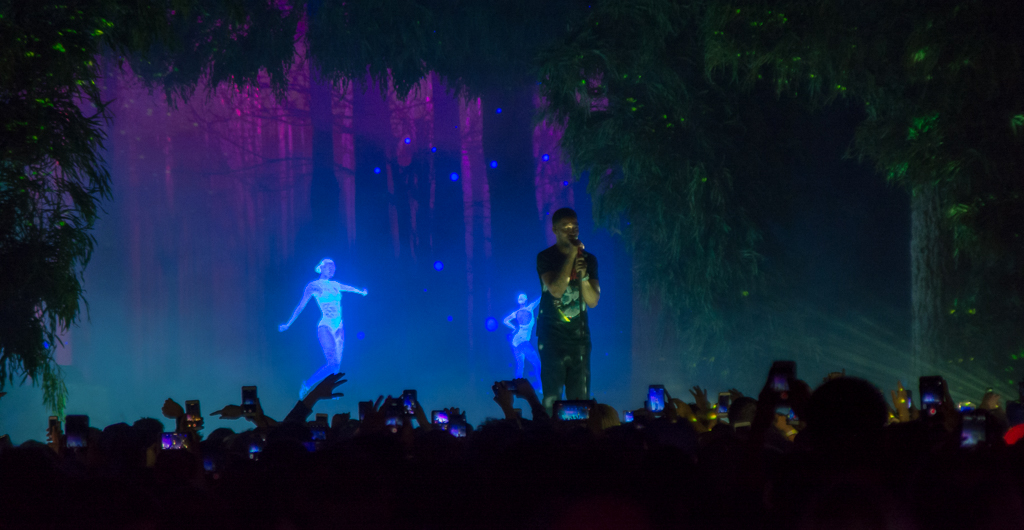 New tracks like the Andre 3000 featuring "By Design" were met with equal enthusiasm as classics like a raved-out interpretation of "Day 'n' Nite." Cudi briefly addressed his recent, well-publicized bout with depression before dropping "Pursuit of Happiness," the result a rather poignant and tender moment where the crowd seemed to drop their guard, albeit briefly. The set included a variety of chances for the artist to flex his skills both as a rapper and singer — his hypeman even taking a moment to shout out a Cudi-produced beat. The showman has always been impressive for his versatility and willingness to experiment — even with some of the work falling flat the commitment to experimentalism has led to more than a few moments of brilliance. The set-list smartly navigated his career successes, smoothly transitioning from one crowd-pleaser to the next. Though he could have played longer, the show was a well-curated look into the man's many moments of glory, free of filler and excess.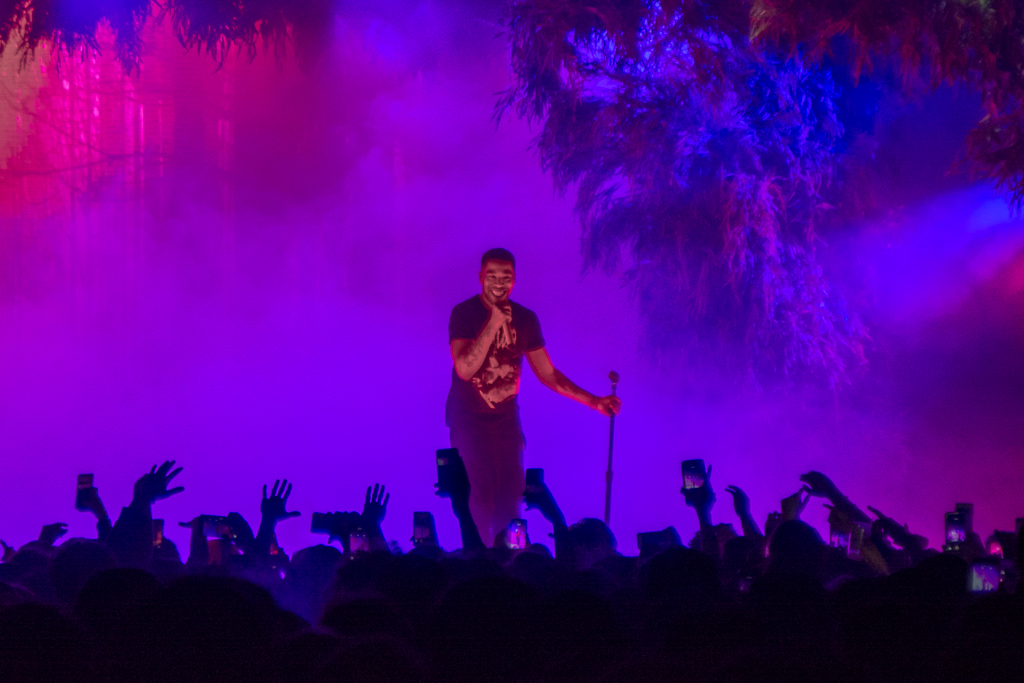 All Photography by Ryan Lewis. Go here to see the full gallery.