For decades, well before the 2016 election, Hillary Clinton has been a controversial character. From her time as a First Lady and then a presidential candidate, the fascination around Clinton (whether fueled by anger or inspiration) hasn't wavered. The media storm revolved around her book and subsequent tour is a testament to that. But in Denver, it seems the fire and fervor has died down with only one protestor found outside the venue and a packed, but not sold out show. For those made it inside, it was clearly a therapeutic event for her fans.
The night wasn't filled with a sense of buzzed commotion one would think of when expecting to see Hillary Clinton Live. Instead, the tone was a calm excitement; there was no sense of urgency to get a point across, no one lurking in the background watching her talk and there was no presidency at stake. It was a night of "conversation and discussion" and while at times it felt forced and repetitive, it also felt like catching up with an old friend after going through somewhat of a rough patch.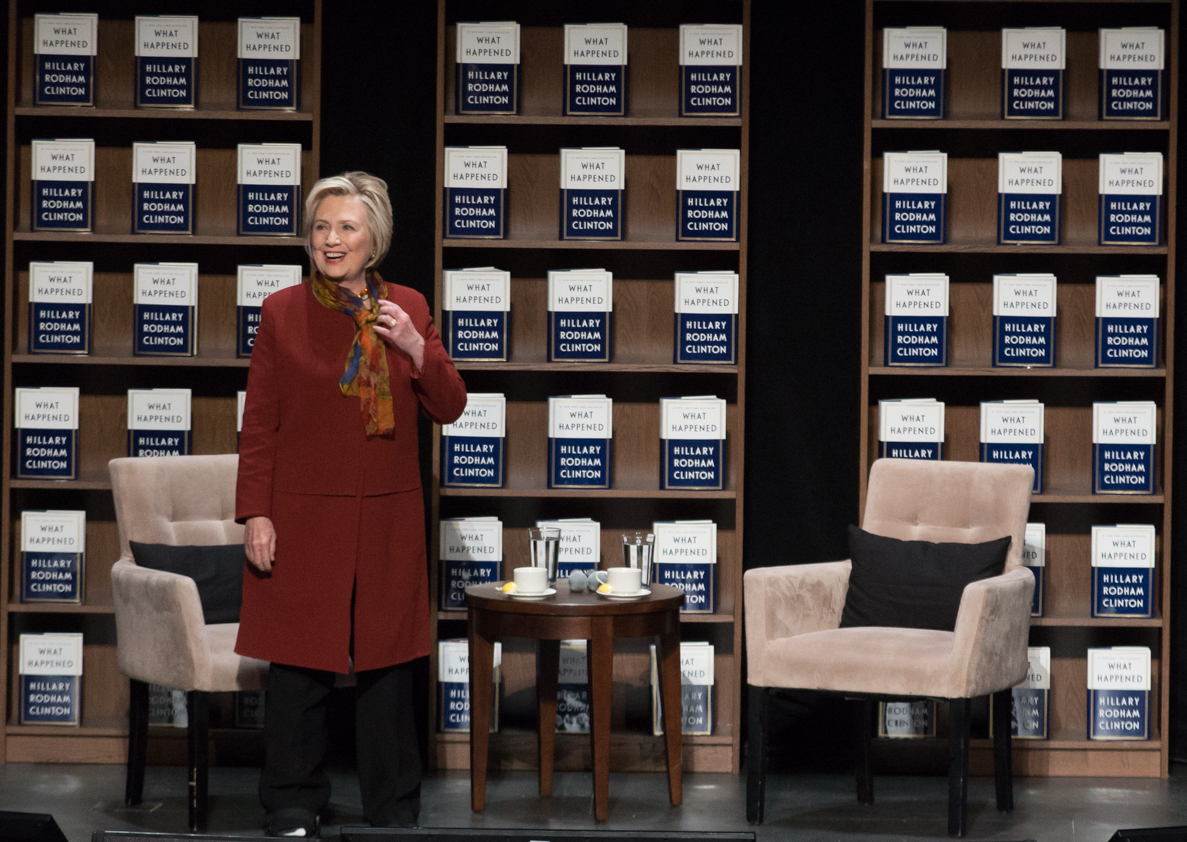 The show began with Clinton discussing, briefly, her book What Happened —  detailing the 2016 election, her time campaigning, reeling from the historic loss and ultimately finding ways to move on and move forward. In preparation for the show, as well as being an individual who's invested in everyday politics, I watched interviews with Clinton before, during and after the election as well as read her book and countless of other articles and interviews. Observing her on stage, it felt like I was re-watching her interviews and re-reading her book. Her talking points were the same, almost verbatim at times; her jokes repetitive and rehearsed. She mentioned after the election, she "liked to go for hikes in the woods near our house," referring to the internet famous photo that was later discussed in her book, television interviews and magazine articles alike. This reference earned an overenthusiastic laugh from the audience — something the night was full of — like an inside joke with a friend that you wanted the whole room to know you were in on.
It was moments like these that were exhausting to be a part of. Hadn't this been the whole election cycle? Clinton trying to prove that she was likable with perfected humor and retold stories. It was her off-character and sarcastic jokes that were more humorous than the scripted ones; allowing some of her personality to come through. "Senate put a tax cut on private plane owners which I know you were all hoping for," she later joked, earning a genuine laugh from everyone – myself included.
Nevertheless, the whole first half of the show felt staged. Her words were sincere but delivered with the same practiced tone as the countless of other times she had undoubtedly said on her other book stops.
The second half of the show was answering pre-submitted audience questions. Discussions ranged from topics of Russia and gun control to the opioid crisis and being a grandma — something she says is what she's most proud of and writes about it a lot in her book.
To no one's surprise, Clinton shared her opinions on Russia, Putin and how the Trump Administration has been handling it. "The Russians are still playing on anything they can to turn Americans against each other," said Clinton. She further explained Russia and Putin were an "urgent threat to security" and continuously reminding us what the Trump Administration has done wrong in with dealing with Russia, most recently with Trump stating he believes Putin over our national security advisors.
This conversation, again, felt all too familiar.
But then the tone changed. It wasn't drastic, just a shift; barely noticeable but it was there. The questions changed from international to domestic issues: gun control, the opioid crisis and human rights, among others were discussed.
When speaking on the matter of gun control — something that has impacted all Americans one way or another, directly or indirectly — Clinton captivated the audience. A silence fell over the crowd when she mentioned Columbine and Aurora. She was reliving it with us, speaking to how she visited Columbine as First Lady, consoling mothers as a mother herself. We hadn't forgotten about these shootings, but recent events in Texas and Las Vegas had almost put a thin veil over our memories of it. It was at this moment, Clinton seemed more human and relatable than in any other throughout the night.
Clinton didn't put the blame on any singular party and said what she thought needed to be done and how to do it; something extremely refreshing to hear in comparison to how the current administration runs off of vagueness and secrecy. There wasn't any "wait and see" or "believe me, it will be big" with what she would do; she said it right then and there.
"We have to be much more vigorous in demanding changes including, one, the FBI Database. Mental health, violent behavior, felony records — they all shouldn't be able to buy a gun.  We should put in whatever resources are necessary to update the database and put in relevant information. Think of what we could do if we got it up to speed and upgraded, modernized and funded the database. And two, the 'sunset provision'." Clinton was referring to the 10 year period [from 1994 – 2004 ] where assault weapons were banned.
She mentioned how she fears that America will soon no longer be looked at as a world leader and said she's "deeply worried that we have an administration that doesn't have a coherent economic strategy." And when the conversation turned to the opioid crisis, Clinton mentioned the recently proposed tax plan. Medicaid has been shown to help with the treatment of opioid  — something that would be taken away if the tax bill cuts Obamacare. "What I'm upset about is when you not only don't fulfill the promise you made, the tax bill is going to cut Medicare and Medicaid. 13 million will lose their healthcare."
When she began speaking about politics — actual policies and her stance on issues — you're reminded that she actually knows her shit. You remember that she had a 69 percent approval rating as Secretary of State. You remember that her resume said, " Lawyer, US Senator and First Lady" before it said, "Presidential nominee" with "email scandal" written in the footnotes. Strip away the fluff and get to the bones of her beliefs and you're left with a woman who has served in the American government for so long, that the policies and issues are practically written in her DNA. This is what she's truly comfortable talking about. It was encouraging to see the woman in the political position and not the woman in the pantsuits.
Clinton spoke eloquently, sometimes with such fierce passion, she would be forced to stop just to inhale breath. Yes, most of what she would say was partisan and bias, but it came from a place of experience and of intelligence.
Clinton closed the night with discussing being a woman in politics — something her run for president has resulted in a nationwide movement, with over 20,000 women wanting to run for office. "It's a great experience," recalled Clinton. "You learn things about yourself and think about issues you've never thought of before." She did caution that any individual wanting to run should be able to take criticism, especially as a woman, and added that "If you have ever entertained the idea of running for office, get out there and try… There was about a 10 percent success rate for first-time candidates and as of [November 6] it's now a 50 percent success rate."
She also praised young millennials, especially in Colorado, about their inclusivity and how excited they are to think about ways to influence the future. "There's a growing awareness," said Clinton. "Keep it going. You have the opportunity to shape the future and to cross the lines that divide us – even partisan lines."
READ: Hillary Clinton Says Country Can Learn from Denver as a Model of Opportunity 
Whether you are Clinton supporter or not, her words ring true: we have more stake in the elections than anyone else and our quality of life depends on what we do. The issues we support and the stances we take, shape what our future looks like.  There's a rumble — keep it going.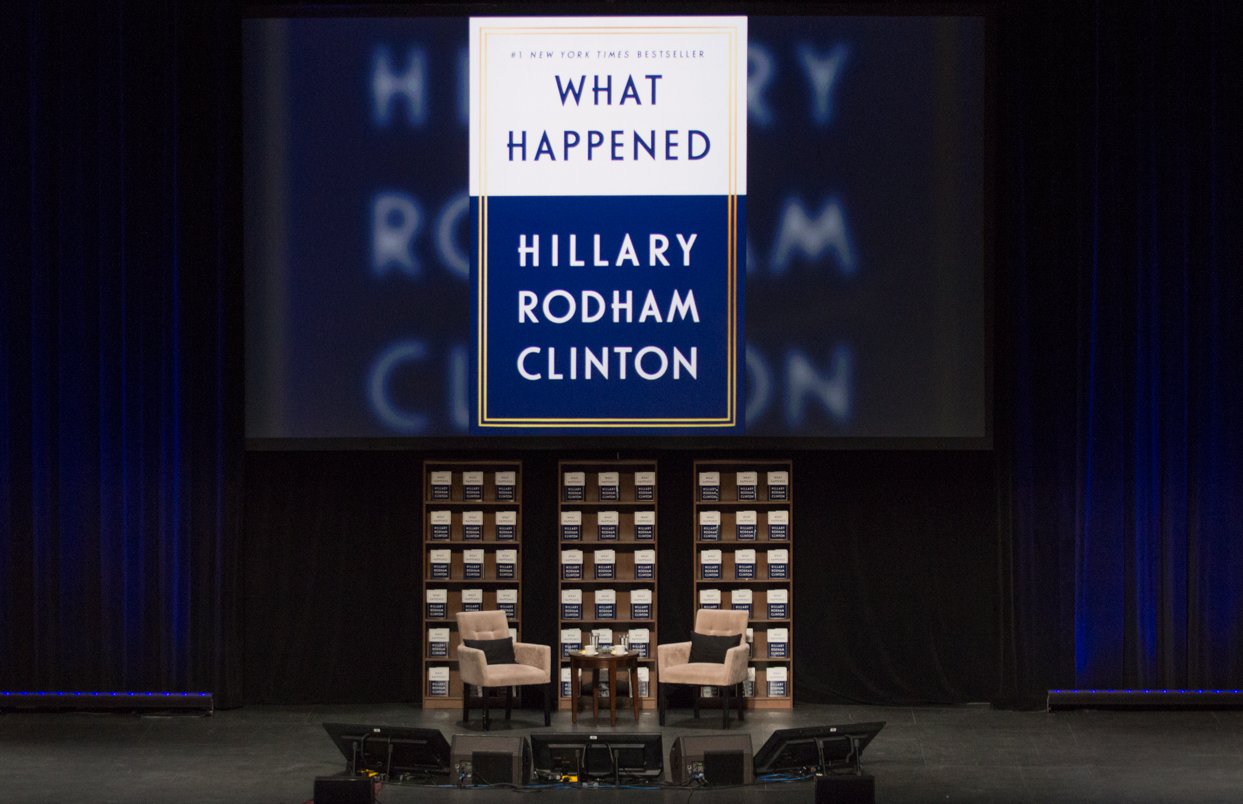 All photographs by Kenneth Coles Photography