Sure, maybe hotels, mountain cabin rentals and quaint bed and breakfasts are the perfect vacation getaway, but maybe you should stay down the road less traveled instead. Colorado is home to some quirky accommodations, so wow your friends with a trip to one of these Airbnbs that are well —a little bizarre.
1. A Refurbished School Bus
Where: Mancos
Cost: $65 per night. Make reservations here.
Sleeps: 2
The Lowdown: Retired from her life on the road, this groovy old school bus from 1957 nicknamed "Elouisa" is parked on 36 acres in southwest Colorado. Just five miles from Mesa Verde National Park, this refurbished bus has a kitchenette, comfy queen size bed, full bath including a hot shower, sink and composting toilet and lots of space to rest. If you're looking for a truly bizarre Airbnb, this may very well be it.
2. A Boathouse
Where: Creede
Cost: $200 per night. Make reservations here.
Sleeps: 2
The Lowdown: If you love architecture or just want a unique hideaway, this boathouse is the place you want to be. Featured in Architectural Digest, this neat Airbnb is entirely crafted of hand-hewn woodwork intricately carved by local craftsmen and inspired by traditional Norwegian stave churches. With a vintage clawfoot bathtub and no television, the Boathouse prides itself on being old-fashioned and the owners encourage you to explore nearby Creede instead. Guests also have access to the beautiful garden and yard of Windsock Acres and receive a welcoming gift basket upon their arrival.
3. A Vintage Camper
Where: Moffat
Cost: $108 per night. Make reservations here.
Sleeps: 4
The Lowdown: Watch the night sky and sleep in this vintage 1983 Avion Ambassador camper. Located at 8,100 feet on the 40-acre Red Cloud Ranch, this retro Airbnb in Moffat, Colorado has running well water, a full kitchen, shower, outdoor fire pit and everything you need to camp in style. View the Sangre de Cristo Mountains when you step outside this mobile home. This Airbnb sure is Instagram-worthy.
4. A Rooftop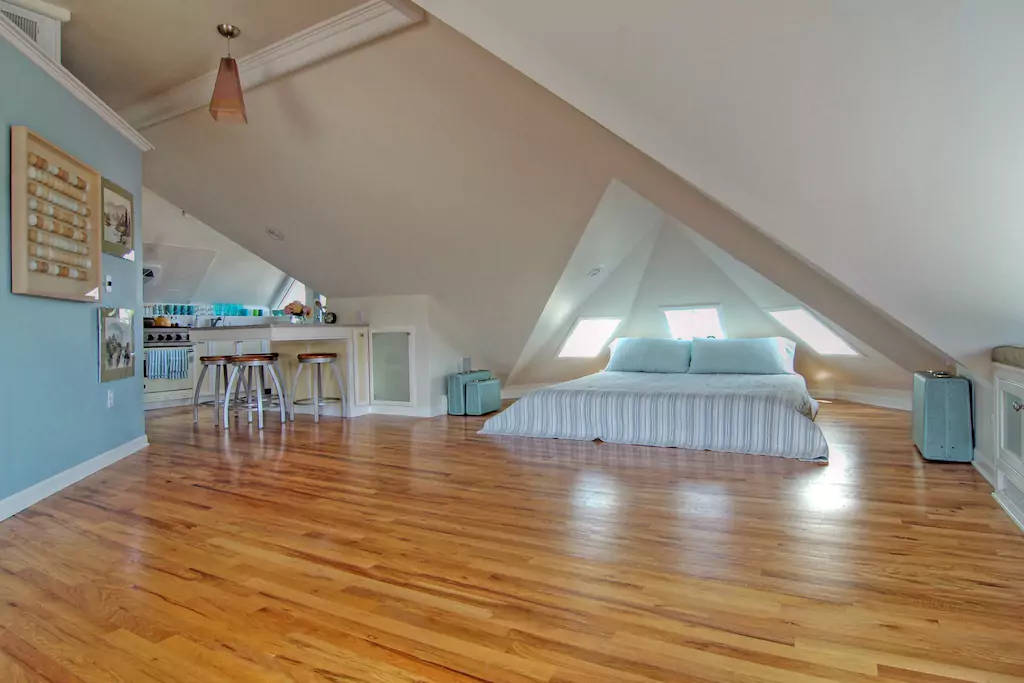 Where: Boulder
Cost: $175 per night. Make reservations here.
Sleeps: 4
The Lowdown: It might sound strange to stay in someone's roof, but we promise this penthouse in Boulder is cozy. Atop a renovated Victorian home, this Airbnb makes for a quiet retreat with its 250 square-foot deck, sleeping alcove, private entrances, built-in office nook and more. Guests must climb two flights of exterior stairs to access the penthouse on the third floor, but the views of the mountains and Boulder are worth it. A stay at this Airbnb makes for a unique getaway only a couple floors up from the hustle and bustle.
5. A Yurt in the Middle of Nowhere
Where: Creede
Cost: $175 per night. Make reservations here.
Sleeps: 4
The Lowdown: Deep in the San Juan Mountains, you can find solitude in this isolated yurt. Only accessible by high-clearance 4WD vehicles, this Airbnb is a modest dwelling in the great outdoors that makes for a unique mountain getaway. With no running water or electricity, the yurt isn't for everyone, but if you're prepared to get away from it all, it's an unforgettable experience.
6. A Steampunk Trailer
Where: Lakewood
Cost: $69 per night. Make reservations here.
Sleeps: 2
The Lowdown: The steampunk style is quite bizarre, and this travel trailer circa 1969 near Red Rocks is decked out in eclectic decor. Great for a couples retreat, concert accommodation, or solo adventurer, the 1969 Holiday Rambler Travel Trailer is roomy and features a fireplace, shower, private deck, a pillow top queen bed, multi-color LED lights and more. This trailer is funky, but it sure is fun.
7. An Eco-Friendly Earthship
Where: Dolores
Cost: $80 per night. Make reservations here.
Sleeps: 5
The Lowdown: You don't have to travel to New Mexico to experience an Earthship. Don't know what that is? It's a "green home"— which means it is entirely constructed of recycled and natural materials, runs on solar electricity and is mostly underground. With amazing views and a location close to the mountains, Great Sand Dunes and Mesa Verde National Parks, Durango and Cortez, the Earthship is the ideal place to enjoy peace and quiet and contemplate the Earth's existence.
8. A Teepee
Where: Hudson
Cost: $55 per night. Make reservations here.
Sleeps: 6
The Lowdown: If you're on a budget, but don't feel like pitching a tent, this little teepee is the way to do it. This authentic Airbnb sits on a working horse ranch, so you get the real feel of the west. With a dirt floor, a night in the Creekside Tipi is just like camping, so you have to provide your own sleeping bags and other equipment. There is no bathroom or showers, but guests get drinking water.
9. A Tiny House
Where: Livermore
Cost: $65 per night. Make reservations here.
Sleeps: 4
The Lowdown: Named "Blue Moon," this tiny house Airbnb is one of a kind. Settled in the Roosevelt National Forest near the Cache la Poudre Wilderness, Blue Moon is a great way to experience what it's like to live in a tiny home without actually investing in one. Under 250 square-feet in size, this contemporary-styled Airbnb has everything you need for a cozy weekend including a kitchenette, lofted beds and a bathroom. Learn what it's like to live little. You might not want to go back.
READ: Colorado's Tiny Home Owners and Builders Talk Pros and Cons of Living Small
10. A Hippie Bus
Where: Nederland
Cost: $190 per night. Make reservations here.
Sleeps: 2
The Lowdown: Named the "Gypsy Love Bus," this eclectic retreat on wheels in Nederland is a bizarre way to enjoy the outdoors, but it sure looks like fun. With a bathroom and queen bed, the Gypsy Love Bus is the perfect spot for couples or anyone who needs alone time in wilderness. The bus is parked overlooking Barker Reservoir and is within walking distance to town. Don't knock it till you try it.
11. A Million Dollar Trailer
Where: Aspen
Cost: $99 per night. Make reservations here.
Sleeps: 1
The Lowdown: Featured on television and in Architectural Digest and Skiing magazine, this jokingly "million dollar trailer" is within walking distance to downtown Aspen and offers the same luxurious amenities as a hotel with the same design concept, as well, a trailer. We're not sure if it really cost a million dollars, but a night here will give you relaxation in a massive king size bedroom complete with a private bathroom and deck with views of Aspen Mountain. This unique suite will definitely get you your bang for your buck.
12. A Tie-Dye House
Where: Leadville
Cost: $59 per night. Make reservations here.
Sleeps: 3
The Lowdown: Built in the 1880s, this Victorian-era home in Leadville has been through some interesting renovations. Painted in Rastafarian green, red yellow, this hippie house is across the street from Nature's Spirit Recreational Dispensary and Leadville's Periodic Brewery. Naturally 420 friendly, every room in this colorful Airbnb comes with rolling papers and features tie-dye decor for which the Happy Hippie Tie Dye House is named. But you don't have to smoke weed. A lot of people just enjoy the front and back porch, yard, fire pit and grill — making the Tie Dye House the perfect place to chill and unwind.
13. A Pre-Civil War Barn
Where: Westcliffe
Cost: $275 per night. Make reservations here.
Sleeps: 8
The Lowdown: It's a popular place to host a wedding, but have you ever tried staying overnight in a barn? This pre Civil War-era barn was converted into a three-bedroom, two-loft and two-bathroom accommodation and the pictures don't do it justice. Lying just outside the town of Westcliffe, Colorado, this beautiful barn Airbnb is at the base of the Sangre de Cristo Mountains and guarantees to be the perfect rustic retreat for large groups. Don't worry. There's no farm animals or straw.
14. An Old Carriage House
Where: Denver
Cost: $122 per night. Make reservations here.
Sleeps: 3
The Lowdown: Once used for horses in the late 19th century, this former carriage house in Denver is a rustic haven from history. This charming space has everything you want out of an apartment with carefully preserved reminders of the past. Converted in 2007, the carriage house features exposed brick walls, a covered lounge, free Crossfit classes and garage-style windows that roll up to let you enjoy the weather when it's nice out.
15. A Haunted Mansion
Where: Denver
Cost: $239 per night. Make reservations here.
Sleeps: 2
The Lowdown: You might have seen this creepy old house driving in the Highlands neighborhood of Denver, and guess what—it's listed on Airbnb. Known for hosting weekend Murder Mystery dinners and other spooky events, the Lumber Baron Inn is regarded by paranormal experts as one of the most haunted places in Denver (and for good reason). Scare yourself silly with a night in the nightmarish Valentine Suite, where two teenage girls were murdered in 1970. You probably won't want to return, but it's exciting to try at least once.