Jake Parker of Provo, Utah wants people to feel more connected with each other through random acts of kindness by sharing creativity. Which is why he came up with World Art Drop Day, the first Tuesday of September every year, when he asks all artists in a city to hide a small piece of art for other people to find using clues on social media. This artistic scavenger hunt will occur in Denver on September 5 and is in the process of registering artists to participate. Not an artist? World Art Drop Day is as much about the seekers as it is about the hiders, and without people looking for the "dropped" art, the entire purpose of the day-long event is lost.
Denver Arts & Venues is encouraging all levels of artists in Denver to participate. Anything artistic at any level is welcomed — doodles, paintings, music on CDs or USB drives, textiles like scarfs or knitted hats, poetry, or even bar soap if that's your creative hobby. Kent Rice, the director of Denver Arts & Venues says of the project, " Especially now, a project like this can generate so much positive energy, drawing people together through art." To help, the organization will be hiding mini versions of Lawrence Argent's "I See What You Mean" — aka the Big Blue Bear at the Colorado Convention Center — around town and leaving hints on their Facebook and Twitter feeds.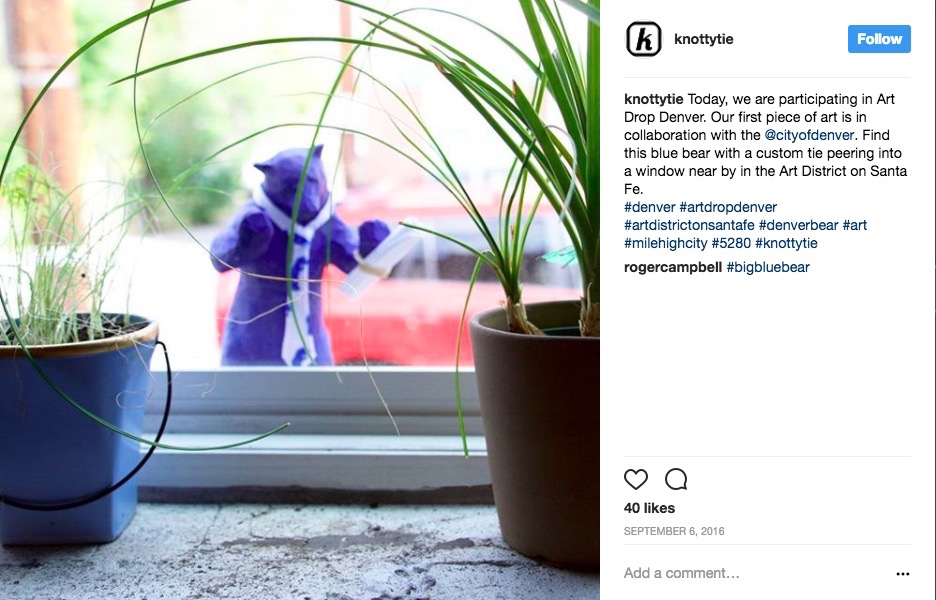 Participation as an artist is simple and free (minus the cost of your own materials.) Artists must register online —through this form —before September 5. Once registered, start making a piece of art to hide in town. Download, print and attach the World Art Drop Day Info Sheet to the artwork. On September 5 — and not before — drop the art somewhere in Denver. Take a photo of the art, or the hiding spot, or a little of both and post the image to social media channels. On that post, use the tags #artdropday and #artdropdenver, as well as some clues or hints to guide participants to your hiding spot. Then, wait around to see which stranger comes, or move on and leave it as a mystery.
People who are not participating as an artist should prepare to scour social media on September 5 in order to be the first to find a piece of original art by a Denver artist or one of the mini blue bears. As the first person to find the art, you are allowed to take it home, though it is highly recommended to snap a photo and share on social media — with the same hashtags the artists use — before doing so. The info sheet that should be included with each artwork will have the artists name and contact information so that hider and seeker can connect about the shared experience. Being a seeker also encompasses the other aspect of World Art Drop Day, which is seeing your city in a new way. Trying to figure out the location of the art drops will take some problem-solving, as many of the photos from the past only show small clues, like the bottom half of two large flower pots. It's a perfect excuse to explore parts of the city that have gone undiscovered to you heretofore.
This slideshow requires JavaScript.
Update: According to the City and County of Denver there are more than 130 artists registered to participate in the 2017 World Art Drop Day in Denver on September 5.