At only 23 years old, Kevin Blakeslee's list of achievements might leave a few of you wondering what you've been doing with your life. Not only does the man help to serve up some of the city's most forward-thinking Italian food at RiNo hotspot Il Posto, the young chef owns and operates his own food truck and catering business — making delicious bites that could easily rival the aforementioned locale where he works part-time.
The Truck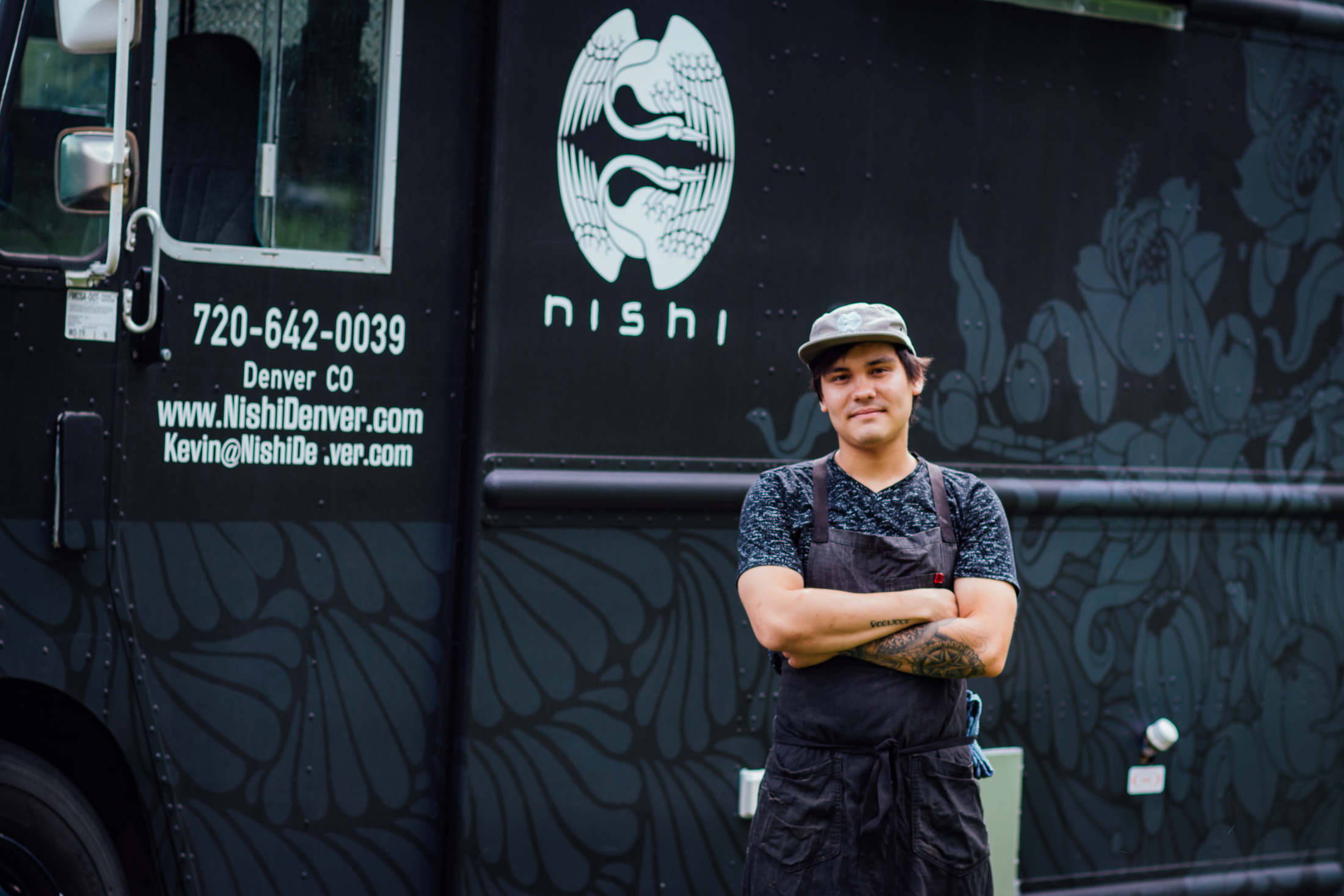 Nishi — named to honor the Japanese side of his family — is essentially whatever Blakeslee wants it to be. It's a well-decorated food truck (embellished with the unmissable work of fellow East High School graduate Zane Prater). It's an incubator for Blakeslee's affinity for pan-Asian fusion. It is also the catering company that — with or without the vehicle — brings his signature style and lavish sushi. Blakeslee has five years of experience in kitchens at Hapa, iFish and others.
Blakeslee runs Nishi primarily by himself — with a rotating cast of friends that are sometimes brought aboard to help. Never one to settle, he is always changing, updating and polishing the menu — but on any given day, you can order from five to seven inventive dishes. With a year under his belt since Nishi opened on August 8, 2016, Blakeslee shows no sign of slowing down. He is currently gearing up for another round of Taste of Colorado — last year he won second best menu. The style is reminiscent of a variety of Southeast Asian styles — robust lemongrass, ginger, galangal and turmeric can be smelled from down the street. The immense flavors intoxicate.
The Food
This slideshow requires JavaScript.
Despite the menu being in constant flux, there are a few staples. The edamame ($5) is a gorgeous take on the standard snack-fare. Wok-fried with thinly-slice scallions then served with an astounding sauce of charred pepper, green onions and onions, the plate is excellent for sharing, though delicious enough to inspire greed. The cold tofu ($6) takes sliced semi-soft tofu and douses it in scallions, dried seaweed, rice puffs, sesame and a tamari vinaigrette. No soy sauce is used here — it's a nod to Colorado's thriving gluten-free community. The traditional Japanese snack melts in your mouth while the rice puffs provide just enough crunch to make the dish enormously addictive.
As far as bigger meals are concerned, the short rib rice plate ($13) is not to be missed. Korean-style short ribs marinated in a sauce of lemon grass, oyster sauce, palm sugar and tamari are grilled to perfection and served with sesame-marinated bean sprouts, rice, house-made kimchi, fried onions and a house salad (mixed greens or seaweed depending on the day). As with everything on the menu, the short ribs conjure a sense of familiarity while still seeming to come from a food tradition that you can never quite put your finger on. The delicious bento box style plate is thoroughly filling and highly recommended.

Like much of the rest of Blakeslee's oeuvre, Nishi's location changes on a whim. The best way to find out where it will be is on the Facebook. But trust us, this food is worth pursuing wherever it may be.
All Photography Courtesy of Justine Henderson.