Long-distance trails have become a fad in recent years thanks to books like Bill Bryson's A Walk in the Woods and Cheryl Strayed's book-turned-movie Wild. There is no way to really know how many hikers are on the trails. But the number of hikers on the Pacific Crest Trail (PCT) with long-distance permits — people hiking at least 500 miles — increased by nearly 4,000 from 2013 to 2016. Similarly, the Appalachian Trail (AT) has seen a 78 percent increase in 2,000-milers between the 20th and 21st century.
Hiking with hordes of other people isn't very appealing to those who want to immerse themselves in nature. The increase in hikers not only means a lack of solitude but it also creates more trail erosion. There are options outside of the big trails such as the PCT and AT.
Colorado has a selection of its own long trails. Some trails are more popular than others but many see very few hikers.
COVID-19 note: make sure to check with county rules and regulations before you go, as some areas may be closed or have new restrictions. 
West Maroon Pass
A rugged hiking trail winding through a pine forest at the base of Maroon Bells, Aspen. Photo via Thinkstock.
Distance: 12.9 miles
Trailhead: Maroon-Snowmass
Time: 1 to 2 days
This rite of passage from Aspen to Crested Butte — or vice versa — can be completed in one day. The trail is an ideal place to see all of nature's color. Summer brings blooming wildflowers — larkspur, columbine, paintbrush. Fall brings the bright changing colors of the leaves.
The trail passes through meadows, alpine tundra, creeks, Crater Lake and forests of evergreen and aspen. The top of West Maroon Pass is the high point — topping out at over 12,000 feet. The climb to the top of the pass is more challenging coming from Aspen. The final stretch to the top climbs 1,000 feet in one mile. Once you reach the top the trail makes its way downhill.
If you want to make the hike a two-day adventure camp at the designated spots near Crater Lake. Reservations and backcountry permits are required for overnight trips.
To get back either have a friend pick you up or take Dolly's Mountain Shuttle which runs hikers from Crested Butte back to Aspen. Costs run high so try to find other people to shuttle back with you to bring the price down.
Continental Divide Crossing
Distance: 17 miles
Trailhead: Bear Lake, Wild Basin
Time: 1 to 2 days
If you want to see Rocky Mountain National Park without all the crowds hike across the top of the Continental Divide between Estes Park and Grand Lake. There are several options to get from one slope to the other. Two options start at Bear Lake and climb up Flattop Mountain.
The summit of Flattop provides perfect views of both sides of the Divide. From Flattop you might as well climb the 390 feet to the top of Hallett Peak. The trail splits at Flattop. Hikers can either follow the North Inlet Trail or the Tonahutu Trail to the Green Mountain Trail which ends just north of Grand Lake.
A third route starts at Wild Basin. The trail passes Thunder Lake, Boulder-Grand Pass and Lake Verna before dropping down the East Inlet Trail.
When you reach the other side you can stay a night or two in Grand Lake and hike back the opposite way. If that sounds like too much hiking have a friend meet you on the other side and enjoy the drive back to Estes Park via Trail Ridge Road.
Snowmass to East Snowmass Creek Loop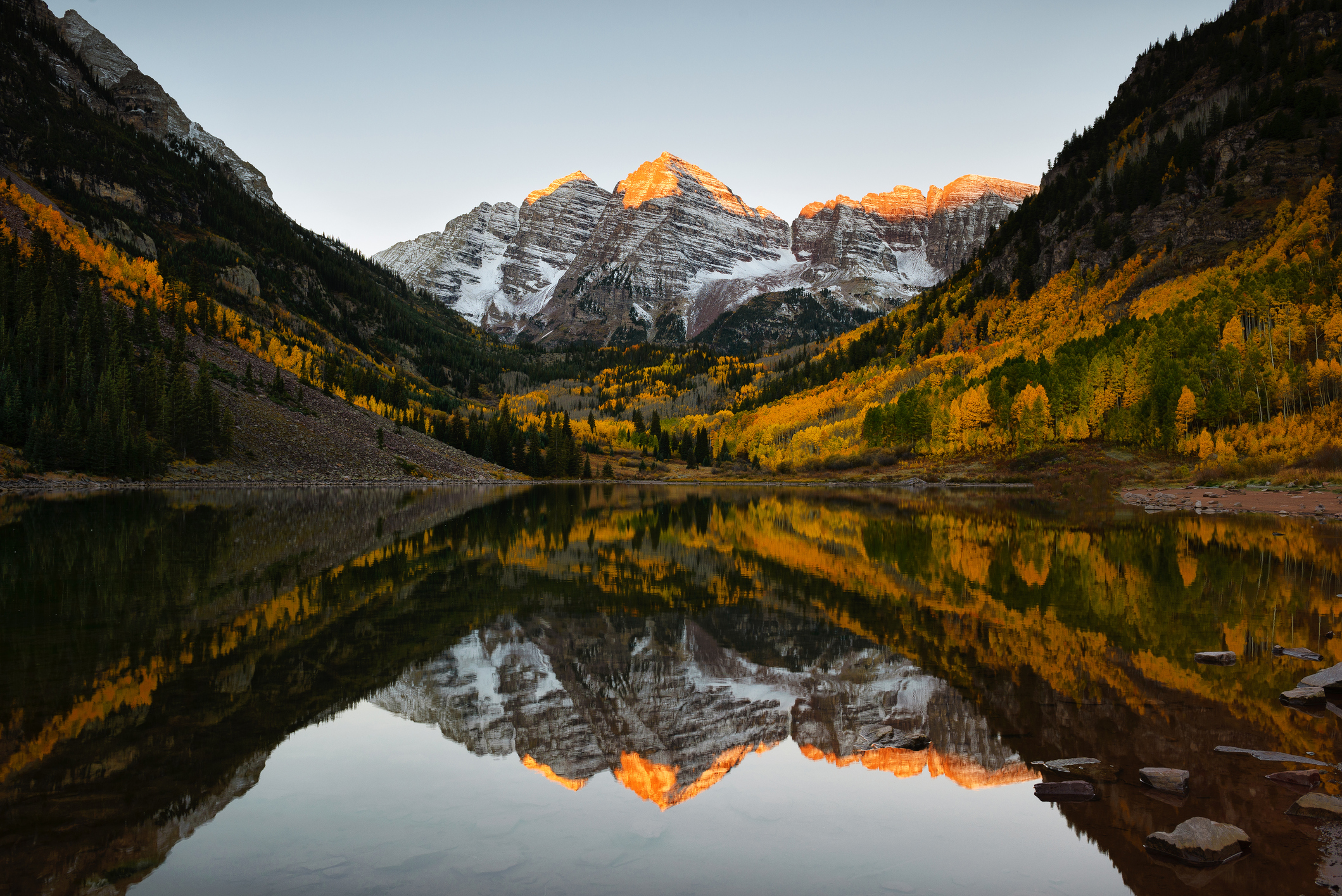 Beautiful sunrise touches Maroon Bells peak at Maroon Lake, Aspen, Colorado. Fall color of Aspen and reflection of Maroon Bells. Photo via Thinkstock.
Distance: 21 miles
Trailhead: Maroon-Snowmass
Time: 2 to 3 days
This loop wraps through the Maroon Bells-Snowmass Wilderness. Start at the Maroon-Snowmass Trailhead. With no out-and-back, the trail offers new views the whole way. Follow the Snowmass Creek to the Willow Lake Trail. Willow Lake connects with the East Snowmass Trail which will get you back to the start.
Along the way enjoy views of Snowmass Lake, Buckskin Pass, North Maroon Peak and Pyramid Peak. In summer see sunflowers, paintbrush, columbine and other rare wildflowers. In fall enjoy the changing colors of the aspens. Part of this route overlaps with the Maroon Bells 4 Pass Loop but sees fewer hikers than the full 4 Pass Loop.
Lake Nokoni and Lake Nanita
Distance: 21.6 miles
Trailhead: North Inlet
Time: 2 to 3 days
Lake Nokoni and Lake Nanita might be two of the least visited destinations in Rocky Mountain National Park. The trail to reach these lakes starts from the North Inlet Trailhead in Grand Lake. The trail has a mild beginning. It passes Summerland Park, Cascade Falls, Big Pool and Ptarmigan Creek before splitting off onto the Lake Nanita Trail.
From here the trail climbs more than 1,000 feet in about two miles before reaching the first of the two lakes — Lake Nokoni. The trail dips a bit for some relief in the last mile from Lake Nokoni to Lake Nanita.
While camping isn't allowed at the lakes there are 10 campsites spread out along the trail to spend a night or two. The lack of campsites at the lakes means fewer people make their way out so chances are good you'll have the place to yourself.
Lost Creek Loop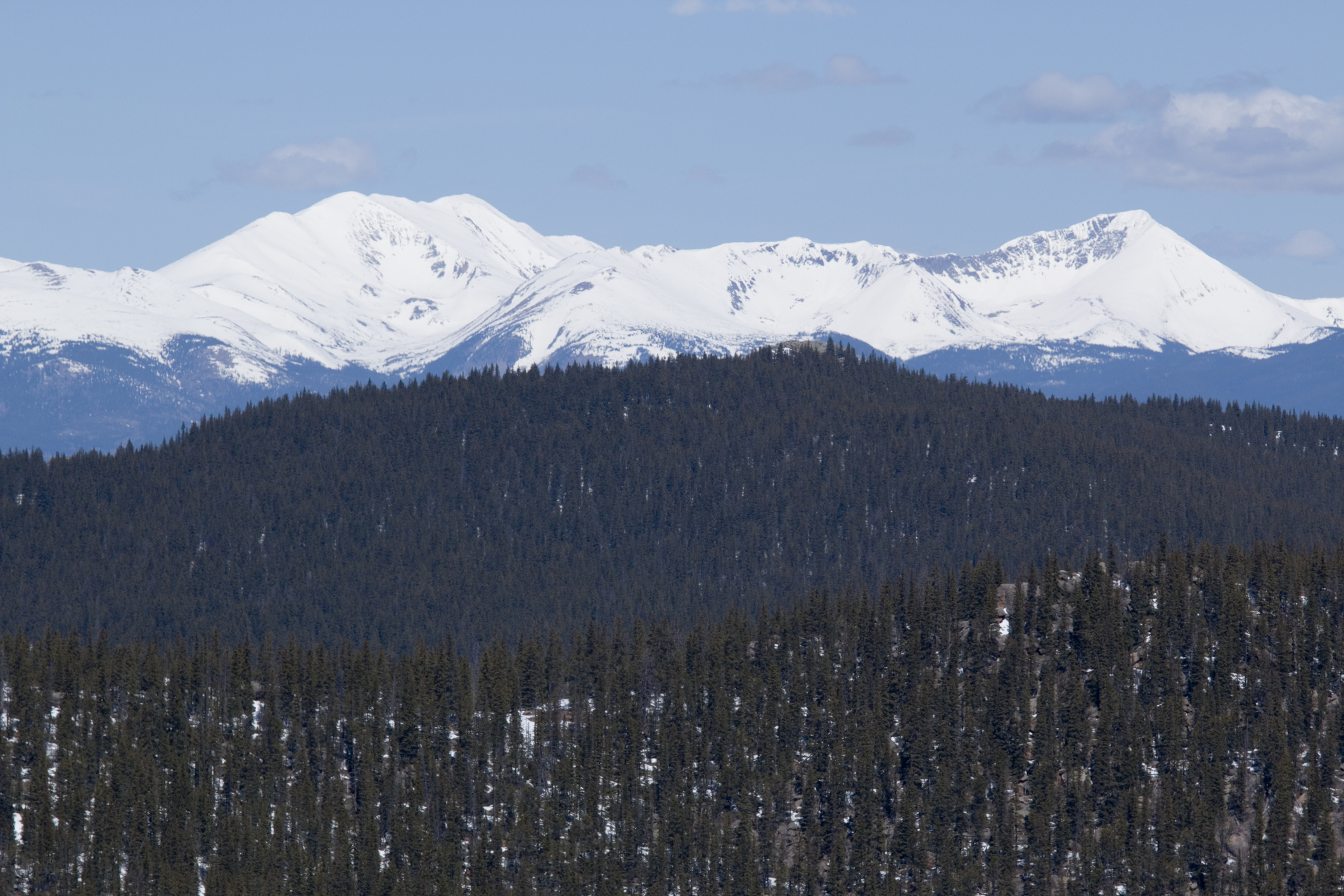 Snow covered Mosquito Range in San Isabel National Forest shot from Bison Peak in the Lost Creek Wilderness. Photo via Thinkstock.
Distance: 34 miles
Trailhead: Goose Creek
Time: 3 to 4 days
Lost Creek Wilderness — an area named after the creek of the same name that disappears underground and reappears downstream — is home to almost 130 miles of trails. This is also the perfect trail option for pet owners as dogs are allowed provided they are on a leash.
From the trailhead Hankins Trail through Hankins Pass, turn north to Lake Park Trail and then to McCurdy Park Trail. The trail can be shortened by cutting through McCurdy Park or continue to do the full 34 miles via the Brookside McCurdy Trail. From here take the Wigwam Trail which leads back to the Goose Creek Trail. The loop offers views of Mosquito Range, Collegiate Peaks, McCurdy Mountain, Bison Mountain, the Goose Creek drainage and forests of ponderosa and aspen.
Since Lost Creek is in Pike National Forest dispersed camping is allowed. Permits are required for Lost Creek Wilderness but they are self-serve at the trailhead.
Capitol Creek Circuit
Distance: 40 miles
Trailhead: Capitol Creek
Time: 4 to 5 days
The Capitol Creek Circuit is a great option for those who want to try the Maroon Bells four Pass Loop in peace and quiet. That's exactly what you'll get on this trail as most of the route stays above timberline. You'll see more hikers near Snowmass Lake and on Capitol Creek Trail but prepare for quite a bit of alone time.
You will also get views just as amazing as other areas if not more so as you cross four mountain passes and four alpine lakes including Snowmass Lake, Geneva Lake, Avalanche Lake and Capitol Lake. Be ready to earn the views as you will climb close to 10,000 feet in elevation gain over the length of the trail.
The route connects several trails. It starts on Ditch Trail and connects to Capitol Creek Trail, Avalanche-Silver Creek Trail, Lead King Basin Jeep Trail, Geneva Lake Trail, Maroon-Snowmass Trail, West Snowmass Trail and ends on Capitol Creek Trail.
Colorado Trail
Distance: 486 miles
Time: 4 to 6 weeks
If a few days of wandering through nature doesn't quite cut it for you head for the Colorado Trail. This 28-segment route runs from Denver to Durango and passes through six national forests and six wilderness areas. You can break up the route and take it one segment at a time or go big and take on the whole route in one go.
The segments range in distance from 11 miles to 32 miles and in elevation gain from 1,000 feet to 4,500 feet. Segments are easily accessible from almost anywhere in the state as the trail winds through Lost Creek Wilderness, Copper Mountain, Breckenridge, the South Platte River, the San Juan Mountains, Collegiate Peaks Wilderness and more.
The Colorado Trail Foundation cautions thru-hikers not to underestimate the trail. It is always safer to travel with a companion. Be aware of weather and emergency response times. For more information, the Colorado Mountain Club has a complete guide to hiking the Colorado Trail.
You don't have to travel across the country for an incredible long-distance hike. Stay in state and discover more of what Colorado has to offer.
Other trails to try:
Maroon Bells 4 Pass Loop
Distance: 28 miles
Granite Lakes and Continental Divide Semi-Loop
Distance: 36 miles
Weminuche Wilderness – Elk Park – Needleton Loop
Distance: 36 miles