After Colorado's strange bouts of incessant rain with conversely boiling hot days, we don't know about you but we're ready for some summer time adventures and activities in this perfect weather. If you are looking for something outdoors that involves sunbathing, getting some of that vitamin D and just the right amount of adrenaline, we have just the activity for you  — tubing.
Every year, when the snowcaps finally melt, adventurous Boulderites flock to the Boulder Creek for weekend — or weekday — adventures. As early as May, people can be found frolicking at the watering-hole spot at the top of the creek on the west end of the city, adorned with rope swings and ample rock space to sit and sunbathe. The adrenaline junkies, on the other hand, take the more adventurous route, hopping into canoes for some "white-river" rafting, or onto an inner tube to float the creek. How, where and when to start? We've got your mini guide on maneuvering Boulder's Creek below.
When to Go Tubing
May through September are traditionally the best months to hop on board and float down Boulder's own natural lazy — or crazy, depending on the water flow — river. If you are someone who is a little more sensitive to colder temperatures, wait until the mid-summer months to float on down; earlier parts of the season can yield colder creek temperatures fed from the residue of late winter glacier melt that feeds into the creek.
Gear it Up
Naturally, tubing requires that donut ring of plastic to float yourself down the creek, so where are the best places to purchase a durable, sustaining tube? More traditional locations — like Target or Walmart — can definitely provide you a flotation device, but Boulder's local go-to is White Water Tubing on 27th and Spruce Street. You can buy tubes or rent them from anywhere between 1 to 5 days, with rental prices running from $16 to 21 for a 1-day rental, depending on if you go for the 48-inch "Pro Tube," 54-inch "Super Tube" or "Double Tube" if you feel like getting into double trouble.
Close-toed shoes are also always a good idea, as the creek can yield some sharp rocks and edges along the way down or in the bays where you can hop on and off the creek. We recommend leaving things like hats and sunglasses on dry land, its easy to flip over in your tube and get submerged — losing anything that's not on tightly. That being said, do make sure to sunscreen it up ahead of time.
Where to Hop On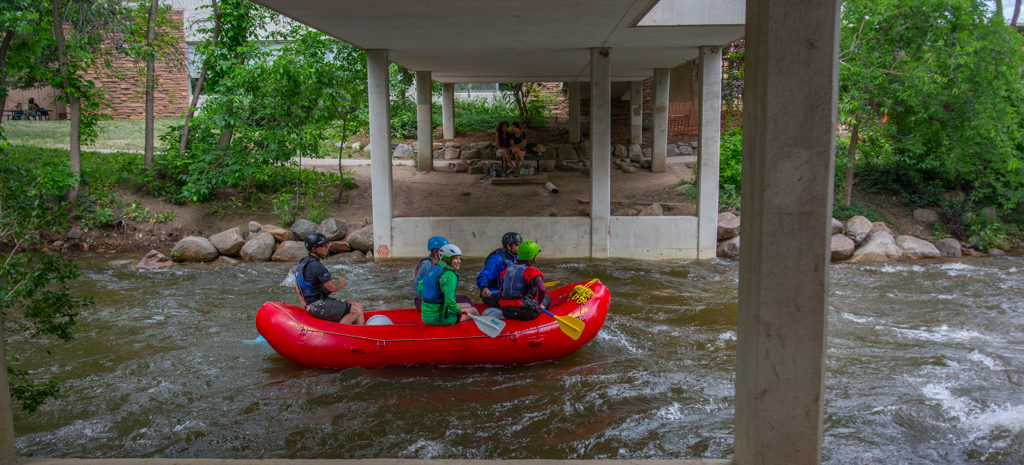 The Boulder Creek runs a good length of the city, starting from up in mountains and winding its way down from Boulder Canyon behind the Main Public Library, through downtown before it forks and splits off — one leg running through CU's East Campus and the other along Pearl Street. Locals recommend the best stretch to get on is at Eben G. Fine, just west of the Pearl Street Mall, downtown. The local park often houses picnic-goes, families and young crowds playing soccer or laying out to enjoy Colorado's famous levels of sunshine. If you're a newbie, try to start there and hop off at the open at Boulder Public Library or at Central Park — starting any higher can be a bit dangerous for first-timers as the creek has been known to have some class V rapids higher than Eben G. Fine. If you are a little more hesitant to wield the potential faster rapids and parts of the creek, jump on at the Boulder Public Library and enjoy a shorter more lazy-river-like-stretch.
Should you be an over-achiever — or just like to be prepared — and would like to check the water level ahead of time, the Colorado Division of Water Resources always keeps track of the daily creek levels here.
If you're working in Boulder, a student, a summer warrior or just happened to be visiting this season, be sure to the note the 2017 Tube to Work Day in July — all the adventurous times of tubing down the white rapids of this mountain city's creek, while adorned with your work assemble and making your way to the daily grind. What's a better way to start your summer work day?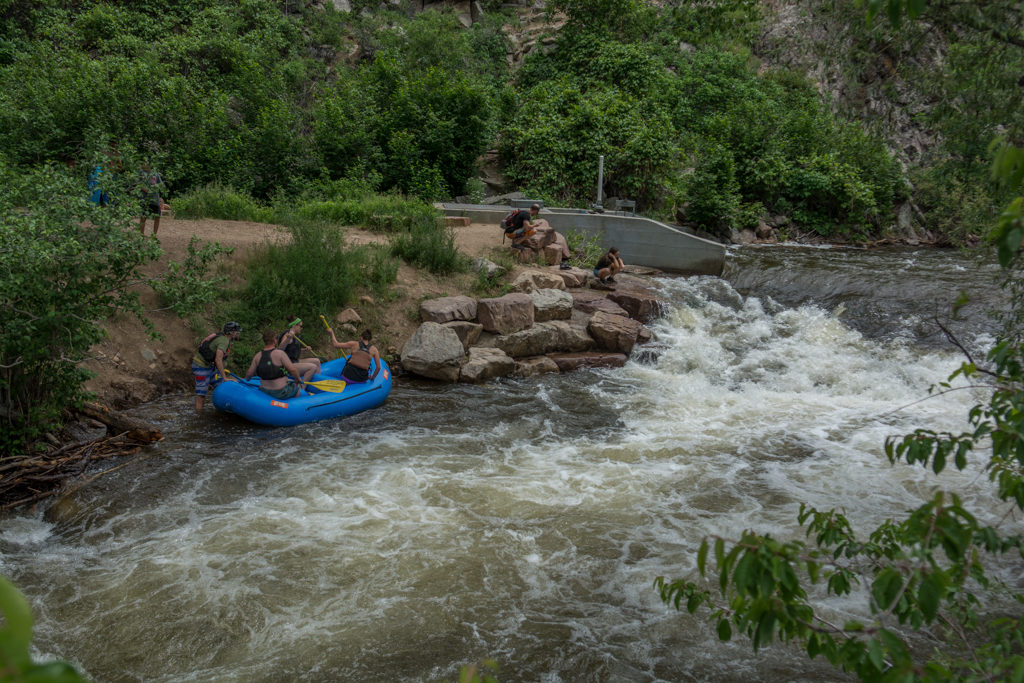 Remember — be safe, heed any local or sheriff warnings about creek safety and levels, grab a buddy and beer and happy tubing!