The Denver Chalk Art Festival celebrated its 15th year this past weekend on June 3 and 4 with packed streets on Larimer Square. Under Colorado bluebird skies, over 200 local and national artists (many of them being Colorado natives) showcased their work. The chalk artists are considered "Madonnari"— after the 16th century Renaissance Italy trend of turning pavement into canvas to create paintings of the Madonna. The Madonnari, at the end of the two-day festival, were all covered in smudges of different colors of chalk, a little sunburned and overwhelmingly appreciative of the audience turn-out.
Before the winners were announced at the end of the day on Sunday, one of the organizers remarked that the three local judges had frequently uttered the phrases, "use of negative space," "powerful color with so many values" and "daring work." Even though this kind of art is transitory and fleeting, 303 Magazine spoke with some of the winners about their pieces and took photos so everyone who didn't go can know what they missed.
1st Place
Cameron Cover and Jim Karanik
Cameron Cover and Jim Karanik won first place and had a great time, which is why they love participating in chalk art festivals. With a fascinating mixture of cartoon and ultra-realism (check out that earth!) the duo managed to create a piece that popped out at the viewer with a distinctive personality and a touch of humor.
"Really there wasn't much thought to the inspiration for this piece, Cameron said she wanted something with a dog and so I came up with a dog in space and ran with it. We've done this festival a few times before and we did one in New York last year. I'm a tattoo artist, that's what I do for a living. It's different doing this because tattooing is my job and this is more of a hobby, I think this might feel more fun because of that."
2nd Place
Randy Segura
Inspired by a self-portrait of Diego Rivera, Randy Segura took that portrait and threw in a few pop-art icons. Though the theme isn't unified, his technique and use of color and placement is captivating. As an artist, when he's not creating chalk art, Segura often incorporates symbols used in pop culture without wanting to reach for meaning.
"I like juxtaposing things like this. It was fun listening to people's questions, like, 'What does Diego [Rivera] have to do with Lucy?' and I'm like, 'Oh, you know, conspiracies!' It takes me a few days to come up with the idea, though I knew I was going to include Diego Rivera. This is my 10th time doing the festival."
3rd Place – Tied
Phillip Bernal
Overheard while looking at this piece, a man commented, "Okay so we must be the monkeys and the birds must be the corporate overlords — or something. I mean, look at the phones, those monkeys are definitely us." Well-said, random by-stander, well-said.
Karl Horeis
Karl Horeis is a Denver-based artist. Last year, he participated in the Chalk Art Festival creating a similar portrait of a young woman. That piece was inspired by Dutch artist Johanna Martine and can be seen on the bottom right corner of the picture above.
Best Use of Color
Katarina Vuletich
Katarina Vuletich is a Denver Based artist that began her studies at Regis University. At the festival, we were able to talk to Vuletich about her unique process:
"I do a lot of smaller artworks, I call them 'frame-first' because I tend to buy frames at Goodwill or other thrift stores and base my piece on that. My pieces tend to be inspired by nature, specifically Colorado nature. I wanted this piece to be circular because most pieces fill the full square you're given. When I sketched the piece out, I worked in watercolor and ink. When I did the chalk piece I went in and blended all the base colors I wanted before going back and adding highlights and definitions with additional colors. I've been in the festival once before, but I was representing and sponsoring a youth group for Urban Peak, where I was working and still work now. I'm from North Denver originally."
Best Reproduction of a Master's & People's Choice
Olivia McLeod
With two awards, Olivia McLeod proved she not only impressed the judges, but also a wide array of voters. According to the announcers, there were 1,800 unique votes cast for the People's Choice award through a texting service.
"One of my favorite artists is Alphonse Mucha and I chose to do an oil painting of his daughter named Jaroslava. This is my 4th year [at the festival] doing a piece inspired by Mucha. He's most known for his poster style and after doing three of his pieces like that I decided to branch out and do something more unique, so I did this one, which he isn't well known for and her gaze is just so intriguing and that's what really grabbed me about it. This is my eighth year participating, seventh consecutive year. My first year I was 13 years old. We (my family) used to attend all the time and after expressing interest, I found out there was no age restriction if I was willing to participate. And so nine years later, eight chalk festivals, here I am!"
Most Whimsical
Jennifer Mosquera
Though the artist could not be reached for comment, does this need any more comment than it already has? Behold the wonder, Taco Cat.
Best 3D
Chris Carlson
Chris Carlson makes his business creating 3D chalk art and won Best 3D at last year's Chalk Art Festival as well (see photos of that here.) Carlson is definitely one of the most clever artists, with his play on the Teenage Mutant Ninja Turtles and their namesakes, but his ability to create a completely two-dimensional artwork that appears to come off the ground is truly what sets him aside from anyone else.
Featured Artists
Dawn Morrison Wagner
Dawn Morrison is a veteran chalk artist from Thousand Oaks, California. She began her career back on the coast in 1988 when she created her first work at Madonnari festival in Santa Barbara. Morrison enjoys the Italian origins of the art form and often reproduces the work of her Renaissance idols. However, over the years she has begun to experiment with "contemporary perspective pieces that utilize the three-dimensional relationship between the viewer and the pavement" — much like the one shown here.
Stephen DeOrio
Stephen DeOrio is a fine artist living in Westminster, Colorado. He has been featured many times at the Denver Chalk Art Festival including last year when he recreated Andrew Wyeth's Braids. This year, DeOrio also tackled a Native American theme with this beautifully dramatic scene.
Julie Kirk
Like Wagner, Julie Kirk started her career at a local festival in California. Now over 20 years later, Kirk has traveled the world creating hundreds of pieces of works for companies like Disney and Universal Studios. This year, the artist graced Denver's pavement with this explosive creation.
Crowd Favorites and Honorable Mentions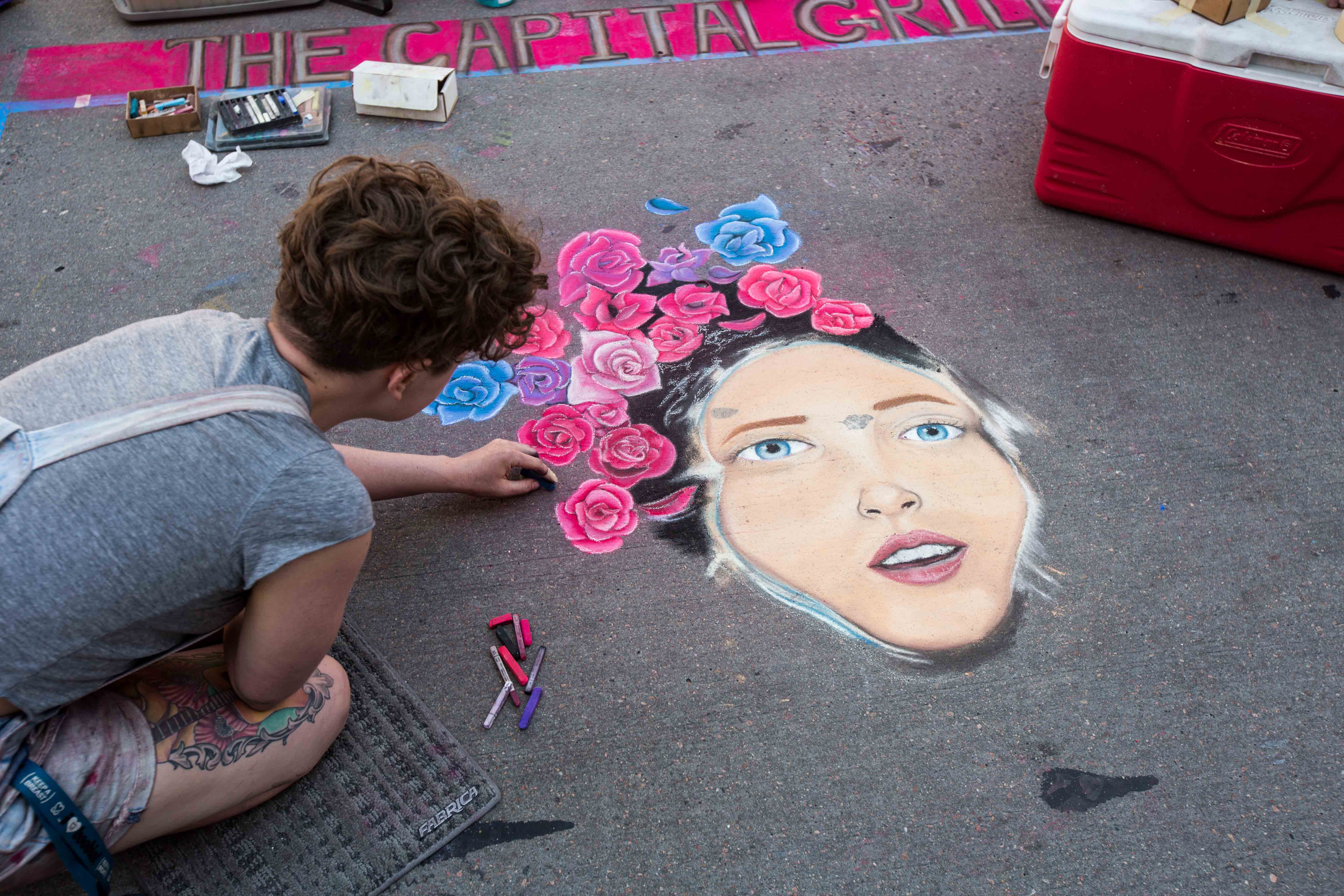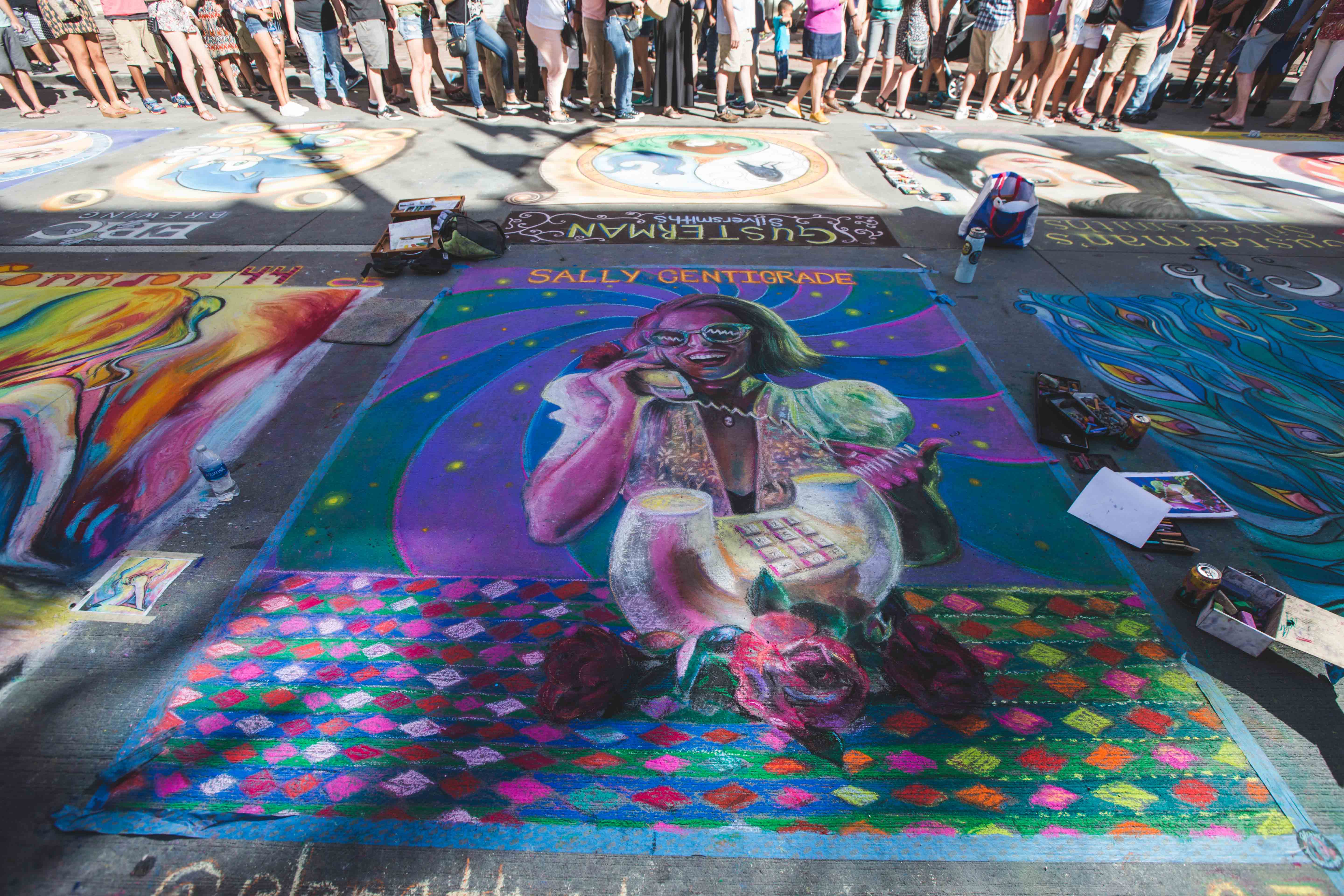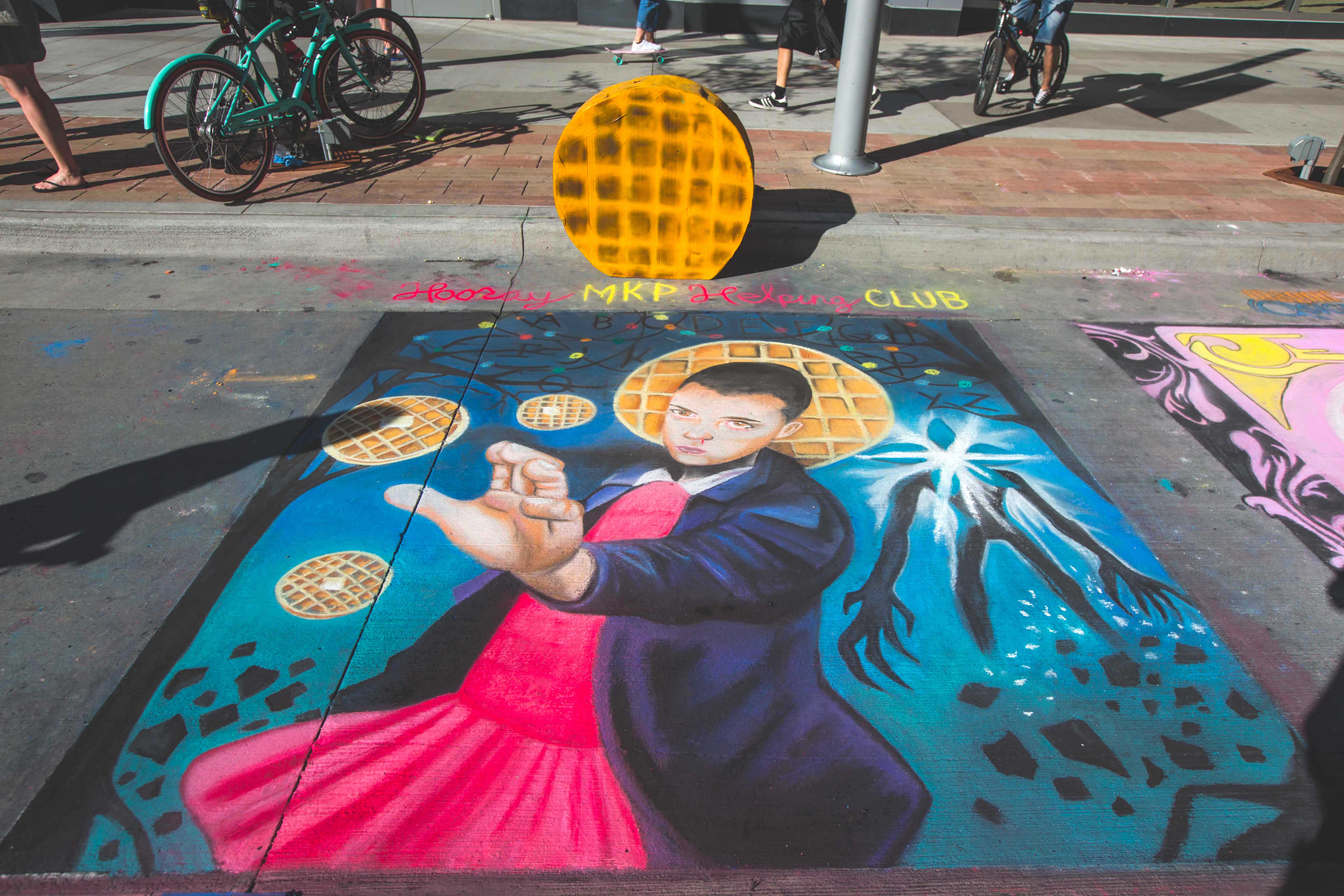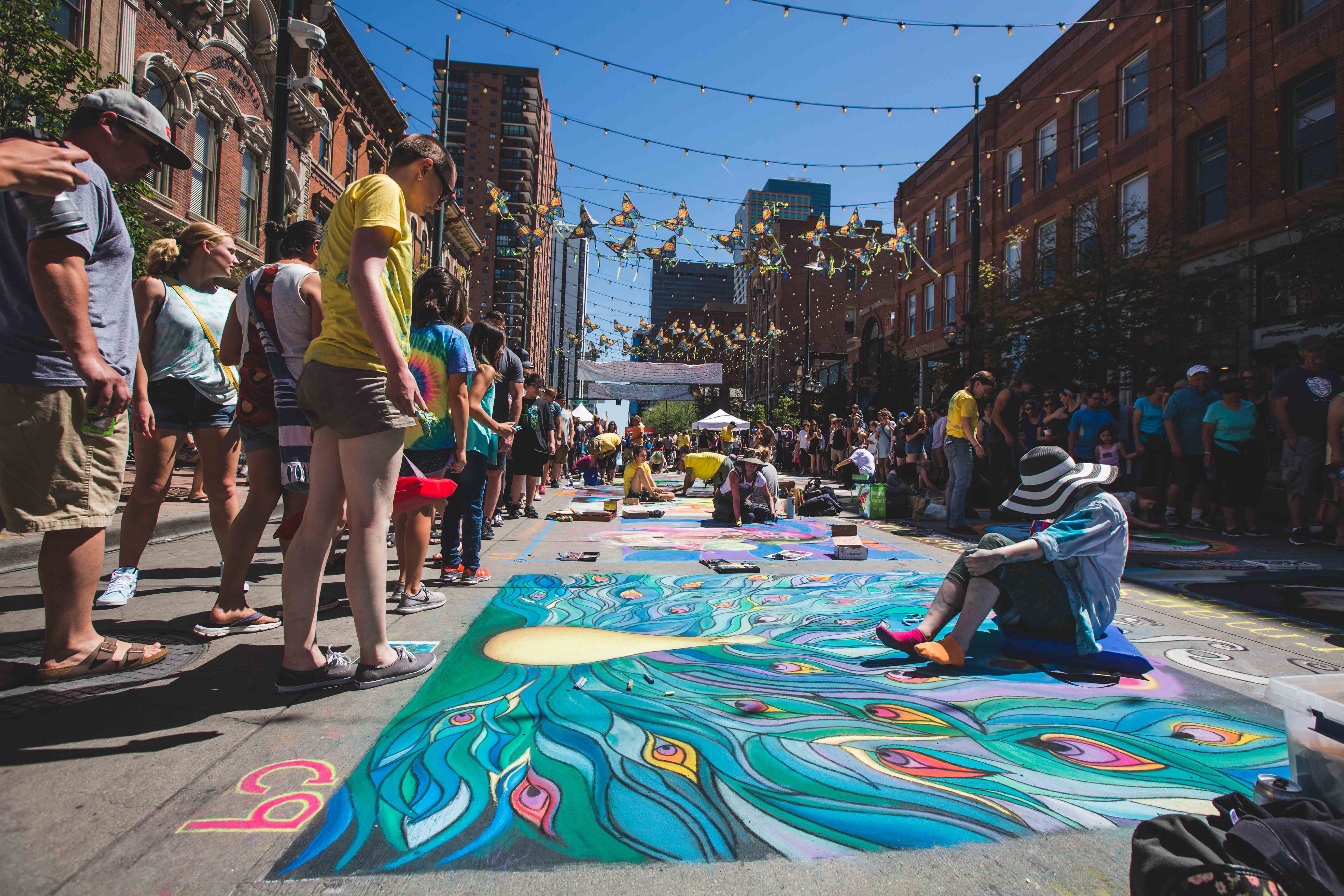 Photos by Kyle Cooper, unless otherwise noted.