Alex and Allyson Grey are a wife and husband duo of visionary painters, renown in the psychedelic community. This is a growing culture in the Denver area and has always been a huge part of the ideas that forms Boulder's identity. While they currently live in New York, the Greys are no strangers to our beautiful state. They have been performing in Colorado every year for the past four years and their live painting in Colorado dates back as far as 2009. Alex Grey has even taught workshops at Boulder's Naropa University.
With another upcoming show at Red Rocks Amphitheatre on May 6, the Greys are returning to Colorado to perform with an amazingly talented line-up. Papadosio will headline the music side of things with opening sets by Desert Dwellers and Colorado's very own Sunsquabi. In terms of artists, Alex and Allyson Grey will be live painting with a huge list of awesome visionary painters, including Boulder's very own Morgan Mandala. Visual projections will be provided by Johnathan Singer as well. Prior to their upcoming show, we spoke with the Greys about their love of Red Rocks, creativity and psychedelic activism.
303 Magazine: Are you excited to be returning to Colorado and the beautiful Red Rocks Amphitheater?
Alex Grey: Of course! Colorado is one of the freest places on earth and Red Rocks is a natural wonder featuring great music and art. We have so many awesome visionary friends in the Denver/Boulder area we look forward to connecting with.
303: How would you describe the connection between art and music?
Alex: With open eyes and ears, our minds make [the] sensual magic of art and music. When musicians and artists fully flow, they put out a love wave force-field and at Red Rocks, it's a group Soulgasm. We have a lot of talented friends in the arts, and there is a natural camaraderie between creative people. No matter what the craft we run into many of the same issues in bringing our inspirations to form.
Allyson Grey: Visual and auditory? Eyes and ears? Openings to consciousness? All creative, yo.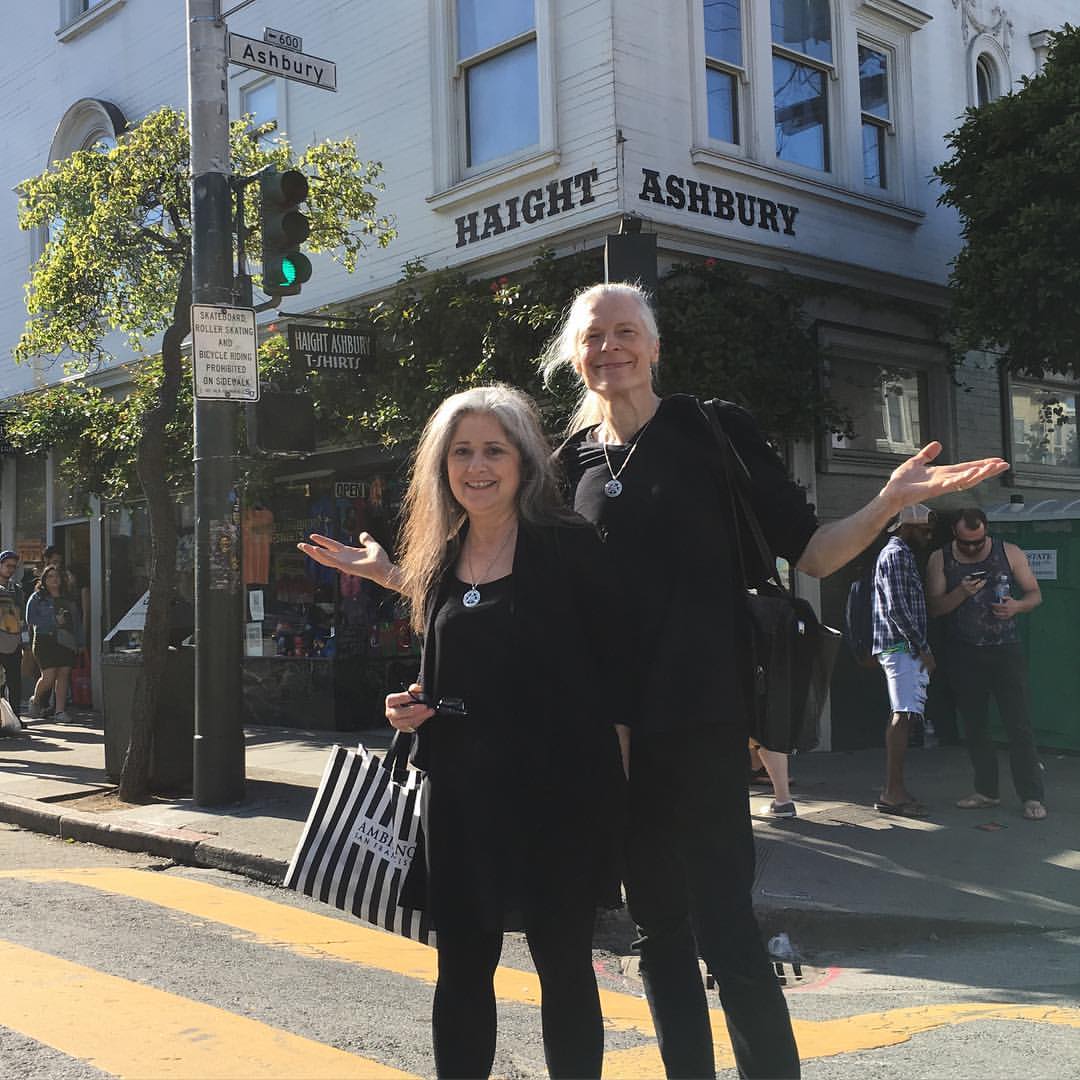 303: What aspects of live painting do you enjoy most?
Alex: Live painting is the pinnacle of our travel experiences. On the road, everything is in preparation for those few hours on stage. Painting is our favorite activity so we feel like fun factories when we are at work.
303: How important is the energy in the crowd to your creativity and live painting experience?
Alex: Painting is a meditation. Most painters do it in private. We once had a vision of Van Gogh telling us how lucky we are and that we should never forget it. Some extraordinary artists die never knowing if their work will ever be appreciated, we get to paint in front of thousands of loving fans. The energy of the crowd puts us in a focused zone, demanding we pay attention and make something beautiful. There are insights and breakthroughs that can come onstage that advance our body of work. We are so fortunate and grateful to be sharing our visions with audiences around the world at the most astonishing venues.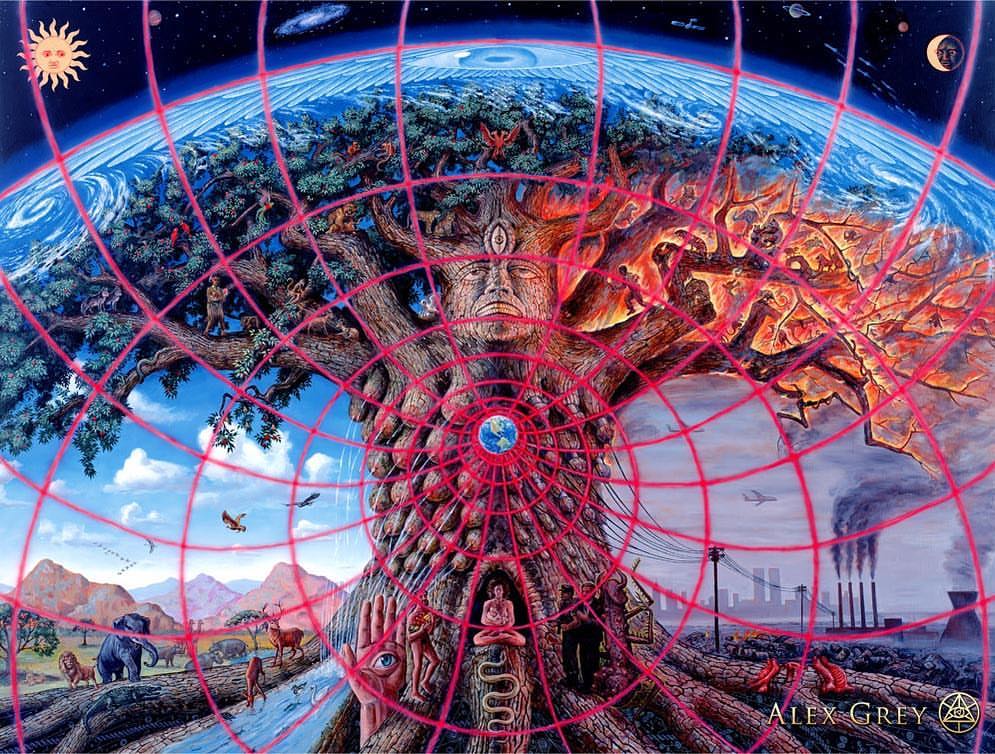 303: Does the type of music change the inspiration for the paintings? Is painting at a Shpongle show vastly different than a Papadosio show?
Alex: At a pot-specific event, green paint and imagery might prevail. Our painting subject is spiritual light, expanded consciousness and love.
Allyson: Not really, we only paint on stage with musicians we love.
303: We recently wrote an article that highlights how psychedelics in a therapeutic setting can help treat mental disorders like PTSD and depression. How important is psychedelic activism to both of you?
Alex: When people journey deeply inward with psychedelics in a supportive setting, they encounter a realm of spiritual light and beauty so fantastic that they are profoundly moved and positively changed. Psilocybin studies performed with the highest standards of scientific rigor reveal that 65% of the time, in a safe set and setting, people can have a mystical experience, a transcendence of space-time and union with boundless spirit. A mystical, visionary experience through psychedelics can catalyze tremendous healing benefits for the mind, including the potential overcoming of grief, PTSD, addiction, and the powerful discovery of one's purpose in life.
Most of the millions of psychedelic experiences that happen every year around the globe occur outside of a controlled medical scientific experiment. Experiencing extraordinary and disturbing inner worlds, an altered state can be impossible to communicate. Visionary art validates a psychedelic soul.
Great contributions are being made to advance medical, scientific, psychiatric and decriminalization efforts. Promising and importance breakthroughs are being made so the truth about psychedelics can be known and their healing power re-integrated into heath care and for the betterment of well people. Spiritual wisdom conferred by the psychedelic state is evidenced in visual art. Science cannot communicate the experience as explicitly as art. Currently, it is impossible to point a camera onto our mental pictures. Visionary artists translate life-altering mystic views of cosmic reality into iconography. A higher vision of cosmic order revealed through sacramental spirituality, reveals a truth that outshines materialism, fundamentalism and nihilistic nightmares bedeviling our world.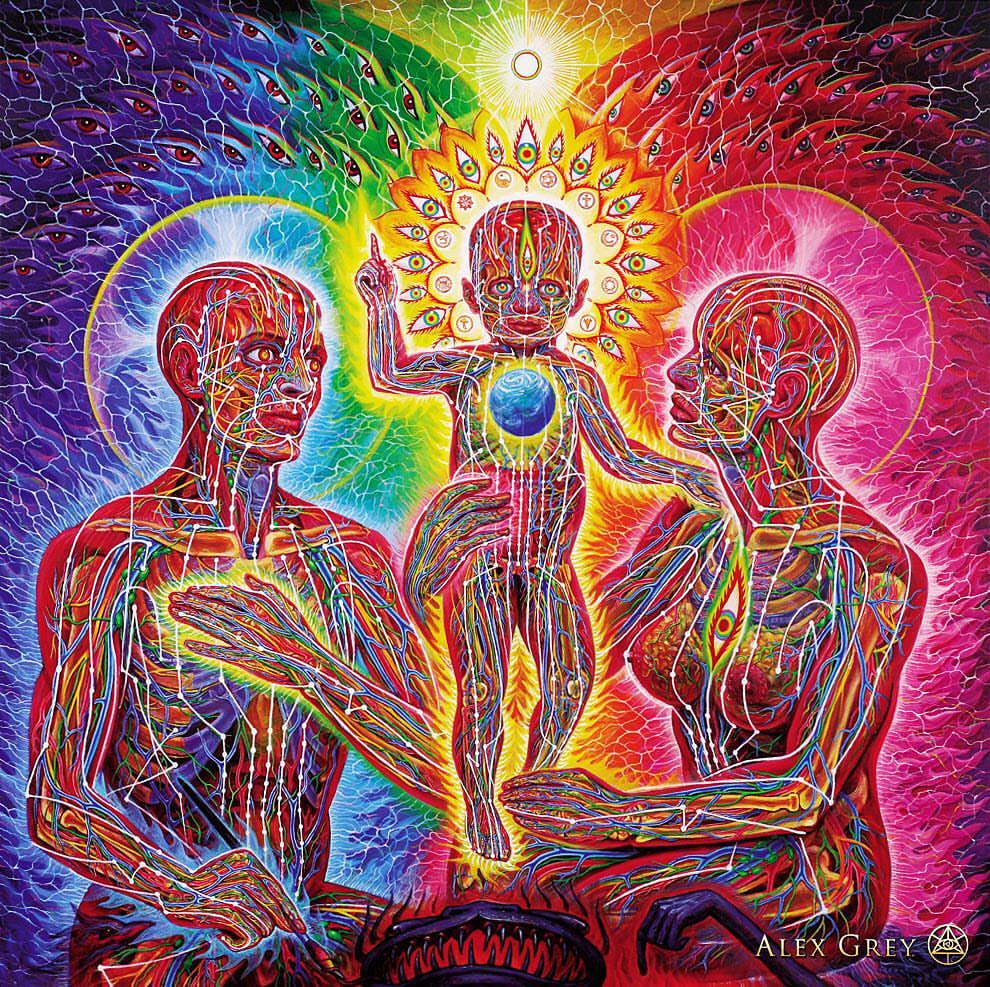 303: Tell us about Chapel of Sacred Mirrors (CoSM), and your ultimate goal in building a community and spiritual temple there?
Alex: 

CoSM is a refuge in the Hudson Valley of New York where a community of mystic artists are building an enduring Sanctuary of Visionary Art 
to evolve the creative spirit and uplift a global community. Forty wooded acres of beauty powerfully support the attunement of Soul's regenerative creative forces in the tranquil beauty of nature. The world-wide Love Tribe visits CoSM for contemplation, celebration, learning, sociality, performances, yoga, creativity in all disciplines practiced as a spiritual path. Weddings, baby blessings and memorials bring together CoSM community in a welcoming guest house that accommodates visitors year round. Entheon is the temple being built at CoSM. Entheon means "a place to discover the God within." This Sanctuary of Visionary Art will exhibit the CoSM collection, including the Sacred Mirrors series and works by mystic artists from around the world.
Red Rocks is a highlight on our multi-city tour to benefit the opening of the interior space of Entheon, targeted for December 2017. The completion of the fully sculpted exterior of Entheon is anticipated within the following two to three years from the interior opening that will put the precious artwork back on view. Coming to Red Rocks supports the building of this sacred site. Entheon will honor and preserve visionary artworks that point to our common transcendental source.