A night at the symphony is always magical, elegant and refreshing. This past weekend on March 24 and 25 2017, the Colorado Symphony added a fantasy element to Boettcher Concert Hall. A Symphonic Tribute to Comic Con: The Tetralogy took place, featuring scores from Game of Thrones, Harry Potter, Assassin's Creed and so much more – all to an audience dressed in cosplay. Some of the musicians were dressed to the nine. Cat in the Hat, two Chewbaccas, Star Trek, Captain America were all seated on the stage – and out came conductor Christopher Dragon as Beetlejuice. "Evil characters and monsters were my favorite characters…probably why I ended up becoming a conductor," Dragon joked, and quickly transitioned into a piece from Skyrim.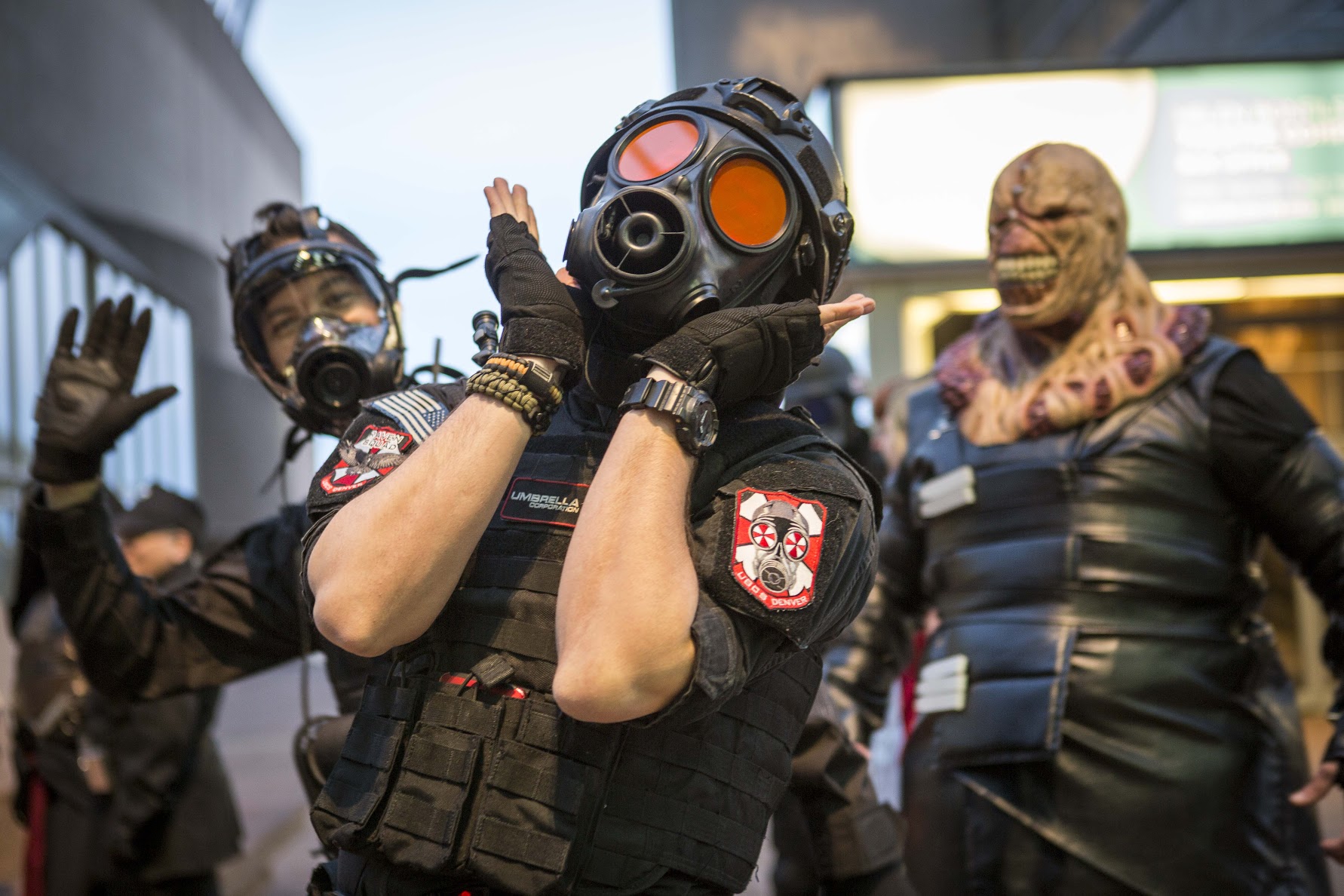 While it was funny to watch Chewbacca play the dainty xylophone, there was also a feeling of heightened drama throughout the concert hall. A choir backed the instrumentalists and I was happy for their addition to the soundtracks. Then, a Nightmare Before Christmas medley marched out from the percussion and string sections. Fitting there was a Jack Skellington head swinging from one of the Cello player's instrument. The orchestral suite maneuvered perfectly between the sinister and gleeful, which is typical of composer Danny Elfman. His music is great because he writes in reoccurring melodies as a way to dance between contrasting moods.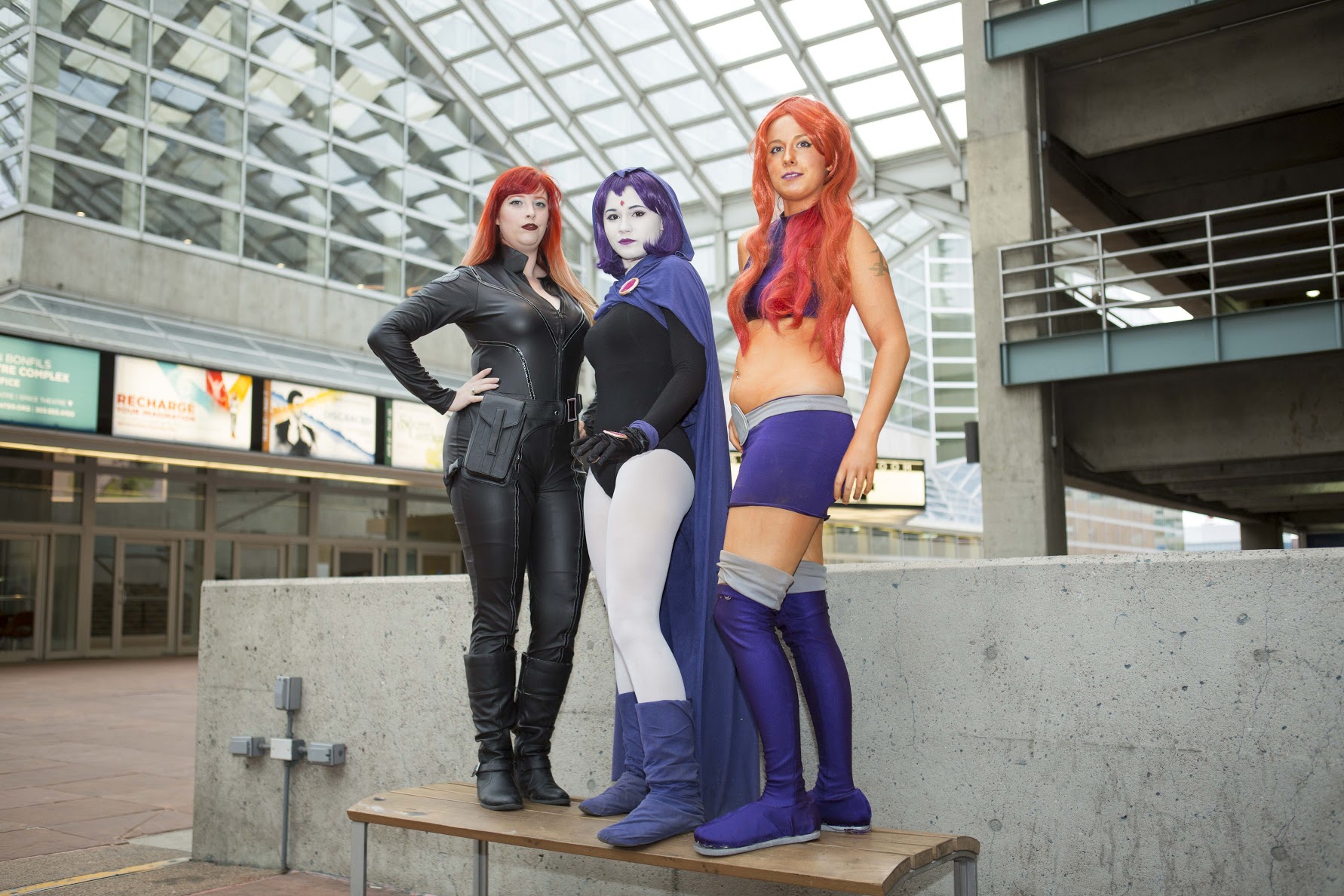 Throughout the unique performance, I kept wondering what practice looks like for these professionals – the Percussion rattled in a syncopated manner, flutes twinkled in and out of dipping notes and the string section kept the energetic pace flowing. A high point of the evening was when violinist Sandy Cameron walked out onto the stage. Cameron played the original soundtracks in Assassin's Creed, and one was even written for her. She was dressed in Assassin Creed get-up, and was honestly a badass. The music was fiery and fast; the way she danced with her instrument embodied what true music is – she had no thought for anything outside of her and her instrument, and what she could bring to life in that moment.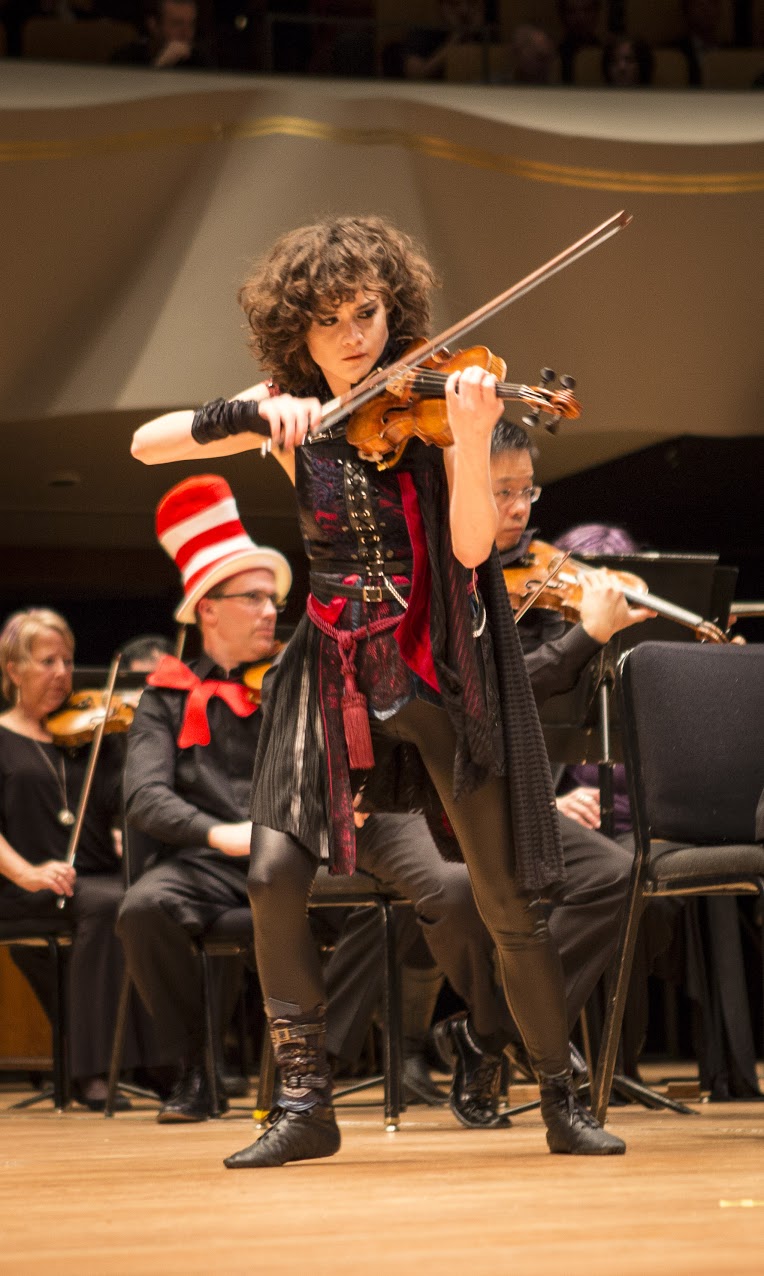 The powerful theme from Game of Thrones cascaded into the light but Dragon was noticeably missing from the stage. I had spotted a Cersei before the concert began and this was now her time to shine. The piece ended and Dragon came back out – but this time in a dinosaur suit. The theme from Jurassic Park was being brought to life, yet it was so hard to not laugh and giggle. Just imagine this being played with a dinosaur in charge – such tiny arms! such fast wand movements! Looking around, everyone was smiling or laughing. Usually, the symphony is dignified, but Dragon had other plans for this night.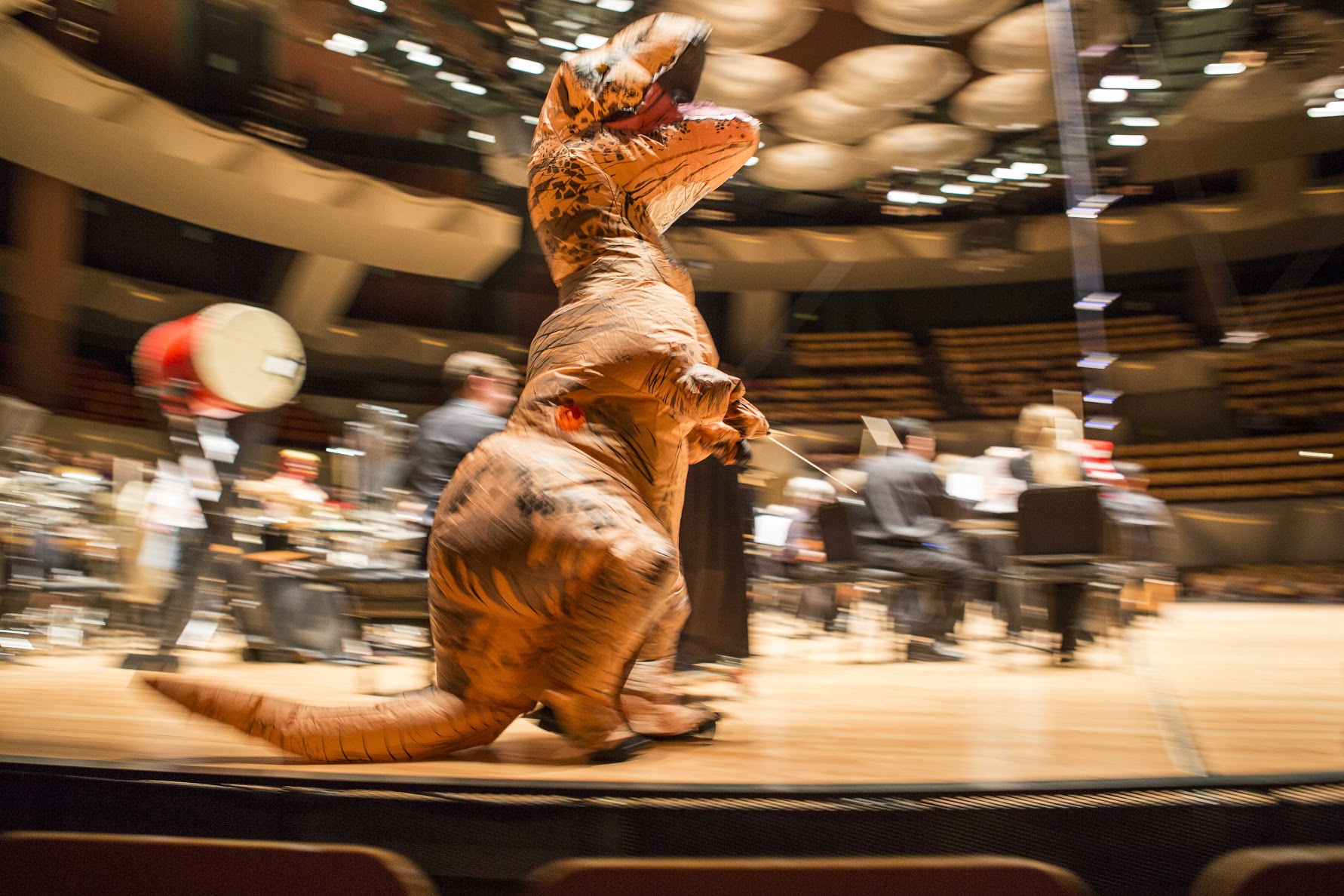 Dragon's tiny dinosaur hands waved goodbye, signaling an intermission. When he came back out, he had morphed into Harry Potter, "Welcome back, Muggles." Younger kids and teens were present, and they were obviously enjoying every song (especially those from Harry Potter). It makes sense – video games and movies are so radically present in everyone's lives that an event like Comic Con at the symphony would be a lively one indeed. "The Knight Bus" from Harry Potter and the Prisoner of Azkaban jolted into the night; it was very chaotic but Dragon kept it controlled. It's amazing someone came up with this chaos, it had influences of Jazz, Big Band and Classical music ringing into its sound.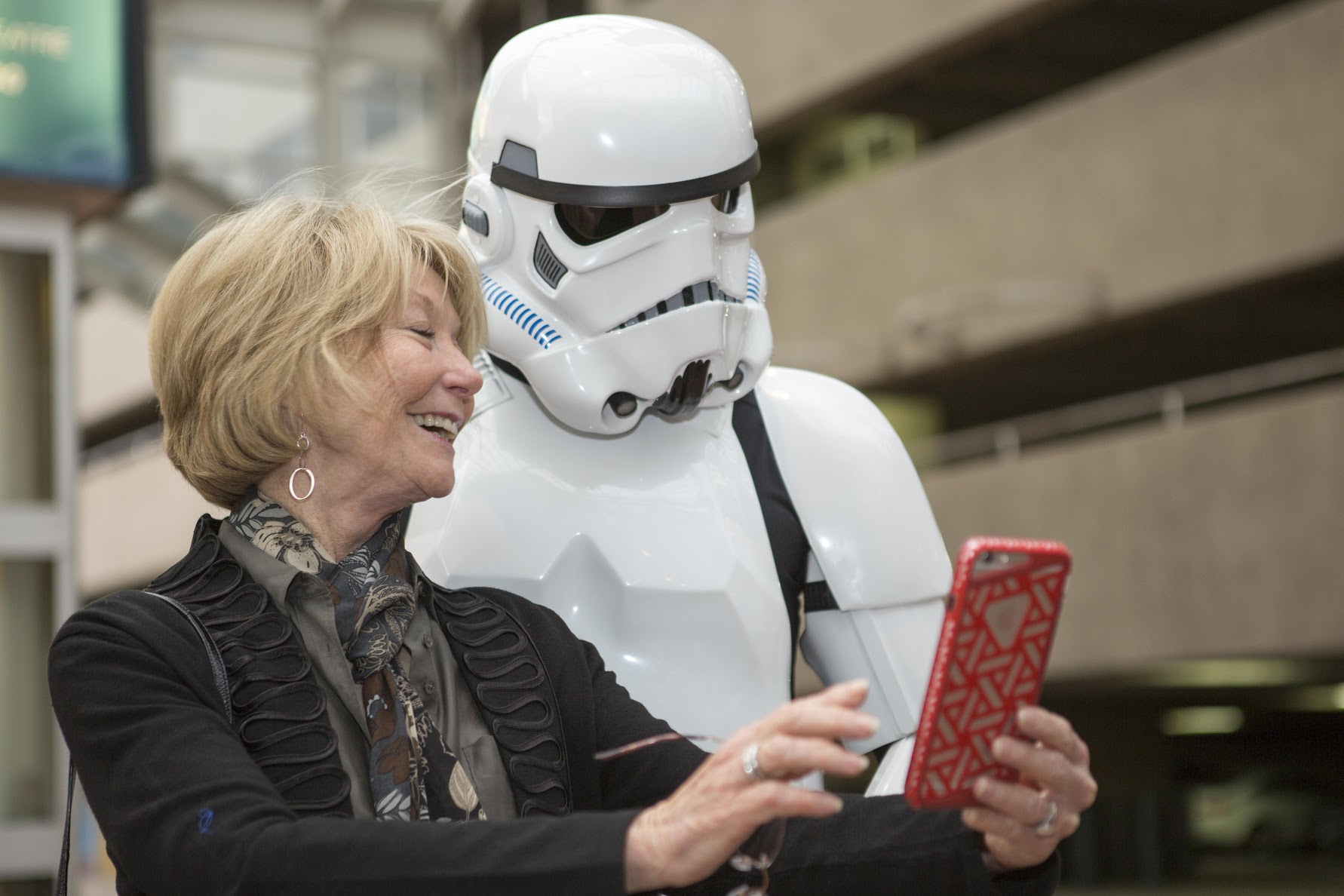 It wouldn't be Comic Con without the presence of Star Wars. It ended with two songs, one being "Leia's Theme" but the last song of the night was a beast. The chorus and percussion took over for "Duel of the Fates" from Star Wars Episode One and it left for a memorable moment. No film scenes or monologue was needed for this cosplay action at the symphony, the musicians held their own with the beloved songs and their was a certain flowing, good energy vibe that can only be achieved when geeks come together to obsess over their love of all things nerdy. My type of people. Make sure to catch one of the very unique performances at the Colorado Symphony this season – and maybe you'll get to catch Dragon as a Dinosaur.
All photographs courtesy of Amanda Piela.