Red Rocks Amphitheatre hosts countless light shows during the continuous procession of musical acts every year. But Knomad Colab—an artistic lighting design duo based in Denver—decided to take a guerrilla approach to artistic expression with their latest temporary "exhibition" on the west side of the Lower South parking lot at Red Rocks last night. Using four Gobo Projectors (a new technique for Knomad) with hand-cut and designed gel inserts with Rosco Color Gels, Knomad Colab created an enormous piece of digital light graffiti on one of Red Rocks' iconic walls.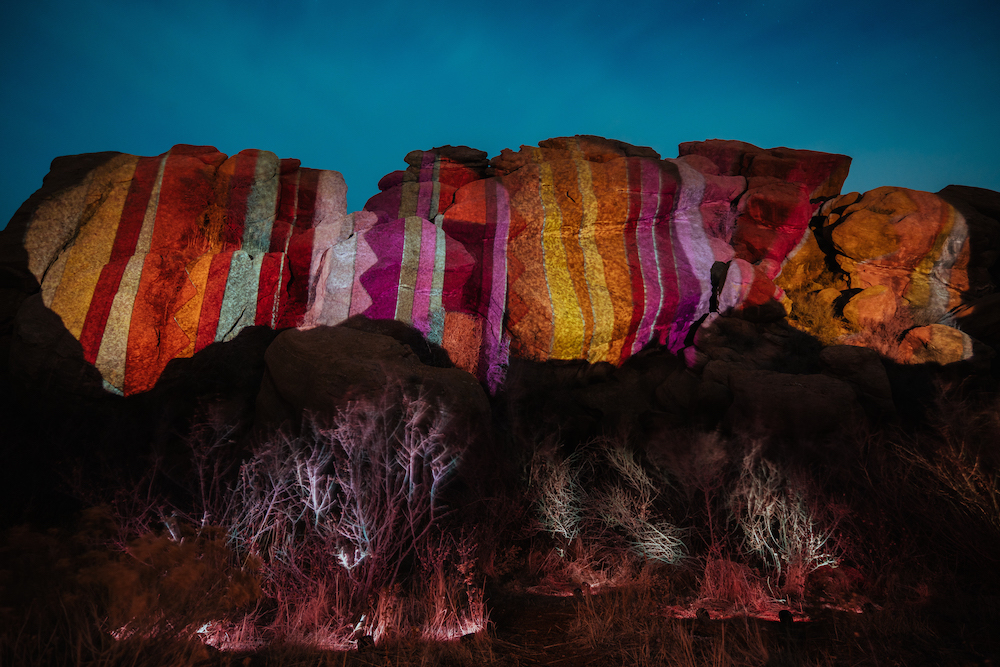 303 Magazine had the opportunity to witness the projection, and in the process, almost found ourselves in some trouble with the Red Rocks security for staying past curfew (which is one hour past sundown). Regardless of how this particular temporary light show came to a screeching halt, the display possessed an evocative and emotive demeanor, the kind of beauty that accentuates its surroundings rather than taking away from them. Can you imagine attending a show and seeing the Lower South lot with this as the backdrop?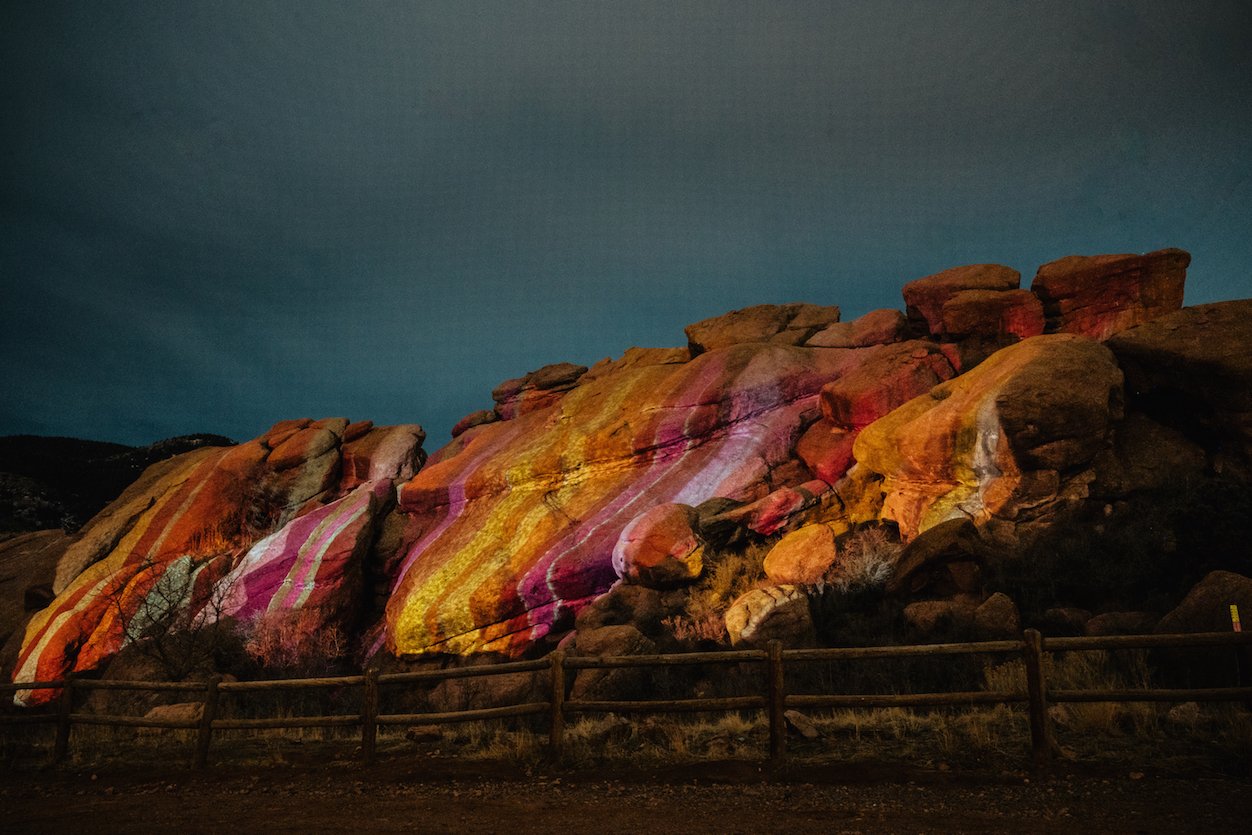 As with all of Knomad Colab's pieces, this one aimed to create an environment within an environment by using lighting as a kind of ephemeral paint. The mood was one of heightened energy — agitation, restlessness, excitement and yearning. With the warm tones — verging on colors one might find in Willy Wonka's candy factory — and sharp, geometric shapes, the projection highlighted the organic curves of the rock behind it by contrast. The energetic essence existed in the friction of that contrast.
"It breaches new territory in art, in that the artistic expression parallels how we want to impact the world around us more than how we want to express the world around or within us."
With only small adjustments as the sun finally set, the five Gobo projectors illuminated the rock wall with a lit mural. And if it weren't beyond the city lights and concrete of Denver, it would have appeared as graffiti. And, based on the rangers' attitudes when they kicked us out after curfew, it would seem we were offending authorities like graffiti usually does. But, one of the innovative things about Knomad Colab's methods is the lack of physical impact they leave behind—no paint, no canvas, no trash. It breaches new territory in art, in that the artistic expression parallels how we want to impact the world around us more than how we want to express the world around or within us.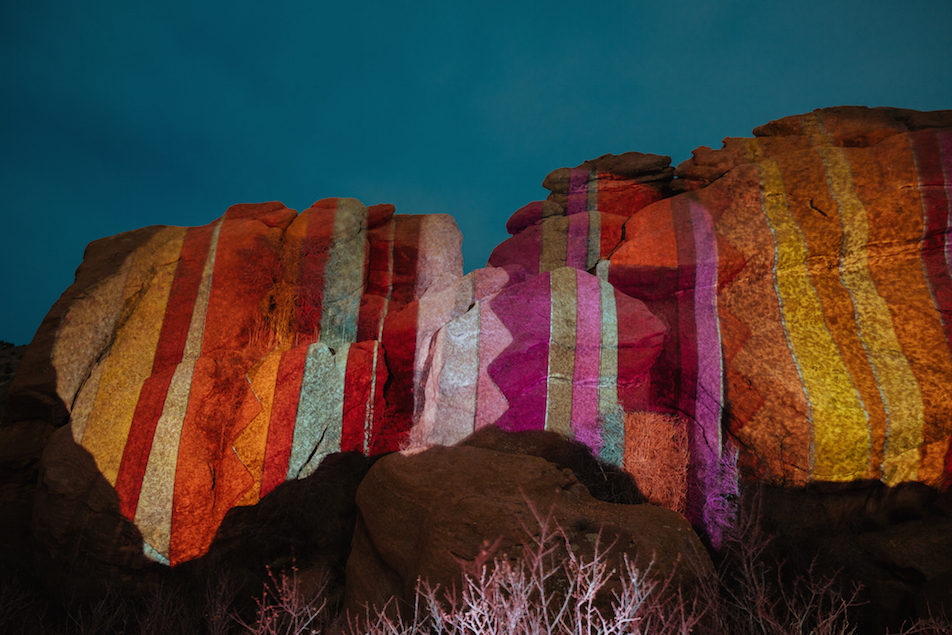 Unlike their other pieces, this one mainly utilized projected gel cuts rather than their portable L.E.D lights. With that change came a change in technique for the duo, where instead of improvising the lights as darkness settled, they pre-designed their gel inserts and mapped the wall ahead of time. By cutting strips and shapes from color gels, the duo constructed mosaics on a circle about an inch and a half in diameter, which was then projected several hundred feet to the rock wall. The result was an enormous seamless and fluid design, reaching across the entire width of the parking lot, that was magnified from about six inches of separate discs.
It's always an adventure with them (see 303's article about Knomad Colab lighting up a ghost town here) that requires some flexibility. Even with the preparations, the projection can't be actualized until most of the light wanes from the sky, which at this particular location, left a very small window. But they pulled it off and seemed pleased with their new gadgets and techniques.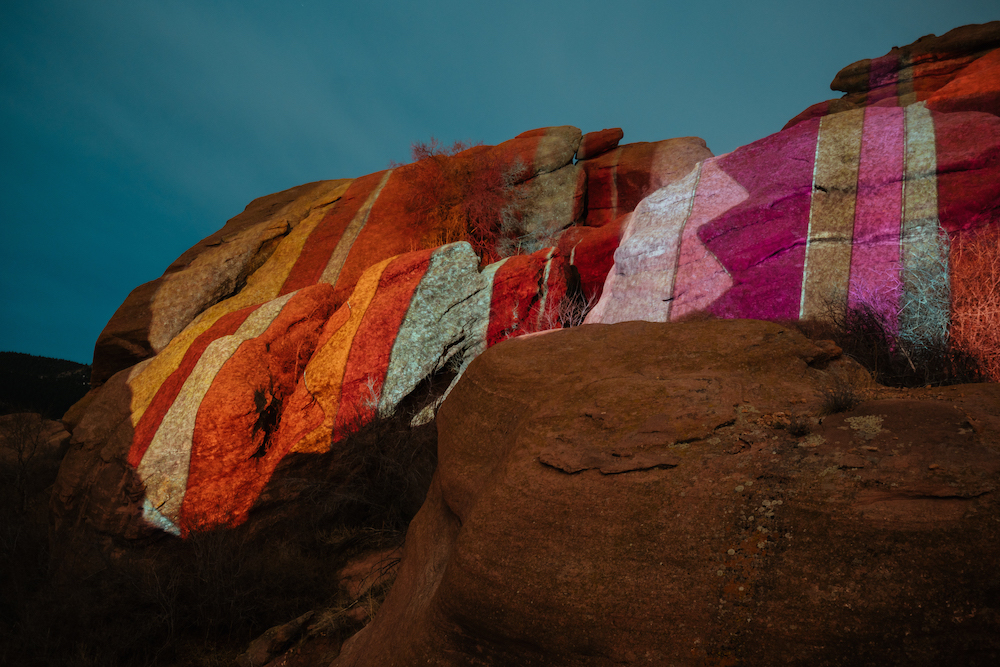 Like the concerts that happen at Red Rocks every summer, this display existed as a moment in time, an experience that reminds us of how beautiful and fleeting life really is. It allows us to see beyond ourselves, beyond the canvas (or rock wall, in this case) and explore those thoughts that might make us feel uncomfortable at first. And, aside from all the mushy profundity, Knomad Colab knows how to make a place feel really magical. There's a childlike wonder to their lighting design that more people could use in their lives.
To get more info on attending their next event, click here.
All photos by Ryan Good. Find him on Instagram