"Two years ago, if you asked me to draw what I wanted Avanti House to look like, this is literally what I would've drawn," explained Kristen Harness as she stood on the steps of her newly leased home. A petite woman, who barely hits the five foot mark, Harness was dwarfed by the looming presence of the large house. But even while cast in its shadow, she couldn't believe her fantasy existed. "It's so perfect."
Located at an undisclosed address outside of Denver, the house she refers to does look like a product of imagination. Painted a pale, nursery yellow with a whitewashed fence, wrap-around deck and a sprawling green yard, the home almost seems like a doll house come to life. But if you look closer, you'll find that there are a few key distinctions that separate Avanti House from one manufactured by Mattel; on every door and window there's either a lock, keypad or camera. To gain entry you have to have a code or sign a legal agreement stating you'll never reveal its exact location. There are protocols, schedules and whole handbooks dedicated to what happens within its walls. That's because Avanti is not your average home. It is a safe house.
This slideshow requires JavaScript.
For three years, Harness and Extended Hands of Hope (the organization she leads as executive director) have been trying to open Avanti House — a safe house and residential treatment center designated specifically for underage female victims of sex trafficking. Originally it was designed as an emergency shelter where girls could come stay for up to 90 days. But after some consideration, it became apparent to Harness that long-term housing was more essential. Opened on January 20, 2017, Avanti House became the only safe home in the Denver dedicated to the recovery of underage female victims of the sex trade.
The Current State of Sex Trafficking in Colorado
"It is nonstop how many tips we get in," said Anne Dar, Denver's FBI Victim Specialist, in reference to anonymous tips about victims of the sex trade. Darr is a part of a Colorado FBI task force that was assembled to fight human trafficking. Created in 2012, this task force has introduced crucial proactive measures including a multi-disciplinary tool which helps everyone from law enforcement to child services and health care providers identify victims and assess high-risk youth across the state. These measures, along with new legislation, enabled Colorado to go from one of the worst states for sex trafficking to leading the nation in the recovery of underage victims from the sex trade through the FBI's annual operation, dubbed "Cross Country XI."
"We have gone from a reactive response to a proactive response," explained Darr. She elaborated that the Colorado task force has recovered 123 victims in 2016 alone — almost all of who were children from Colorado and not foreign nationals (despite common misconceptions). But with these improvements comes a new challenge of how to care for this population. Currently, one of the biggest issues is how to create sustainable housing. Avanti House is only one of two residential treatment centers in Colorado with beds reserved for this population. The other is Southern Peaks, a behavioral health center with a dedicated program called The Haven, in Cañon City, Colorado. Combined they can only treat 21 victims. The remaining 100 victims, Darr explained, are sent to foster homes, group homes and general residential treatment centers that care for children with a wide range of mental and behavioral health related issues. Often these homes are not equipped to care for victims of the sex trade since they require trauma-informed care to properly address the multiple layers of their experiences in sexual slavery. In most cases, the chaotic nature of places like group homes only builds on top of their existing trauma.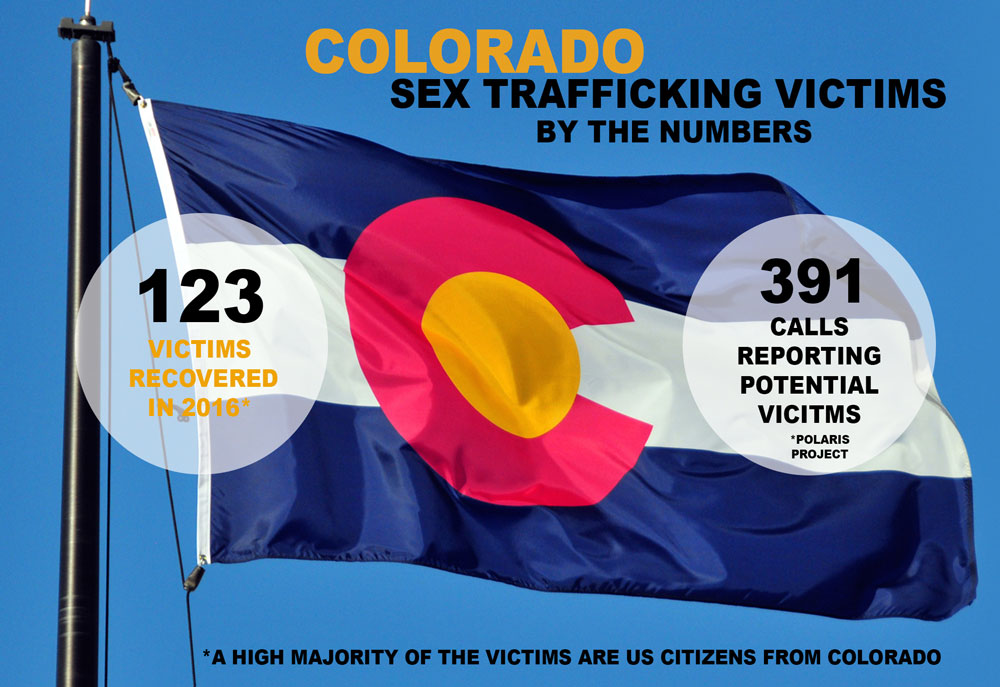 Avanti House – What They Offer
As a trauma-informed treatment center, Avanti House looks to address the many ways in which these girls have suffered from abuse. This includes creating an environment that is not only physically safe for the girls, but mentally and emotionally as well. From on-site therapy to medical and educational services, the girls will have 24/7 care from a team of rotating staff members dedicated to their recovery. The house was even designed in a way to create a calming atmosphere.
"It's down to where we placed furniture in the home. That's how real it is, how focused it is," explained Harness.
The 3,300 square foot home has rooms for long-term residents (1-2 years or as long as they need until 18) or short-term residents (30-60 days). Each girl in recovery has a different program developed based on her needs and projected stay.
"Once we know a girl is long-term, we have milestones that we'll be working on. Within 60-90 days, we want her to be actively involved in school. These girls are at least one to two years behind in school," said Harness. "We also want daily group sessions and biweekly individual sessions. Once they're here longer, we want weekly individual sessions but it'll all depend on the girl's situation."
From there, Harness described how they will help the girls build simple life skills. This includes cooking their own meals, cleaning their rooms or doing their laundry — all things they might have never learned due to their traumatic experience. Then eventually they want to help them prepare for a job so they can be self-sustaining and live independently from Avanti house.
Overall this trauma-informed process is all essential to their recovery. Without this multi-layered system, victims of the sex trade could incur untreated trauma such as PTSD, depression, anxiety, dissociation, relational difficulties and substance abuse. Any of these symptoms, combined with the lack of education and life skills caused by their captivity, are likely lead to a life of poverty and destitution.
Note: Girls are free to leave during their stay. But heighten security measures are paramount since it's estimated that each victim can generate upwards of $100,000 a year for their perpetrator. This makes it more lucrative for perpetrators to influence or coerce their victims back into slavery.
Why Other Homes Have Failed
The shortcomings of the current system for most victims of the sex trade are obvious. Only a handful of victims, out of the hundred or more recovered each year, receive trauma-informed treatment in centers dedicated to their care. Because of the glaring need, Avanti House has not been the first to attempt to find a solution. Instead, hundreds of thousands of privately funded dollars have gone towards creating homes just for these purposes. But despite these efforts, the vast majority of these homes have failed.
In April 2015, Wildflower Ranch, a 20-acre care facility for underage female victims of sex trafficking in Colorado Springs, was scheduled to open. Much like Avanti, the house was idyllic. Situated on a ranch, the 5,000-square-foot home had horse pastures and even an onsite school fashioned out of a converted barn. It was going to be Colorado's first home dedicated to these underage victims, but, unfortunately, within only three months of opening, it closed.
"It was pretty devastating," said Darr. "It would have been so nice to have a place that would stay consistent and not have to worry about it shutting down."
According to Jason Korth, co-founder of Restore Innocence, the organization that founded Wildflower Ranch, the closure was triggered by a multi-tiered problem beginning with their relationship with the Department of Human Services (DHS), the governmental organization that places victims in residential treatment centers:
"We were under the impression that we would be at capacity," he explained. "But we never had more than four girls placed with us… for a couple months we only had two to three girls."
Korth explained the reason their home, which had the capacity for up to eight girls, remained empty, was because of their religious affiliation.
"There was my take as well as [DHS]: We are a faith-based organization and that definitely had something to do with not getting placement," said Korth. "You know one of the questions that was always on the radar of DHS was, 'Are you proselytizing?'"
This, according to Korth, opened them up to a lot of scrutiny, resulting in a degradation of trust between Wildflower and the placement officials. Ultimately, the lack of placements affected Wildflower's million-dollar-a-year budget because it was partially based on the funds that DHS would provide when they placed each victim.
"All of our staff and funding for programs and operating was based on being 80 percent full each month, and we just never got there and it ate up our start-up funds," said Korth. "We are a debt-free organization so we didn't go into any debt… and ultimately with that philosophy we ended up having to pull the plug."
This scenario, however, doesn't just apply to Wildflower. In fact, several other homes have closed due to similar situations, including Sarah's Home, another faith-based organization, also located in Colorado Springs. Described in a series of prayer requests on their website, Sarah's Home explains that like Wildflower, a lack of placement was a major cause for concern.
"Many [homes] have tried to open and/or did open, but are not open today. Some were open a month, one for three months. We have had nine girls in two years," explained one prayer request.
Currently, Sarah's Home remains closed but hopes to re-open soon.
Similar to Sarah's Home, Amy's House, located in Fort Collins, struggled to get off the ground. In 2014, it was scheduled to start operation, but then catastrophe struck and three key employees quit. Like the other homes, Amy's House also cited an inability to get victims placed, as well as financial reasons. In June of 2015, Amy's House announced on Facebook that it was closing:
"We were not able to meet the harsh deadlines set before us both in getting enough girls placed in our home and the necessity of additional funding on a regular basis," reads the statement.
With the closure of nearly every Colorado residential treatment center for these victims, it's clear that the relationship between DHS and these organizations has largely broken down.
Kelly Zebroski, the intake supervisor at Jefferson County Department of Human Services, shed some light on DHS' placement process, explaining that trust and reputation play a big role in their decisions for placement.
"We have a QA [quality assurance] team here in Jeffco that is always monitoring the outcomes and the safety of the homes/centers that we use, and if we have had problems with a specific population at a certain center we may think twice about placing a child there," said Zebroski.
She also said that while religious affiliation is taken into account, it does not mean they won't place children in faith-based homes. Rather, they make sure that if a home has a religious affiliation, it is optional for children to participate.
"For example, some may be Christian-based and will offer Christian services; however they do not require the kids to go to church or practice anything they are not comfortable with," she said.
However, Korth gave a different view, explaining the issue of religion could easily be manipulated.
"That gave the girls a lot of power because whether we were proselytizing or not came down to whether or not the girl liked her counselor that day," said Korth.
Avanti House – How They Plan to Fix the Cycle
As a faith-based organization, founders of Avanti House are more than aware that they face an uphill battle. But in light of all the closures, Harness has spent three years creating many safeguards so Avanti House won't fall susceptible to the same problems. First, the home does not require or promote any of its residents to take part in any religious practices. Second, Avanti does not depend on placement money from DHS. Rather, they have been fundraising non-stop for more than three years, collecting private donations and grants, in order to ensure that the $500,000 annual budget is not dependent on placement referrals from DHS. Also, staffing selection and training have been paramount. All staff, which includes the program director who is a licensed clinical social worker, have undergone rigorous trauma informed training (five days a week for a month) as well as worked with victims through mentorship programs. By working in the community, Avanti House has been able to develop a strong reputation with law enforcement such as the FBI, that will be a part of placing children in their homes.
"They are constantly out in the community doing training. They have stepped up. They are doing everything they can to help their victims and that is going to strengthen their program when they do open Avanti House because they have been out in the community working with these victims already," explained Darr.
Also according to Harness, the goal is to not overstretch their resources, so they will start with no more than five girls.
"We're starting small. We're starting smart," said Harness.
The small number of girls, coupled with the house's strong relationship within the community signals that Avanti is likely to never have an empty house.
——
"I think we're going to fill up fast," said Harness. This was back in June after she just leased the home. She was standing on the back porch overlooking the land that stretched beyond Avanti. She described the trees that would grow and how they may even plant a garden. She hoped that teaching the girls simple life skills, like how to garden or cook, could help them regain the independence that was stolen from them.
"Some of them don't know how to cook. You could show them a tomato and they have no clue what it is," said Harness
But when she spoke of this, it was the middle of the summer and thorny weeds still loomed tall. There was no flourishing garden or tomatoes in sight. However, it was clear her mind was focused on the coming spring. She had planted something, and she was ready to watch it grow.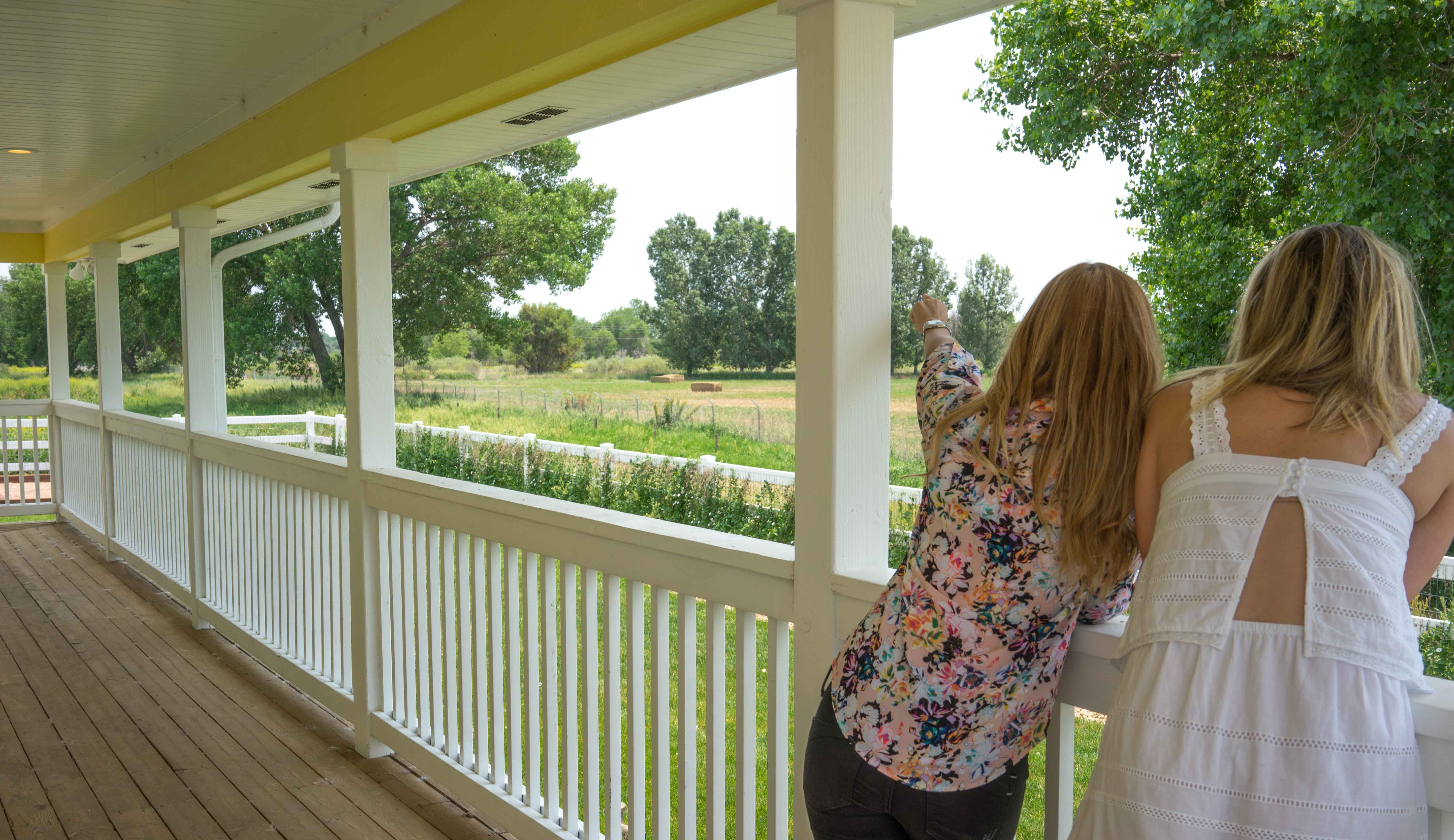 If you're interested in learning more about Avanti House, including how to donate or volunteer, you can go here
Additional facts about sex trafficking:
In the United States, between 244,000 and 325,000 minors are at risk for sexual exploitation every year. Of those victims, an estimated 199,000 incidents of sexual exploitation of minors occur annually in the US. Despite common misconceptions, sex trafficking victims and their perpetrators do not have one profile and come from varying backgrounds, education, income levels and are typically US citizens. Research has shown sex trafficking occurs in cities as well as suburbs and rural areas of all 50 states.