After over five decades of performing, the Beach Boys celebrated 50 Years of Good Vibrations at the Paramount Theater on December 30, 2016. Original member Mike Love, along with six non-original Beach Boys brought their legendary surf rock to our beach-less city. Though original members Al Jardine and Brian Wilson reunited with Love for an assortment of anniversary albums, they did not participate in the tour. Right on time for their Denver performance, they group has also been taking over headlines to potentially be the only well-known artist to play president-elect Donald Trump's inauguration.
Recent sources claim that the Beach Boys have been playing holiday songs at their shows but now that Christmas is over it was time for just the hits making up a perfect New Years celebration. Parents sat with restless kids, daughters joined their mothers and other family gatherings took place all around. What better way to spend time with your family during the holidays than see the timeless Beach Boys? Restless children aside, everyone bustled with excitement in the moments before the legendary Mike Love and crew took the stage. Little did we all know, they were gearing up for a nearly three-hour, two-part show-intermission and all.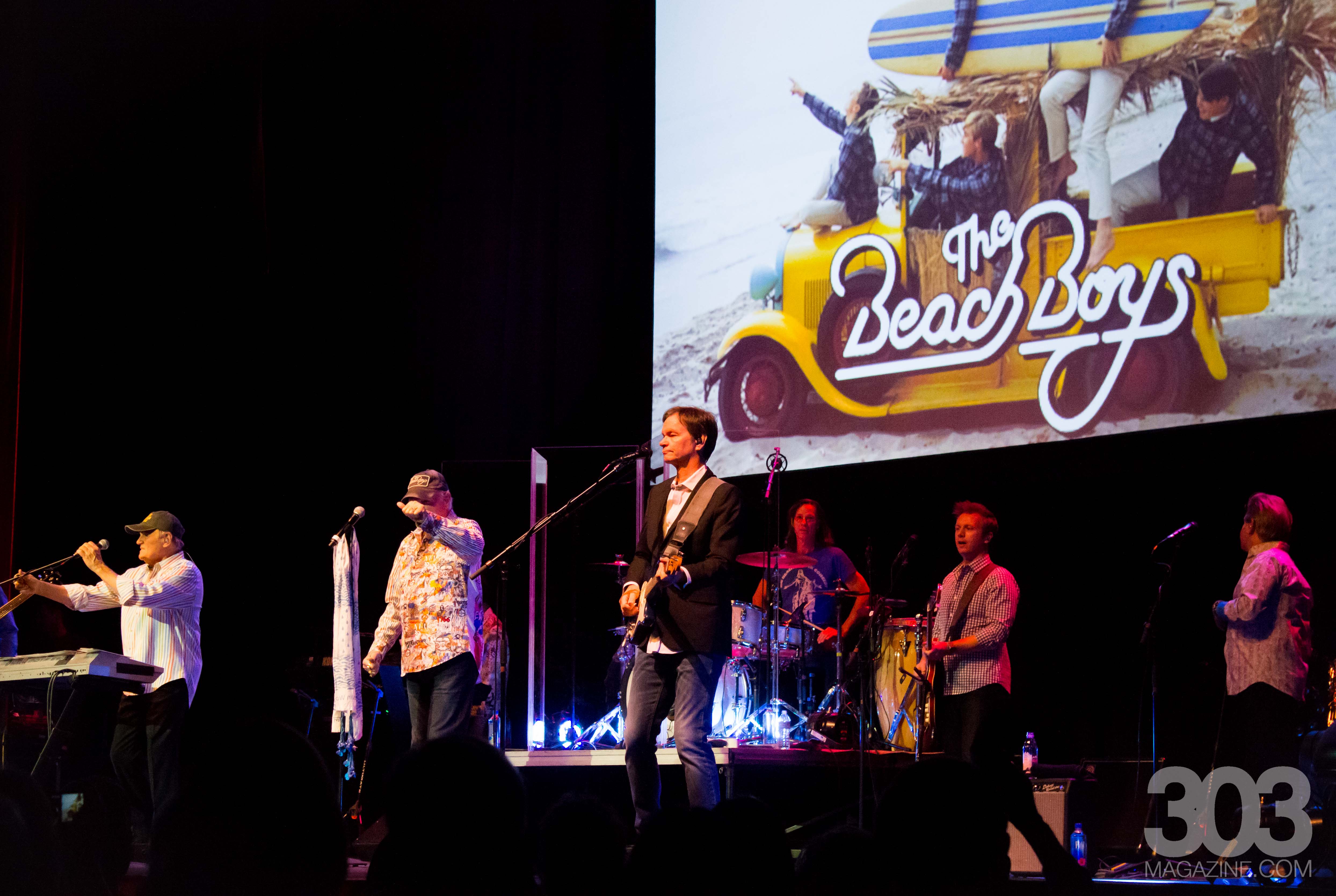 Rather than another performer to start things off, at 7:30 p.m. sharp, the show opened with a video montage dedicated to the Beach Boys. Love, Brian Wilson and other members-original and new alike-narrated, talking about their music, their performances, Hollywood, cars and of course, surfing. This charming video used old footage to transport the audience through the bands discography and their rise to fame. As someone who grew up on Beach Boys and never let them go, for me this video set the mood and vamped up the anticipation. They even mixed in a video of a man shirtless skiing, layered between shots of surfers riding waves in a fun comparison of the beach to Colorado mountains. "Music is an expression of spirit," Love said in the montage just before the video faded to black, the Beach Boys walked on stage and dived right in.
They started with back-to-back surfing singles. First up, "Surfin' Safari" where the crowd erupted in applause. However, no one stood up. It may have been the audience, or it may have been the cramped seating at The Paramount, but not dancing to the Beach Boys felt like a sin. Throughout the performance the Beach Boys themselves expressed this concern: "During those up-tempo songs, no one was dancing," Love said half-jokingly. This provoked one excited audience member standing in the walkway to point out that she was an exception (which she was-bless that woman for standing up and getting down). Love and the band toyed around and said that they would switch to a slow song and play some Barry Manilow. What truly remedied the situation, however, was the way that Love still performed as if women were fainting at the sight of him.
"Now we're doing a slow song… because frankly, we need to." – Love
"Surf City"came next, and then "Surfin' U.S.A." both of which transported the audience to different eras of beach culture – mostly old but some modern. American flags, girls in bikinis, swimming turtles and more played on the screen as Love gestured the "hang loose" sign to the audience and Johnston continuously signaled for everyone to stand up. Guitarist Brian Eichenberger took the lead for "And Then I Kissed Her," and truly shined for the slow-down that contrasted the preceding upbeat surf rock.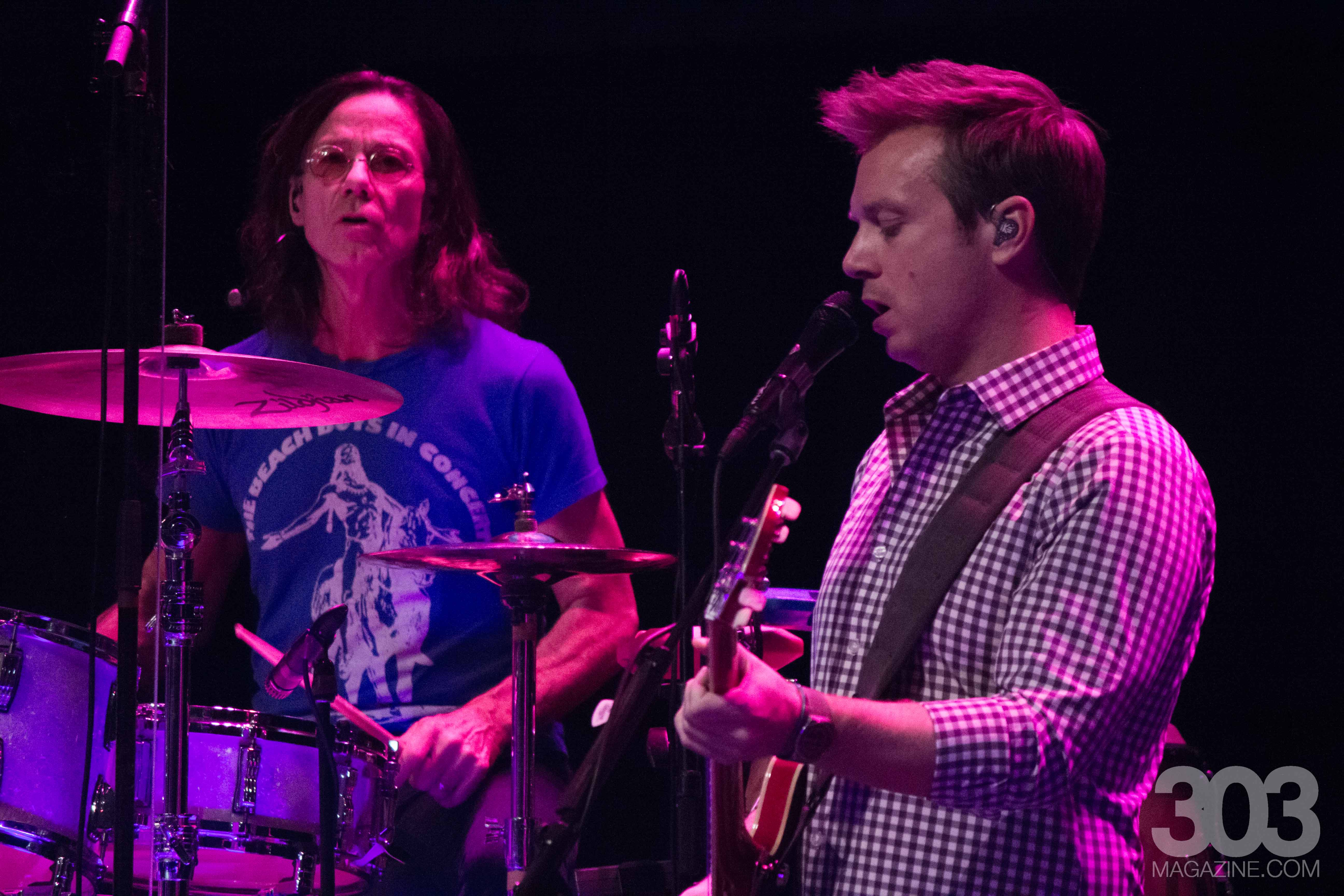 As if the Beach Boys really wanted you to miss them during the 20 minute intermission, the group closed out part one with a bang. "Little Deuce Coupe," "409" and "I Get Around" were powered through as the crowd shoe-tapped, clapped to the beat, "woo'd" and sang along. From here on, the Beach Boys really didn't let up either. They returned for part two with a cover of "California Dreamin'." They followed with "Wouldn't It Be Nice," "California Girls" and even did a song in a cappella. Throughout, the Beach Boys soothed us with their wonderful harmonies. Everyone got their own solo time, not just the original members. Lead guitarist and musical director Scott Totten had a solo for "Ballad of Ol' Betsy," but also had multiple opportunities to shine throughout the performance. Jeffrey Foskett, who has a long history of working with the original band, also took lead vocals several times.
"Next up on 'The Voice'…" – Love joked in regards to the rotation of lead singers.
Towards the end of their nearly three hour performance, Love took an opportunity for a plug on a clean water non-profit that they support – Water Health. At first it seemed strange. But as videos of dolphins, beaches, turtles and crashing waves played, it started to make perfect sense that they support clean water (insert off-put inauguration joke). Love asked the audience for a belated Christmas present – to donate to the fund.
Though I didn't get to hand-jive or swing-dance with an elderly stranger, the show was still a good time (note-this was my second time seeing Beach Boys and those things actually happened the first). From the video montage to the hits, the reminiscence of the evening left me feeling like a child again. The experience was as great as it was strange-an honestly perfect combination.
All photography by Canada Albin. Check out our full gallery here.