What does every chef have in common? Sure, they all probably have a higher alcohol tolerance than you, less feeling in their fingers, a couple more callouses and scars, and a greater mental restraint not to stab every person that sends back a plate of perfect food. Aside from that, what every chef really has in common is their toolkit. A small treasure trove of worn-down, often used, can't-live-without pieces of equipment and sentimental ingredients they've slowly accumulated over the years. Below we've compiled a short list of ten of the lesser-known tools and ingredients that every aspiring cook should own.
1. A Great Chef Knife
If there is one singular tool that every wannabe cook should own it is a great chef knife. A true, somewhat expensive, well taken care of, loved more than your children chef knife. This is a knife that you should be able to describe in sensual detail with your eyes closed. Do not, and I repeat, do not buy this as part of a knife kit. The rest of the knives in your kitchen do not matter. They should be cheap, replaceable and used sparingly. Your chef knife, however, should fit you like a glove. Buy at a store that lets you handle the knives and take a spin with at least 10 different kinds before you decide on one. Make sure they have a return policy so you can try it out at home too. Size doesn't matter (you're welcome guys) — buy what feels comfortable. I recommend 6 to 8 inches depending on your hand size. If you like a heavier knife buy a German style. If you like a lighter knife buy a Japanese style. Spend more than $100. Buy a honing steel and learn how to use it. If taken care of, this knife will last you the rest of your life. And if I find out that you put this knife in your dishwasher I will find out where you live.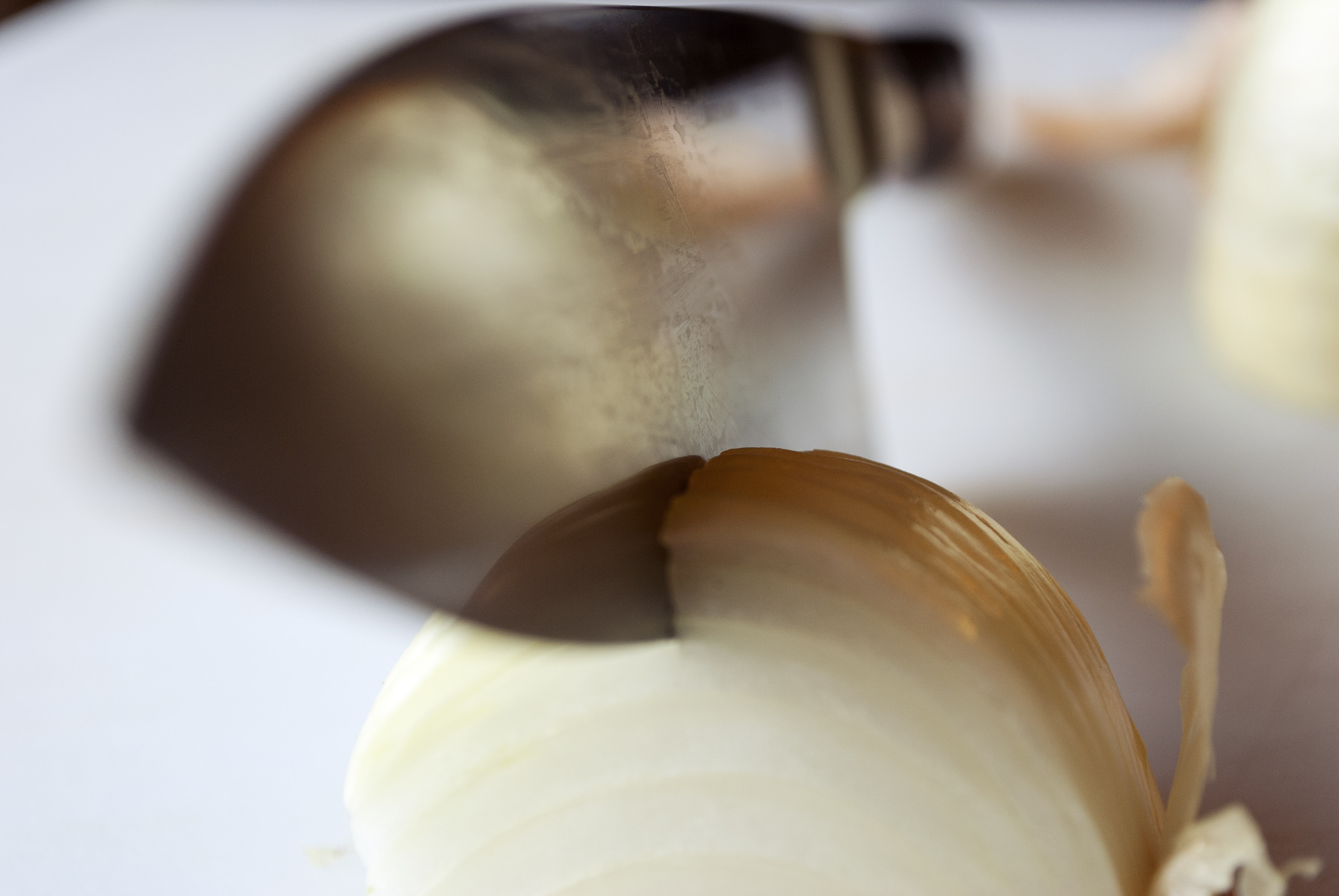 2. Yuzu Paste
"My favorite less ubiquitous ingredient to use at home is a little tube of yuzu paste. While Asian, it tastes rather 'not-Asian' and is a nice finishing touch to all of my dishes. Most importantly, while my kids can never really "place" the taste – they love it," said Matt Selby, executive chef at Punch Bowl Social.
Often sold as Yuzukosho or Yuzu Kosho, Yuzu paste is one of my dark secrets I don't like to share. Made from fermented chili peppers, yuzu peel and salt, the depth of flavor it adds is mind-boggling. It is a perfect marriage of citrus and chili, tart yet spicy. With its clean and rich umami flavor use it in marinades for meat, as a condiment for raw seafood or just put it on every single vegetable you eat like I do.
3. Microplane Zester
This is the brand name for a type of fine grater. Behind my knife, I probably use this more than anything else in my kitchen. Try it for zesting citrus, grating nutmeg and whole spices, mincing garlic or ginger, or adding a finishing touch of grated hard cheese. Trust me, everything is better with fresh zest or ground nutmeg on top. I also highly recommend picking up a shark-skin grater if you already own a Microplane.
"Known in that country as oroshiki, it's a very fine grater made of shark-skin. I use it to grate wasabi and horseradish. It produces this amazingly velvety texture in pastes, sauces, and etc. — I can't imagine my kitchen without it," said Mary Nguyen, chef/owner of Olive & Finch.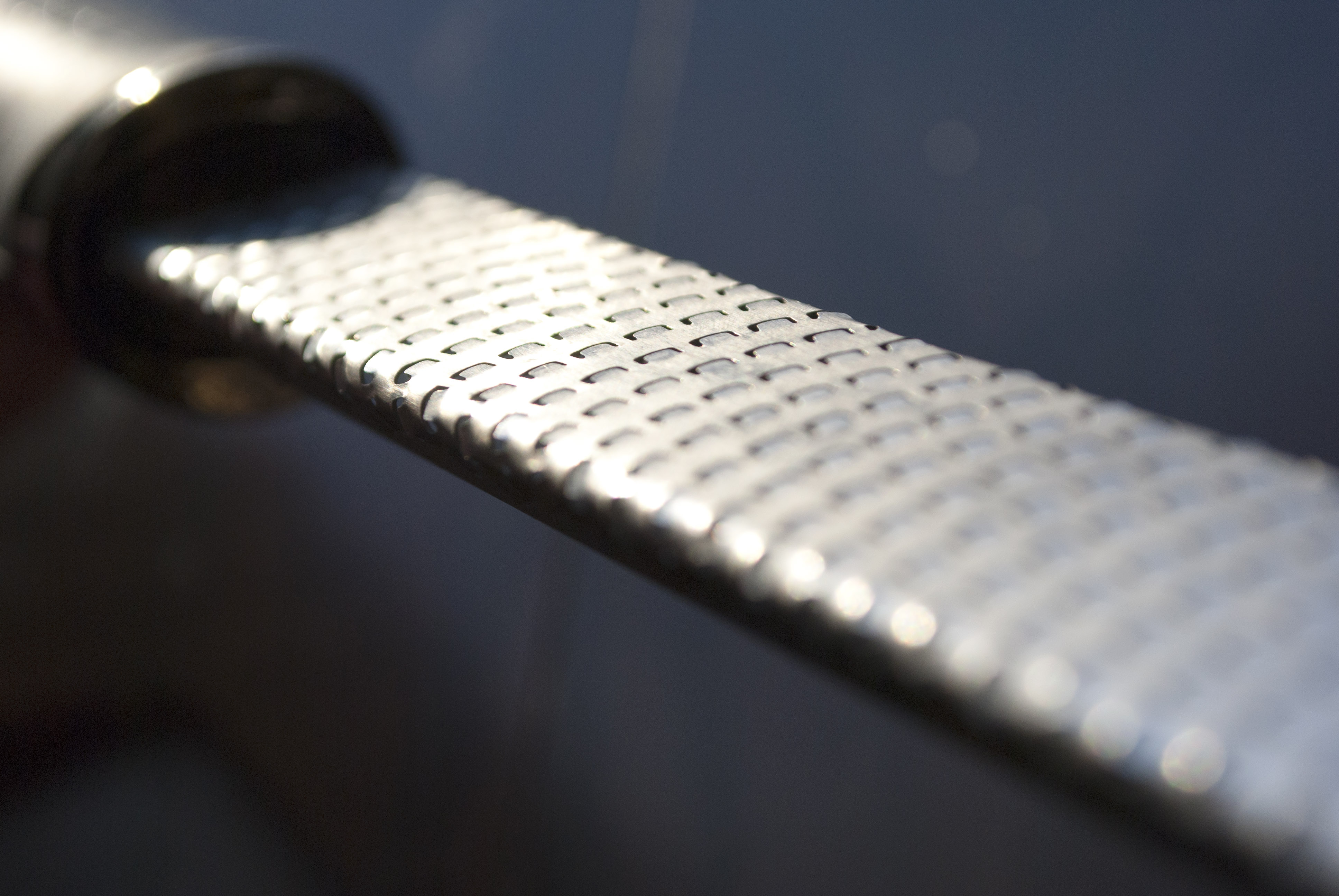 4. Good Olive Oil with a Spout
The trick here is the spout. I love olive oil and finish most dishes with it. While I recommend a higher quality oil with a slightly grassy finish to it, any virgin olive oil will work. Buy a bottle with a spout on it and transfer the oil to it and leave it on your counter. The ability to grab and use quickly will mean you will use it a lot more and the quick drizzle over any dish will make a noticeable difference.
"I always buy really good olive oil and transfer it to a glass bottle with a spout – it sits next to my salt pig and pepper grinder," said Jeremy Glas, corporate executive chef at Shamrock Foods.
5. Fish Sauce
Behind salt, fish sauce is my number one ingredient to add to every dish. This is a trick that I picked up from Chris Cosentino and sincerely owe him for the advice. Made of whole fish, salt and water and left to ferment for 12 to 18 months, fish sauce is really just liquid umami in a bottle. This will add a rich, unctuous depth of flavor to any savory dish that you add it to. I recommend a few splashes in any sauce or soup (I put it in my ramen noodles). While it may have a slightly funky smell it won't actually add any fish flavor to your food. My preference is Red Boat 44 as it's pressed like olive oil and has a cleaner flavor to it.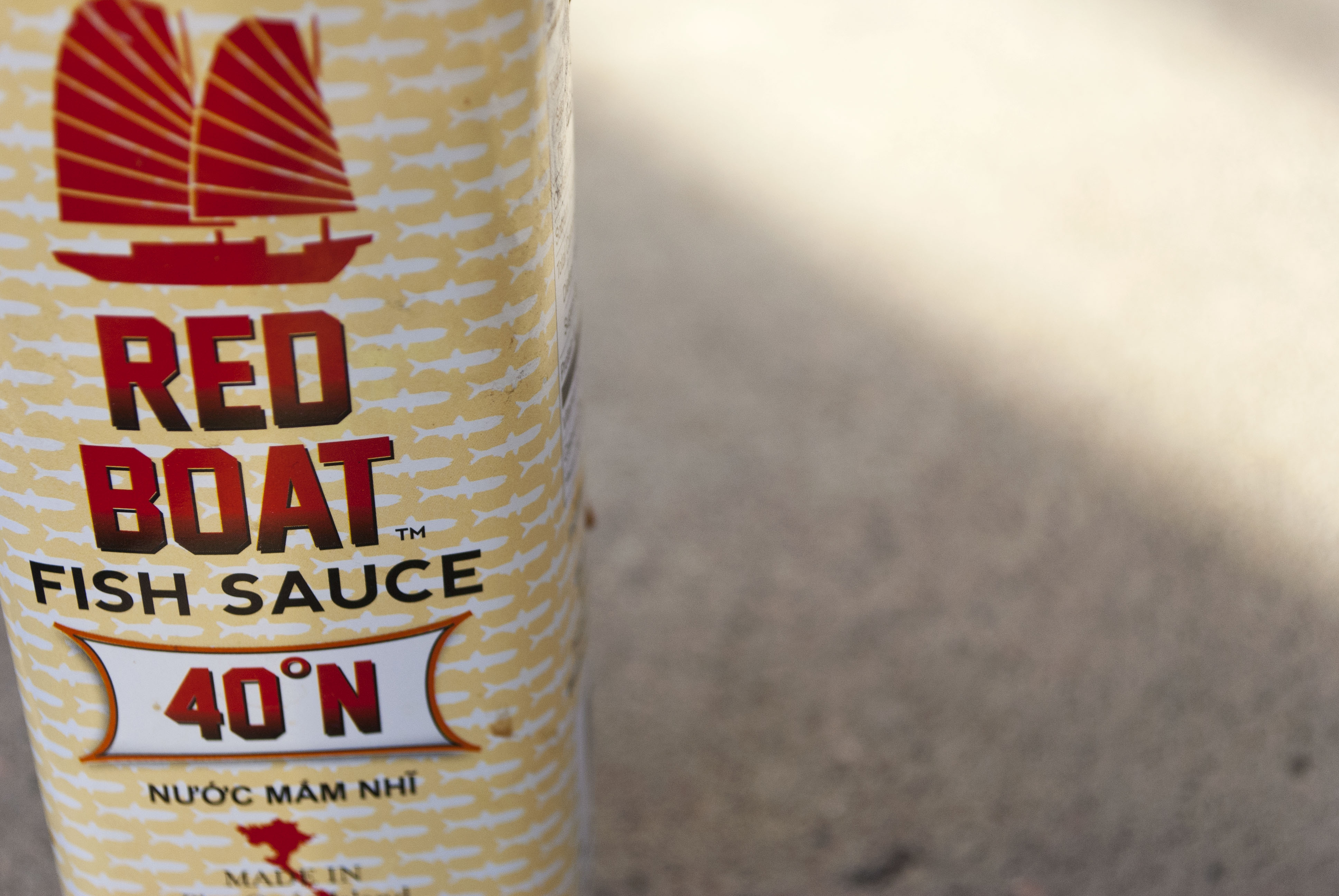 6. Japanese Mandoline
While I personally love my mandoline, it is also the most advanced tool on this list. I have shed more blood and tears on this than anything else I own. I like the lightweight Japanese style Benriner Mandoline. It makes cutting vegetables at home a breeze, but please be careful.
"I use my Benriner Mandoline a lot. This tool makes it easy for anyone to slice vegetables perfectly thin and consistent in thickness. It's easy to use, easy to clean and does not use up much space in the kitchen," said Klaus Kreisler, executive chef at Isle of Capri.

"Personally, at home I can't live without my Japanese Mandoline. I use it for precision cuts on a variety of vegetables from fennel to radishes. I like this tool because it has a solid base and an offset blade which allows for precision thin cuts which in most cases I use to create height on salads and garnishes," said Mario Hernandez, executive chef at Del Frisco's Double Eagle Steak House.

"I love my Bron Mandoline and I would be scared if anyone other than a professional owned one of these. I know what I'm doing and have the mandoline striped scars on my thumb to prove that," said Glas.
7. Bamboo Steamer
Nothing works as well as a solid and cheap bamboo steamer from your local Asian mart. Whether you're making bao buns, steaming vegetables or a whole fish filet, it truly adds a simplicity to home cooking. Try adding lemon and lime zest with your Microplane to the water when steaming. You're welcome.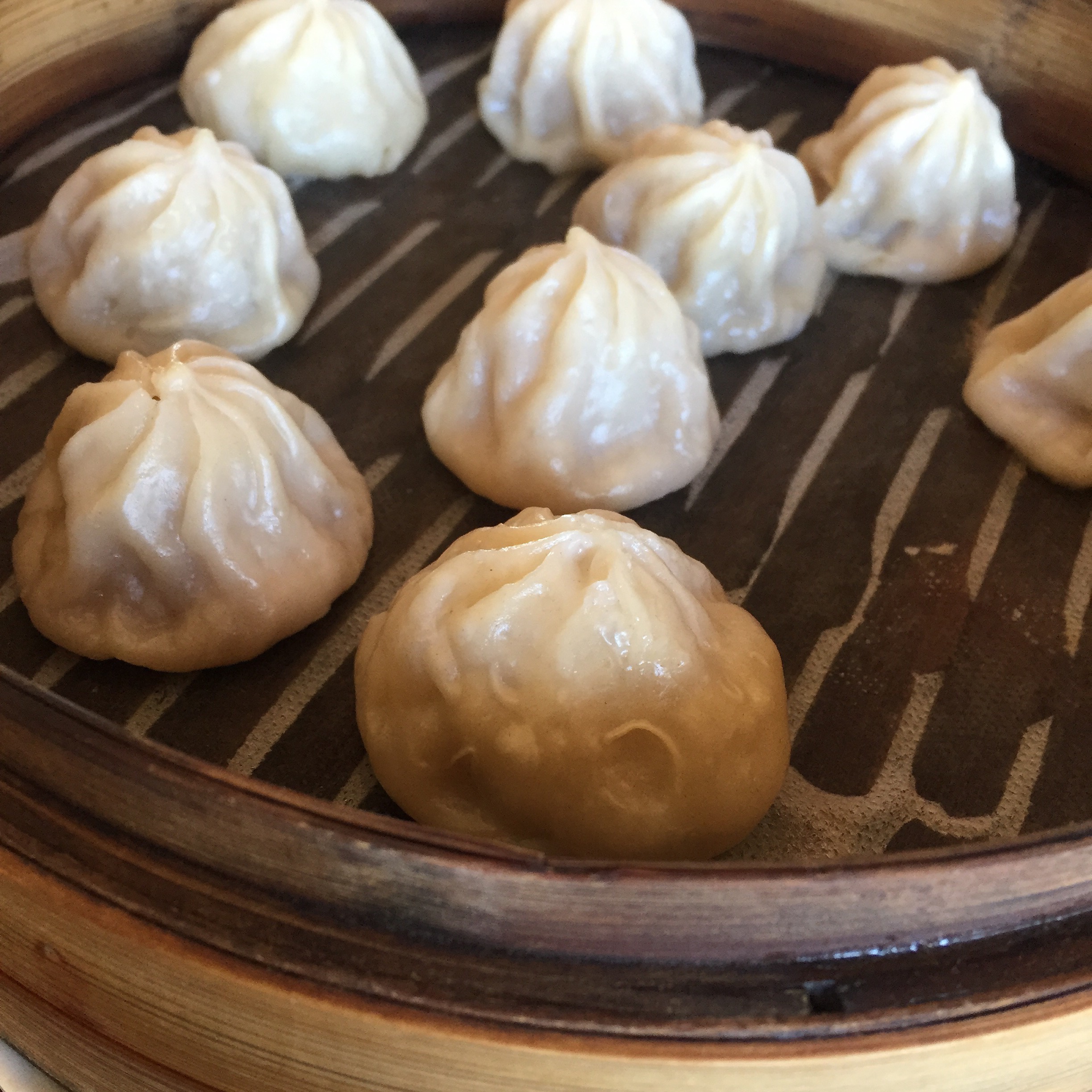 8. Red Miso & Golden Mountain Sauce
Both of these have become more ubiquitous in North America in recent years and have been claimed as the secret ingredients in a lot of Thai and Asian dishes. Red Miso has a salty, yet earthy flavor to it and goes well as an additive to marinades and savory dishes. Golden Mountain sauce is similar to soy sauce but slightly sweeter. Both add a wealth of umami to any dish.
9. Pasta Maker
Every chef I know has a cheap pasta maker in their cupboard. There is honestly no substitute for fresh pasta. Easy to make, fun to mess up, only contains two ingredients (semolina flour and eggs) and you can spend years mastering it.
"Making pasta dough is easy and fun and only takes a few minutes to prepare. My three-year-old son has a blast anytime he gets to run the dough through the machine. This is a great family activity and the results are always better than buying pasta from the store," said Klaus.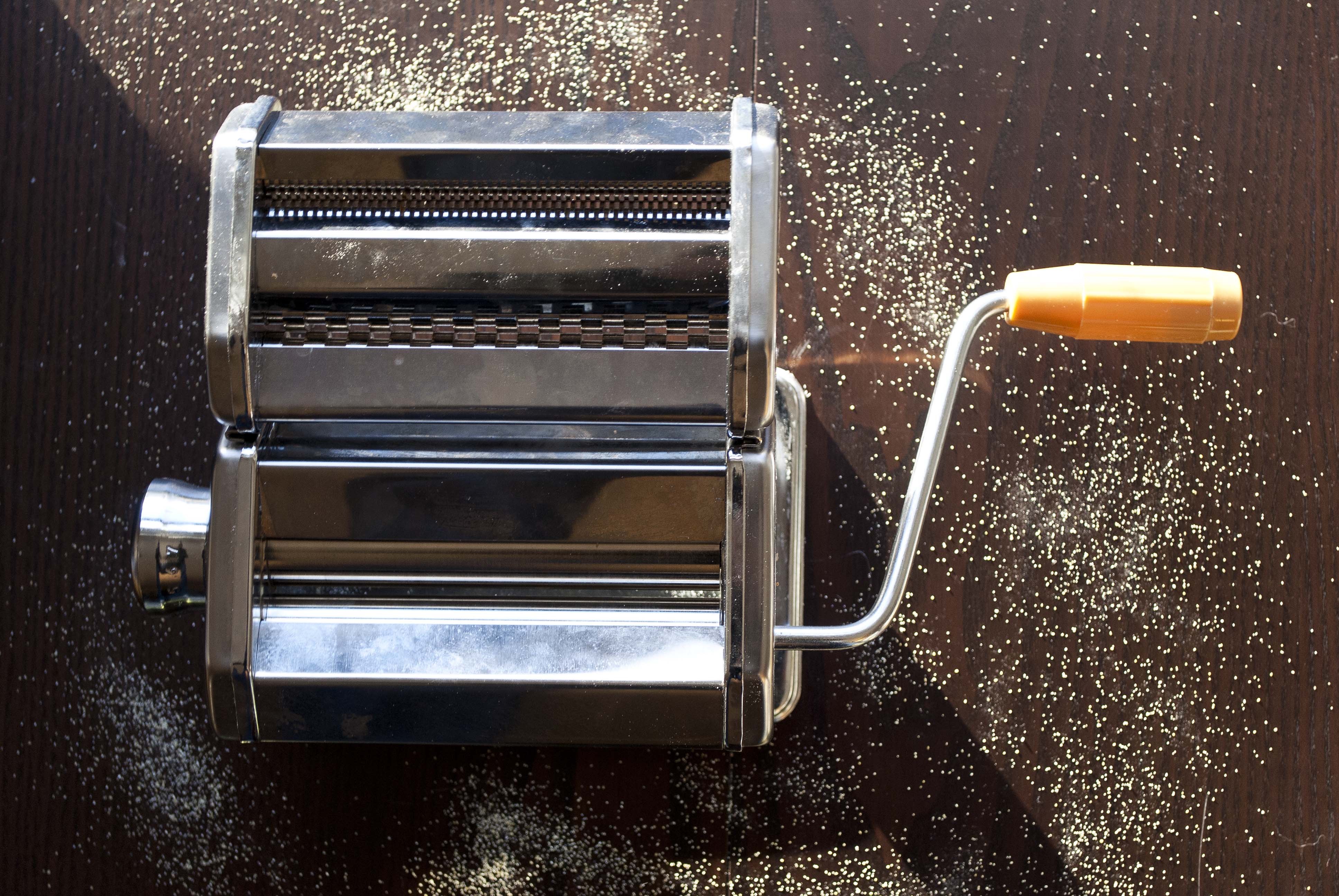 10. Spoons
An unconscious impulse I believe most chefs share, my personal favorite piece of equipment are spoons. I buy and steal spoons from anywhere I can find them. Keep a small cup of different sized spoons on your counter to use them for everything. Find your favorite plating spoon for sauces and meals. Learn to master your drizzles and swooshes. Never again run out of tasting spoons. Trust me, you'll never understand how you were able to cook without your spoon collection again.
All photography by Justin Barbour