Any night walking down long, colorful Colfax will likely include large crowds of people due to the venues, bars and restaurants. However it seems when one five-piece string storm comes to the Ogden, the streets tend to overflow a little extra. Greensky Bluegrass has made a staple out of early winter shows at the Ogden, and this year's three-night run sold out in a flash.
The Americana sensation from Kalamazoo, MI could not have packed the modest venue any tighter if they tried, with elbow-to-elbow standing room even with two VIP sections. Thursday kicked off their trio of performances at the iconic lair of music, and with the last few years of snowballing a cult following around them, there didn't appear to be one night more favorable than the others.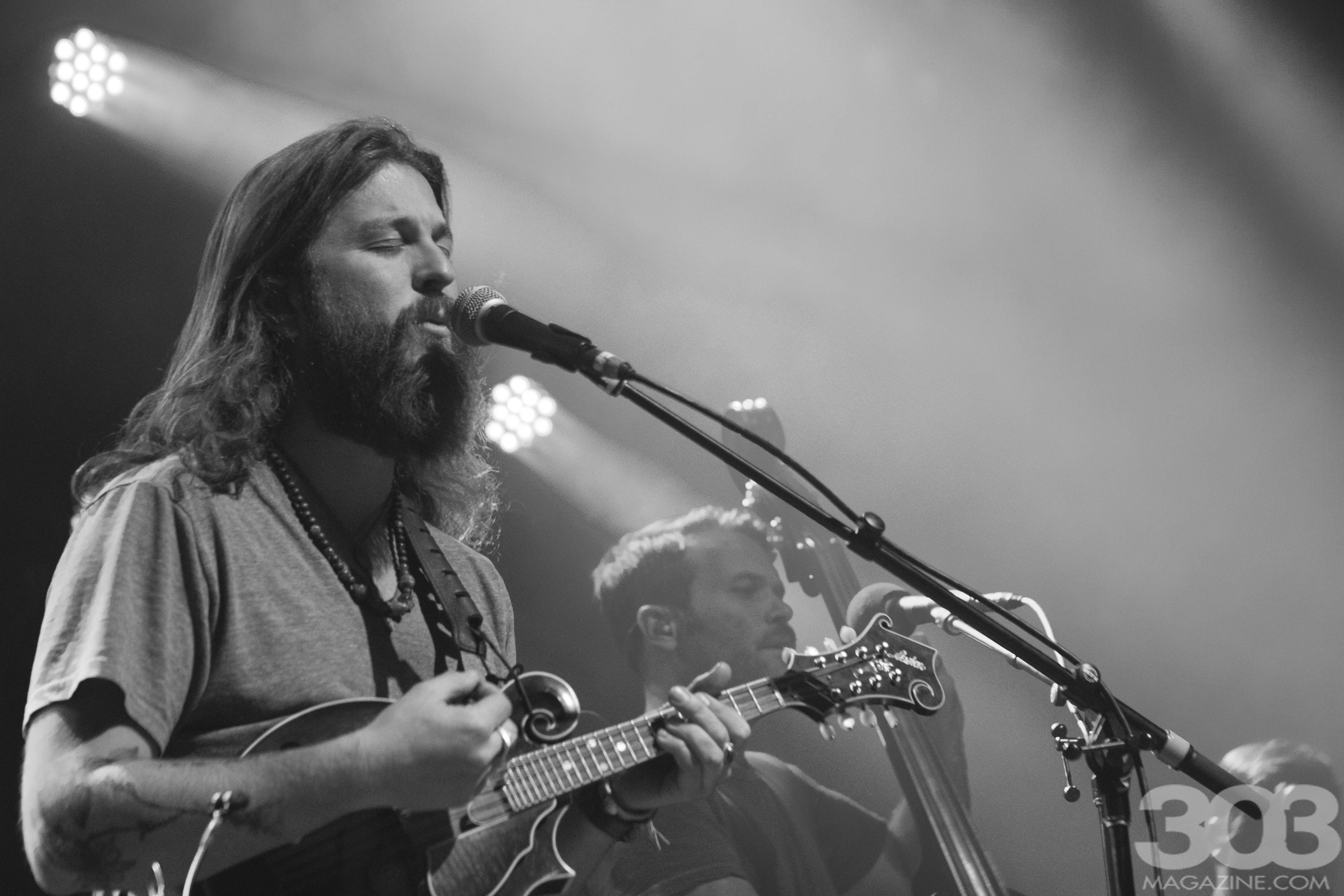 Gipsy Moon, a five-piece bohemian/jazz/bluegrass fusion from Nederland, CO took the stage full force before the headlining band, grabbing the audience by their faces and smacking them with a mix of pure artistic talent and a raging party. Mackenzie Page, lead vocalist, guitarist and banjo player, speaking in another language at times, offered a sultry essence filled with the feeling of an old time lounge singer. Silas Herman slayed the mandolin as if he were born to, which, being the son of Leftover Salmon's Vince Herman, may just be true.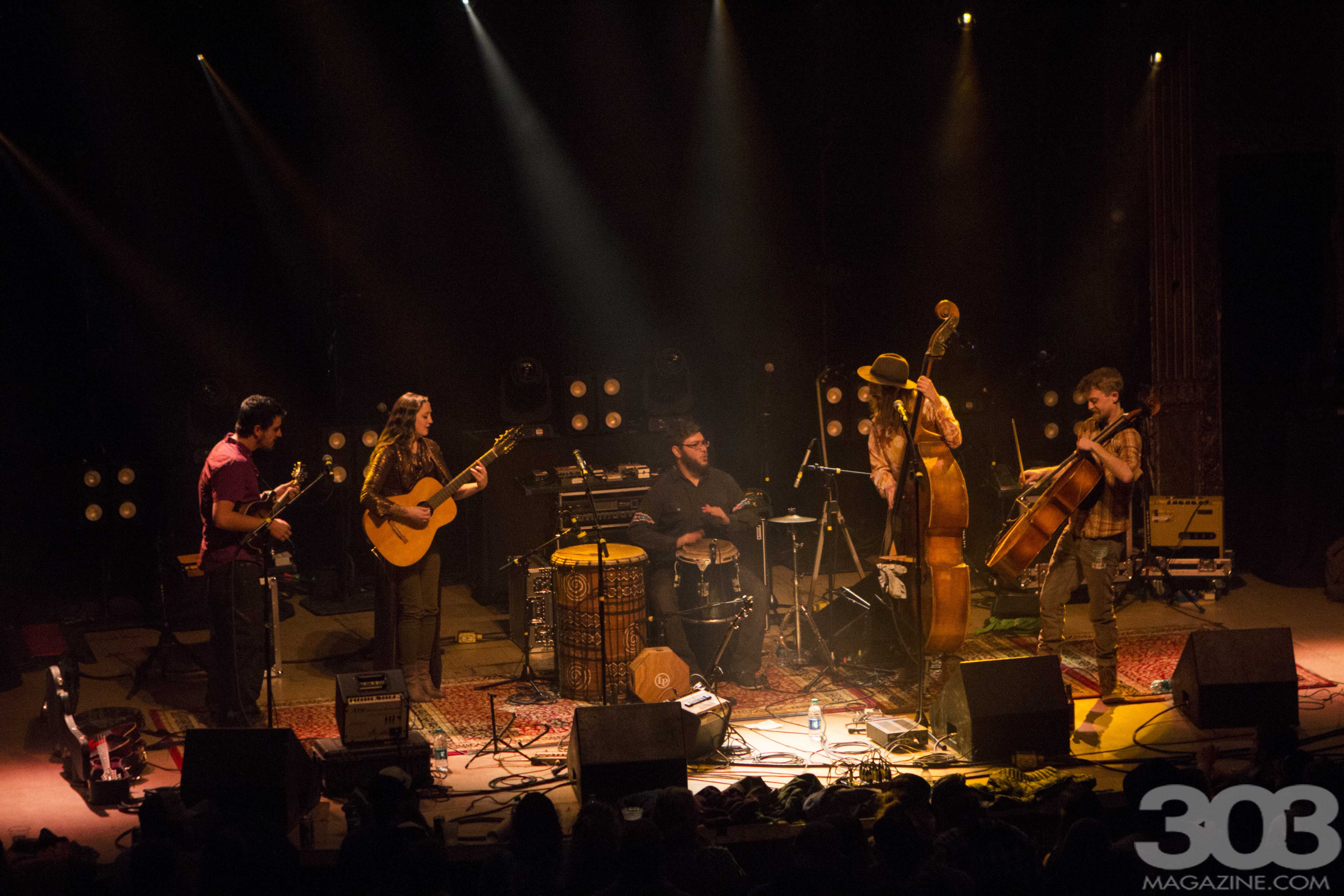 Cellist Andrew Conley and bassist Matt Cantor contributed deep, boisterous sounds, however it was percussionist Omar Al'Tbal who stole the show with his moving solos. Around 8:45 p.m., the band fulfilled their supporting act duties, took a full bow and retired.
A hefty half hour set break followed, which is not traditionally too long, however the anxiety to get to the Greensky goods was palpable. "Back in Black" played out over the house speakers, edging fans to move in closer and secure their spots. At 9:20 p.m. the AC/DC cut off and out came the dobro, guitar, bass, mandolin and banjo. 'Twas time.
"Shall we, shall we?" asked Anders Beck from his far audience right position.
The group began a simple set, basic blue lights and clusters of four white lights seemed to be the lighting extent. The music began without burst, but gently grooved into a nearly twenty minute jam, ending in a powerful, rocking number complete with extensive laser lighting contradicting the humble beginning.
The layers of smoke on the musicians made it difficult to see as they played, however the ever-flowing locks of hair blowing in the wind of the fans on mandolin extraordinaire Paul Hoffman's head whipped around enough to ensure their presence as they rocked "While Waiting."
Overall the night was far jammier than Greensky shows in the past, expanding tracks like "Jaywalking" for several minutes longer than their original listing. The band brought out Silas Herman to jam with, with Hoffman announcing him as, "probably the greatest mandolin player in the world," — a bold claim to a sold-out bluegrass community. Hoffman even eagerly stepped behind Herman to allow him a showcase in "Burn Them," which included a tambourine slap from a sound engineer from offstage. The special guests made the closing track to the first set feel like a brotherhood of friends jamming in their garage.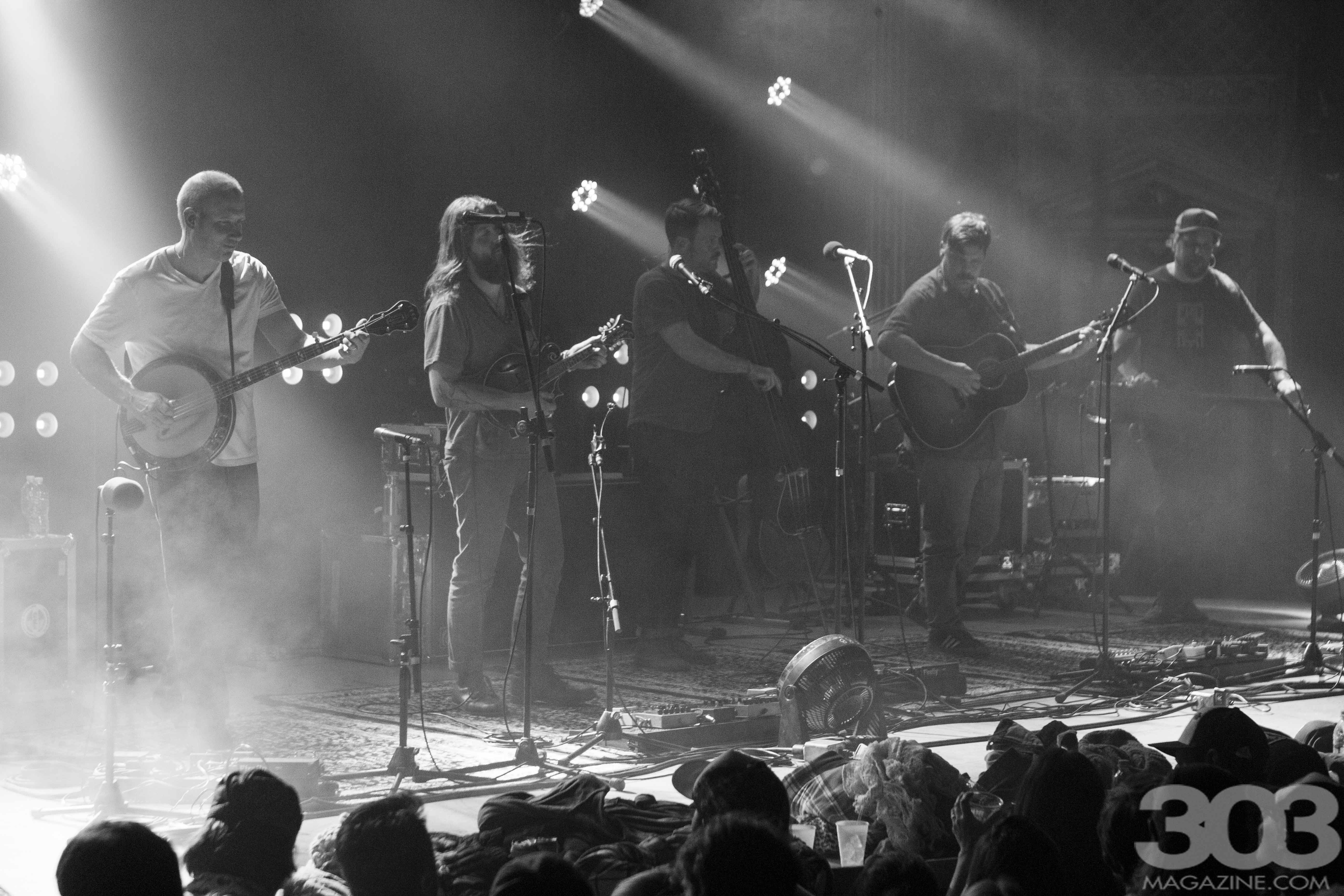 From 10:15 to 10:50 p.m. the crowd thinned for beer and bathroom runs during the set break. Upon their return, the group wished a special birthday to Maggie, before crooning the soft tune "Roberta." "Can't Stop Now" jammed long and hard over rainbow lights, then Tom Petty's "Breakdown" and original song "Can't Make Time" rocked frivolously into an epically long jam. "Windsheild" closed out the second set and the band took another break at midnight.
When they returned, "Can't Make Time" made another appearance, with Hoffman informing that he had written the song. The talent that each member possesses in Greensky Bluegrass not only snatches you by the ears, it sheds a light of hope in a world fogged with auto-tune and repetitive pop beats. The night started off what is sure to be a weekend to remember, for both the band and its loyal followers. If you see a chance to get your paws on one of the very sold out tickets this weekend, I suggest you take it.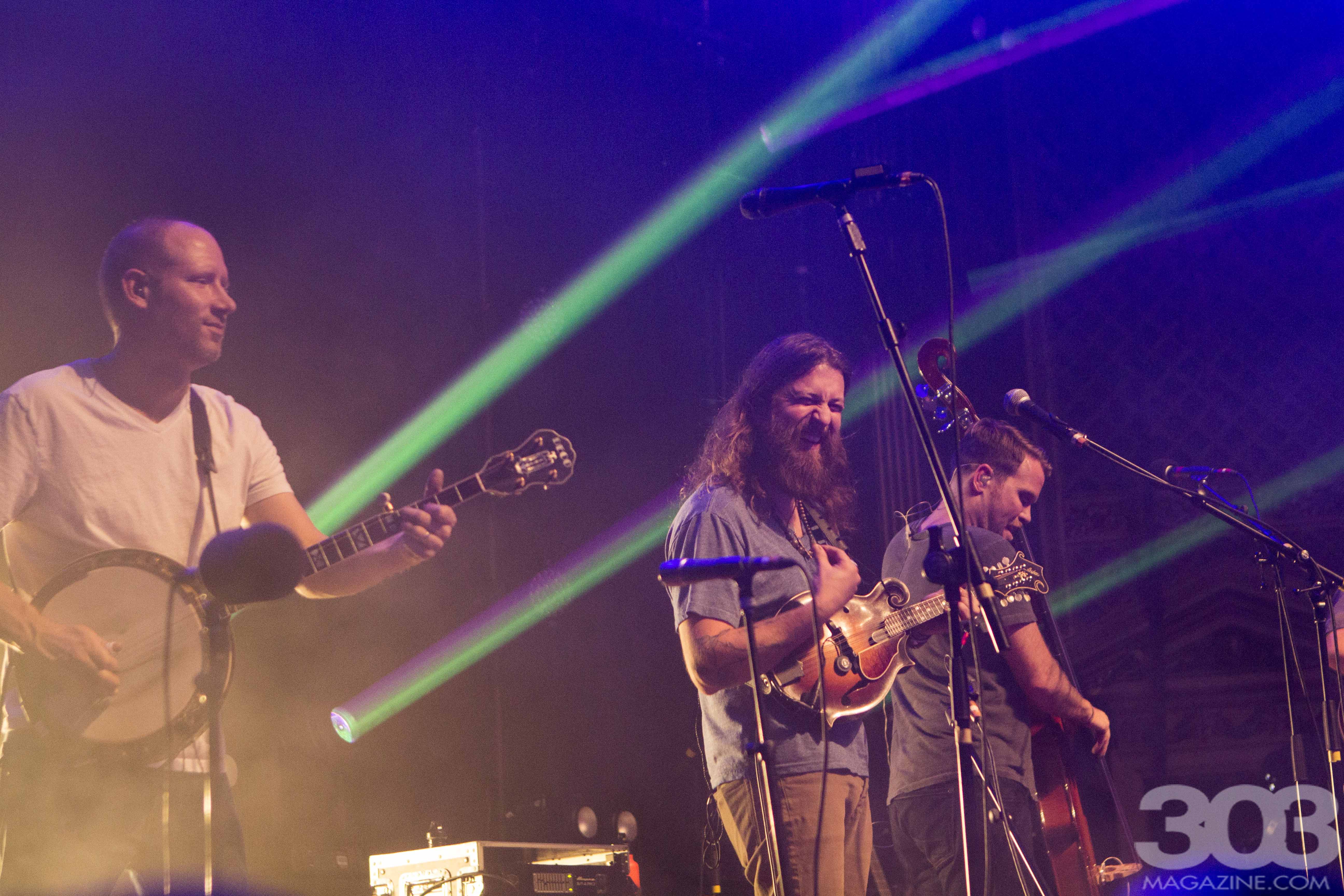 All Photography by Kenneth Coles. Check out the full gallery here.