From small beginnings and hallway meetings, teacher Ben Thompson has transformed an extracurricular activity into a potential career path for his students.  Four years ago, Thompson decided to use some flexible time at school to connect with students and share his recording skills. Thompson showed students a new way to create music from scratch using computer technology rather than traditional musical instruments.  The program was so successful and popular, it has since become a three-level course of classes.  This class stimulates student creativity and encourages students to take risks, with the motto, "Push buttons and make mistakes." Any and all students are welcome to try it out.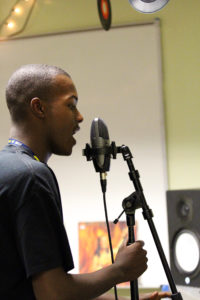 In the midst of budget cuts and challenges in Colorado schools, this unique course has been a gift to the students.  This course is the one and only music program available to students at High Tech Early College in the Denver Public School District.
Ben Thompson, teacher at HTEC, is 32-years-old and was raised in Chapel Hill, North Carolina.  Thompson made his way to Fort Collins, Colorado when he was 17-years-old to attend Colorado State University. In his early 20s, he started working at a record store and instantly knew he was jazzed and inspired by music.  This passion led to the opening of his own non-profit recording studio, Alphabet Recording Studio, in Fort Collins. Thompson and his partner learned how the technical equipment worked through trial and error, and found experimenting with different musical methods and styles to be extremely engaging.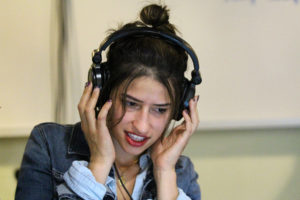 Thompson started teaching at High Tech Early College, in Denver, Colorado, where he originally taught physics.  Currently, he teaches robotics and three sections of audio production, teaching students how to compose and record their own music.  Thompson has noted that the enthusiasm level from students in his audio production classes is noticeably higher than the other subjects he has taught.
"The students are going from one project to the next; they are building something, they are creating something.  They are putting something together from scratch. I mean it's essentially about making something that they're proud of, opposed to learning something that they can't find a connection with." – Ben Thompson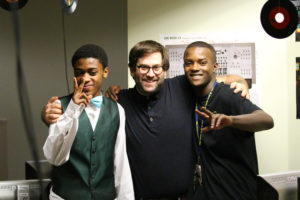 When the program first came about, there was no designated classroom, and there were only 12 kids that took interest. Three years later, that number has almost quadrupled with 47 students enrolled in the course.  The HTEC audio production pathway is divided into three different courses that are intended (but not required) to be taken in order.  The courses give students the opportunity to create their own musical composition from start to finish.  These audio production courses allow students to utilize musical engineering to create a work of art they are proud of, from beginning to end.
"Nothing students learn in the Audio Production Pathway is abstract. Each piece of knowledge and each skill has a purpose, and these skills and this knowledge are absorbed through the process of making music." – Ben Thompson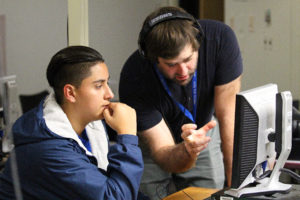 While visiting the audio production classroom at HTEC, I could immediately see the the strong relationships Thompson has built with his students.  The students came in during their lunch and were happy to spend their free time in the classroom.  I was given the opportunity to listen to a sample of musical compositions, and I was extremely impressed by their enthusiasm and talent.  I couldn't help but think how much my friends and I would have enjoyed this course if we had access to it during my high school career.
Even though Thompson is proud of each individual student's accomplishments, there is a single student who has been a stand-out over the years, Johnel Hunter.  Thompson mentioned that the two of them started high school at HTEC on the same day (Thompson as a teacher and Hunter as a student).  Hunter was a part of the first group of audio production students who worked in the hallway, and continued to take audio production each year following.  
Johnel Hunter performing track composed during audio production course.
Since then, the duet has recorded two albums of Hunter's material at Thompson's home studio, and Hunter has begun playing shows professionally. The local Denver band Quantum Creep, welcomed Hunter as a paid second engineer to assist on their most recent album.  Thompson and Hunter will most likely continue to collaborate on musical soundtracks and build their repertoire for years to come.
In 2015, Thompson decided to create a forum for his kids to compete with other young musicians.  That's how the First Annual Denver Youth Music Awards came about.  There was no entry fee, students submitted tracks online, and local individuals served as judges. The competition was open to any individual 18-years-old or younger.  Awards and recognitions were handed out to students at the conclusion of the event.  Thompson mentioned that the competitors were primarily students from his courses, however, there were entries and winners from other schools as well.  
This year, Thompson plans to turn The Denver Youth Music Awards into a live event allowing students to come together in the same room, where they can enjoy the performances and jam with other young musicians.  Although there will be many students given a nod at the next competition, all of Thompson's students are winners with a life skill and art to carry throughout their lifetime.
"My hope for them is that some of them are going to become musicians, professionally or otherwise. My hopes are more direct than generalizations, I want them to become really good at this, I want them to make things that they are proud of." – Ben Thompson

Click here for HTEC Audio Production SoundCloud link.
Click here to visit the HTEC Audio Production website. 
All photography by Oriana Swiatkowski. Video provided by Ben Thompson.