This is an entry in an ongoing series for 303 Magazine, which will profile a range of industry professionals and the stories behind their tattoos. It is our intention to highlight the talents of local tattoo artists where possible, while demonstrating the narrative power of imagery by putting front and center a form that continues to fascinate the curious.
After working in corporate America for several years, Cristino Griego decided to finally pursue his passion in the culinary industry. A little over 11 years ago he began his studies at Cook Street's professional culinary program where he met Kona of Fruition, Old Major and now Mercantile. From there Griego and Kona began their first endeavor together by creating their own catering and private chef company, C&K gourmet.
Griego continued to work in the kitchens of the former Satchel's, Coral Room and three years ago he opened the Bistro in Stapleton as their GM and executive chef. A year and a half passed from the opening of the Bistro, at which point Griego then jumped on board with Frank Bonanno and SupperBell as their executive chef.
"It's always been about food. I had a corporate life for many years out of DC and left that to study professionally. I've always cooked, [especially] growing up with two cool grandparents and a dad who [I] was able to travel the world with," Griego said.
Griego has several culinary tattoos adorning his left arm, which he hopes to continue to fill with time and the growth of his career as a chef. His very first tattoo, though not a direct link to his culinary career, still holds strong significance and roots in who he is as a chef. He designed a Zia sun symbol, whichis the symbol of the New Mexico flag.
"If you know or don't know, New Mexicans are very loyal to their state. That's where I got the foundation for what I do now with [influences from] my Mexican and Italian grandmothers," said Griego while happily talking about his tattoo homage to his New Mexican roots.
Each tattoo similarly symbolizes a specific time or moment in Griego's life and career as a chef. "They're all symbolic in that way that every time I'm cooking or doing something with food I'm always reminded of the times and places I was when I saw these things, or thought of them," said Griego.
His first (culinary) tattoo was added to his left arm 10 years ago. It lies just below his wrist on his forearm and has set the foundation and timeline of his introduction into this crazy industry. This unsightly monk fish, just barely larger than a silver dollar, has a simple, symbolic meaning. Griego loves the idea of taking something really ugly and making it into something delicious and beautiful, an ugly-duckling-swan story if you will.
Another tattoo, his second, almost fully stretches the span of his forearm. The words, 'Il cuore parla allo stomaco' was a common phrase that Griego's chef mentor and instructor, Peter Ryan of Cook Street, often said to him. The words in Italian simply mean, 'Heart speaks to the stomach.'
Three other industry-inspired inked artwork, for a total of five, fill Griego's arm: a beet, sushi and a loosely drawn stick figure of a woman. The beet, which some think is a radish, is a detailed reminder of the time spent at the Bistro and a nod to Emily Wrey, who hand painted all of his first menus— the beet being one of the intricately-designed covers.
The sushi on the inside of his wrist is an ode to traveling through the seafood market in Tokyo, Japan with his younger brother during a layover from Thailand. His brother also has one, which Griego describes as a nice connection they share from their travels. Plus he got this specific piece done as part of a 'lucky 13' promotion. Many tattoo shops will open up to their customers for $13 tattoos.
When asked about the meaning behind the last tattoo of a stick figure girl, Griego spoke of famous grappa maker in northern Italy, Romano Levi. "He's this old Picasso-ish looking man and he does really small batch, beautiful grappas out of northern Italy and he hand paints every one of his labels with these whimsical little women." He knew immediately after seeing this specific label of a girl that it would document his time spent in Italy, and at this point you start to see recurring influences behind the work on his arm.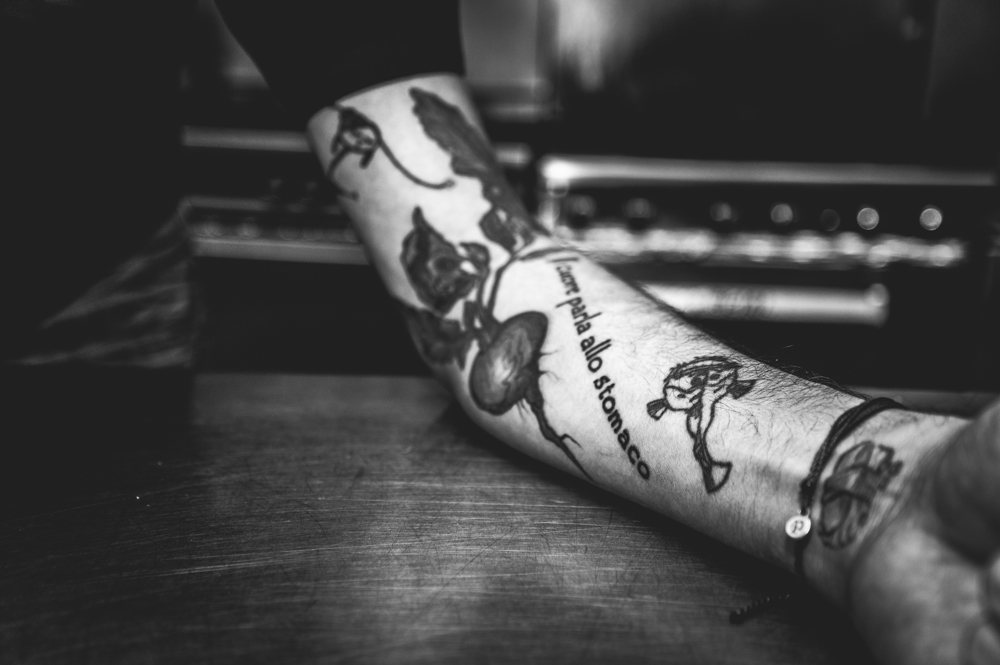 "Alot of times people without tattoos say well, when you get old what are going to do then? But they're a great reminder of the cool life I've lived in the kitchen," said Griego.
With the help from his go-to tattoo artist, Fish of Think Tank on South Broadway, Griego plans on adding an intricate and detailed artichoke, much like the beet, with the inside petals inked in purple to show the exquisite beauty in its otherwise-intimidating spiky exterior. From there, time will only tell what culinary item will inspire the next addition. The one thing that seems to stay true throughout a majority of his pieces, and undoubtedly will continue with each additional tattoo, is that there's a consistent, strong representation of where he came from, where he's been and what has inspired him as a whole. The tattoos serve as a reminder of the food-driven life he has lived and will continue to pursue.
All photography by Lucy Beaugard.