This past Sunday, 1980s icon Cyndi Lauper graced Denver with her presence. To get into the swing of the glamorous 1980s that produced Lauper's hit album, She's So Unusual, we began the night with a delicious cosmo at the Paramount Cafe. After, we headed to the beautiful art deco staple that is the Paramount Theater, where we were greeted by a funky mix of people. The crowd included fans that came of age in 1984, while others had recently bought a hair crimper and fingerless neon gloves. In front of the entrance, comedian and Denver native TJ Miller pointed to both his poster and Lauper's. Miller then posed for a quick photo that his wife took. The adorable couple came out to see the iconic woman just two nights after he performed on the same stage for the taping of his HBO special.
Mildly star-struck by Miller and feeling giddy about the upcoming show, it was a little hard to focus on the opener, Charlie Musselwhite. Musselwhite, backed by his three-person band, crooned traditional southern and blues rock. They were peaceful and professional as they played in front of a massive backdrop that was inherently country with Americana images of birds in matte tones of blue and tan. There was something slightly confusing about Musselwhite opening for Lauper if all you came for was her original hits. His career is also prolific but he has no relationship with pop rock or the signature sounds of the 1980s. What many of her fans, even those in the audience that night, did not know, is that Lauper's last two albums are country music and blues respectively. Musselwhite as well as many other reputable blues musicians were prominently featured on Lauper's 2010 Memphis Blues which was nominated for a Grammy that year.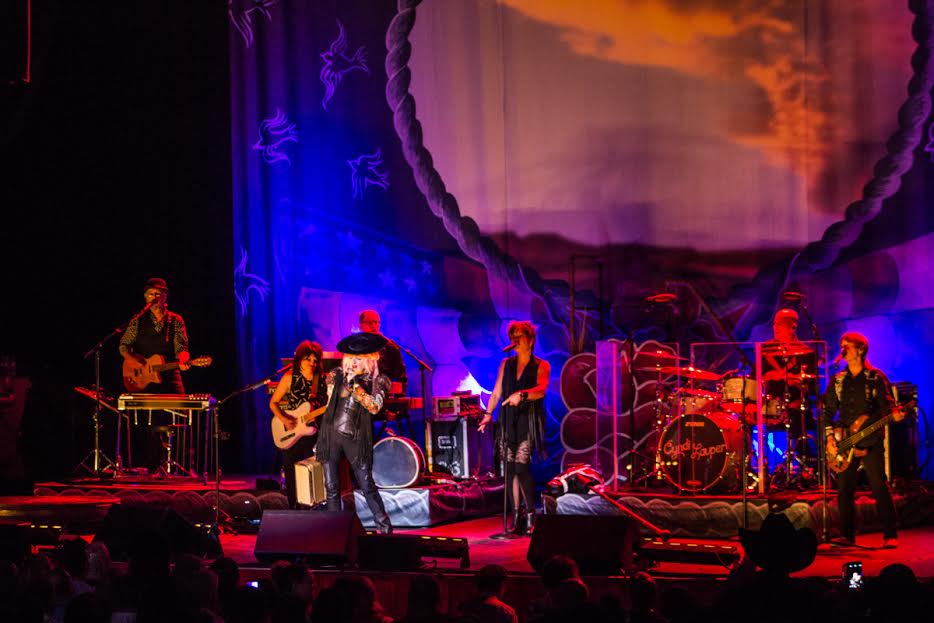 In fact, over her career Lauper has experimented with a lot of different styles of music. But her performance did not delve too far into the different phases and personas she has taken on. Nothing was played from 2008's club-style Bring Ya to the Brink, 2003's 1950s-influenced At Last or 1993's pop and hip hop-heavy Hat Full of Stars. The show was an even mix of her recent album, Detour and her first album, She's So Unusual. The show was overall a confusing, but enjoyable, night of alternating country classics like Ray Price's "Heartaches by the Number," with pop staple "She Bop," complete with an amazing recorder solo from Lauper. There were also a smattering of personal stories, insights on her love of country and digs against Madonna.
"Don't let people tell you who you are," Lauper said early in the show, accurately setting the stage for the range of music that she wanted to play. Everything about Lauper is distinctly herself — from her signature eccentric hair to her distinct Bronx accent and her album-perfect voice. But Lauper, who is now 62, is not the exact same person she was in the 1980s. Lauper has taken an amazing career now spanning 40 years, and allowed herself to change and evolve. "Never let someone tell you that you can't do something because you are too old or it won't be popular," she proudly announced to the crowd.
Many people would struggle if they were perceived as unusual, but for Lauper it is her calling card.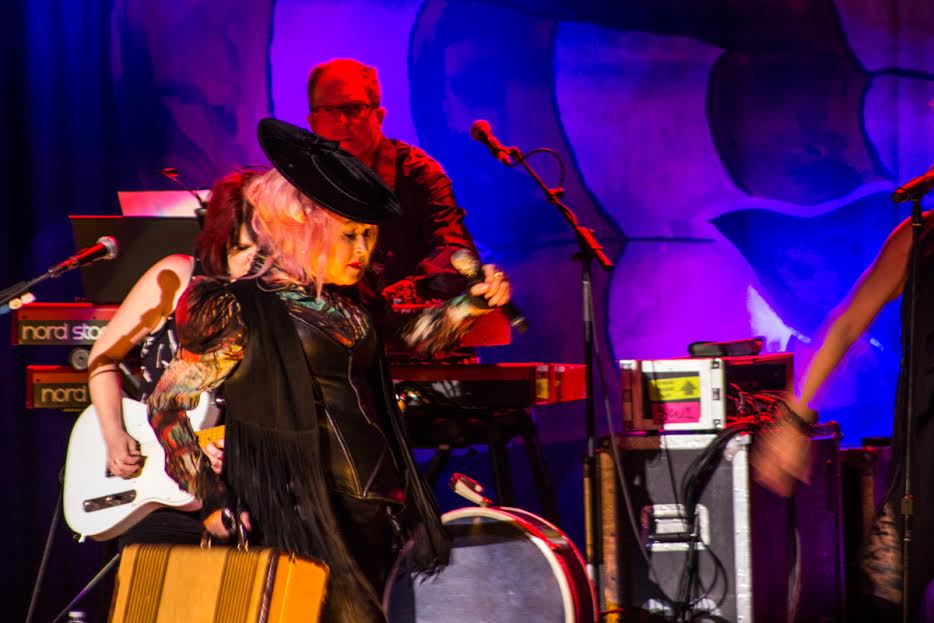 There will always be fans that want you to stick to the hits and are not interested in allowing an artist to move past the time period when they were at the height of their fame, and certainly in life in general, there is a lot of pressure to pick a side, to fully commit yourself to one identity, one passion or one skill. To these lines of thinking, Lauper just dances in a circle and does not stand down. Although we, as an audience, only stood up and danced for the classic hits we all know, "When You Were Mine" and "Money Changes Everything," we still stayed and watched the show in its entirety and even shed a tear for "The End of the World," a cover she does on the new album. For many of us, what sets Lauper apart from the other pop divas of that era was her talent, her realness and her self-acceptance. Many people would struggle if they were perceived as unusual, but for Lauper it is her calling card.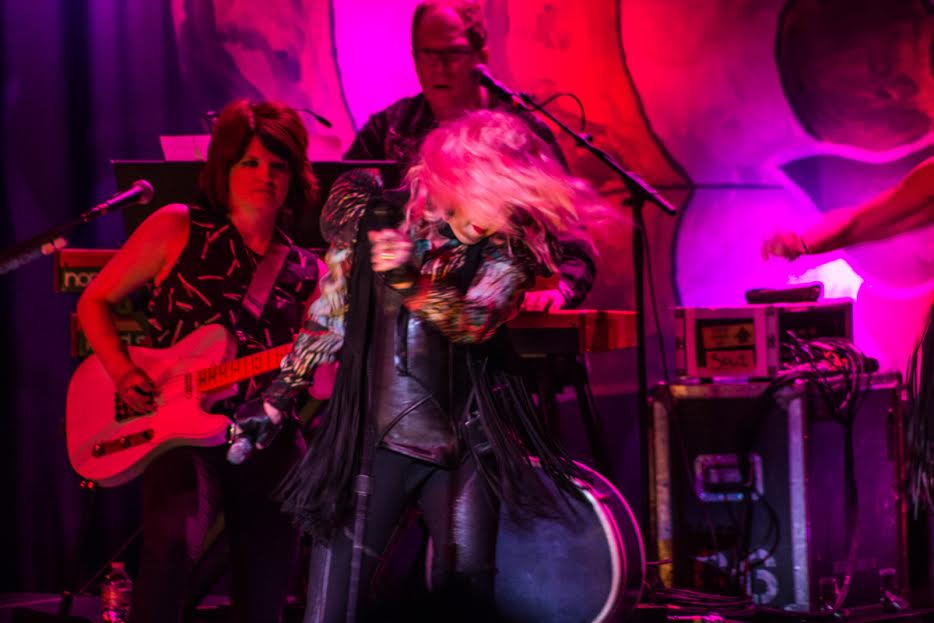 The concert was smooth and enjoyable. Even though the show did not meet the expectations of many of us in the audience, on some level it still made sense. It was not a greatest hits concert from an aging pop star; it was a one-woman variety show. Lauper has had a long career and knows who she is and because of that, she is allowed to change without losing her fans. Midway through what had become a pop concert/country hybrid with some yarn spinning, Lauper started to layer in some political rhetoric with small statements about how if you are not Native American, you are an immigrant or the importance of voting and making sure your registration is up-to-date.
Her extended encore was the perfect summary of the show overall. It included another country song off of Detour and "Fearless," off of Sisters of Avalon her 1996 album. Then launched into ageless classic "Time After Time," to great fanfare from the audience. What happened next was not something I have ever see in an encore; Lauper started calling out a name and suddenly a fan materialized on stage, who had, according to Lauper, road-tripped to the concert from Massachusetts. She explained that this fan had driven the car when Lauper was the marshal of a gay pride parade and Lauper went in the wings of the stage and returned with a cake. Lauper lead us all in a rowdy rendition of "Happy Birthday" and the fan visibly melted with adoration of Lauper. This was followed by a final reminder to vote that led into "Girls Just Want to Have Fun." Half way through, Lauper implored us to try the chorus but instead sing, "Girls just want to have funds." It was moving and very memorable.
This night was the complex result of a real human's dedication to art and life. The show did not star Cyndi Lauper; the show was Cyndi Lauper and though it is a little tacky to say — she is still so unusual.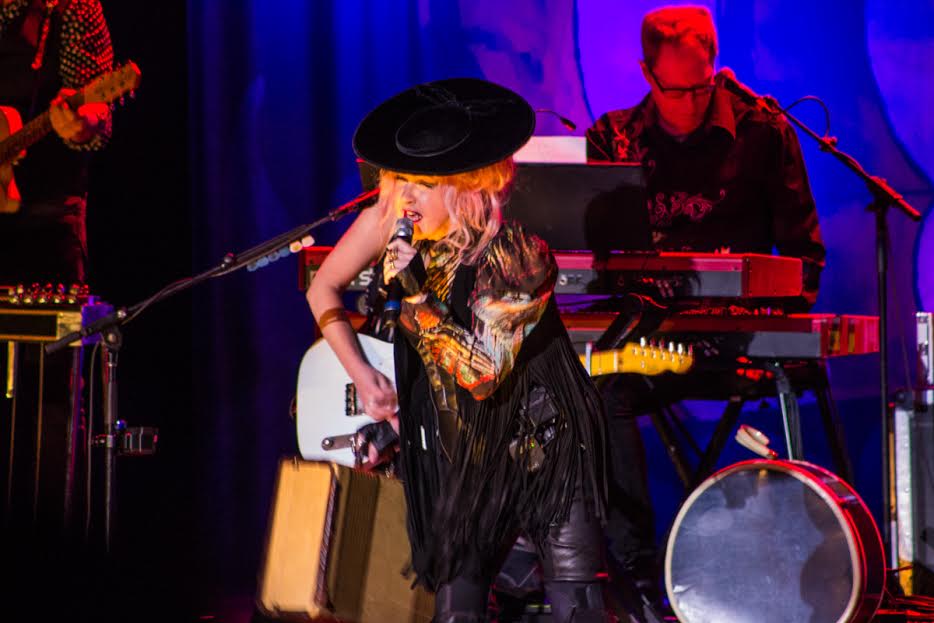 ---
All photos provided by Kim Baker check out the full gallery here.